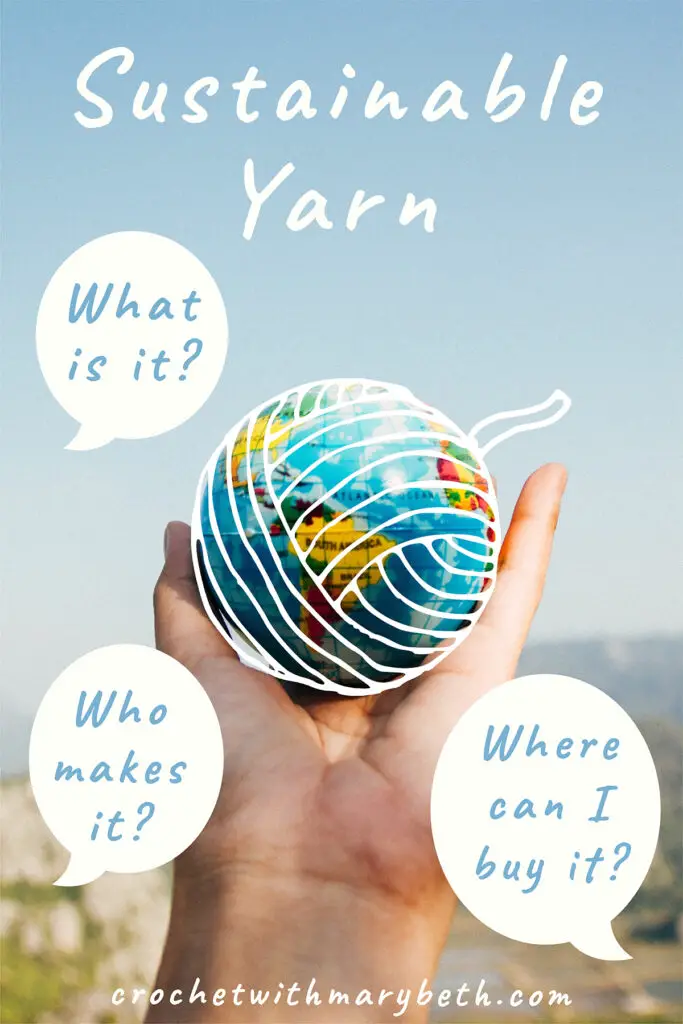 Sustainable Yarn
Have you noticed a lot of yarn companies have been coming out with "sustainable" yarns lately? It seams to be the new buzz word in the yarn industry.
But what is sustainable yarn and where can you buy it?
Definition
Oxford defines sustainable as "conserving an ecological balance by avoiding depletion of natural resources."
That sounds good, I like the idea of ecological balance. But how is this achieved and how is yarn sustainable?
To find out, I started researching specific sustainable yarns to see how each one fit into the definition. It turns out sustainability means different things to different companies.
There are a lot of different ways to "avoid depletion of natural resources." Manufacturers can make yarn out of recycled materials, process yarn without chemicals, or farm their materials organically to name a few.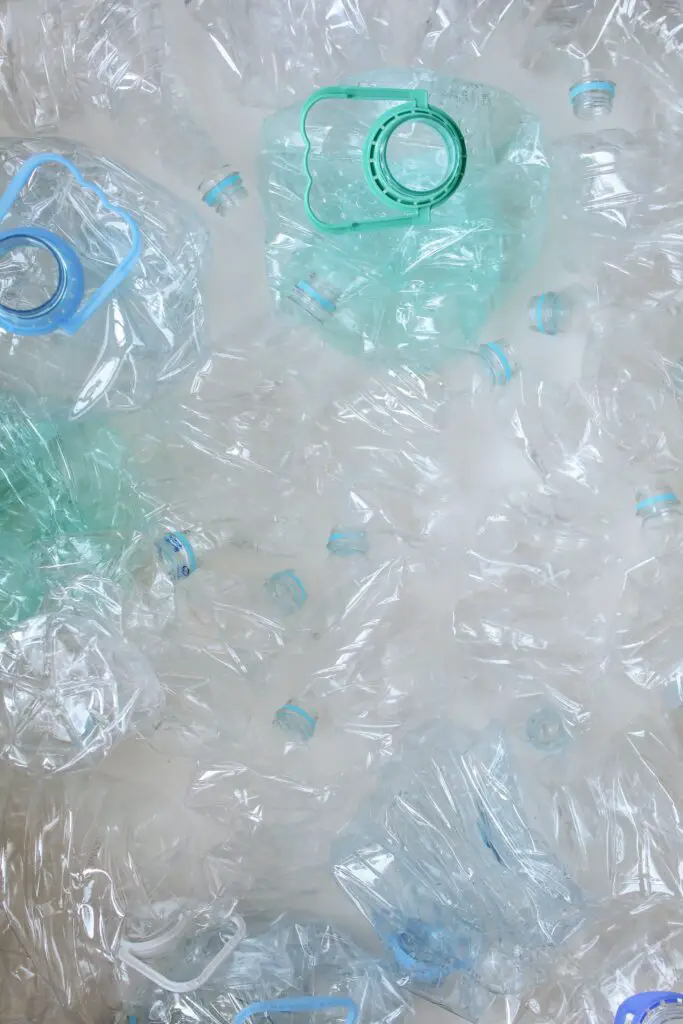 Long story short, when buying "sustainable" yarn it is important to dig deeper. Make sure to read the description of a yarn before making a purchase. Because sustainable yarn is different for different companies.
You will want to come up with your own reasons to buy sustainable yarn and decide what kind of an impact you want to make (or not make on the environment). Then research each yarn and make sure the way it is manufactured is in line with your intentions.
To make your research easier, here is a list of 6 sustainable yarn suppliers and a little about how each of their yarns that fit into this category. Click on the name of a yarn to be brought to the description of the yarn on the company's website to read more about each yarn.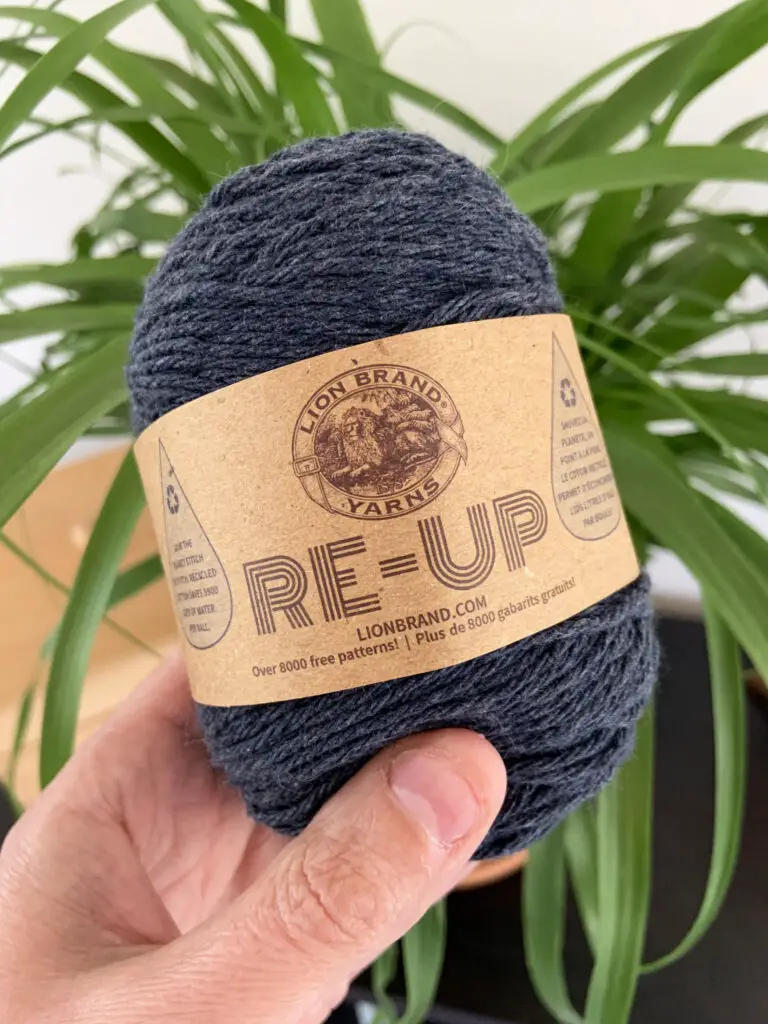 6 Sustainable Yarn Companies
Lion Brand Recycled Yarn
Lion Brand is our first sustainable yarn supplier. They manufacture 4 recycled yarns.  Their newest is Re-Spekt.  It is made of 45% recycled polyester, 30% acrylic, and 25% cotton, with a modern chainette construction. In the close-up picture of the yarn on their site you can see that it's made out of 3 fibers spun together and each is a different color. As far as I can tell only the polyester is recycled.
Lion Brand also has a trio of recycled yarns that came out in fall of 2021. Re-Up is a recycled cotton yarn. Re-Spun is a recycled polyester yarn. And Re-Tweed is, you guessed it, a recycled tweed yarn. It sounds like these yarns are made out of 100% recycled fibers.
They have other yarns they list as "sustainable" too, including Nuboo, Just Hemp, Truboo, Pima Cotton, Oh Baby Organic, Coboo, and 24/7 Cotton.
I really enjoy Lion Brand's Coboo Yarn. I used it to a make my In Stitches Cardigan pattern. If you'd like to read a review I wrote of Coboo Yarn you can read it HERE.
We Crochet/Knit Picks Sustainable Yarns
We Crochet is another sustainable yarn supplier. The sell a sustainable wool yarn they call Simply Wool which is 100% eco Wool.  What is eco wool?  According to their site the fiber uses no dyes or bleach and the eight colors naturally occur because of the difference in the color of each sheep's coat.  Now that's an organic yarn!  They also have a Simply Alpaca.
We Crochet also has a few different yarns they are calling oeko-tex which means "they are produced without any harmful chemicals or substances". They are certified Standard 100.  The yarns included in this line are their Dishie (cotton), Palette (wool) , Curio (cotton lace), and the above mentioned Simply Wool and Simply Alpaca.
I applaud We Crochet for great job explaining their fibers. They have a lot of information on their website. I wish other companies were as thorough.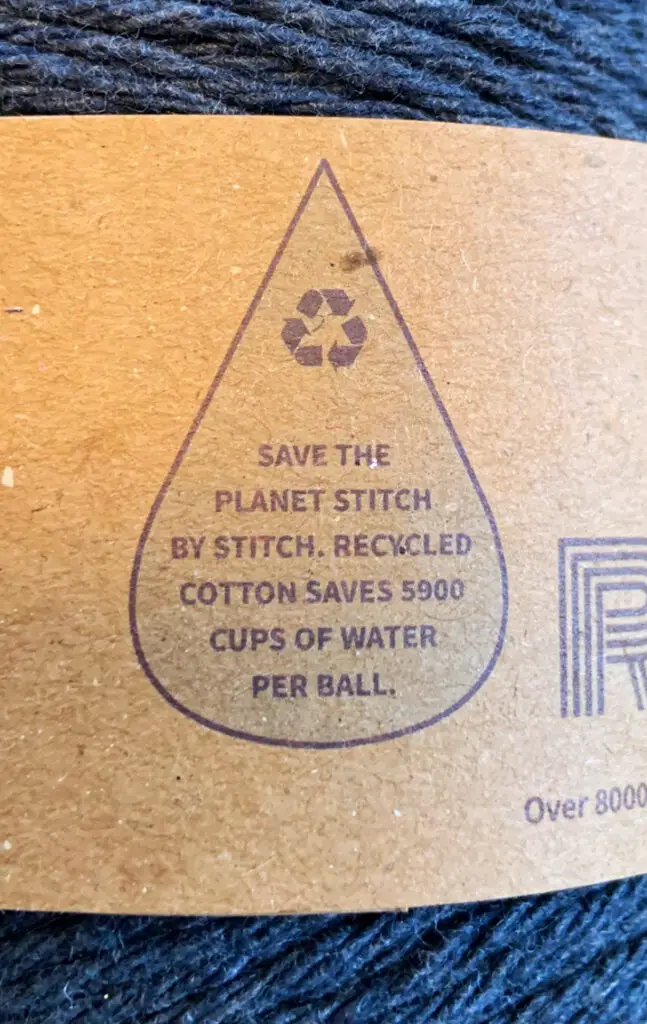 We are Knitters Sustainable Yarns
We are Knitters has a yarn they call "The Recycled Yarn". It's 95% recycled cotton and 5% other fibers.  
They also have "Mixed Organic Yarn" which is 50% cotton and 50% wool. We are Knitters states on their blog that "both fibers of eco-friendly production and GOTS certified."
Berroco Sustainable Yarns
I recently purchased some Remix at my local yarn store. The recycled yarn says it's made from 100% recycled fabrics and contains 30% Nylon, 27% Cotton, 24% Acrylic, 10% Silk, 9% Linen.  
Since it says it is 100% recycled I guess that means all 5 fibers are recycled. That's cool! And I I like that it comes in 3 different weights.  I purchased the 3-light dk yarn.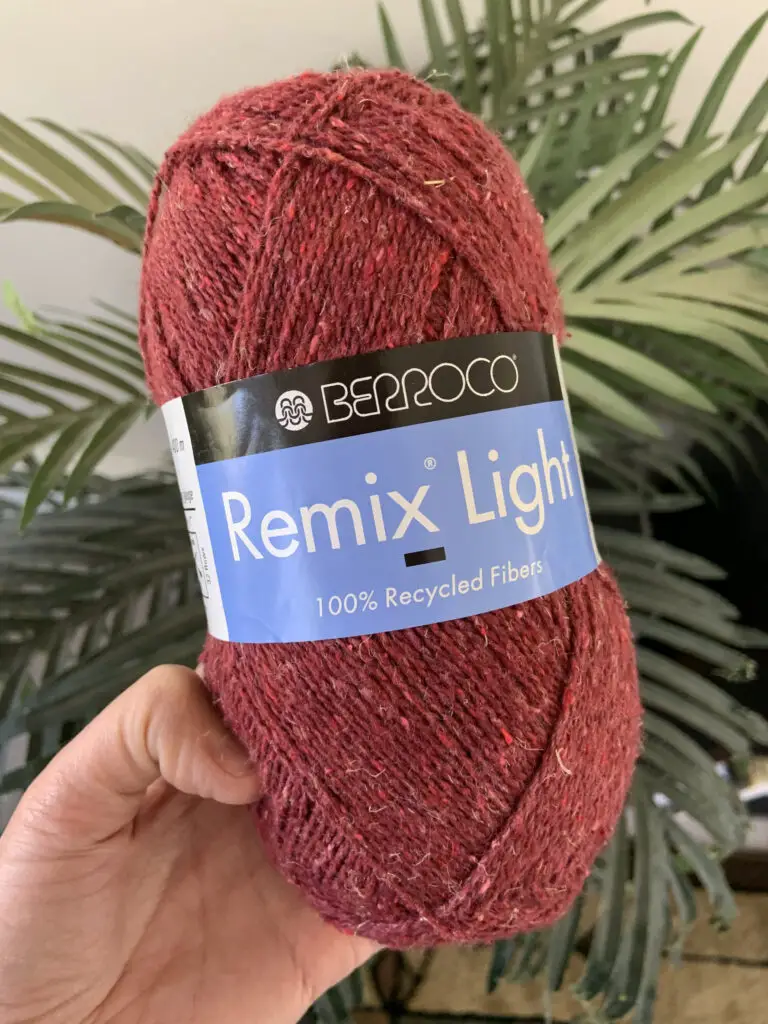 Wool and the Gang Sustainable Yarns
Wool and the Gang's Billie Jean Yarn is a yarn made from recycled denim "pre-consumer denim scraps". It's made out of the denim scraps left over at a jeans factory. It's then ground back into fibers and re-spun into yarn, a process that doesn't involve any chemicals. It comes in 6 different colors.
They also have a Jersey Be Good yarn that is upcycled yarn. This recycled cotton yarn is also made from left over, pre-consumer" scraps but these scraps are from cotton t shirt factories in Turkey. Interesting! I like the specifics!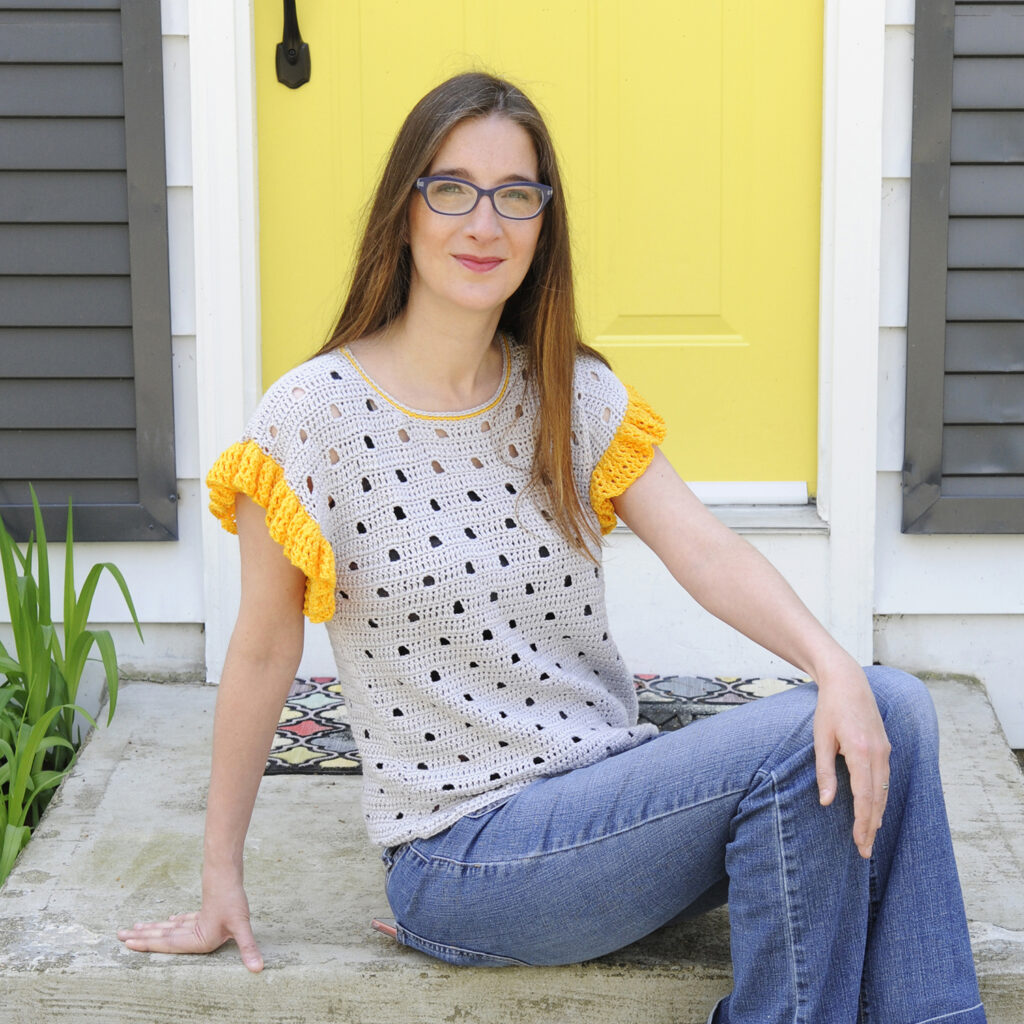 Darn Good Yarn Sustainable Yarns
Sustainable yarn supplier Darn Good Yarn boasts that all of their yarns are "high-quality eco-friendly products." They have quite a selection of yarns ranging in interesting fibers including Banana, Chiffon, Cotton, Linen, Hemp & Nettle, Silk and Wool. They also carry all yarn weights and craft kits too!
Please see their website HERE to dig deep into this treasure trove of fibers.
Sustainable Yarns
So there you have it! A lovely collection of "sustainable" yarns for you to choose from.
I hope you find your next favorite recycled yarn, organic yarn, ethically sourced yarn, oeko-tex yarn, or otherwise sustainable yarn that aligns with your goals amongst the list!
If you liked this, check out these patterns next!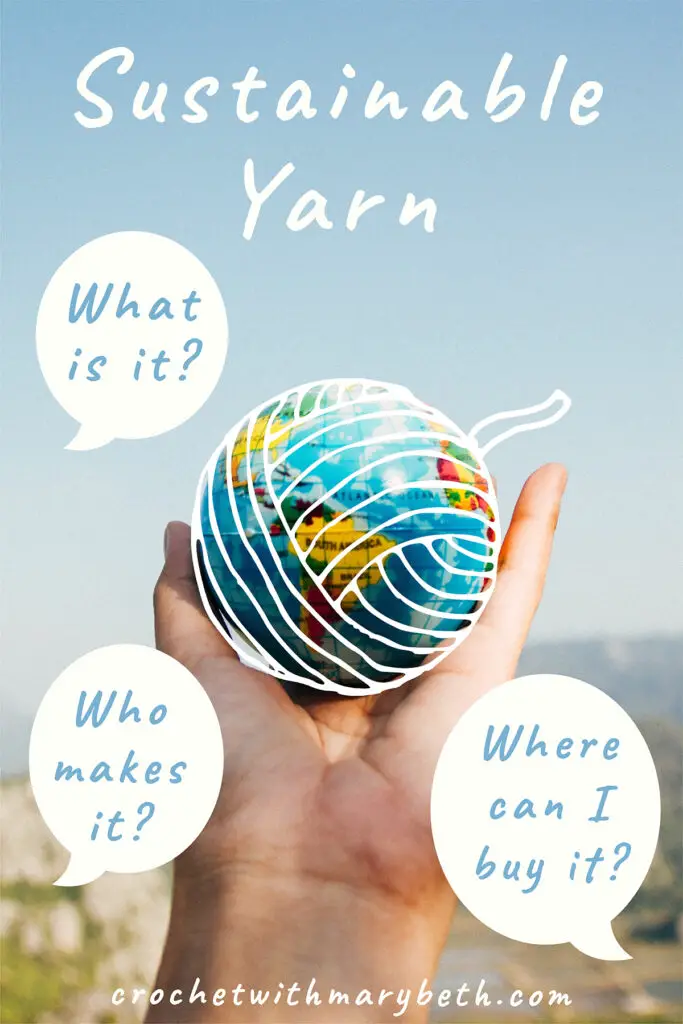 Mary Beth Cryan has been designing crochet patterns for over 4 years. Prior, Mary Beth worked as a professional illustrator and product designer with a specialty in paper crafts for 18 years. She has authored and illustrated 17 paper craft books, countless pop-up greeting cards, and many paper craft kits. She received 3 LOUIE Awards from the National Greeting Card Association. Some of her clients included MoMA (Museum of Modern Art NYC), American Girl, Dover Publications, Peter Pauper Press, Ranger Rick Magazine, Highlights magazine and many others.  She earned a Bachelor of Fine Arts from Syracuse University in 2000.