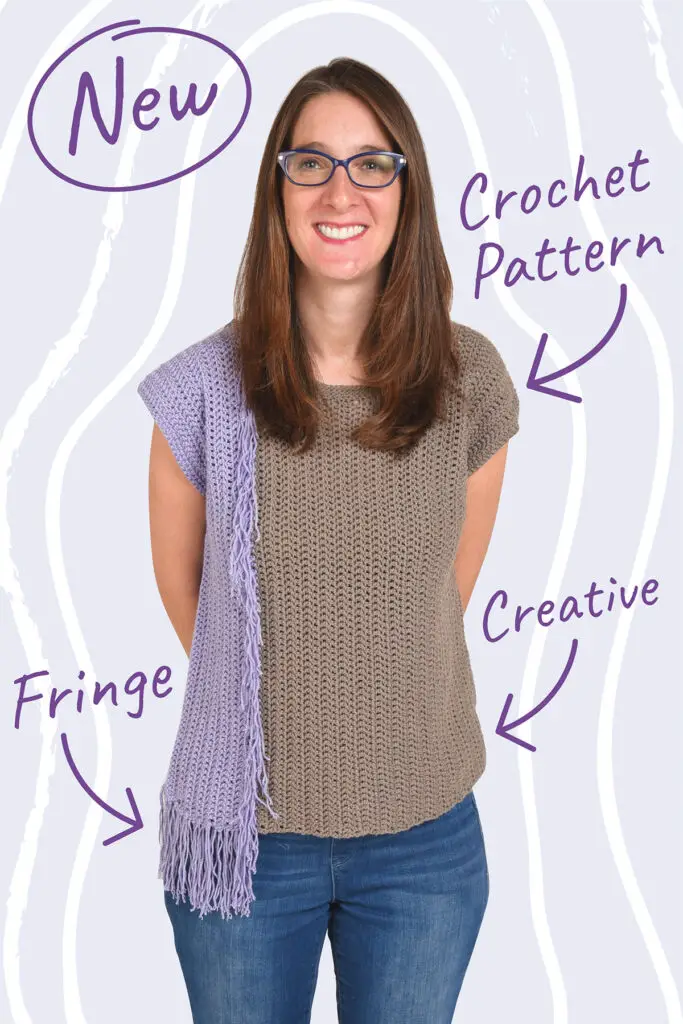 A Funky Crochet T Shirt with Lots of Fringe!
Do you love a crochet t shirt with lots of fringe? Me too! Fringe is so much fun to wear. I've been seeing a lot of fringe around lately.
Fringe is definitely having a moment right now so I'm officially declaring it time to get out the yarn and scissors and add fringe to everything, especially the Never Enough Fringe Tee!
This crochet tee pattern incorporates fringe in a sophisticated way, edging the color blocking on the side of the tee. It's bold enough to make a statement and subtle enough to be totally wearable. Get ready to rake in the compliments!
Buy the pattern on Etsy or Ravelry now or keep reading to find out more about the tee and pattern details
Stretch Your Creative Muscles
The great thing about making your own clothes is making them the way you like. I love the Never Enough Fringe Tee because there are lots of options for creative customization.
Have fun choosing your colors! This crochet top pattern looks great in any color combo. I chose lilac and taupe for a fun casual look but you can also use color to make this tee more neutral, glam, formal, funky, or chic. You can't go wrong with your color choices. Choose your colors based on your individual awesome style.
Another great opportunity for adding your own flare to this project is the fringe. Make it any length you want. I made it short. But it also looks fantastic when it's long and dramatic. You could make the fringe touch the ground if you'd like! It's your project, do whatever your heart desires.
The fit of this tee can also be altered to your liking. I have included a detailed schematic with the pattern with measurements for every detail of the design for all the sizes, xs through 5x.
Once you choose your perfect size you can further customize the fit by modifying the armholes. You can also an equal number of rows to the beginning and end of the pattern to make it more oversized and hang over your shoulders further.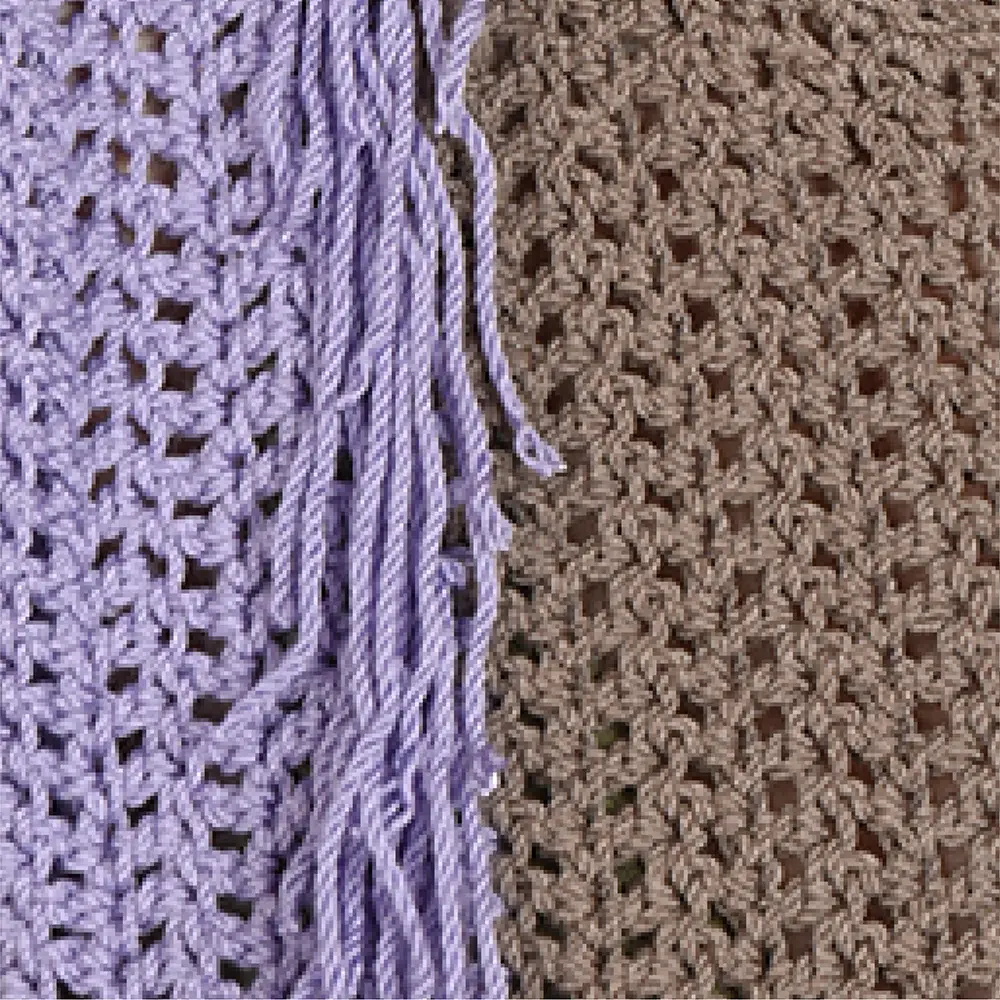 I loved the off center two color scheme and the fringe details. Very fashion forward!

Amanda
Done and off to the city feeling special.
This garment works up quickly. To tell you the truth, even though I obviously love making crochet tops patterns because I design them for a living I don't have the patients for super long projects. That's why I design garments in worsted weight yarn whenever I can.
I used Lion Brand's ZZ Twist which was sadly discontinued before I released the pattern. I'm so sad, it was the best acrylic yarn for garments. But you can use any worsted weight yarn or even a heavier 3-light for this pattern.
The pattern works up from side to side. Once you get going with the double crochet stitches you can happily relax, sit back, and crochet up this project without having to check the pattern every two seconds.
You will be done with this pattern quickly and off to a cool art event wearing your Never Enough Tee and feeling special in no time.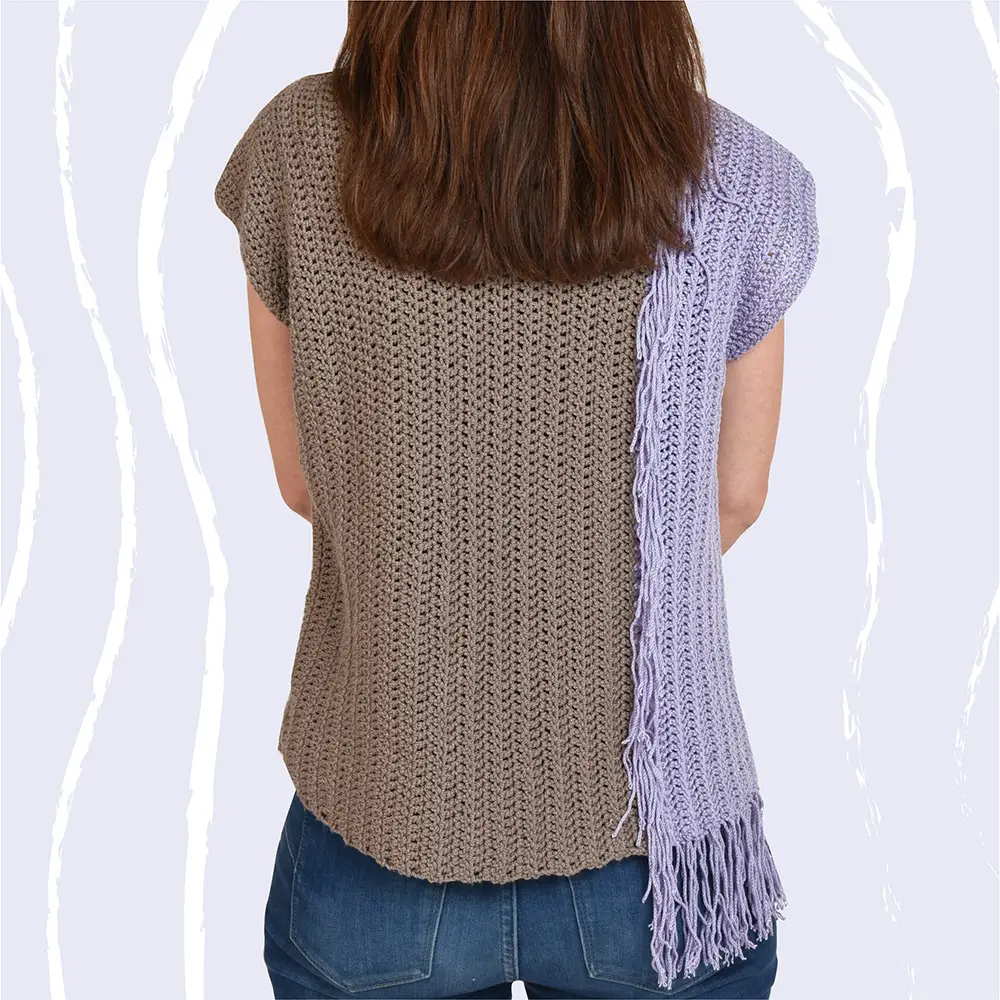 It's finished … in fact it took me only 3 days to crochet.

Nesrin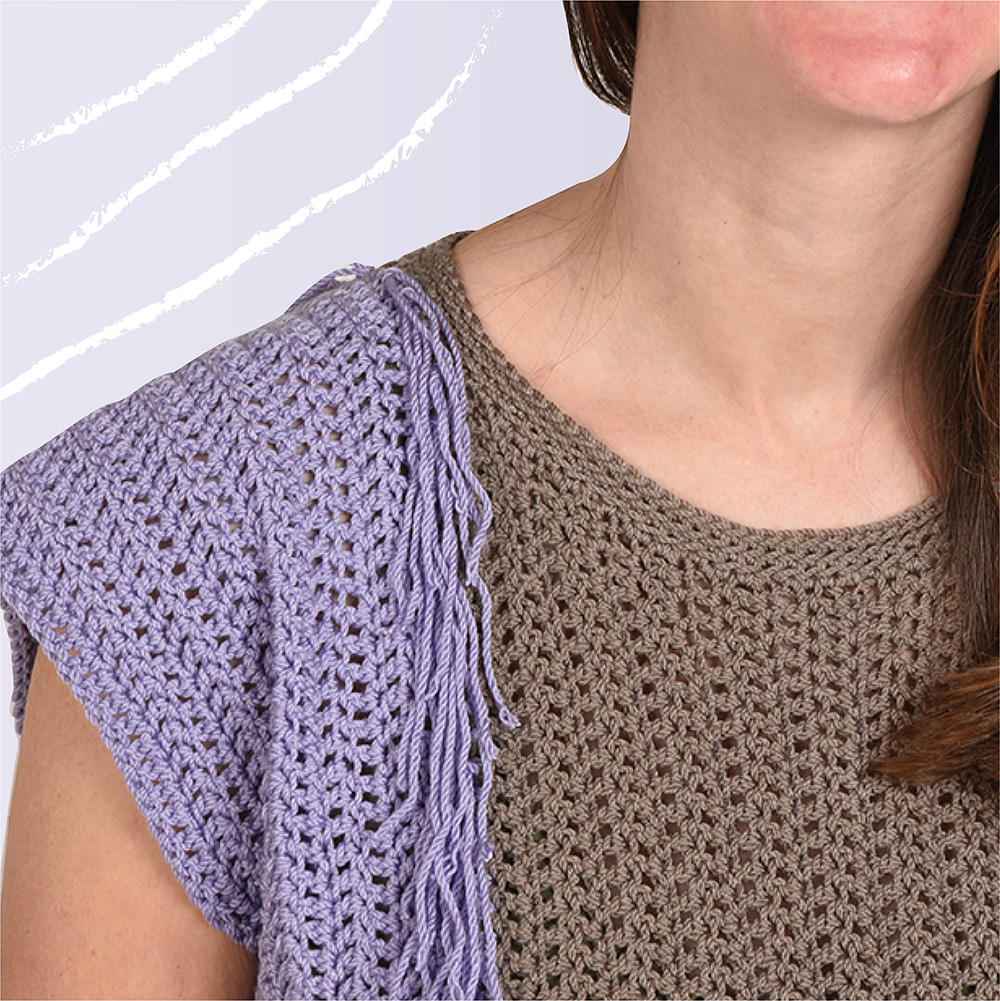 Crochet T Shirt Pattern PDF Details
You can make this crochet t shirt pattern! If you have made at least one garment before then you can make this tee.
The reason I don't recommend it as a total beginner pattern is because the project is worked from side to side. It's not at all difficult. It's just that bottom up is better for your first pattern because it's easier to wrap your head around the construction. If you are looking for beginner crochet tops patterns look for something that is worked "from the bottom up."
The stitches are easy. You just need to know double crochet, single crochet, increasing, decreasing, and how to stitch into the back loop. It's easy peasy.
Your pattern purchase includes an easy to read 12 page pdf. The written instructions take up 4 pages and the rest of the pattern is all supplemental and includes instructional illustrations, photos, and stitch charts to make this pattern super easy to understand.
Wait! Don't panic. You don't need to know how to read stitch charts to make this pattern. I've included all the instructions in both written and chart form so you can double check your stitches.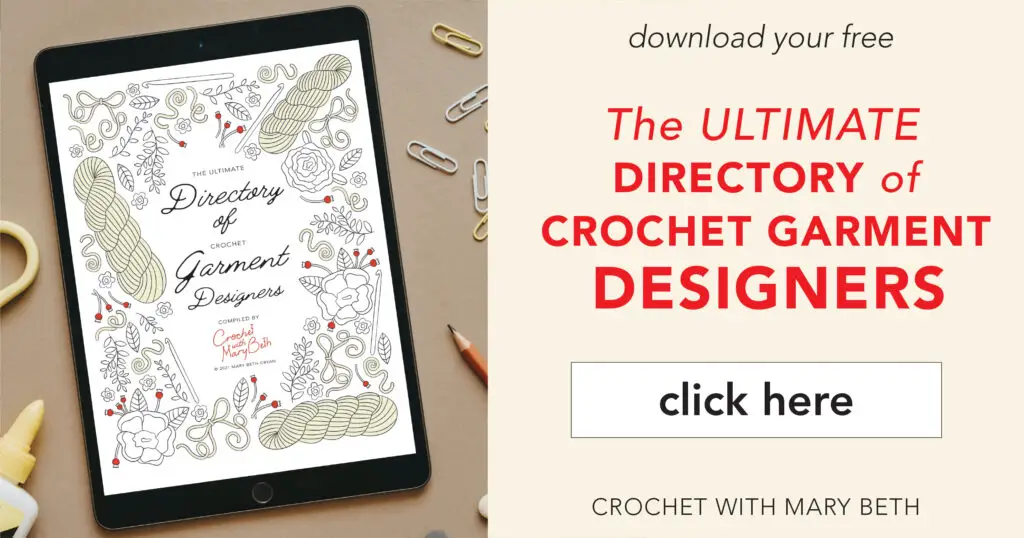 You won't get stuck anywhere in this pattern. It is clear and easy to follow because, like all of my crochet tops patterns, it has been tested and professionally tech edited.
The pattern is written in US terms.
The pattern is very clear and if you have a question I am here for you. I have a dedicated pattern support email listed at the end of the pattern. You can email me directly anytime!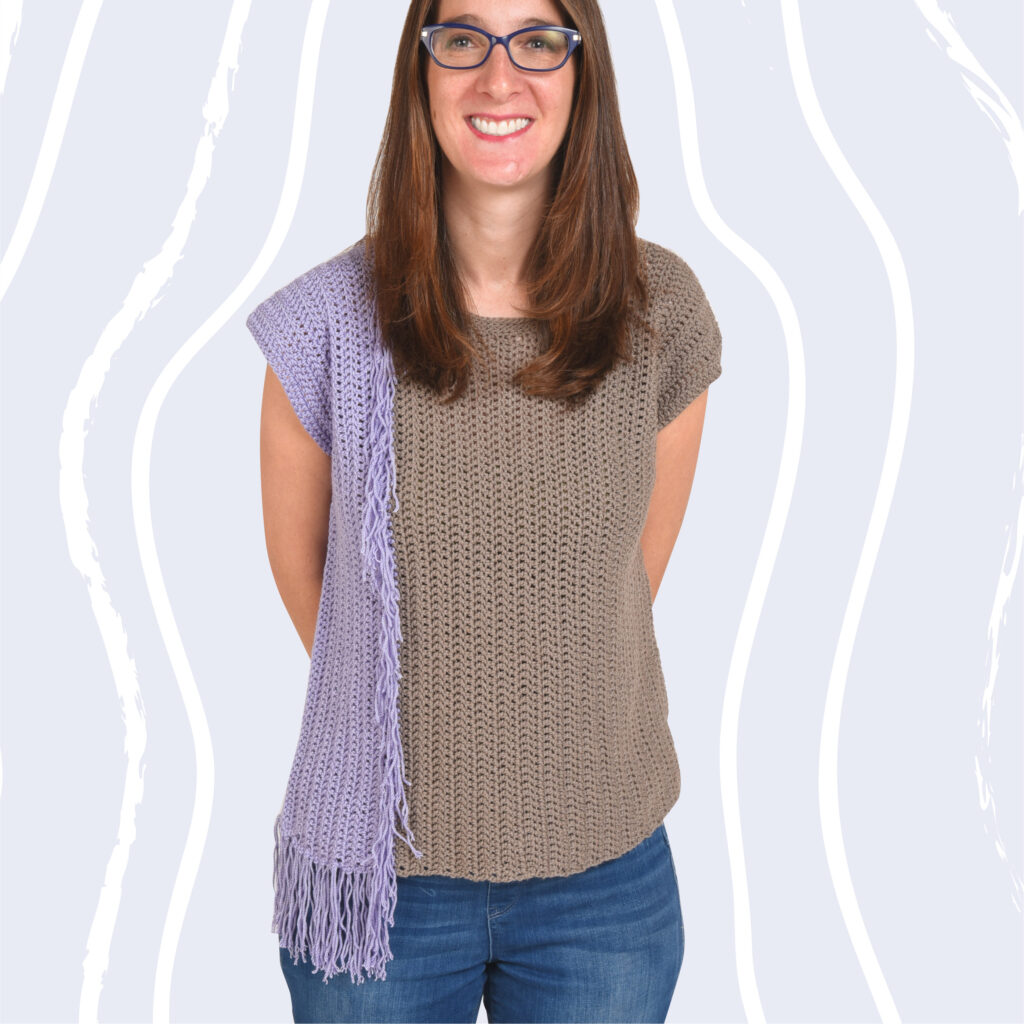 Here is what you will need
Crochet hook size US H/8 (5 mm) or size used to obtain gauge
Speaking of Crochet Testers
Here are some inspiring Never Enough Fringe Tees by a few of my talented testers.
Be sure to check them out on Instagram (by clicking on their names in the photo credits) if you'd like to see more of their beautiful work.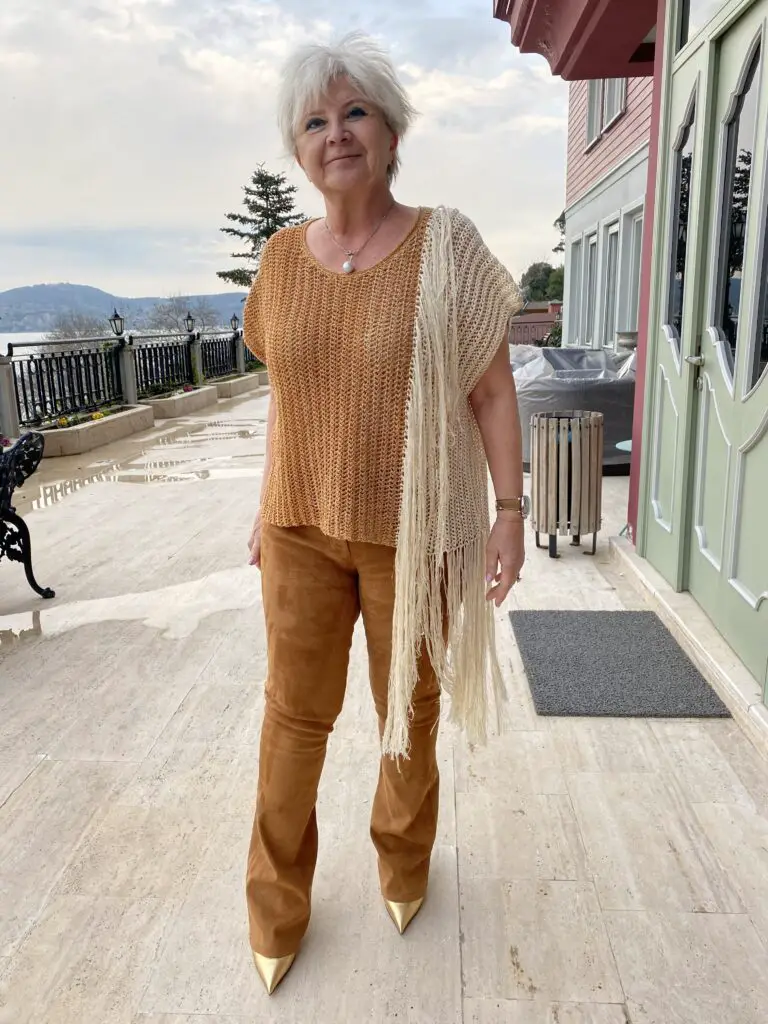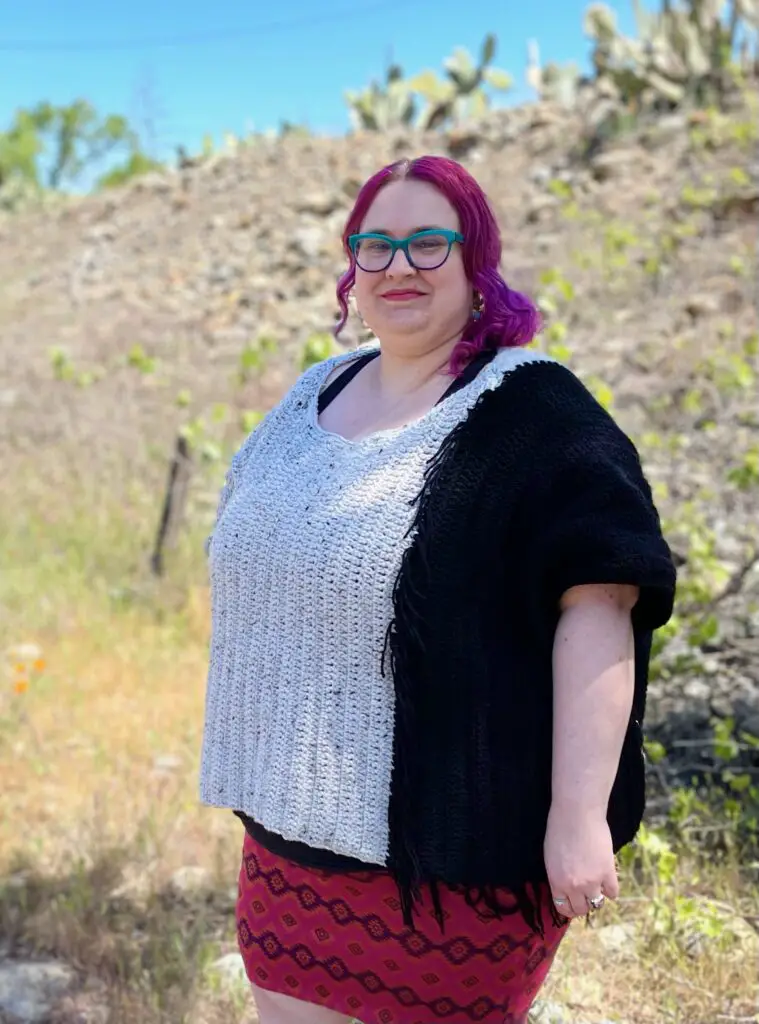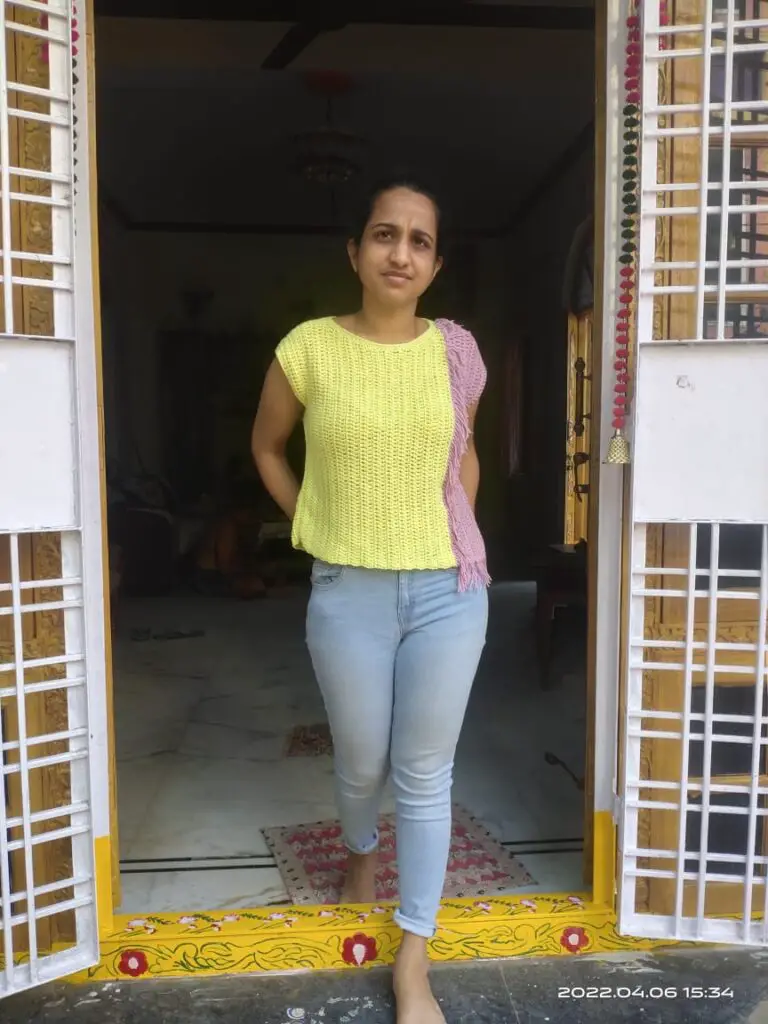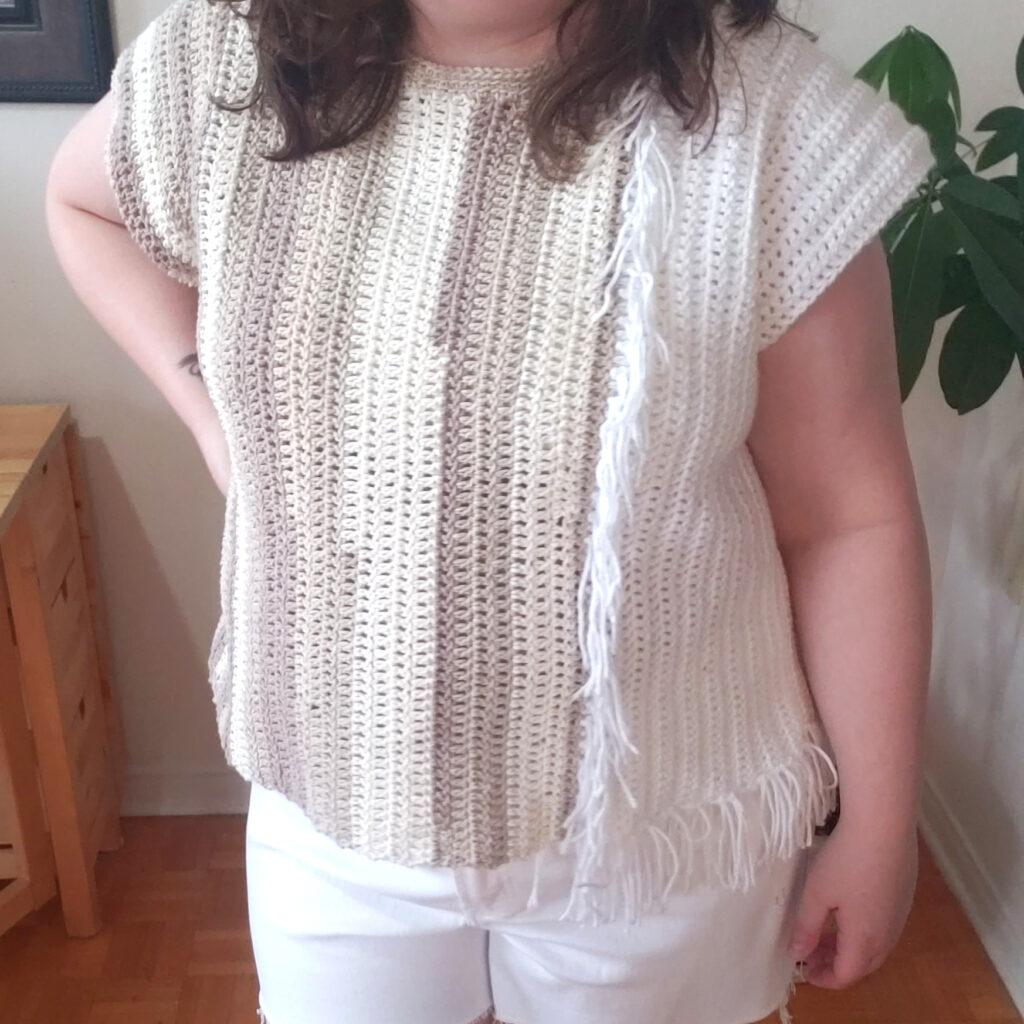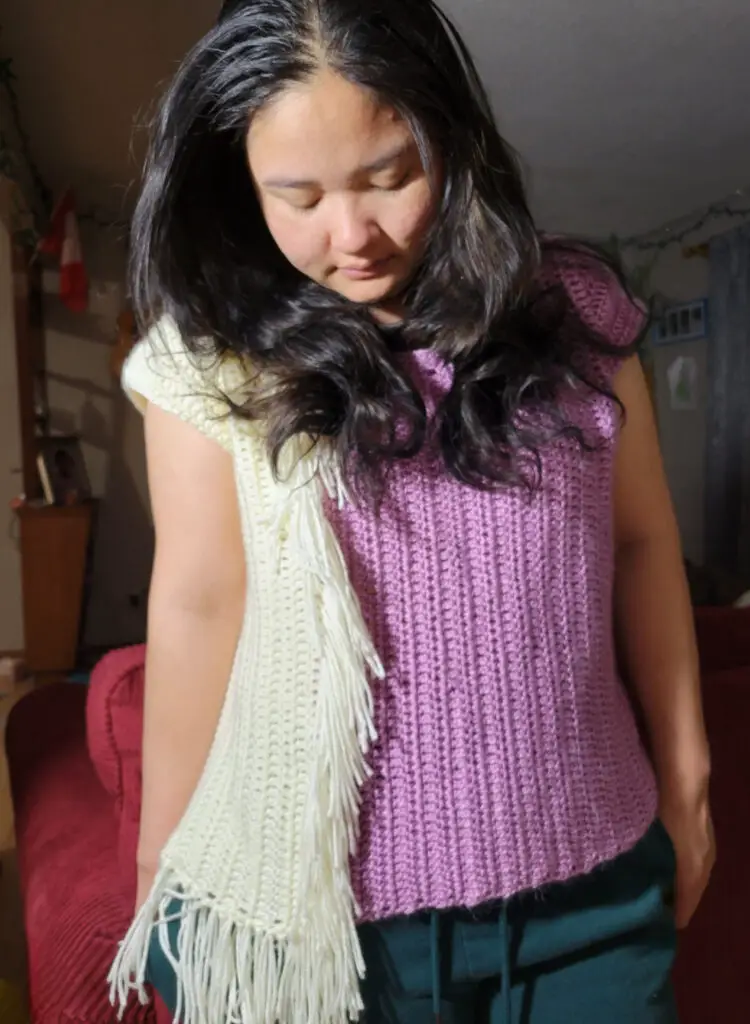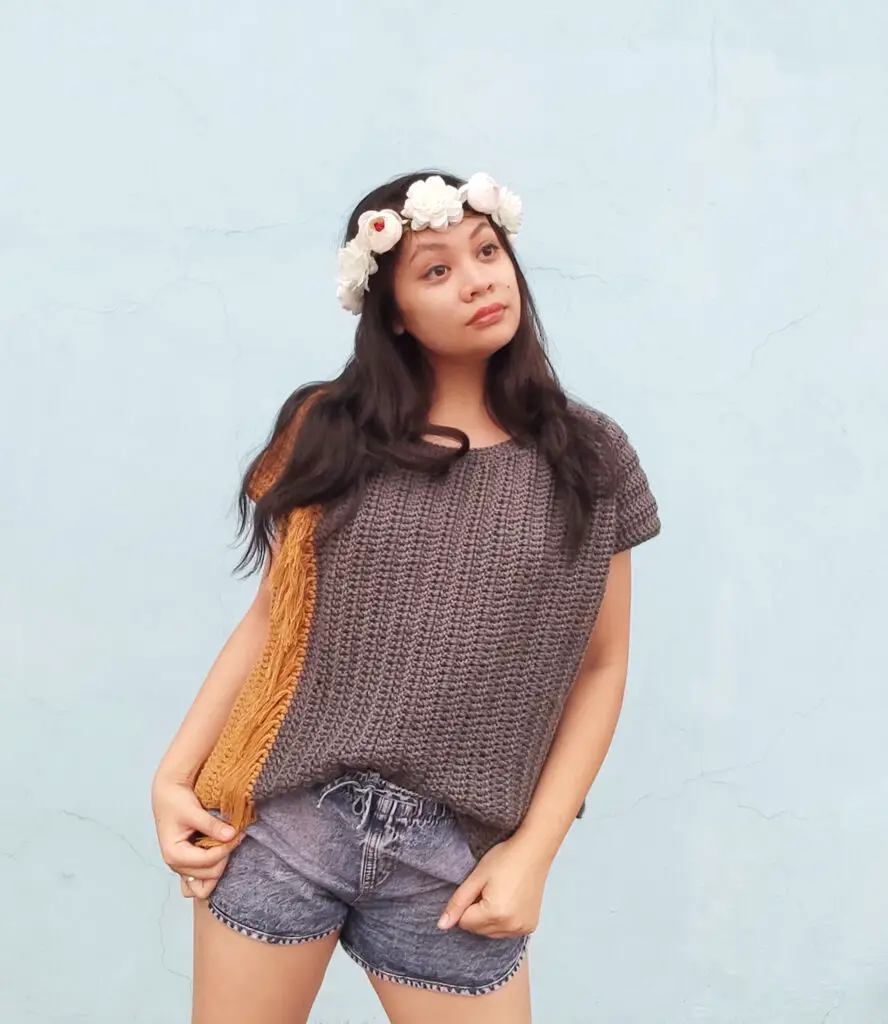 If you liked this, check out these crochet tops patterns next!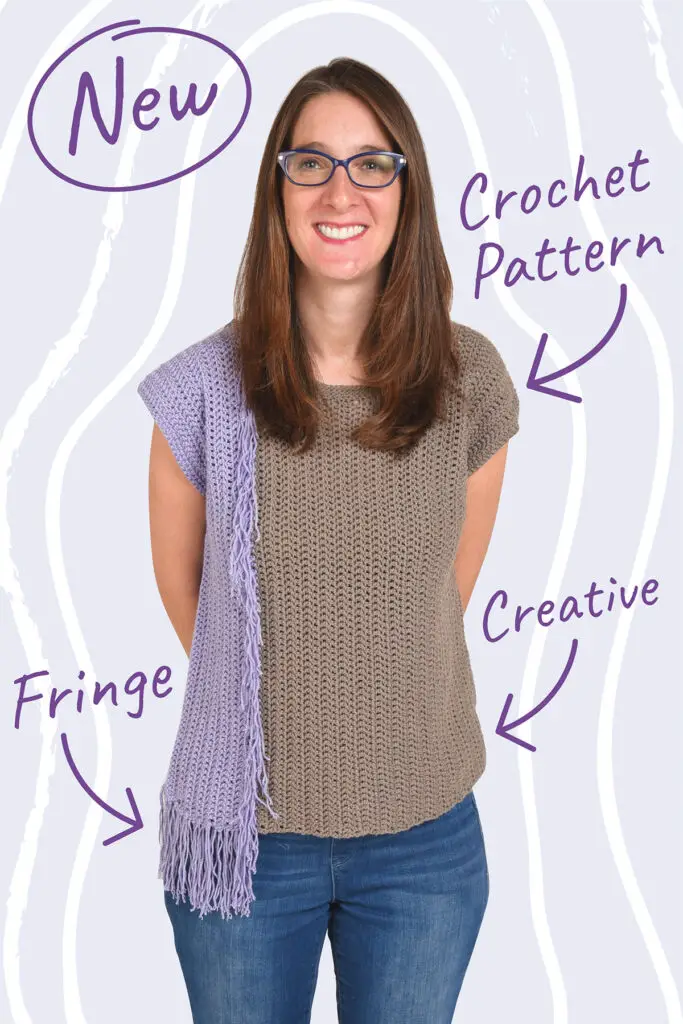 Mary Beth Cryan has been designing crochet patterns for over 4 years. Prior, Mary Beth worked as a professional illustrator and product designer with a specialty in paper crafts for 18 years. She has authored and illustrated 17 paper craft books, countless pop-up greeting cards, and many paper craft kits. She received 3 LOUIE Awards from the National Greeting Card Association. Some of her clients included MoMA (Museum of Modern Art NYC), American Girl, Dover Publications, Peter Pauper Press, Ranger Rick Magazine, Highlights magazine and many others.  She earned a Bachelor of Fine Arts from Syracuse University in 2000.