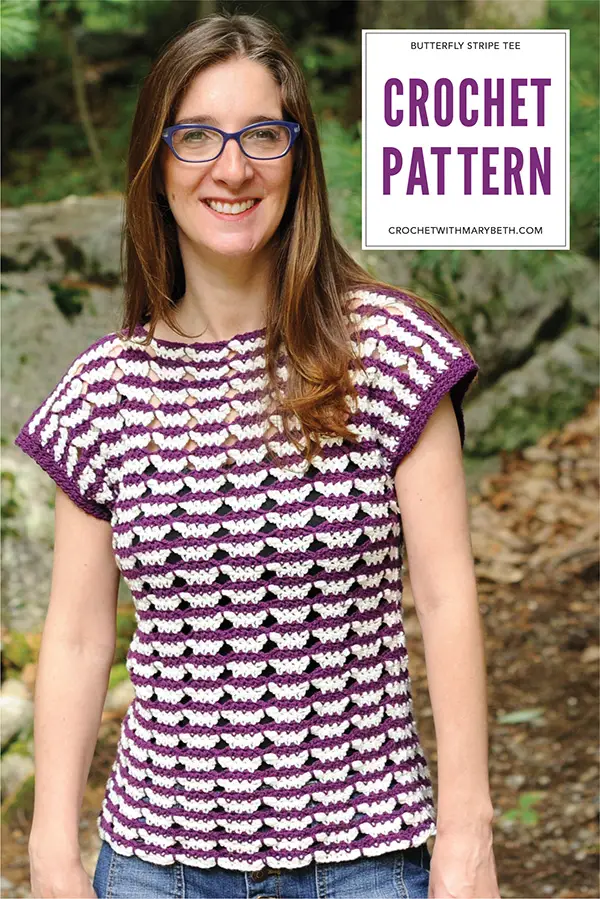 I have a great new modern crochet pattern for you, the Butterfly Stripes Tee!
I spent a lot of time researching the shape of this tee to make it look modern so you'll look modern wearing it.  My research revealed very short sleeves, a hemline right below the pant waistline, and dark colored cuffs are all very modern right now.  I incorporated all three. 
The stitch looks complicated but it's easy, unexpected, fun, quick, and rhythmic. You'll be in the groove by the fourth row.
This creative take on the butterfly stitch is the result of many hours of experimenting.  When this on-trend dark and light stripe slid off my hook I knew it would make the perfect unique and stylish tee.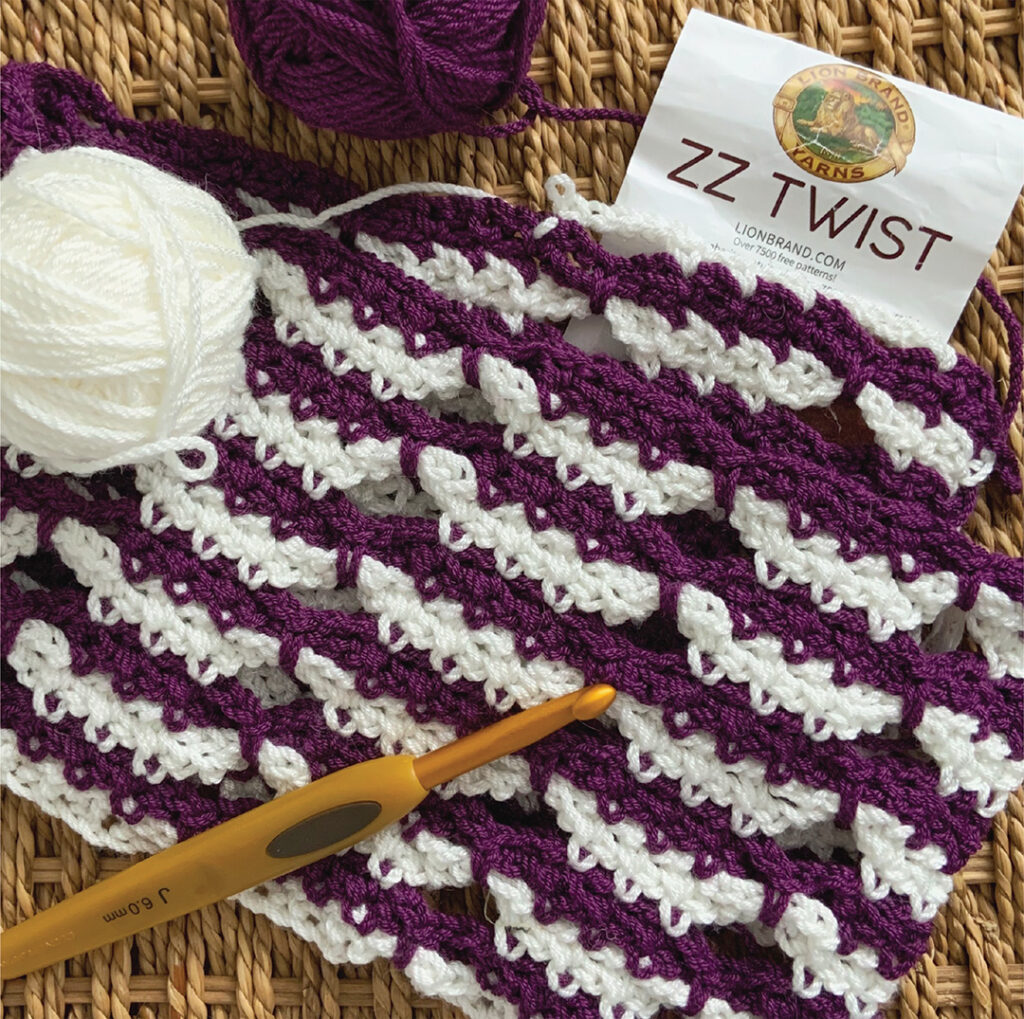 PDF Details
With your pattern purchase you will receive an easy to read, 13 page pdf.
The pattern includes stitch charts and instructional photos to learn the butterfly stitch.  You do not need to know how to read a stitch chart to make the pattern. The stitch is also written out in the instructions.
And the included schematic will help you find the perfect size for you or whoever you are making for.  I think you should totally make it for yourself!  You deserve it!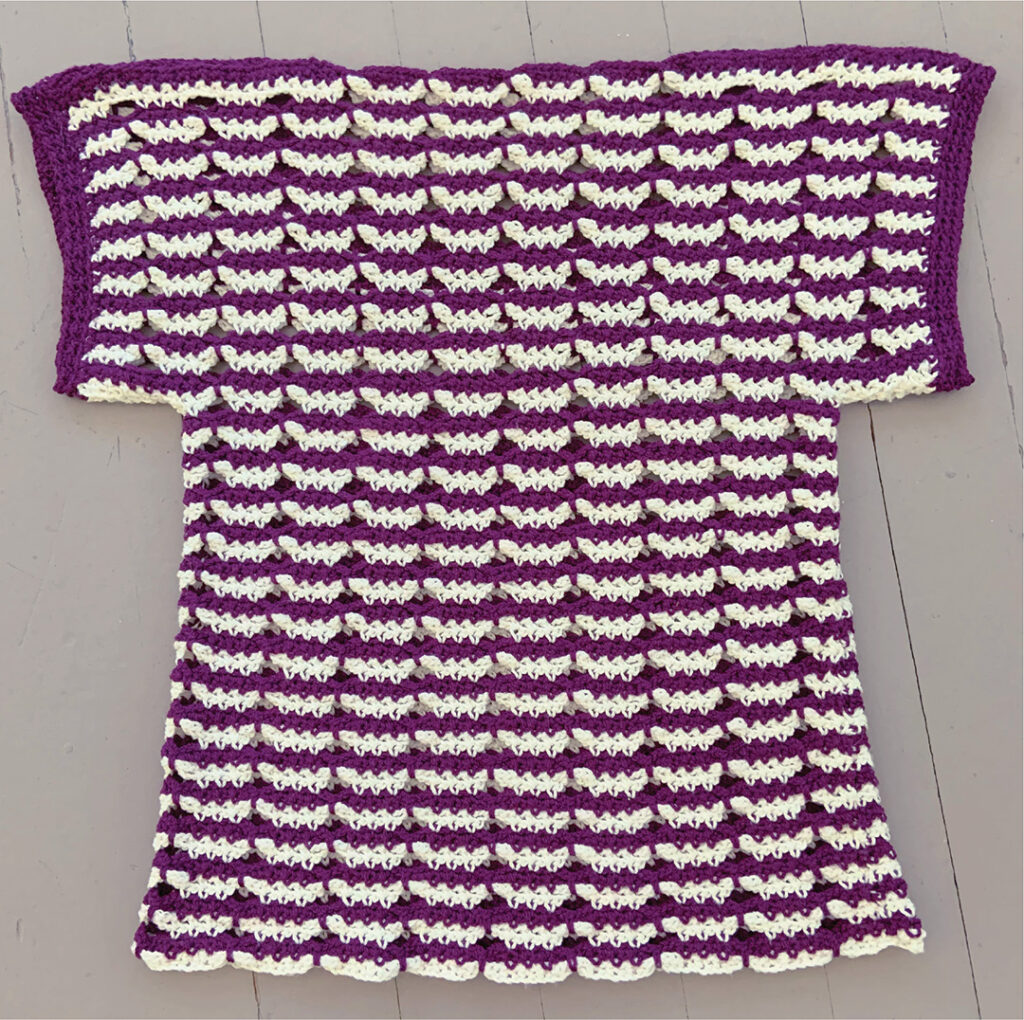 The pattern is clear and easy to follow because, like all of my patterns, it has been tested and professionally tech edited.
The tee is worked up in two pieces (front and back) and seamed.  The cuffs are then stitched on easy peasy mac and cheesy, as my 6 year old would say.
You're going to have a fun time stitching up this tee and a great time wearing it too!
Purchase the Pattern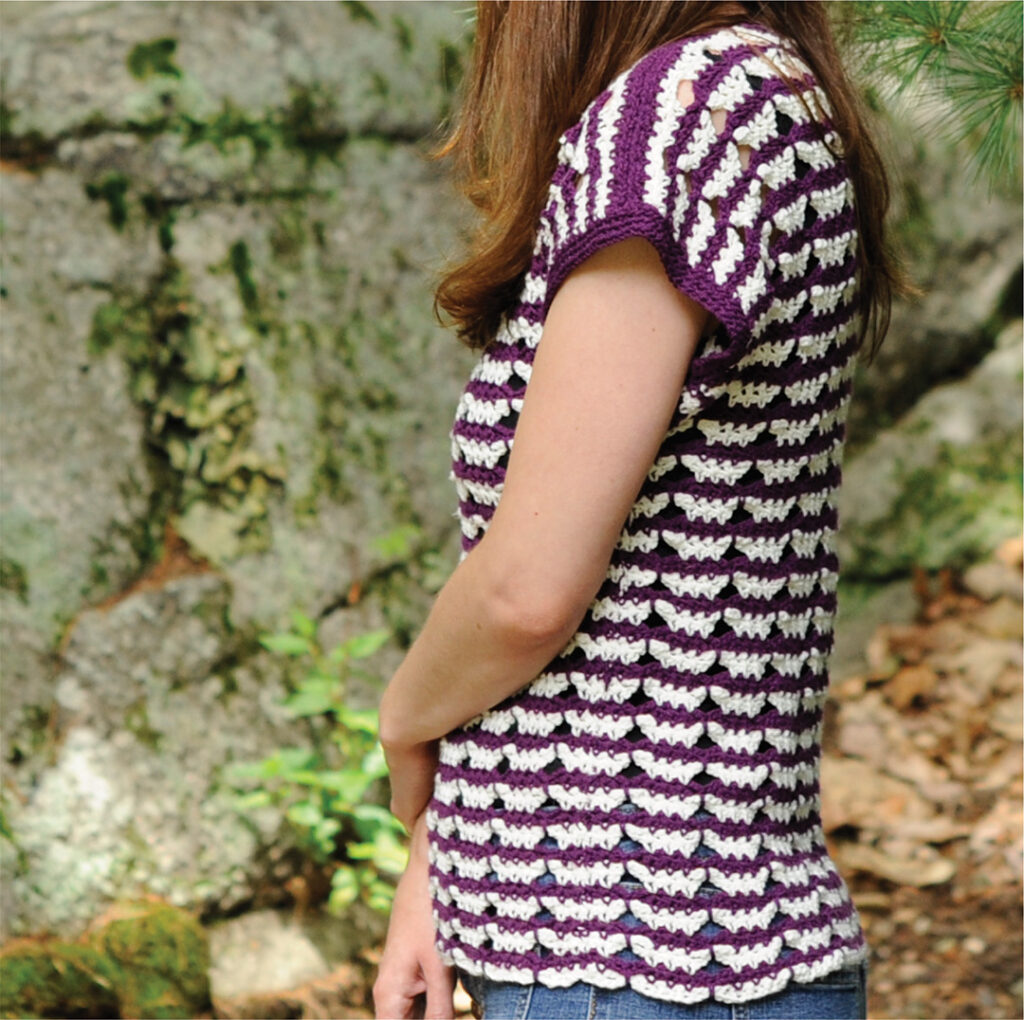 Crochet Pattern Details
The cardigan includes instructions for Women's sizes XS through 2X.
The tee works up fast because you are working with worsted weight yarn. And because half of the stitches are chains.
The stitch might look intricate but it's really simple. It's just bunch of single crochets and chains. Cool right?!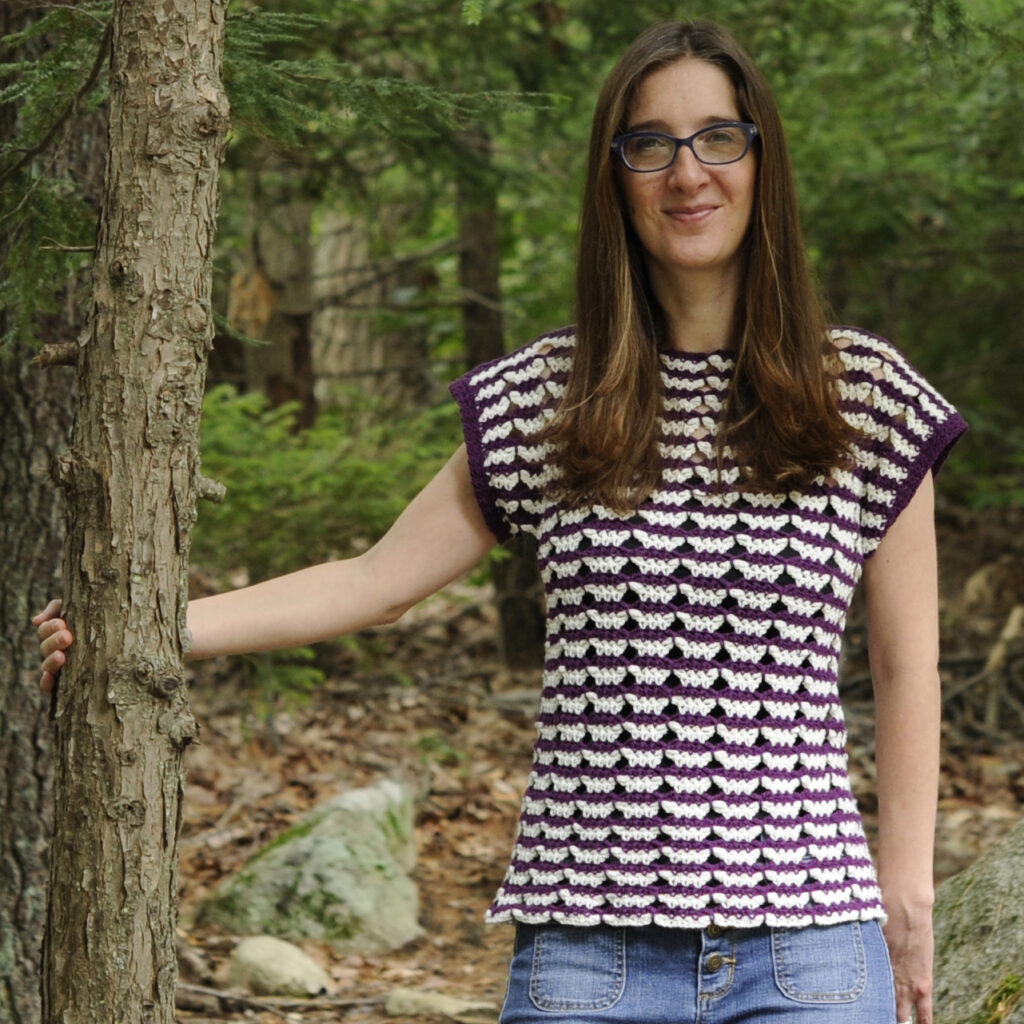 Materials
Lion Brand Yarns ZZ Twist Yarn, worsted 4-Medium (100% acrylic, 246 yds/225 m, 3.5 oz/100 g), 2 (2, 3, 3, 3, 3) skeins each of Color (MC) Ecru and Color (CC) Grape
Crochet hook size US I/9 (5.5 mm)
Tapestry needle
Pins, I use Clover Bamboo Marking Pins
Scissors
Yarn amounts:
To complete the pattern you will need 400 – 1000 yards each of Color (MC) Color (CC) for a total of 800 – 2000 yards (732 – 1829 m),
Project Level:
Easy
Substituting Yarn:
Use a yarn that is firm and does not have a lot of stretch.  Testers recommend:
Paintbox Yarns Simply Aran, worsted 4-Medium (100% acrylic, 201 yds/184 m, 3.5 oz/100 g)
Red Heart Soft Yarn, worsted 4-Medium (100% acrylic, 256 yds/234 m, 5 oz/141 g)
Speaking of testers
Here are some beautiful Butterfly Stripe Tees by some of my amazing testers.
Be sure to check them out on Instagram (by clicking on their name in the photo credits) if you'd like to see more of their beautiful work.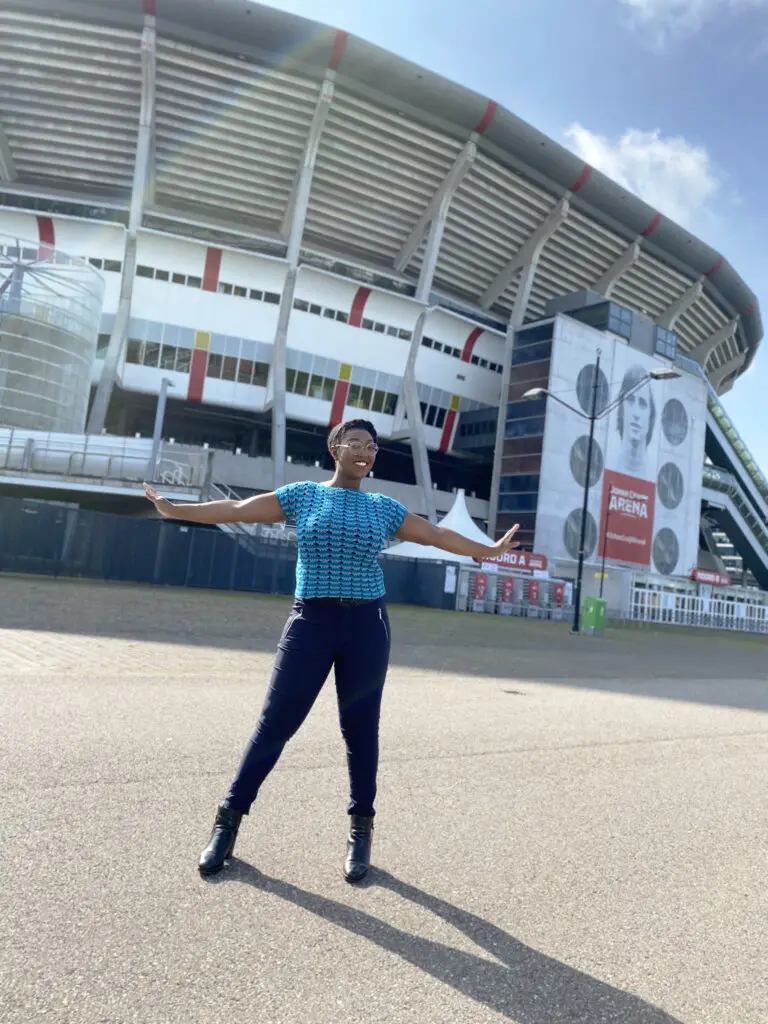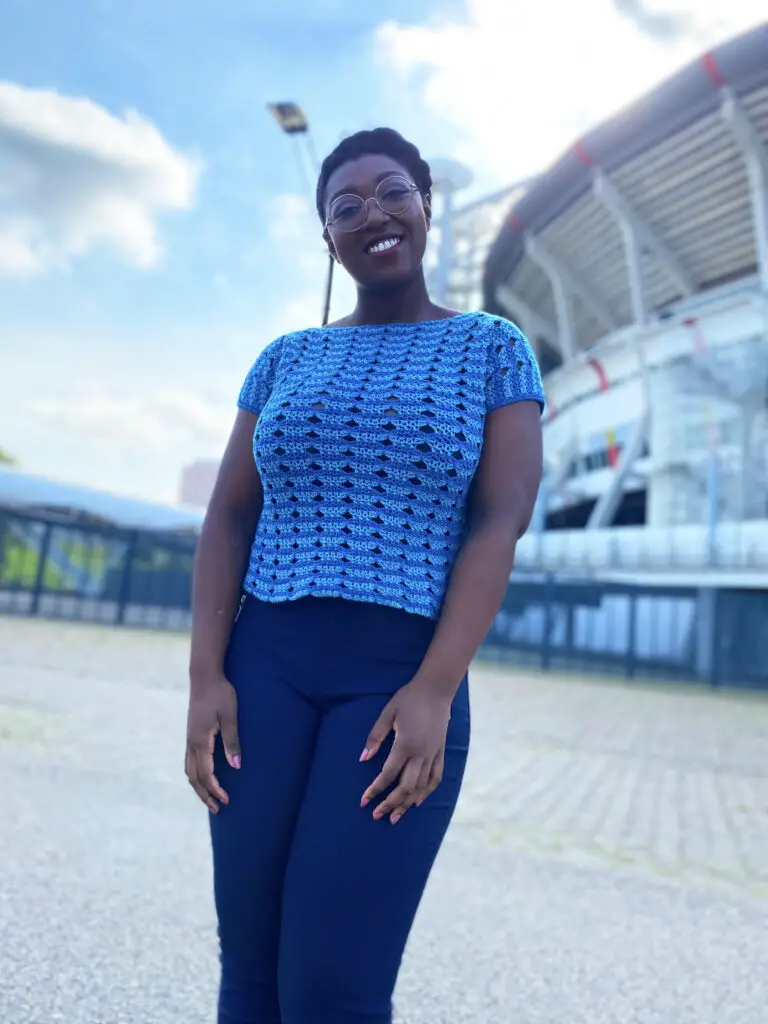 How stunning is Tonnetje Wol in her monochrome striped tee?
This is a great idea for choosing colors. Pick one color and then use a lighter or darker version of the same color for the contrasting stripe.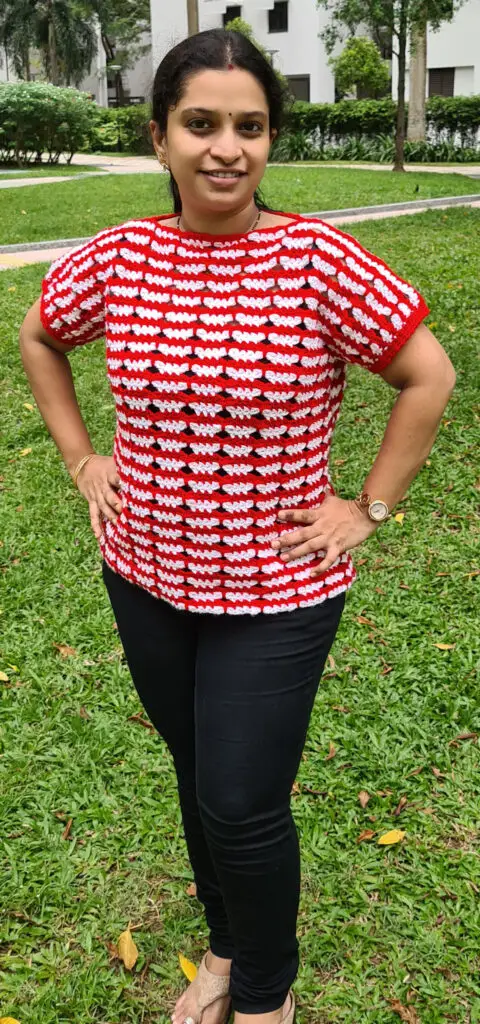 Beautiful Srujana Yenugula picked this great red. It elevates her tee and makes it very sophisticated. I can totally see this look going from day to night.
She also chose to lengthen her tee a bit (instructions included for making this adjustment in the pattern).
And doesn't she look fabulous in red?!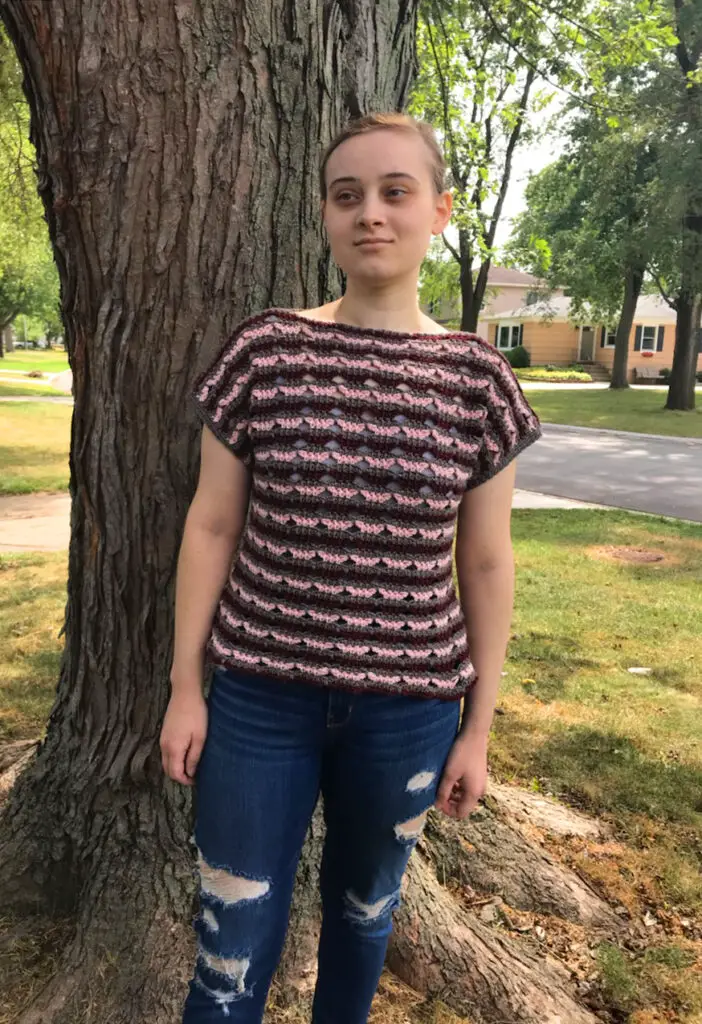 Hollyann Mendlar expressed her creativity by using THREE different colors. She grounded the piece by using a neutral for every other stripe. And then added a fun color for every other set of butterflies.
The varying colors and addition of a third color adds interest to her tee. I just love this funky take on the tee. Hollyann is one cool lady!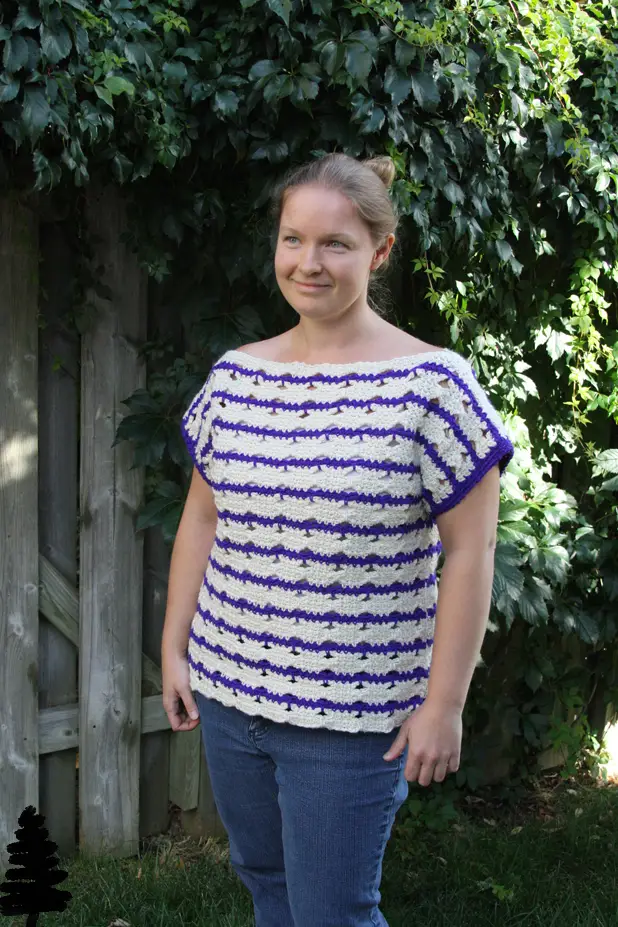 Pine Tree Crochet made the tee her own by modifying the stripe pattern. She only added the contrast color on every other row. I love this idea! She's so clever.
She also chose to modify the width of the neckline (instructions included for making this adjustment in the pattern). It shows off her shoulders and frames her face beautifully.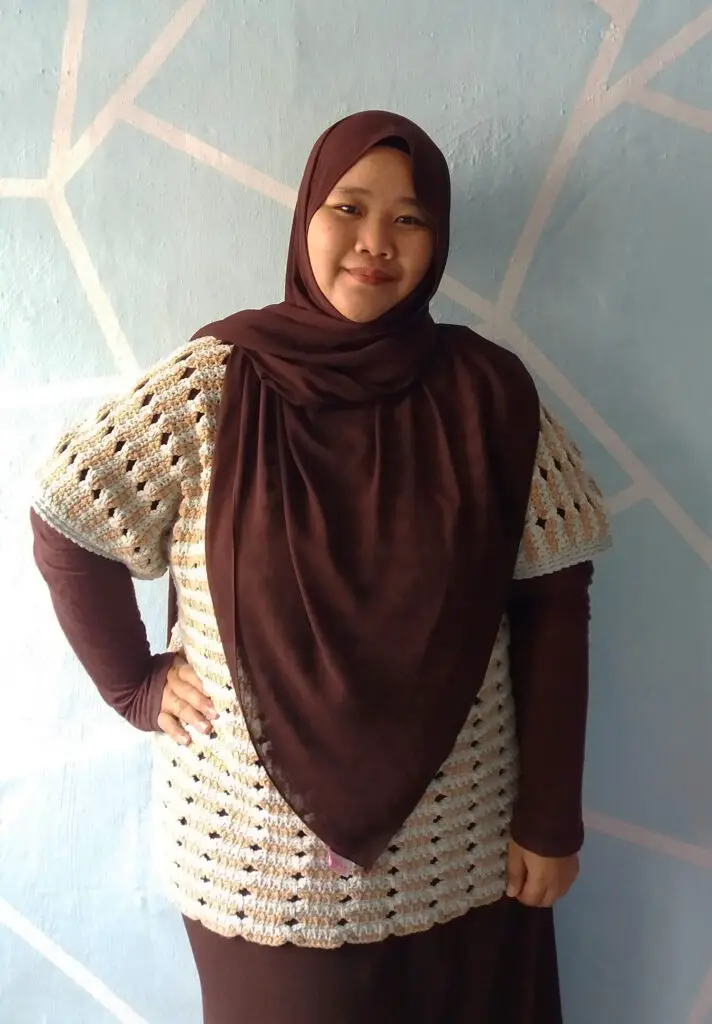 I love the neutrals that The Sppj used in her tee. I rarely use neutrals but I love seeing my patterns in colors I wouldn't have thought of.
She also made her tee in a slightly oversized version so she could layer underneath. I think you'll agree, she's looking great in her tee!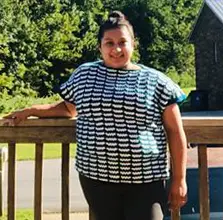 I love this happy turquoise color that Ruby chose for her tee. It's perfect for hanging out in the sunshine.
In fact, I think she's looking like a happy ray of sun herself in her Butterfly Stripe Tee. Nothing makes me more delighted than a crocheter enjoying her finished project.
Please share your pictures!!
Seeing your finished crochet garments is the reason I design! When you make the Butterfly Stripe Tee, please be sure to tag me @crochetwithmarybeth in your social media posts.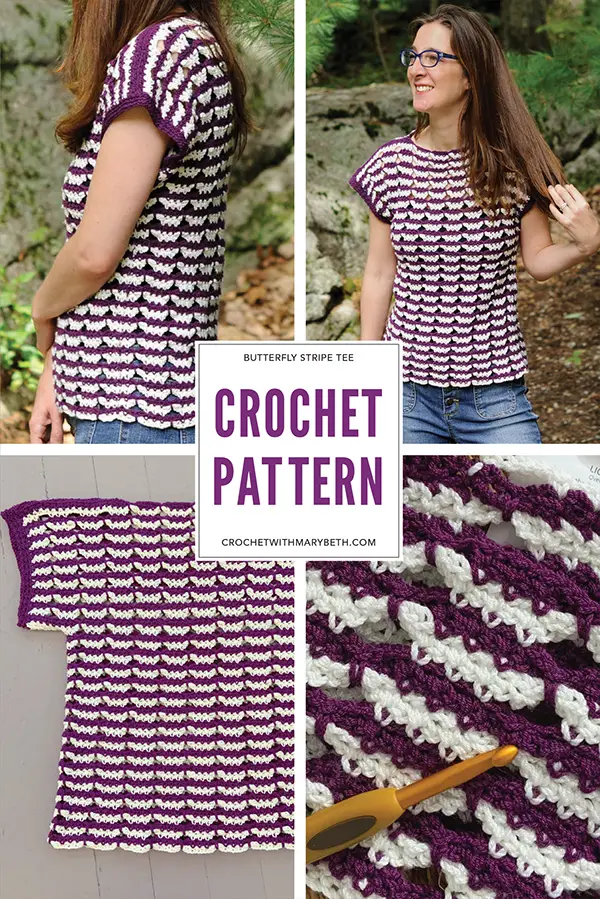 Mary Beth Cryan has been designing crochet patterns for over 4 years. Prior, Mary Beth worked as a professional illustrator and product designer with a specialty in paper crafts for 18 years. She has authored and illustrated 17 paper craft books, countless pop-up greeting cards, and many paper craft kits. She received 3 LOUIE Awards from the National Greeting Card Association. Some of her clients included MoMA (Museum of Modern Art NYC), American Girl, Dover Publications, Peter Pauper Press, Ranger Rick Magazine, Highlights magazine and many others.  She earned a Bachelor of Fine Arts from Syracuse University in 2000.