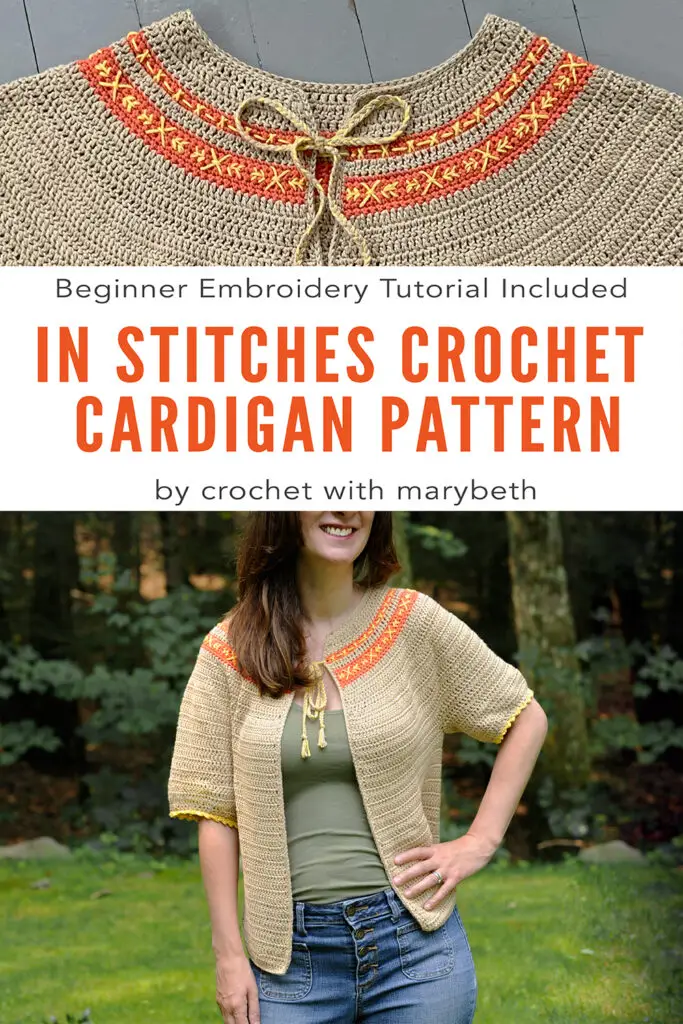 I have a brand new pattern for you! The In Stitches Cardigan is a top down pattern that will teach you how to embroider on crochet. If you are looking for a Coboo yarn pattern this is one. Don't have Coboo? That's fine too. Any dk 3-light weight yarn will do.
Purchase the pattern on Etsy or Ravelry now or keep reading to find out more about the cardigan and pattern details.
Learn something new!
Are you a crocheter who loves to learn new techniques?
I've been seeing embroidered crochet sweaters popping up on the internet and in stores. And I absolutely love them. So of course I had to design an embroidered crochet cardigan pattern for you.
You'll have fun learning how to embroider the detail on this cardigan's yoke. No previous embroidery experience is necessary. The pattern includes a detailed step by step photo tutorial specifically for beginner embroiderers.
I enjoyed the embroidery a lot more than I thought I would. It was almost therapeutic doing it.

Janet – Tester
Keep your shoulders warm.
The changing of the seasons, a cool evening breeze, and excessive air conditioning all give my shoulders goosebumps. It's a problem. Do you know what I mean?
Has this happened to you?
You are all excited to go to a nice restaurant. You get there, step inside, and the air conditioning is freakin' freezing?
For the whole rest of the evening you're just trying to not die of hypothermia. Okay, that might be an exaggeration. But this has ruined my meal on more than one occasion.
You're not really a shawl person. You're not cold enough for a sweatshirt. You just need something to cover your neck and shoulders. That's exactly what the In Stitches Crochet Cardigan pattern is for.
Other slightly chilly circumstances may include but are not limited to evening breezes at picnics, strong ocean winds, fluctuating autumn air, and poorly placed fans.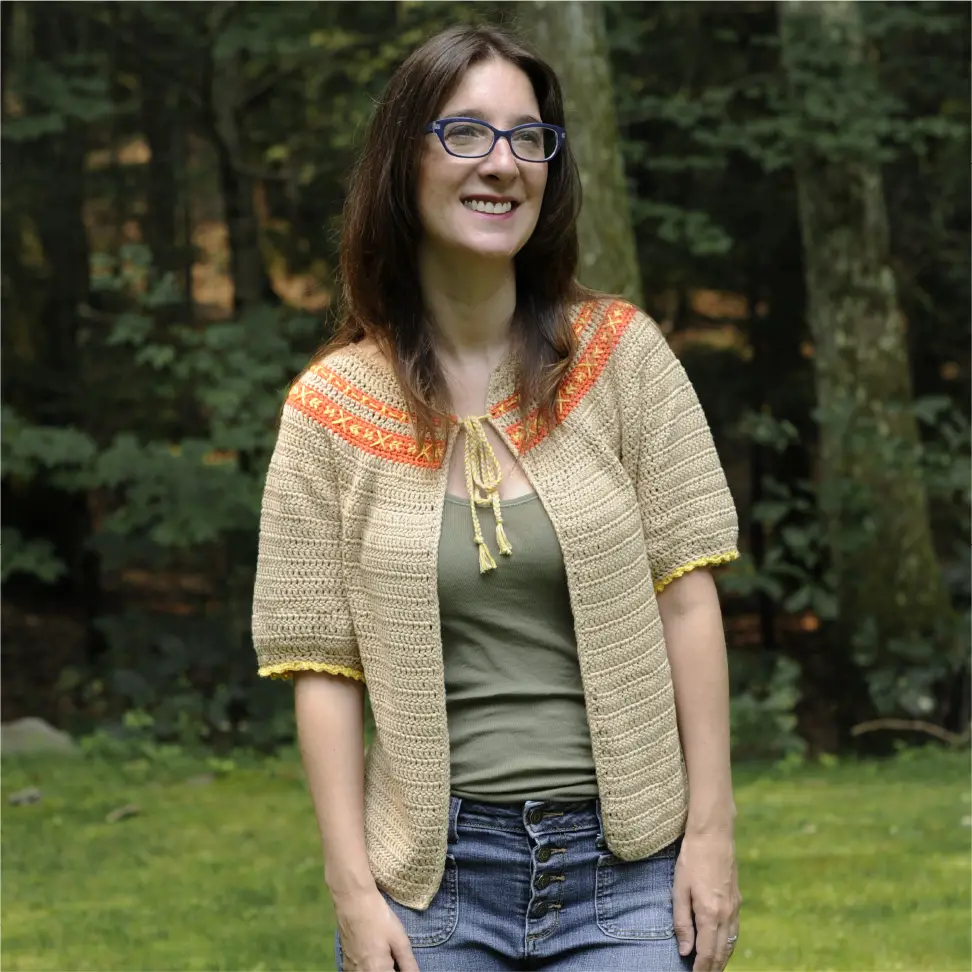 Over the years I've owned many short sleeve sweatshirts, jackets, sweaters, and cardigans.
In fact, I wore my In Stitches Cardigan just the other day.
My son is in 2nd grade. The school day is 6.5 hours and his bus ride is 35 minutes each way. I feel bad about the long day and I'm sucker. So I drive him to and from school.
But the school pick-up is awful. I have to stand in a giant line of at least 100 people outside the gym door.
There is not a parking lot. So I have to get there at least 15 minutes early to get one of the 10 parking spaces on the flat part of the street before it turns into a gigantic steep hill. Then it takes about 5 to 10 minutes to dismiss the kids.
To sum it up, I'm looking at about 25 minutes of standing in line at the mercy of the elements everyday. And yesterday the fall breezes were blowing. I was happy I had my In Stitches Cardigan with me!
I thought that this cardigan looked so cute when I first saw it and I have never done a top-down project so it was a super fun learning experience!

Emily – Tester
Express your unique style.
One of my main goals when designing is to inspire your creative side. I want you to get excited about expressing your unique self through making and wearing crochet clothes. 
I see a lot of crochet cardigan patterns out there that are formula patterns. Crochet stitch + silhouette = crochet clothes. I like to go farther than this. I strive to push the boundaries of design.
For example, here I created a traditional yoke style crochet cardigan with colorwork. But I created something new and fresh by substituting the expected intarsia with the surprise element of embroidery.
Embroidery on crochet clothes is a hot new technique. I thought it would be clever and ironic to substitute the traditional instarsia with it.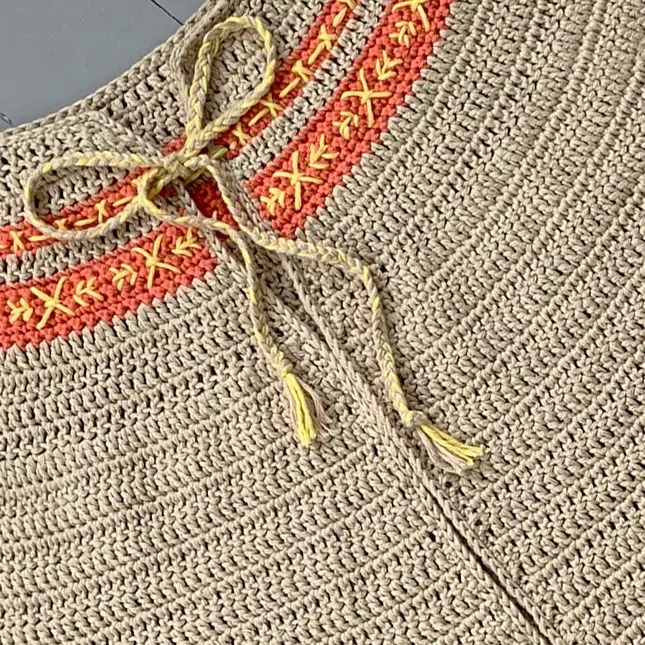 Or maybe you are looking for a crochet cardigan that is…
Seamless. This crochet cardigan is worked in turned rounds from the top down. There is no seaming involved.
Cute.  Tester Edyta says, "I'm very happy with the result because the cardigan is so comfortable to wear and it's so cuteee…"
Customizable. Because this crochet cardigan is worked from the top down it is very easy to try it on as you go and customize the size to your body. Instructions are included to adjust yoke, sleeve, and body length.
Creative.  You will find lots of room for self expression with this pattern. There are quite a few areas to place color. Use as few or as many as colors as you are comfortable with. Experiment and have fun!
Size Inclusive.  All of my patterns starting in 2021 are sized from XS to 5X.  Earlier patterns are on at the to-do list to revise now that I have the skills to grade in more sizes.
A Coboo Yarn Pattern.
Pattern was very well written with easy to follow instructions.

Mangla – Tester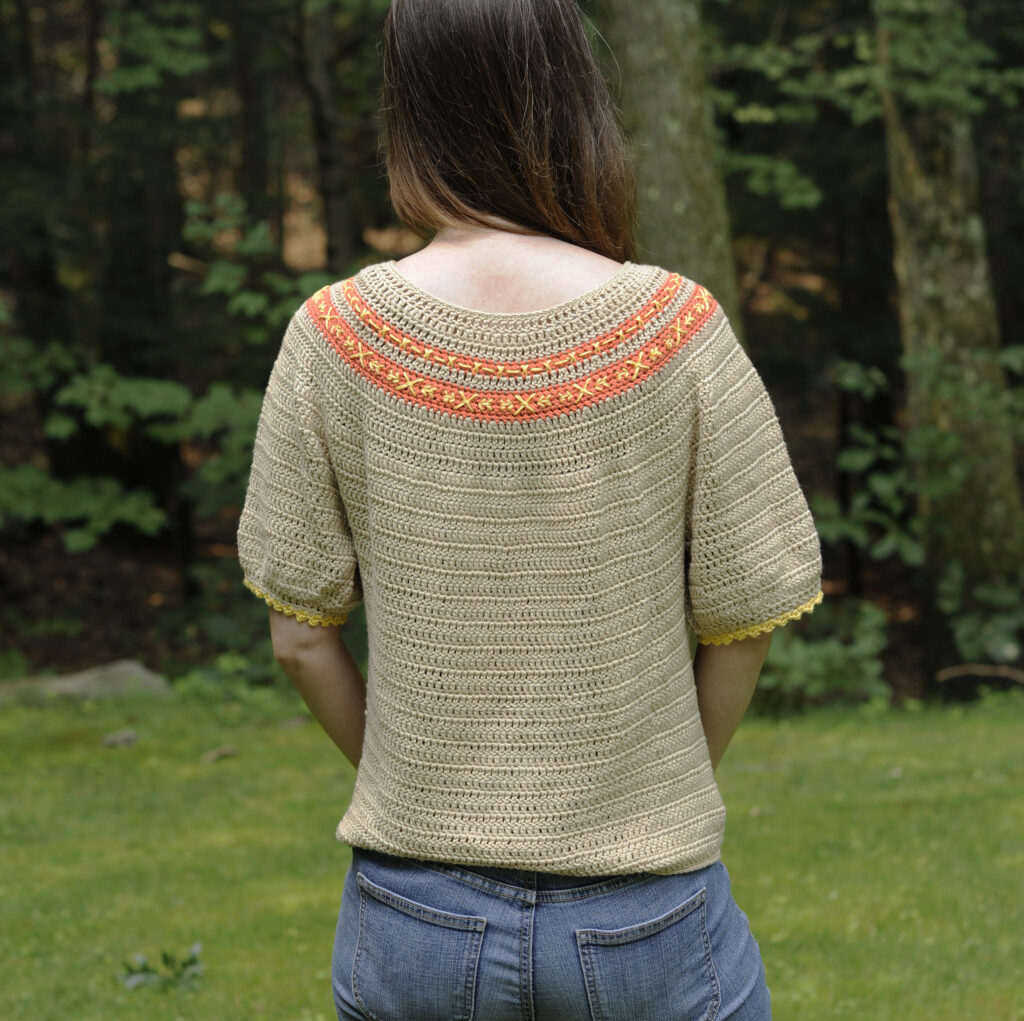 Crochet Tee Pattern PDF Details
You can make this pattern! The embroidery is explained in beginner terms and the crochet is rated intermediate. The required crochet skills include: how to increase, decrease, follow instructions for a border, working in joined turned rounds and color change.
Your pattern purchase includes an easy to read 17 page pdf, 6 of which are the embroidery tutorial.
You won't get stuck anywhere in this pattern. It is clear and easy to follow because, like all of my patterns, it has been tested and professionally tech edited.
Included in the pattern is a size schematic, photos, illustrations, details to create sizes XS – 5X, an embroidery tutorial, and instructions to customize the yoke, sleeve, and body lengths.
This crochet cardigan pattern is written in US terms.
The pattern is very clear and if you have a question I am here for you. I have a dedicated pattern support email listed at the end of the pattern. You can email me directly anytime!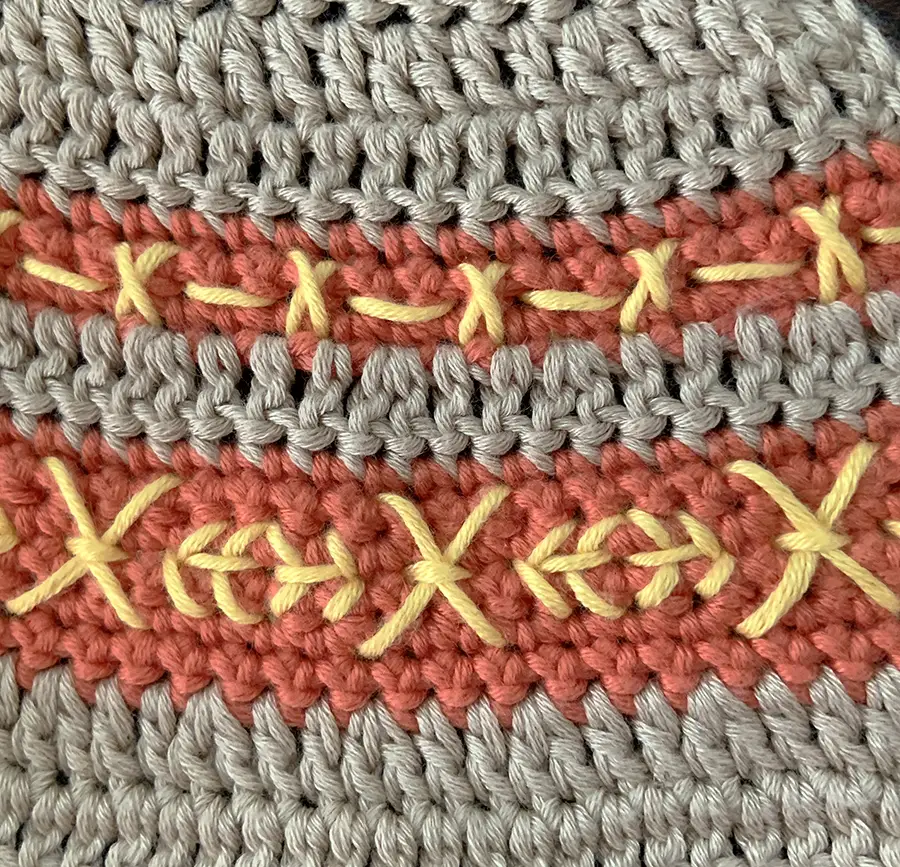 Here is what you will need
Lion Brand Yarns Coboo Yarn, 3-light (50% cotton, 50% Bamboo, 232 yds/212 m, 3.5 oz/100 g), color A-Beige 3 (4, 5, 5, 6, 6, 7, 8, 8) skeins, color B-Orange 1 skein for all sizes, color C-Yellow 1 skein for all sizes
Crochet hook size US G/6 (4 mm)
I started working on the cardigan yesterday. It's coming out beautifully!  The instructions are very easy to follow.

Chithra – Tester
Coboo Yarn Review
Have you used Coboo Yarn before?
If you'd like to read an honest and detailed review of the pros and cons of working with coboo on a pattern check out THIS blog post .
Don't have any Coboo at your local store? You can substitute any 3-light weight yarn.
Here are two yarns my testers recommend:
Lion Brands Yarns Truboo Yarn
MillaMia Naturally Soft Cotton
Speaking of Crochet Testers
Here are some inspiring In Stitches Cardigans by a few of my talented testers.
Be sure to check them out on Instagram (by clicking on their names in the photo credits) if you'd like to see more of their beautiful work.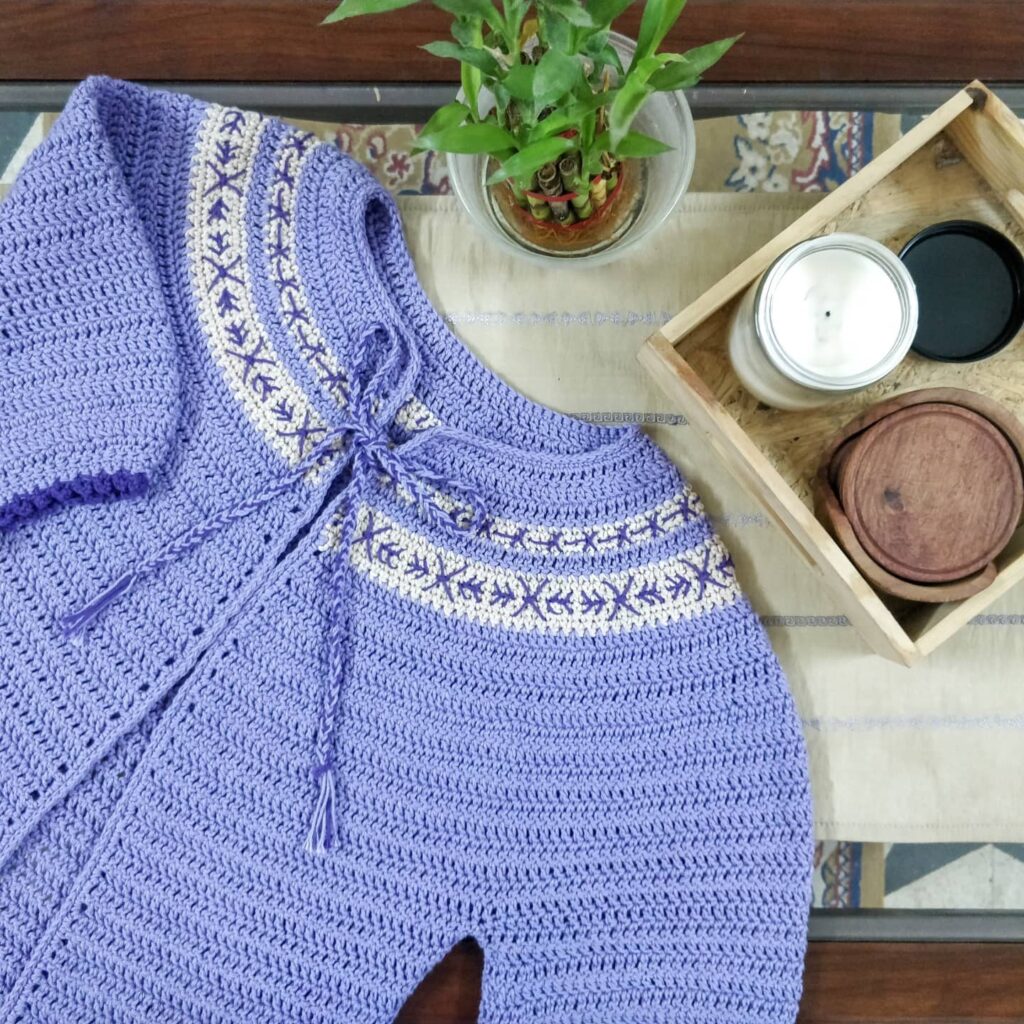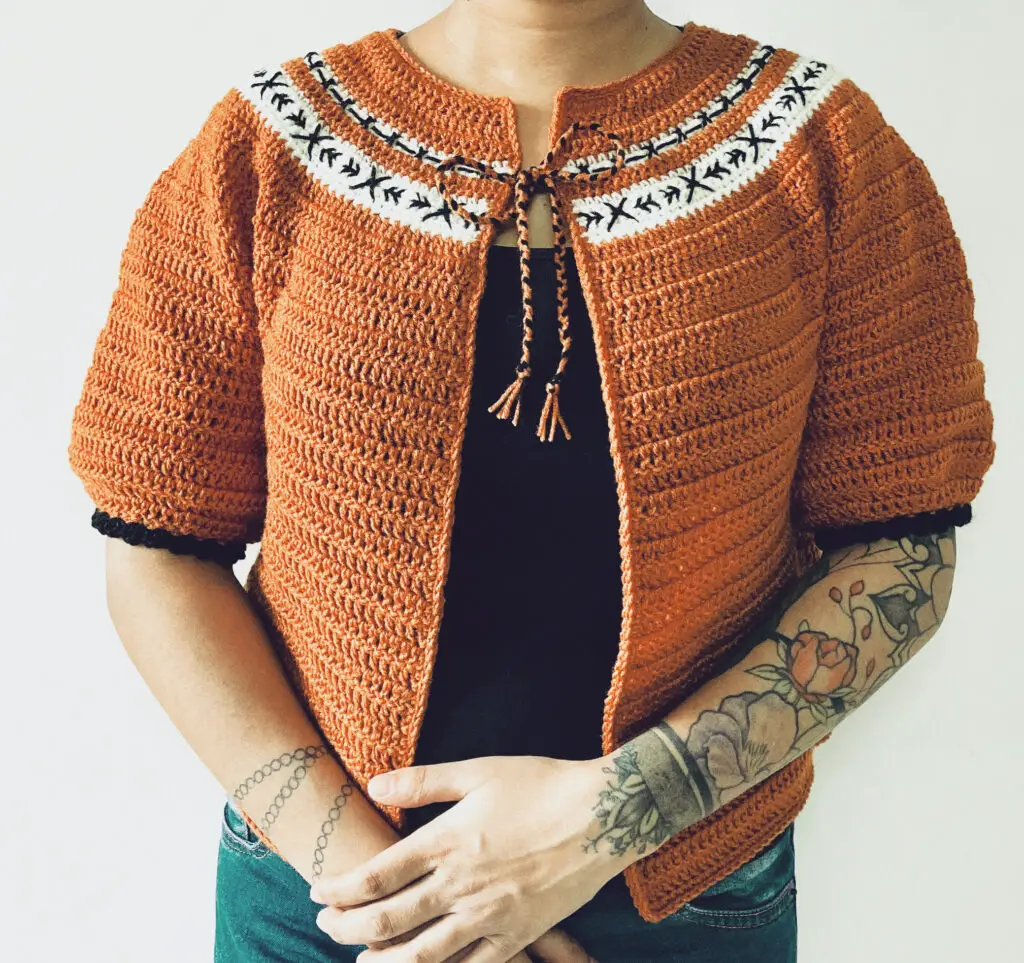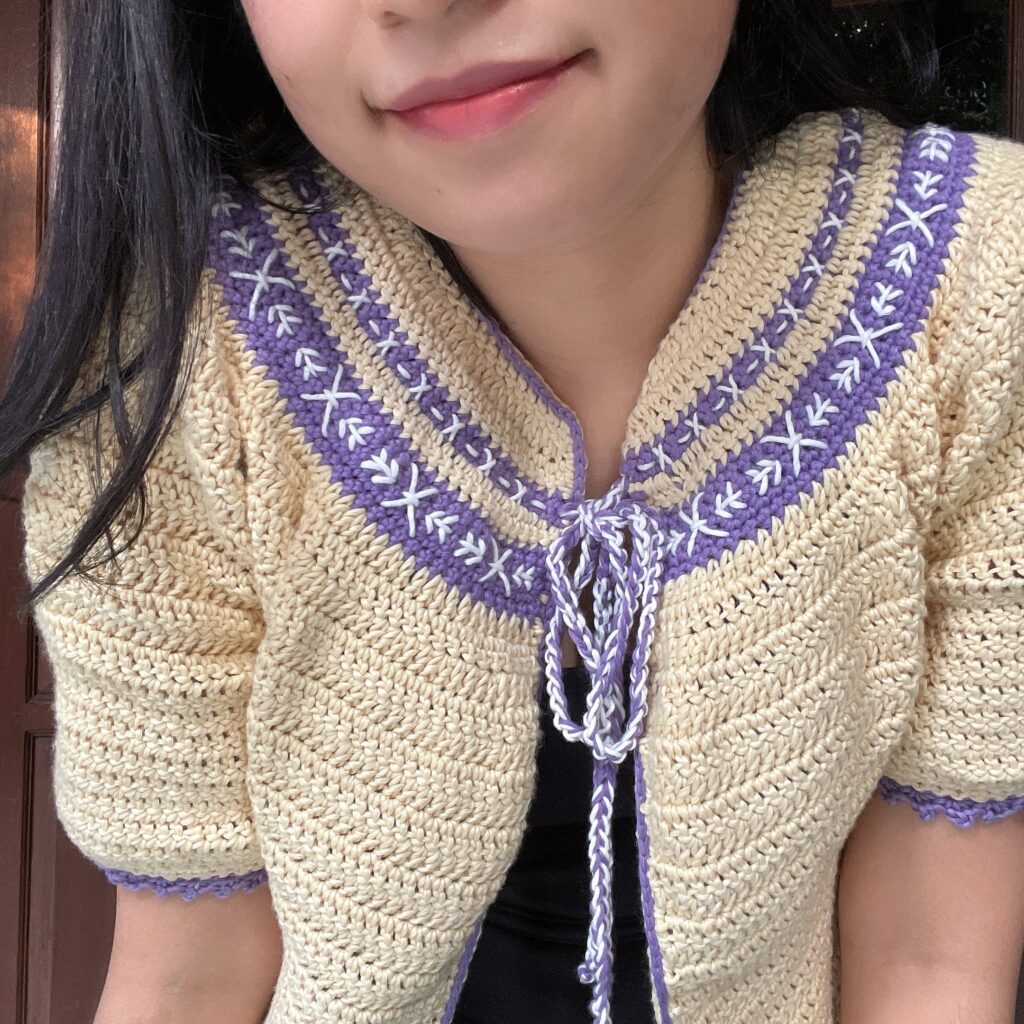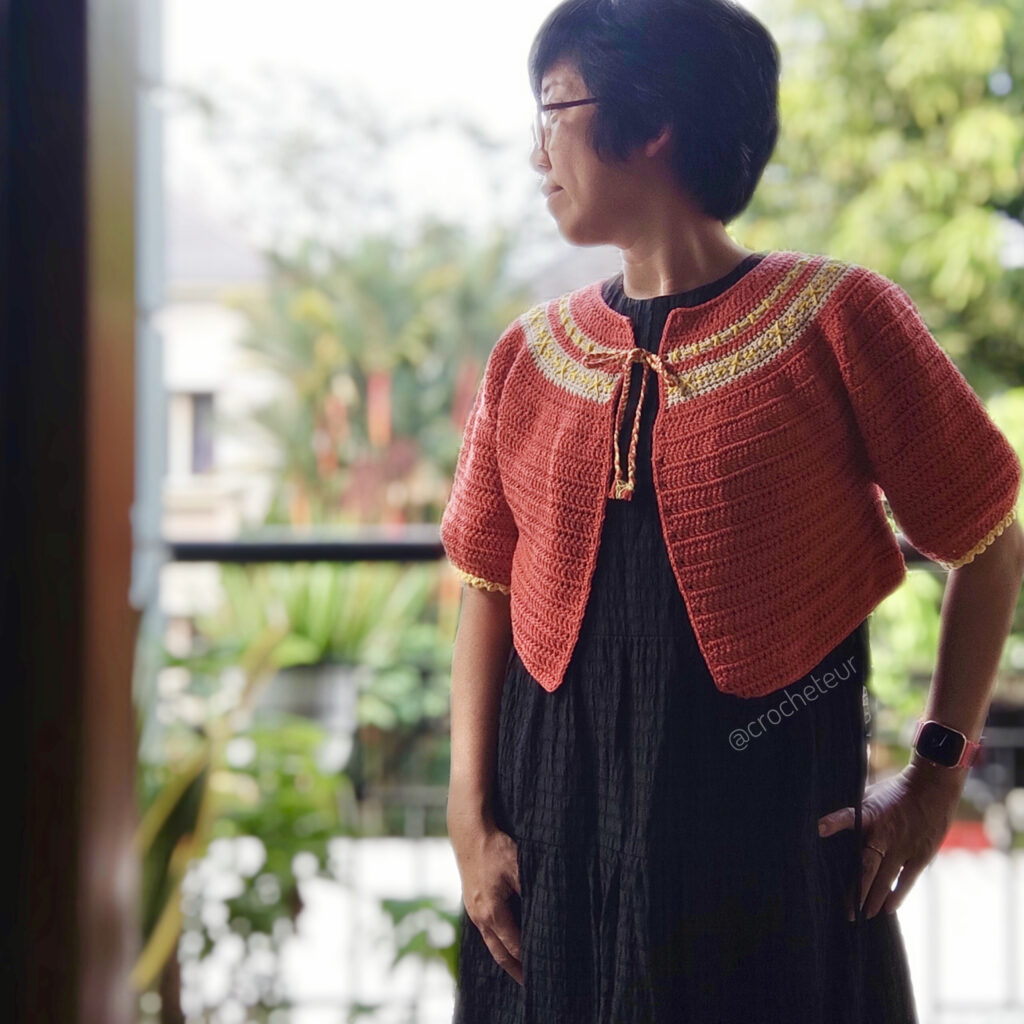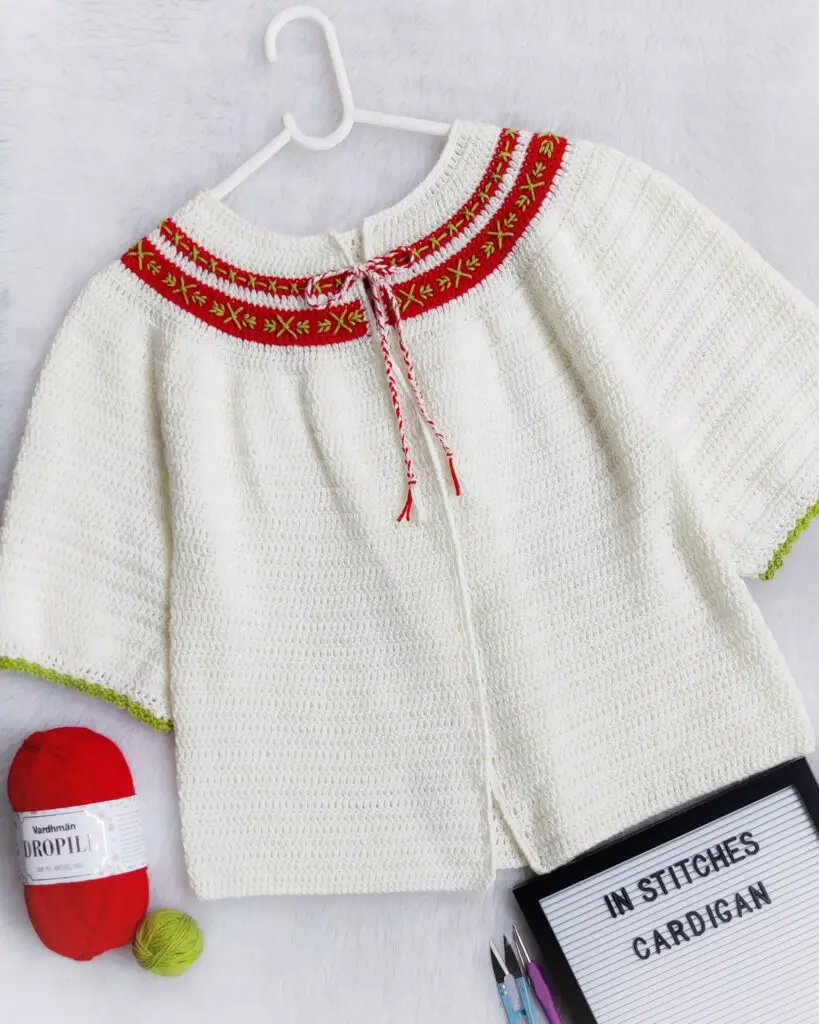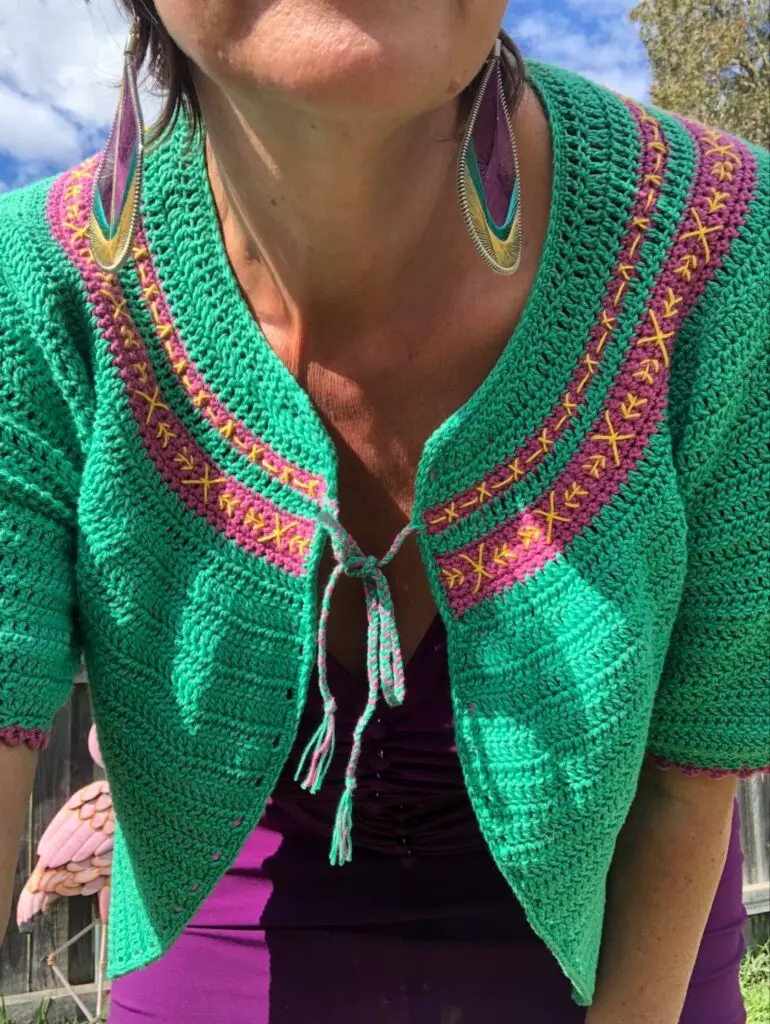 If you liked this, check out these crochet garments next!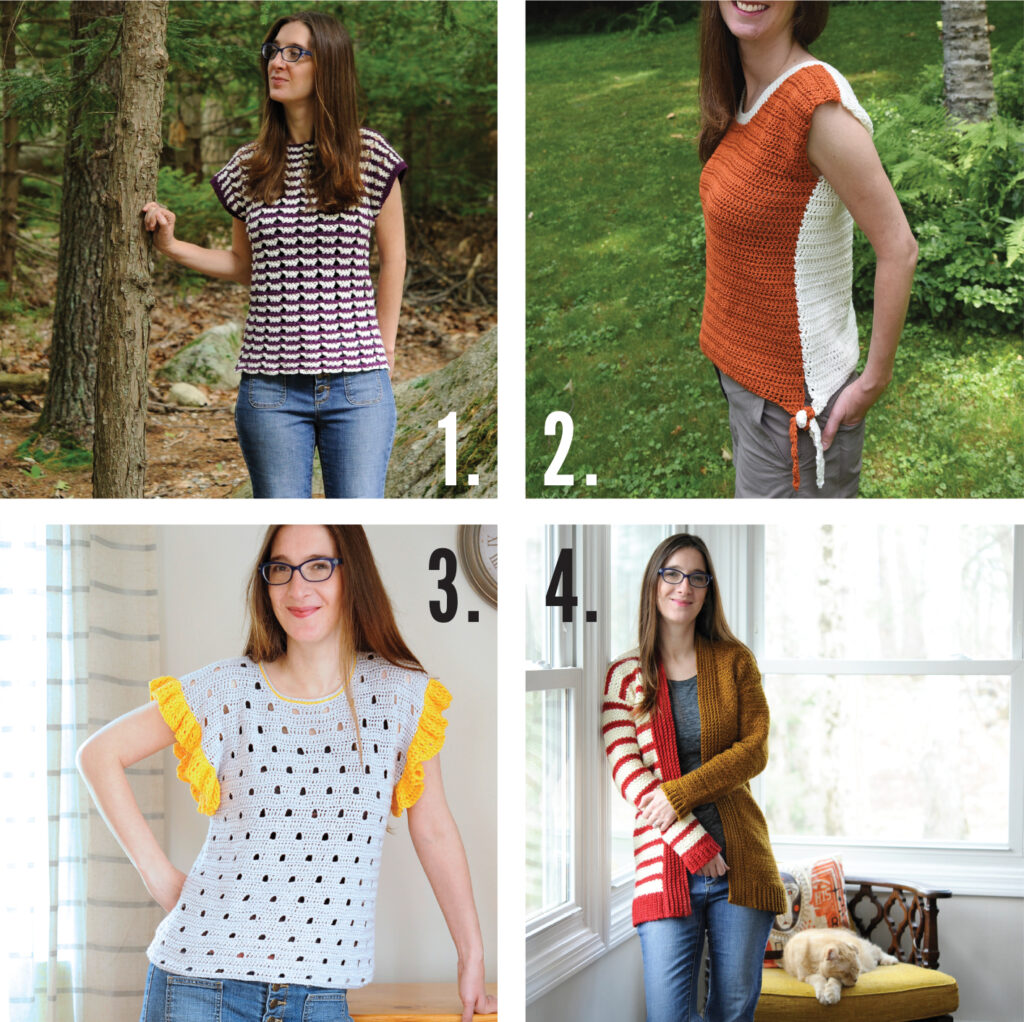 Mary Beth Cryan has been designing crochet patterns for over 4 years. Prior, Mary Beth worked as a professional illustrator and product designer with a specialty in paper crafts for 18 years. She has authored and illustrated 17 paper craft books, countless pop-up greeting cards, and many paper craft kits. She received 3 LOUIE Awards from the National Greeting Card Association. Some of her clients included MoMA (Museum of Modern Art NYC), American Girl, Dover Publications, Peter Pauper Press, Ranger Rick Magazine, Highlights magazine and many others.  She earned a Bachelor of Fine Arts from Syracuse University in 2000.