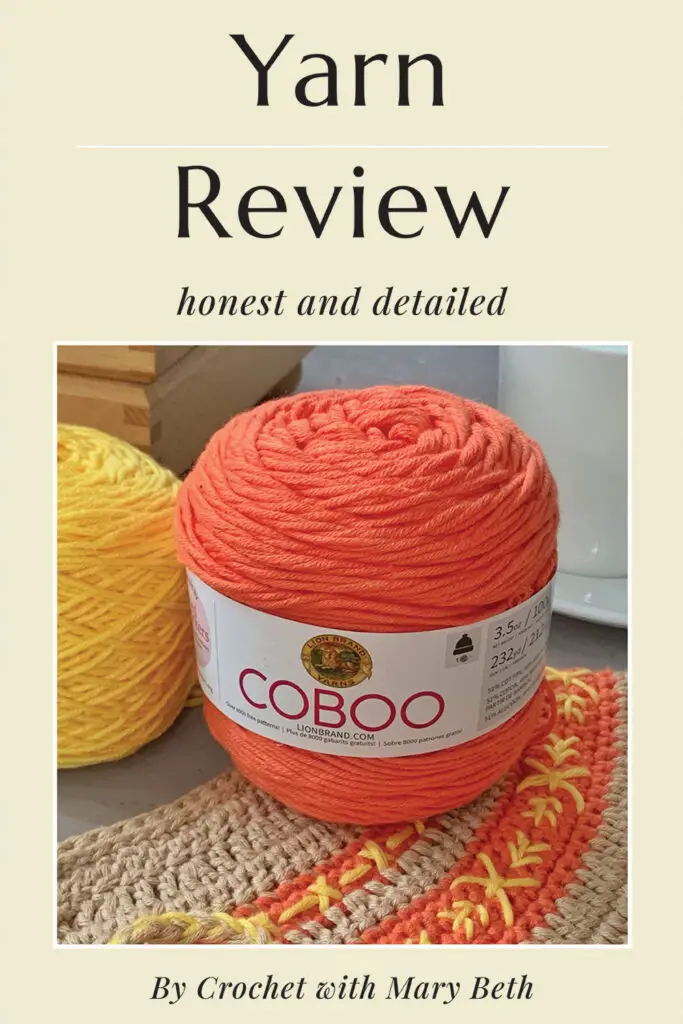 I just finished making my first garment out of Coboo yarn and I LOVE it! Is it splitty? Yes, but WAIT, read on! I didn't find it split as easily as people say and the drape and texture are totally worth it. Plus Coboo yarn is soooo soft. 
There are a few downsides to the fiber but I think the pros far outweigh the cons.  
This review of Coboo yarn will help you decide if it's the right fiber for your next project.
First Impression of Coboo Yarn
The first time I saw this yarn was in Michaels.  There was no missing it.  The bright colors grabbed my attention as soon as I arrived in the yarn aisle.
I spotted it out the corner of my eye.  Then the perfectly on trend olive, orange, yellow, and lilac pulled me closer.
 
Once I read the label I understood why the colors were so vibrant.  The fiber content is 51% cotton and 49% rayon from bamboo.  Both rayon and cotton are very absorbent fibers and therefore hold color beautifully.

Now that I had the yarn in my hand I was pretty sure I was leaving with at least 1 skein. It is so soft and squishy. Also, its little cake shape is sooooo cute.

Impulse buying yarn is unusual for me.  I tend to only buy yarn specifically for a project.  That last sentence might just be a lie I tell myself.

Anywho, I'd been keeping an eye out for a good yarn for summer garments and wow, this stuff was very nice against the skin.  Not that I was rubbing it against my face in the store or anything.  Who does that?  Erm…

I grabbed the orange and hit the check out line.

Specs

Once I got the adorable little skein home it was time for more investigation.  First let's check out the label.

Here are the specs for the yarn:

Yarn Weight:  3 Light
Crochet Gauge (4in x 4in):  18 sc x 20 r on G-6 (4mm)
Knit Gauge (4in x 4in):  23 sts x 16 r on # 6 (4mm)
Length:  232 yds/ 212 m
Weight: 3.5 oz/ 100 g
Fiber 51% Cotton, 49% Rayon from Bamboo
Care:  Machine Wash, Machine Dry
Weight

I was excited to see it was a 3 light because light is perfect for summer garments.  I love working with worsted but it can be too thick and warm.  I find 3 light perfect for warmer weather makes because it works up fairly quickly but is nice and airy.    
3 light yarn often works up just as fast as worsted. In the summer I want a fabric with looser stitches to let the air flow to my skin.  So I use larger a larger hook.  A larger hook makes for a faster finish.  
I should race myself in a battle: larger hook/light vs. smaller hook/worsted.  Ha-ha.  Maybe I will.  Keep an eye out on my YouTube channel for that.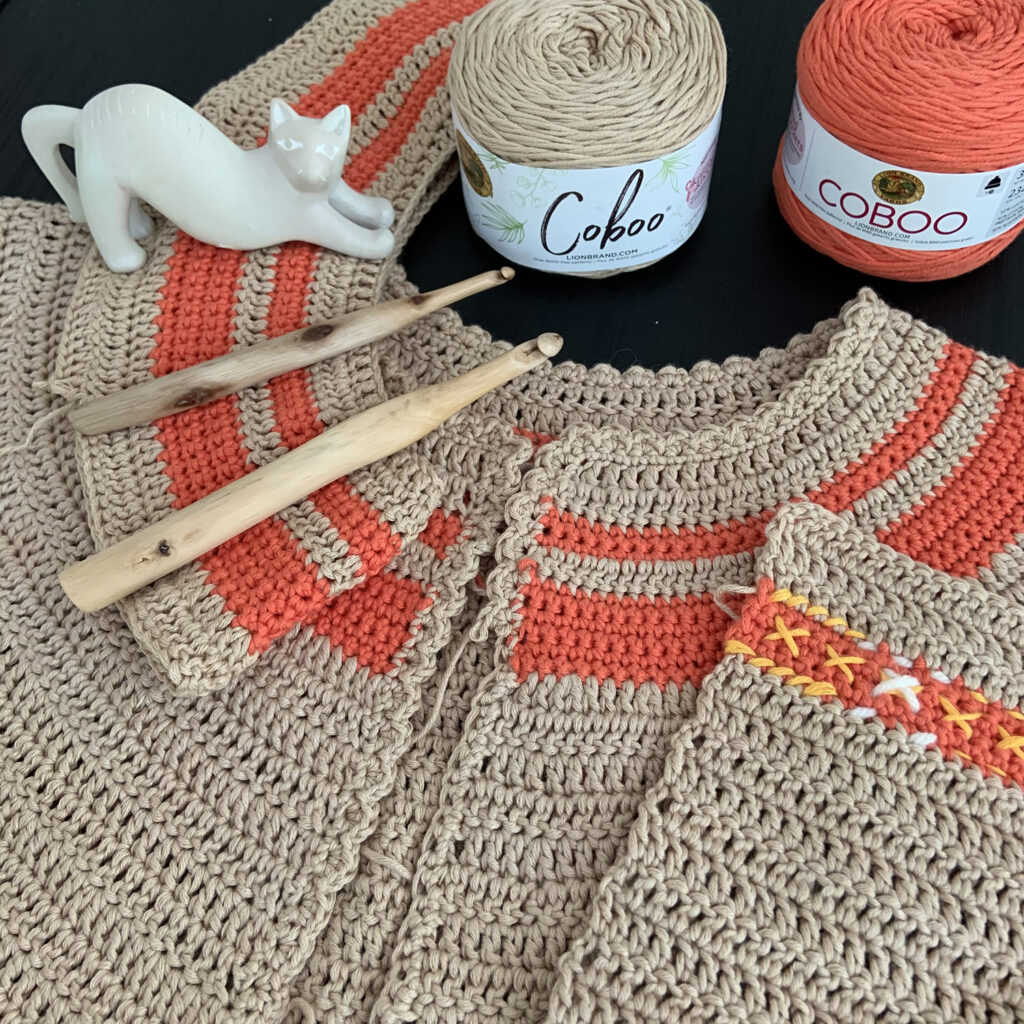 Drape

Then it was time for the fun part, playing with yarn!
I got out my size G hook.  I like to start testing the yarn with whatever hook size is listed on label for the 4" x 4" gauge.  It's a good place to start.  
After several rows I was VERY impressed with the drape.

It's hard to find an inexpensive yarn with great drape.  Most yarns under 6 dollars are on the stiff side.  But the rayon in this makes it silky.  Yes, rayon can be super slippery.  But the cotton in this grips your hook.  It's really nice to work with.

Cons

I then went to Instagram to see what others were saying about the yarn.  
Everyone agreed with me about the squish and the drape.  But many mentioned splitting.
Coboo is a seven ply yarn that is loosely wound.  I don't tend to have a problem with yarn splitting on me.  But I can see that this would be the type of yarn that would easily split.  It's smooth and silky so the fibers don't cling to each other like acrylic or wool.
 
If you tend to have problems with yarn splitting then this yarn will probably give you trouble.
However, if you have successfully worked with Truboo, it's not as splitty as that.

Recommended Use for Coboo Yarn

Like I've mentioned previously, I think this yarn was made for garments.  
I checked out the Lion Brand website and most of the Coboo kits are garments, with a few shawls thrown in.  I don't make shawls so I can't speak to how it would work for that type of project.

Blocking

This yarn needs to be blocked.  
I've used 100% rayon yarns that don't need to be blocked. I've even seen yarn that can be worked up, tossed in a pile, and still doesn't need to be blocked.  But that is not the case with Coboo.  
A garment made with Coboo would not do well squished in a suitcase.  It would come out quite wrinkly.

You are definitely going to want to steam, fold to store, and keep on the top of the pile any garments made with this yarn.  
And for sure don't hang it.  Those slippery fibers that give it great drape will stretch on a hanger.

How to wash

The washing instructions on the label say machine washable and dryable.  I haven't tried it yet though.

Compare to Truboo yarn

Right before designing my Coboo yarn pattern In Stitches Cardigan, I finished up my Be Spotted Tee with Lion Brands Truboo yarn. Truboo is a 100% rayon yarn.
 
If you like Truboo you'll like Coboo.  They both have gorgeous drape and stunning vibrant color.
When I was asking my Instagram following about Coboo many compared it to Truboo. Probably because they are both part of Lion Brands "boo" line. They also make a Nuboo but I haven't tried it yet.

And if you think Truboo is too slippery you'll LOVE Coboo.  It's like Truboo without the slip factor.
 
Although, Truboo has Coboo beat in the blocking factor.  Truth be told, I have never blocked the Be Spotted Tee. And I'm a fan of blocking.

But Coboo takes the cake on texture.  It has a very natural feel and a matte finish. I absolutely loved the feeling and look of the fiber as I was stitching up the In Stitches Cardigan. It feels like a fiber straight from nature.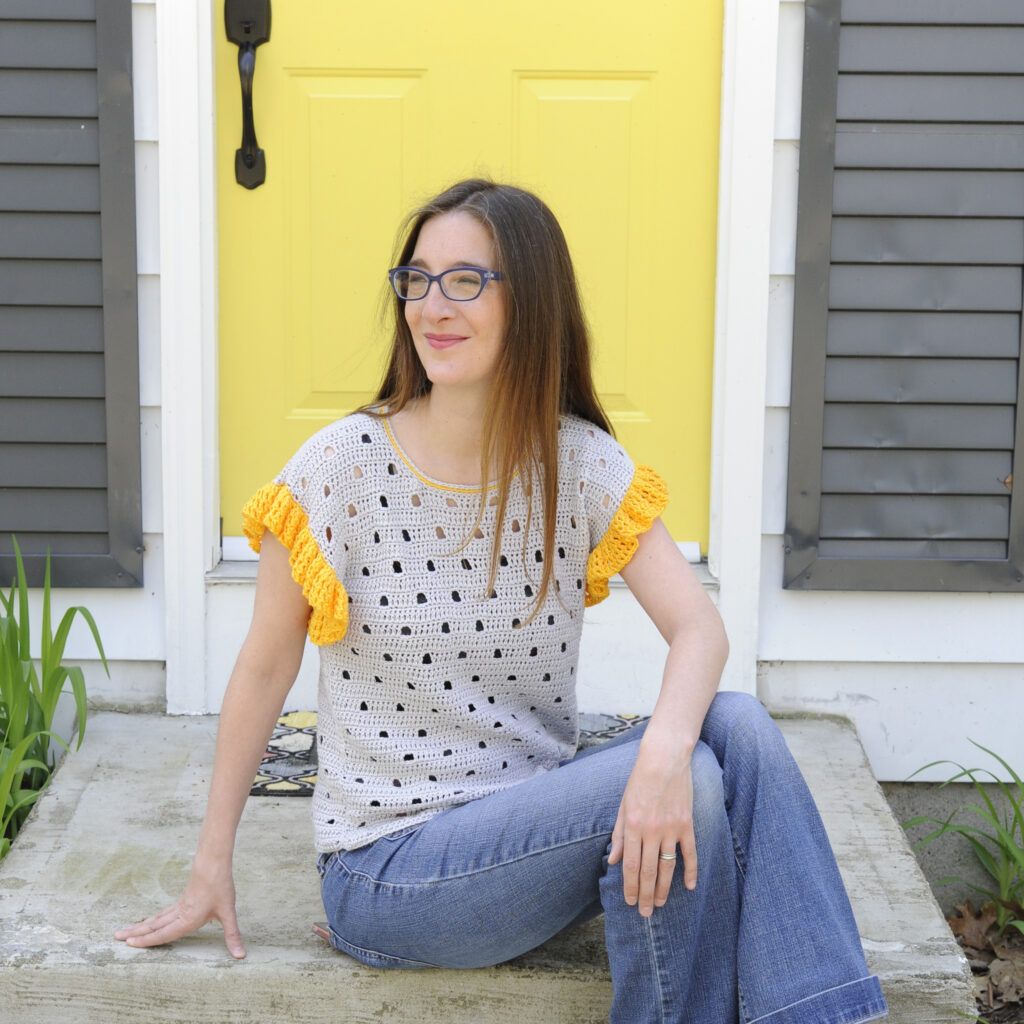 Where to buy

My Walmart has a sad, sad yarn section.  So I was very surprised to see Coboo there.  They only had 5 colors but it's better than nothing.  If you have a nice big yarn section in your Walmart I'll bet you find it there.  
Like I said earlier, I originally found it at Michaels. But I recently went looking for it and they no longer had it on the shelf.
Walmart didn't have the colors I wanted so I ended up having to order it directly from the Lion Brand Website.

Keep in mind that Coboo is a summer yarn.  So it's going to be hard to find in stores in the winter.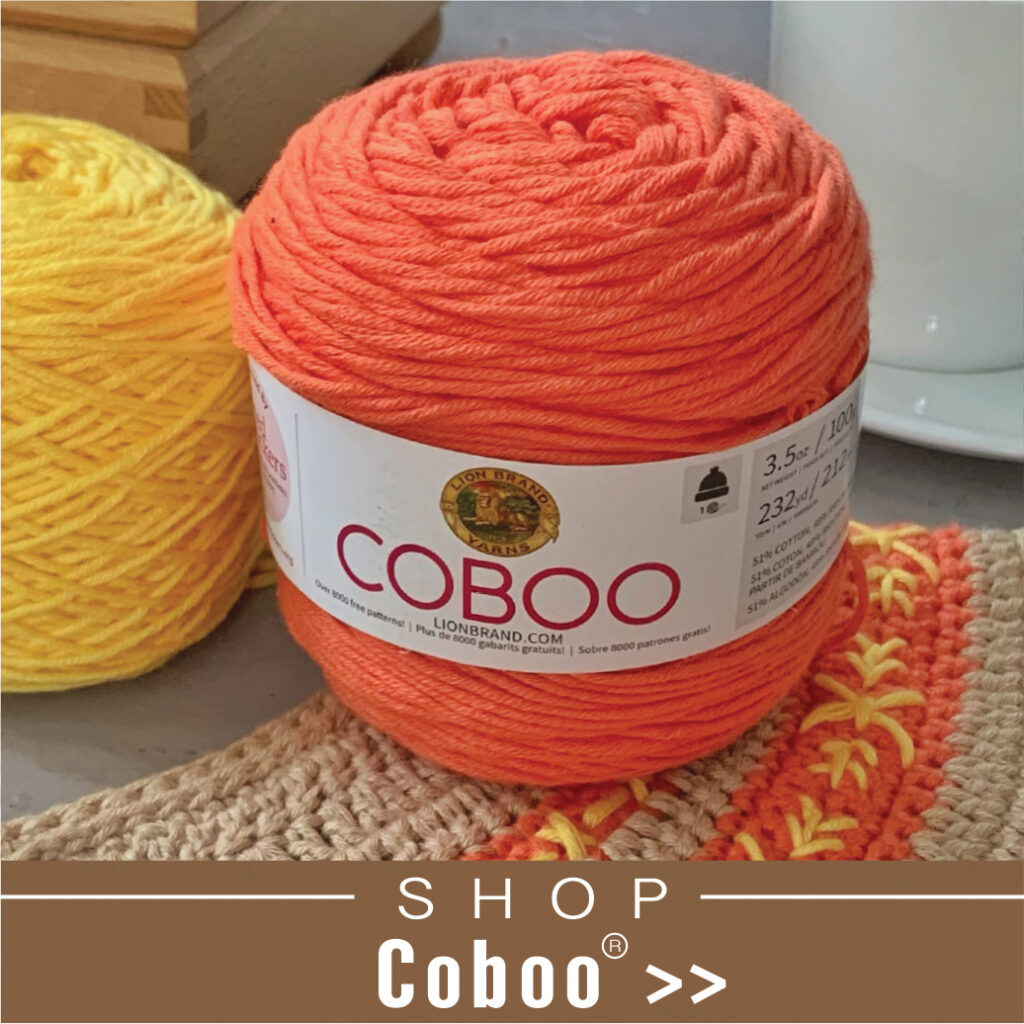 Conclusion

All in all I definitely recommend Lion Brand's Coboo Yarn for summer garments.  
I absolutely adore the drape, texture, and colors.  
It's starting to be scarce to find here in Rhode Island because it's fall now.  But I have my fingers crossed that Lion Brand keeps this one around for awhile.  
It's a winner in my book!
Project
Are you looking for Coboo yarn patterns? Then I think you will enjoy making the In Stitches Cardigan.
This cardigan was designed to be made with Coboo yarn.
It's a size inclusive crochet pattern and includes instructions for sizes XS through 5X. It works up in one piece from the top down with pretty details and a unique embroidered yoke.
The embroidered yoke is truly different. And bonus, no previous embroidery experience is necessary. The pattern includes a detailed, step by step, 6 page photo tutorial specifically for beginner embroiderers.
You can find more details about the pattern here: In Stitches Cardigan.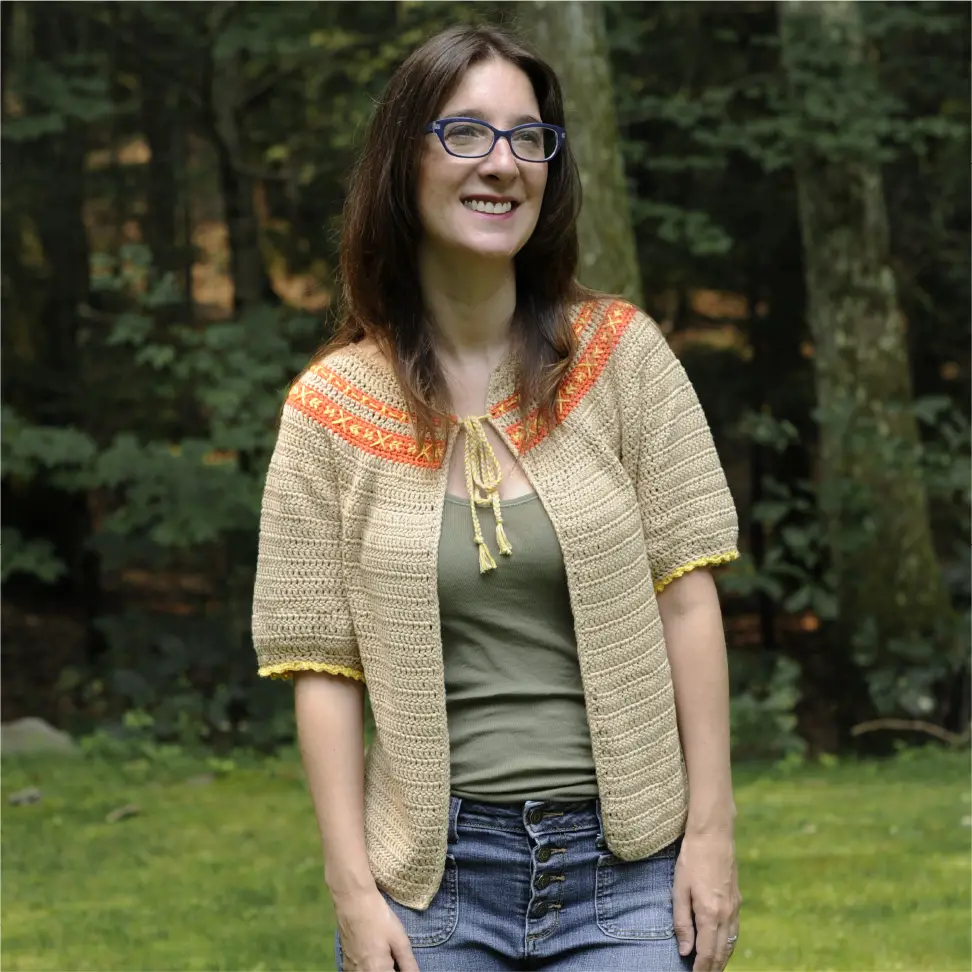 If you liked this post, check out these next!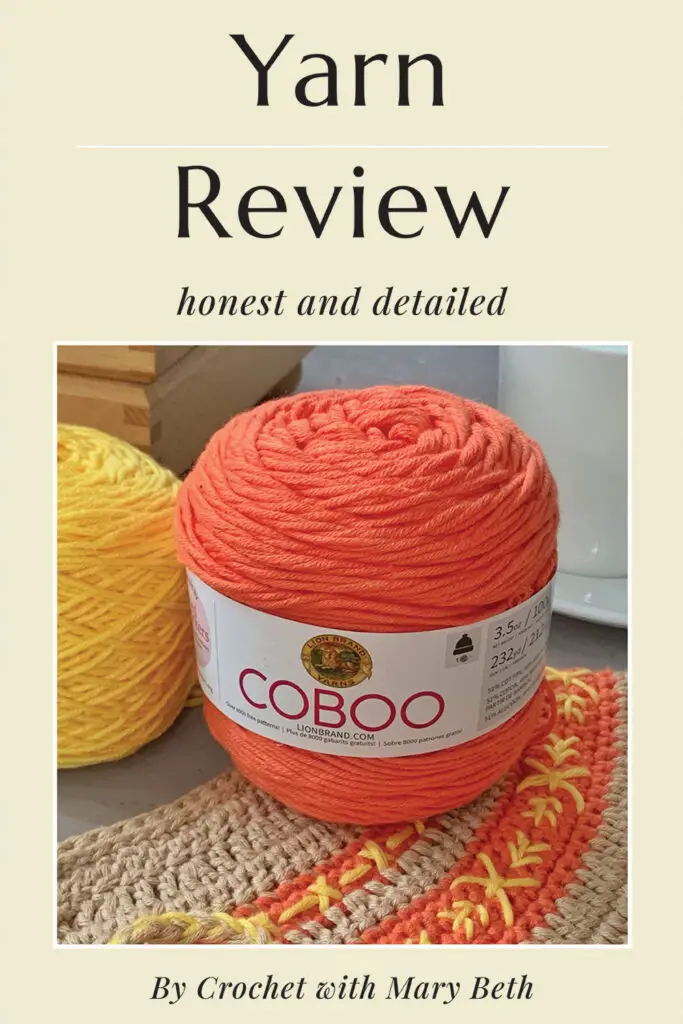 Mary Beth Cryan has been designing crochet patterns for over 4 years. Prior, Mary Beth worked as a professional illustrator and product designer with a specialty in paper crafts for 18 years. She has authored and illustrated 17 paper craft books, countless pop-up greeting cards, and many paper craft kits. She received 3 LOUIE Awards from the National Greeting Card Association. Some of her clients included MoMA (Museum of Modern Art NYC), American Girl, Dover Publications, Peter Pauper Press, Ranger Rick Magazine, Highlights magazine and many others.  She earned a Bachelor of Fine Arts from Syracuse University in 2000.