Do you love to crochet summertime garments but have a hard time finding modest crochet top patterns?
When you do a search for crochet tops for women are all the patterns tube tops and bralettes?
It's such a problem! I want to be able to wear my makes to the office, story time at the library, and my in-laws' picnics. But I can't be showing up with my navel, my cleavage and 90 percent of my skin hanging out. Oh gosh, just the thought is embarrassing.
10 Modest Crochet Tops
Fear not, you have come to the right place. Below you will find 10 modest crochet top patterns that you can actually wear out in public.
Follow the link under each picture to purchase the crochet top pattern.
As of the writing of this post 8/11/21 none of these patterns are offered for free anywhere. I checked for you because isn't it the worst to buy a pattern and then find it for free?! If you are reading this post many moments later you may want to check for yourself to make sure they are still paid/premium only.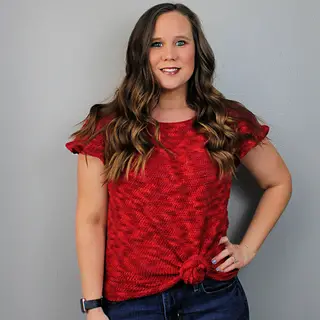 If you are looking for the perfect basic tee then the Tied and True Tee by Michelle Ferguson of Two Brothers Blankets is the perfect pattern for you. It is lightweight, has beautiful drape, and can be styled knotted, tucked in, or hanging loose. It's a versatile basic!
Next we have the, the Sarah Crochet Tee pattern. It's the perfect top for spring,summer, and early fall. There is so much to love about this design, the gorgeous lacy detail at the top, the fact that you do not need to wear a tank underneath, and it's pretty color blocking.
This tee is size inclusive sized in adult XS to 5XL. A sizing chart is included to help you get the perfect fit.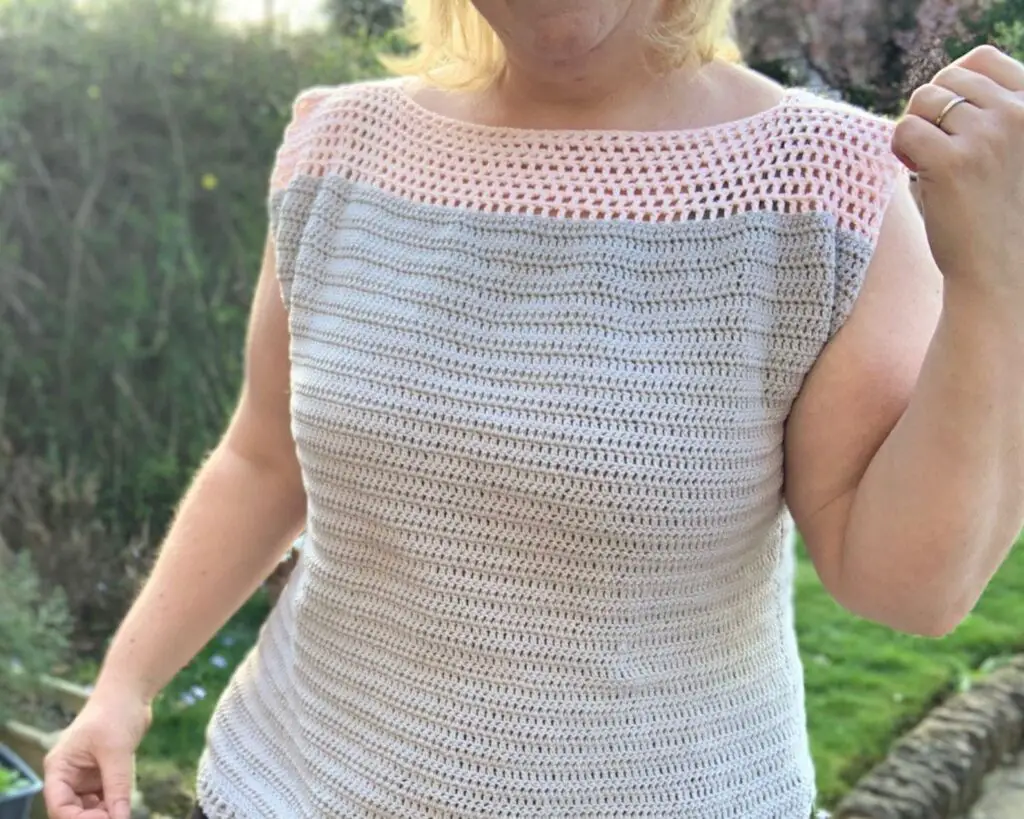 And here's a great one for beginners. Cosie Rosie UK designed this easy summer crochet top pattern. The perfect addition to your handmade, warm weather season wardrobe!

Made using DK (Size 3 yarn), it creates a light weight, breathable top which is flattering on any body shape from XS-5XL.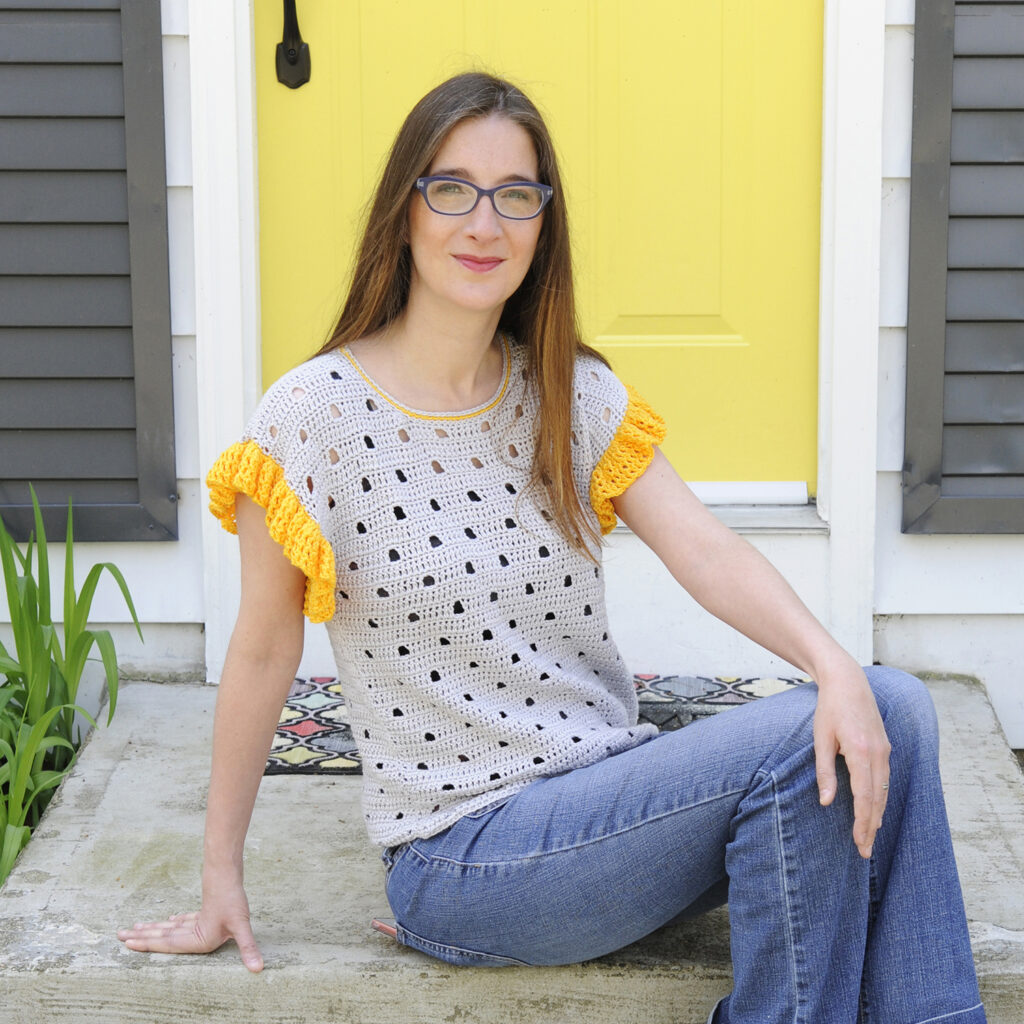 Looking for something different? The Be Spotted Tee pattern by Mary Beth (me) of Crochet with Mary Beth pattern is unique. It's bold sleeves, clever polka dot stitch pattern, and cute neckline detail will earn you tons of compliments. Looking for size inclusive? It's written for sizes XS – 5X.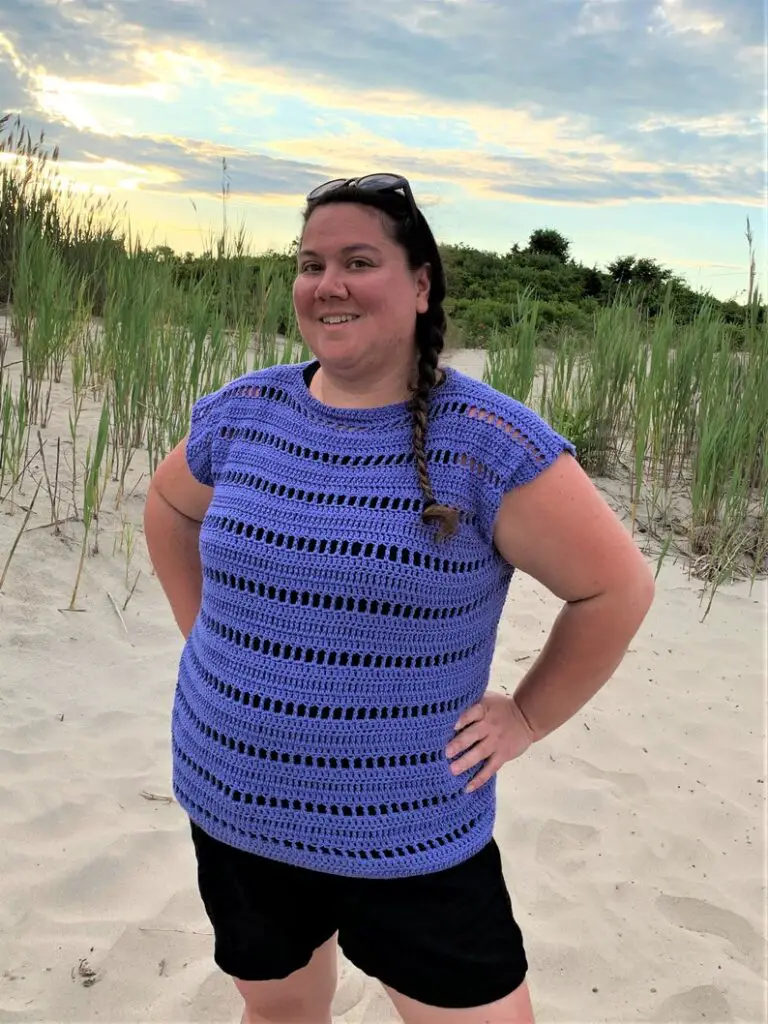 Are you looking for a beginner pattern? The Sizzling Summer Tee is an easy crochet pattern by Trista of Crochets by Trista. You will find the instructions easy to follow and simple. If you need pattern support, Trista is available!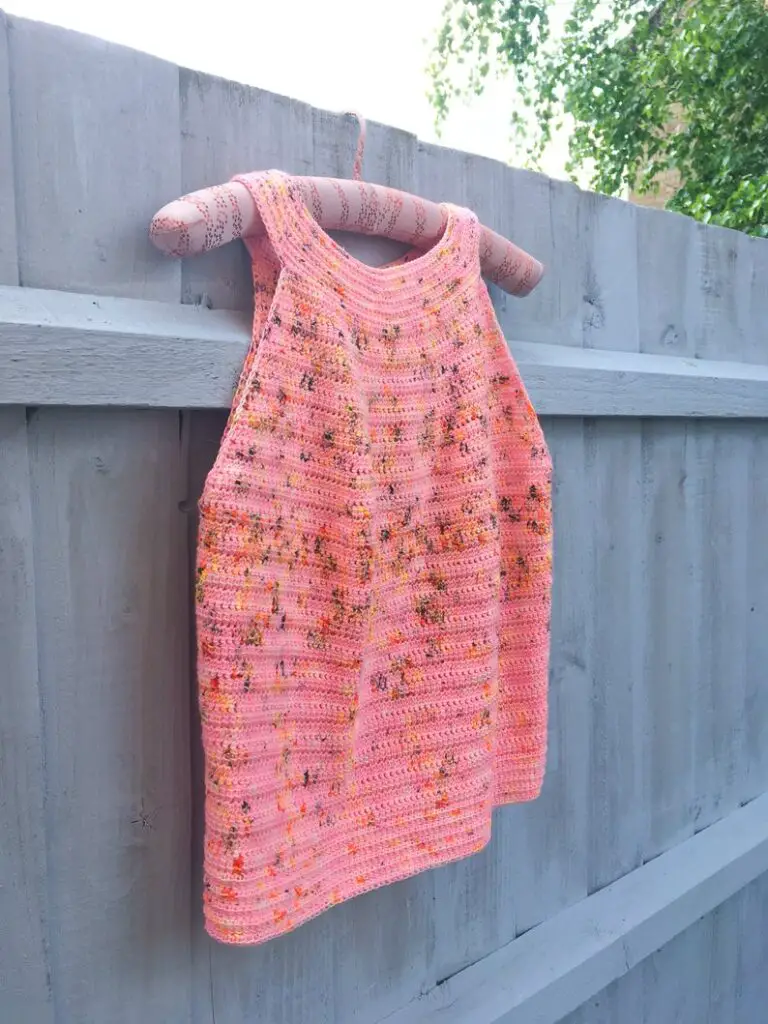 Take a look at the Corona Summer Halter Crochet Top by Dora Does. This cute top has a keyhole split down the back between the shoulders and a loose airy drape at the front. This top will keep you looking cool all summer.
And it's customizable! The pattern is worked top down, so you can adjust the length and body shaping as you go to make sure it covers everything you want to cover.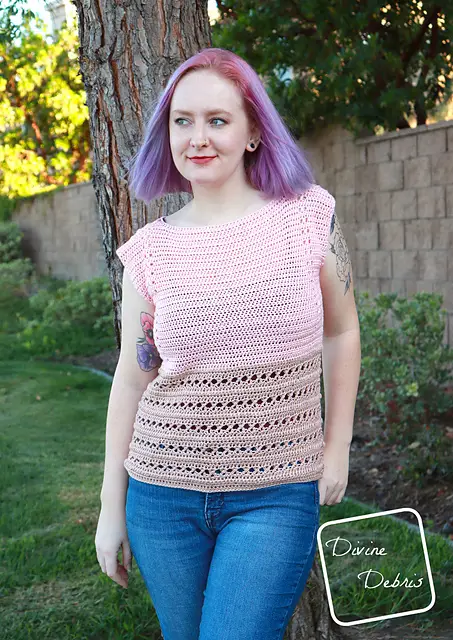 Amber of Divine Debris's Iris Shirt is a simple yet delicate crochet top. It's a nice layering piece that will take you through the change of seasons.
Michelle Ferguson of Two Brothers Blankets designed the Chevy tee. It is lightweight, simple, modest crochet top with a fun stitch pattern. Use very basic stitches and a tiny bit of sewing to create this stylish v-neck. You will love how quick and easy it is to make!
The Butterfly Stripe Tee is a great new unique tee by Mary Beth (me) of Crochet with Mary Beth.
I spent a lot of time researching the shape of this tee to make it look modern so you'll look modern wearing it. My research revealed very short sleeves, a hemline right below the pant waistline, and dark colored cuffs are all very modern right now. I incorporated all three.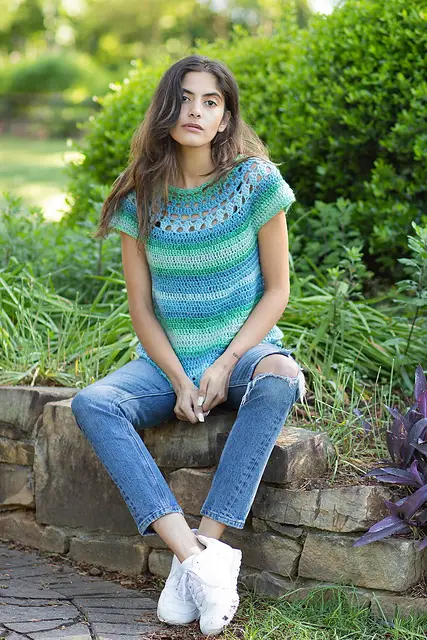 The Gradiate tee by Sati Glenn is the perfect project for gradient yarn. It is worked top down, in the round, so you don't have to cut and rejoin your yarn; simply skip stitches for the sleeves and keep going!
This top is quick to work, and the lace details will keep you interested while stitching, and add that "little something extra."
Which one will you make first?
I searched and searched for these 10 beautiful summertime tees. It was really hard to find quality crochet top patterns from reputable crochet designers that are conservative.
But I'm so pleased with this collection of crochet tops for women. Now the only hard part is deciding which one to make first!
I hope I was able to make finding your next summertime tee project a lot easier.
All images were used with permission.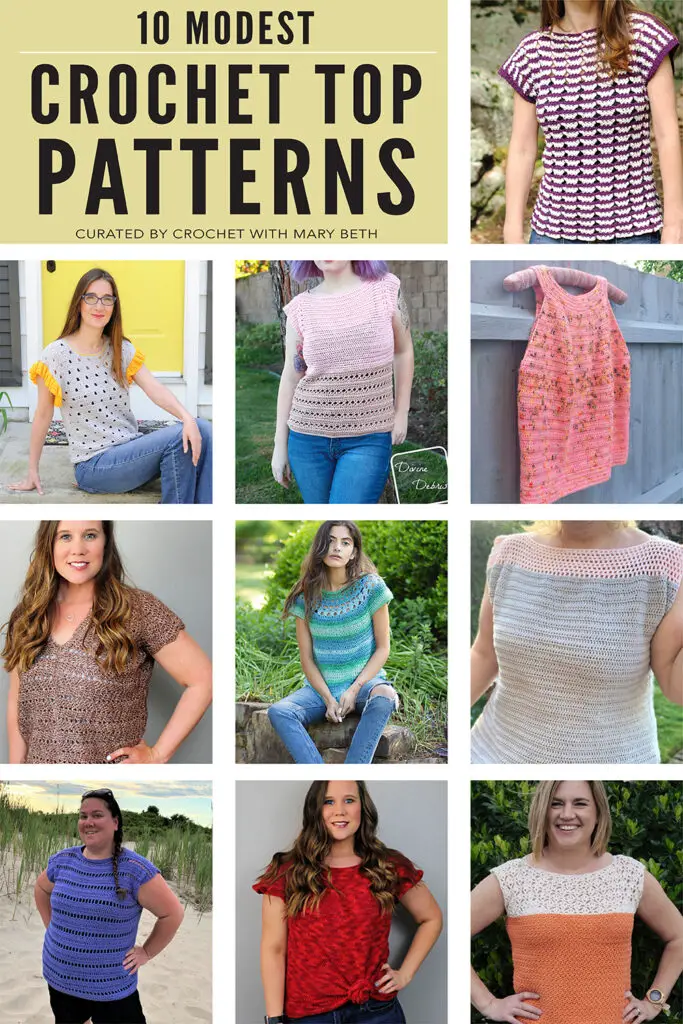 If you liked these tees, check out these accessory crochet patterns next!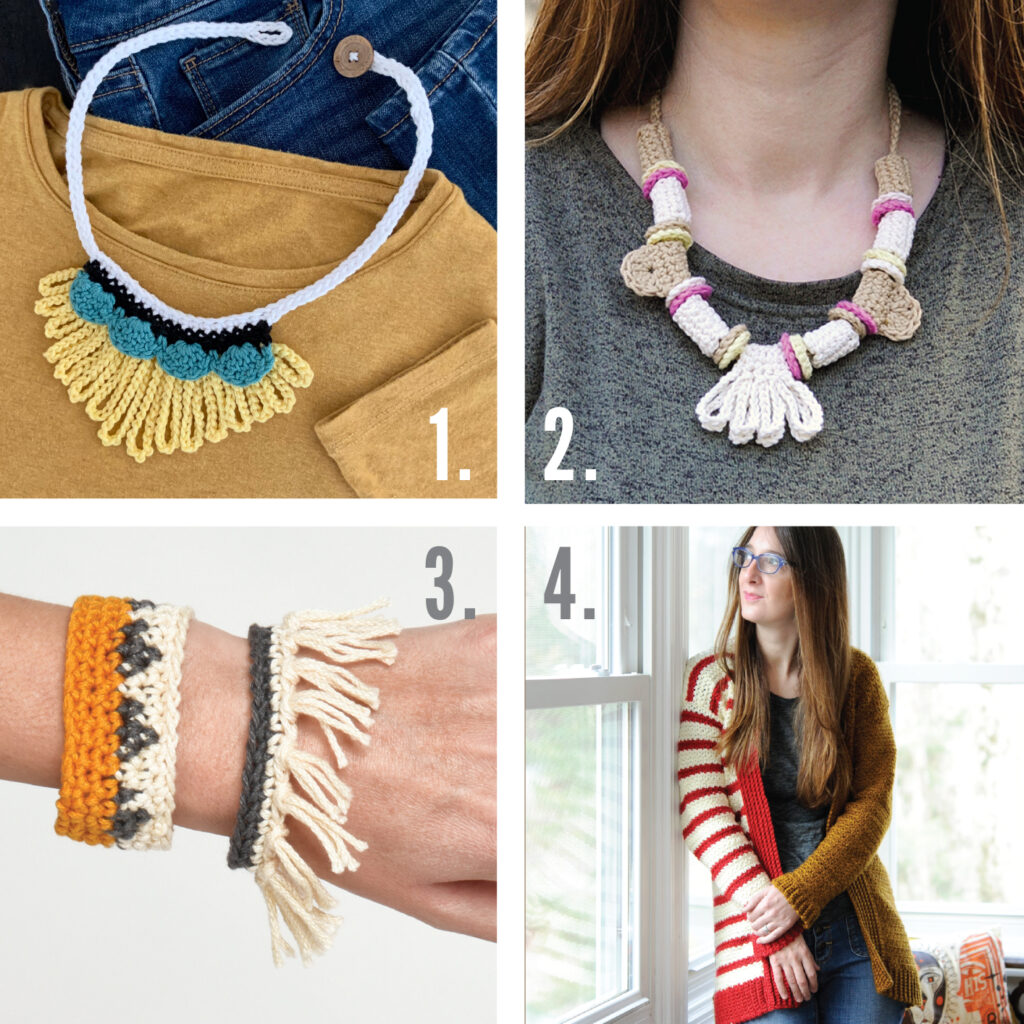 Mary Beth Cryan has been designing crochet patterns for over 4 years. Prior, Mary Beth worked as a professional illustrator and product designer with a specialty in paper crafts for 18 years. She has authored and illustrated 17 paper craft books, countless pop-up greeting cards, and many paper craft kits. She received 3 LOUIE Awards from the National Greeting Card Association. Some of her clients included MoMA (Museum of Modern Art NYC), American Girl, Dover Publications, Peter Pauper Press, Ranger Rick Magazine, Highlights magazine and many others.  She earned a Bachelor of Fine Arts from Syracuse University in 2000.