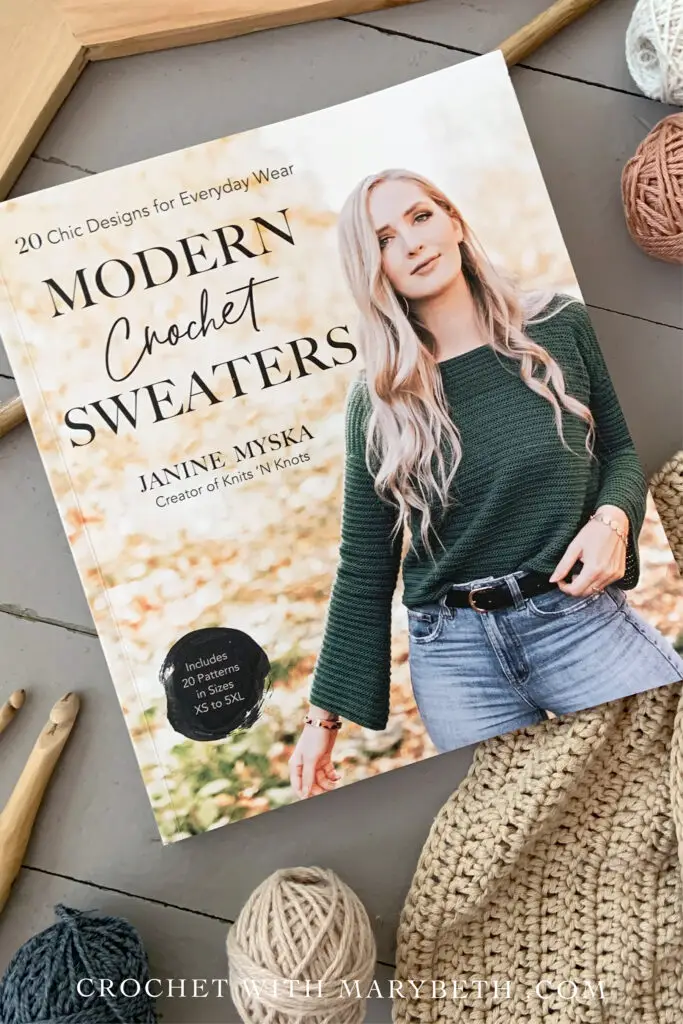 When I saw that Janine Myska was coming out with a book I was really excited and couldn't wait to get my copy! 20 trendy crochet sweater patterns in one book? Yes, please!
She's such a phenomenon and force of nature. Like Janine, I am a crochet designer and I honestly have no idea how she produces the amount of patterns she writes in a year. And not dopey patterns, fabulous patterns that people love to make and wear.
The 20 patterns in her book are quality. These are not watered down or rushed patterns. They are fully fleshed out patterns written in sizes xs-5x. It's an extremely impressive array of sweaters. It looks like this book was a LOT of work.
Let's take a look inside the book.
Modern Crochet Sweaters
I was following Janine on Instagram (along with her 50 thousand other fans) the year she wrote this book. It was unbelievable how fast she created these quality patterns along with a whole bunch of other patterns for various sources.
I'm surprised her sweaters don't have 4 sleeves because clearly this woman has more arms to crochet with than the rest of us.
There is a section in the book called closet staples. But I would call all the patterns in this book wardrobe staples. There are cardigans, pullovers, dresses, a poncho, a capelet, and more. Everything you need to build a beautiful practical handmade wardrobe.
Going anywhere? The right pattern to make for that occasion is in this book.
Photos
Let's start with the visuals. A crochet book must have nice pictures of the finished garments. This book delivers.
Janine used the same photographer she uses for her blog and self published patterns, Stephanie Lauren. If you are at all familiar with her photography you know it's breathtaking. If not, you can check out her portfolio here https://stephanielauren.co/ .
I'm really impressed that Janine was able to take, art direct, and style her own photo shoots. That's a multi-talented lady right there.
Each photo clearly shows the finished garments. There is definitely enough visual information to make each trendy crochet sweater pattern. I just wish the publisher included some close-ups of finishing details and fabric so I could see Janine's beautiful fabrics close-up.
Pattern Details
One thing I really like about this book is the publisher didn't skimp on space. Each pattern has 3-4 pages dedicated just to item description, pattern details (materials, yardage, etc.) abbreviations, a schematic and a size chart. Usually this info is crammed into a side bar. Here it's given the space it needs. You won't be squinting at the big easy-to-read size chart.
The size chart has a lot of information on it from bust to wrist measurements. Although, neck widths are not included.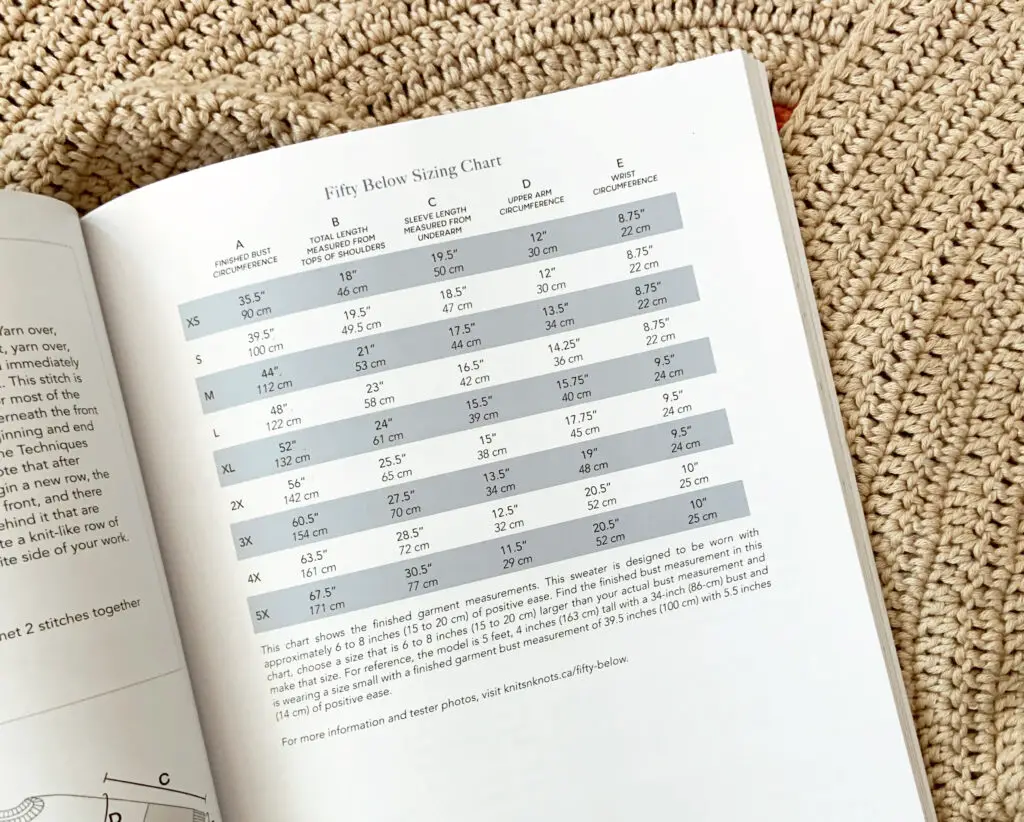 Also, I should point out that there is a measurement called "upper arm circumference." Janine is using this wording to refer to the armhole where the sleeve piece meets the body at the side. If you are familiar with my patterns, I call this the armhole depth and give the measurement as a flat dimension not a circumference. It's the same measurement. So don't let that throw you off.
Often in crochet books the schematic is shown in pieces, unassembled, laid flat without trim. In this book there is a line drawing of the completed 3D garment with trim. I like this way of showing the schematic. It is an interesting deviation from the norm.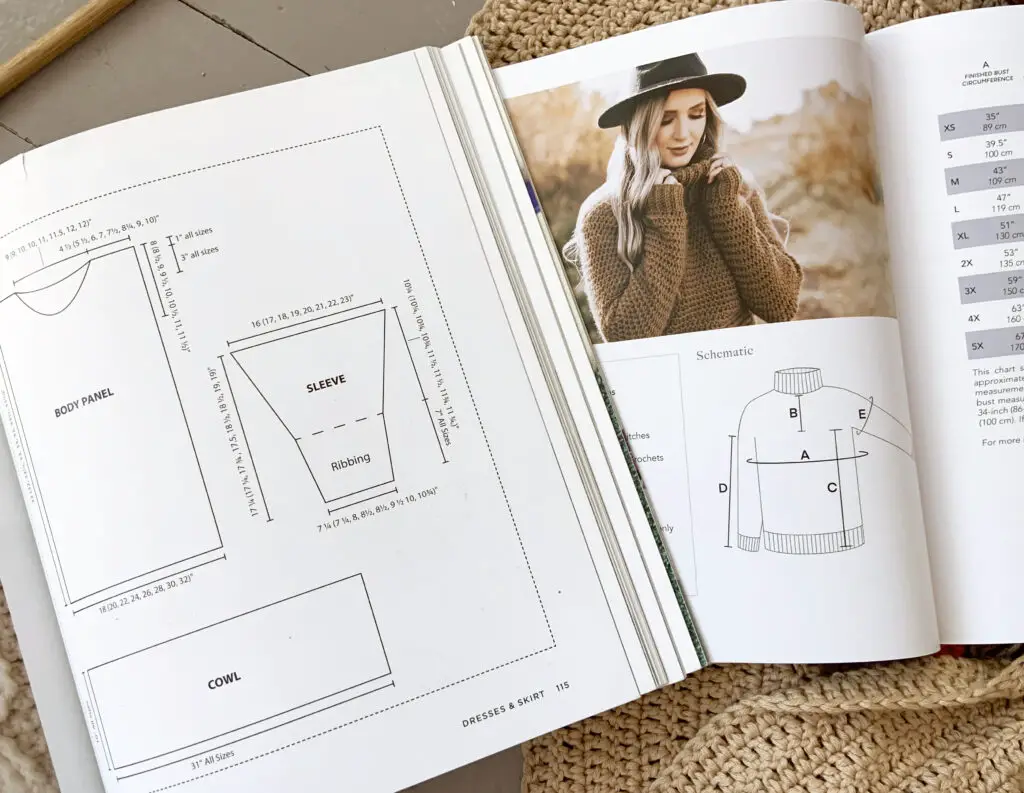 Easy to read
The pattern instructions are fantastic. They are clearly written with enough abbreviation to not be wordy and still be very clear. Speaking again to how the publisher didn't skimp on space, Janine was able to add in lots of notes, construction tips, and some instructional photos to accompany the instructions. You won't get lost anywhere in these patterns because of the ample supporting material.
I also happen to know that Janine has the same tech editor as I do and she's excellent, Emily Reiter. I'm confident in telling you that these instructions have been edited by a true professional, the numbers are correct, and the instructions are clear. If you'd like to know more about Emily you can find her webpage HERE.
paid link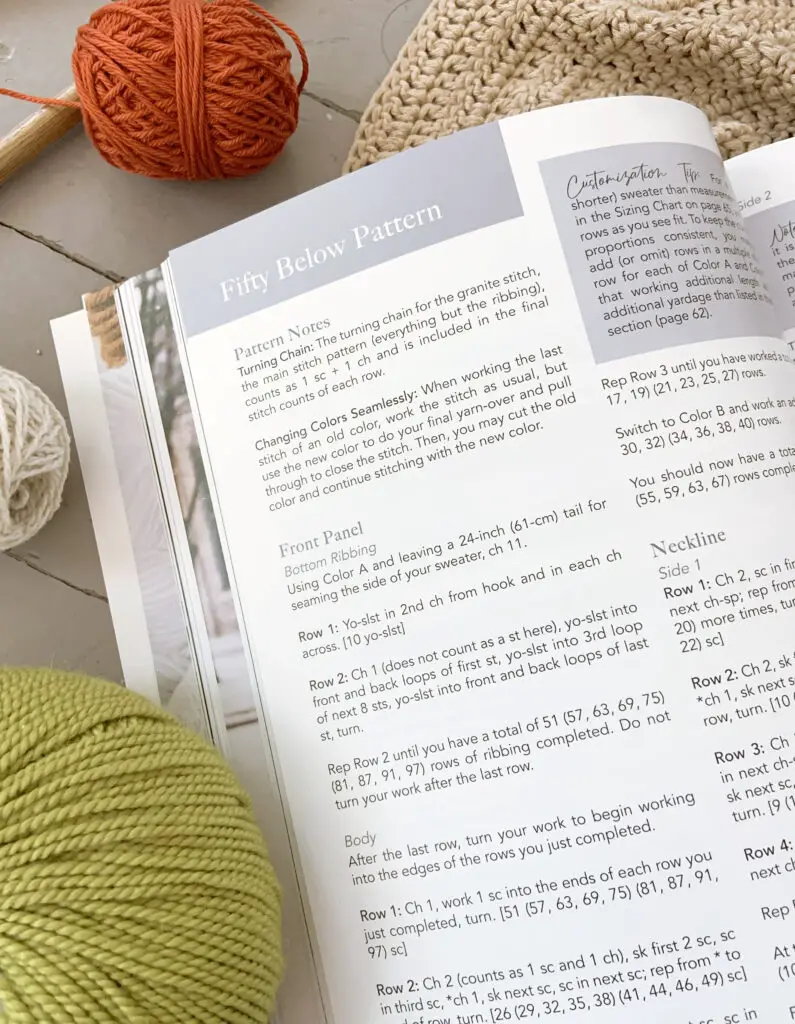 Trendy Crochet Sweater Patterns
There is a lot of variety in this book. There are "closet staples", warm weather makes, dressy projects, and lightweight pieces. All of the patterns are things you would wear on your upper body (as opposed to pants). Sweaters to shirts to ponchos to dresses are included. And all the patterns are perfectly on trend and wearable.
There aren't any tshirts or tanks which is actually really impressive because she sized a lot of sleeves for this book.
Techniques
So, you know how every time you open a crochet book you have to skip the first 50 pages because it's a bunch of "this is how you do single crochet" and "this is the end of the hook you crochet with" and "this is the difference between yarn and masking tape?" There is none of those beginner crochet instructions in this book.
I always find that stuff so unnecessary in pattern books and a waste of space. This is probably why there is so much room in this book for more important stuff like pattern tips. I like that Janine knows her audience isn't beginning crocheters even though they may be new to garments. And I like that Page Street Publishing knows this too and didn't insist on including all that super beginner stuff.
That being said, there is a technique section in the back of the book. But it's stuff you actually need to know like how to read a pattern that has 9 sizes, how to crochet evenly around a neckline, and how to do foundation stitches among other helpful techniques.
This book does a fantastic job of weeding out what is not necessary for Janine's audience and what is necessary to make a great pattern.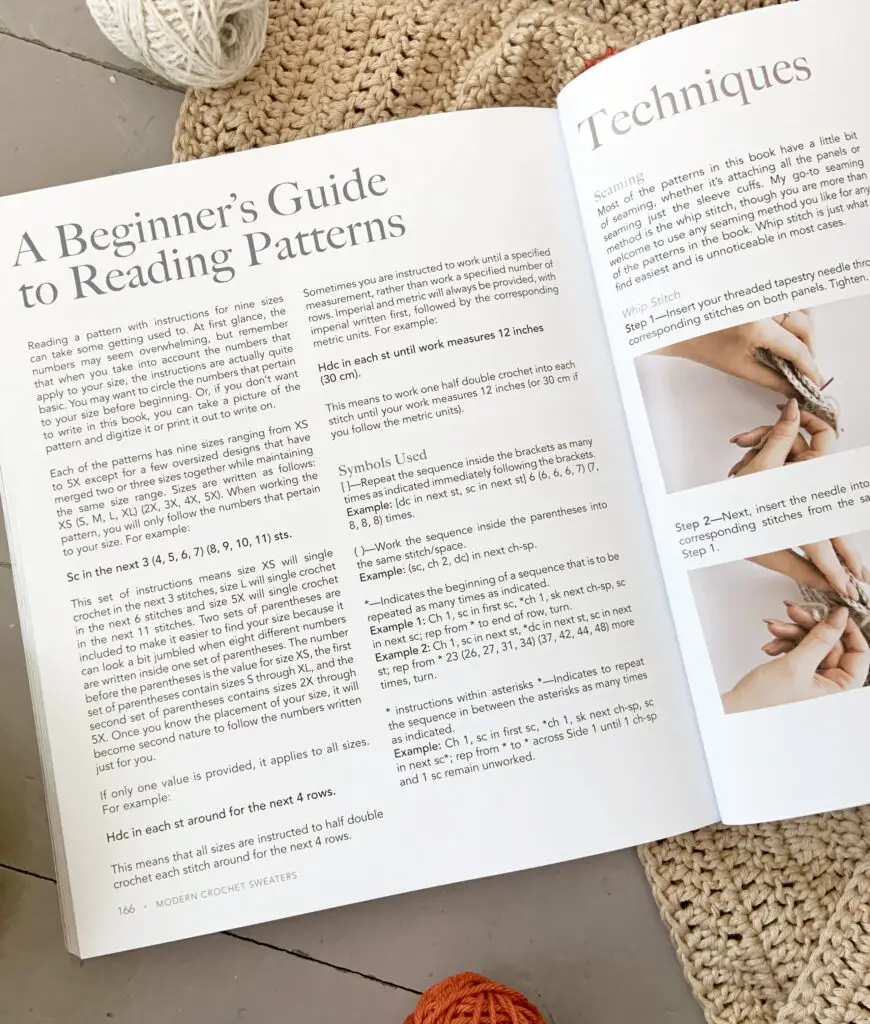 Generous Publisher
One thing that shocked me about this book is Janine Myska was given 1 page front AND back for her acknowledgements. I don't know if I've ever seen that before. I've written 17 papercraft books and I've only been given room for about 10 words in only 3 of my books for a dedication. My publishers of the other 14 couldn't be bothered squeezing in a dedication.
That's a generous publisher right there and Page Street Publishing should be given credit for dedicating so much space to supporting the author. Clearly they respect their authors. Hi Page Street, It's me Mary Beth. Want to make a book together? Call me!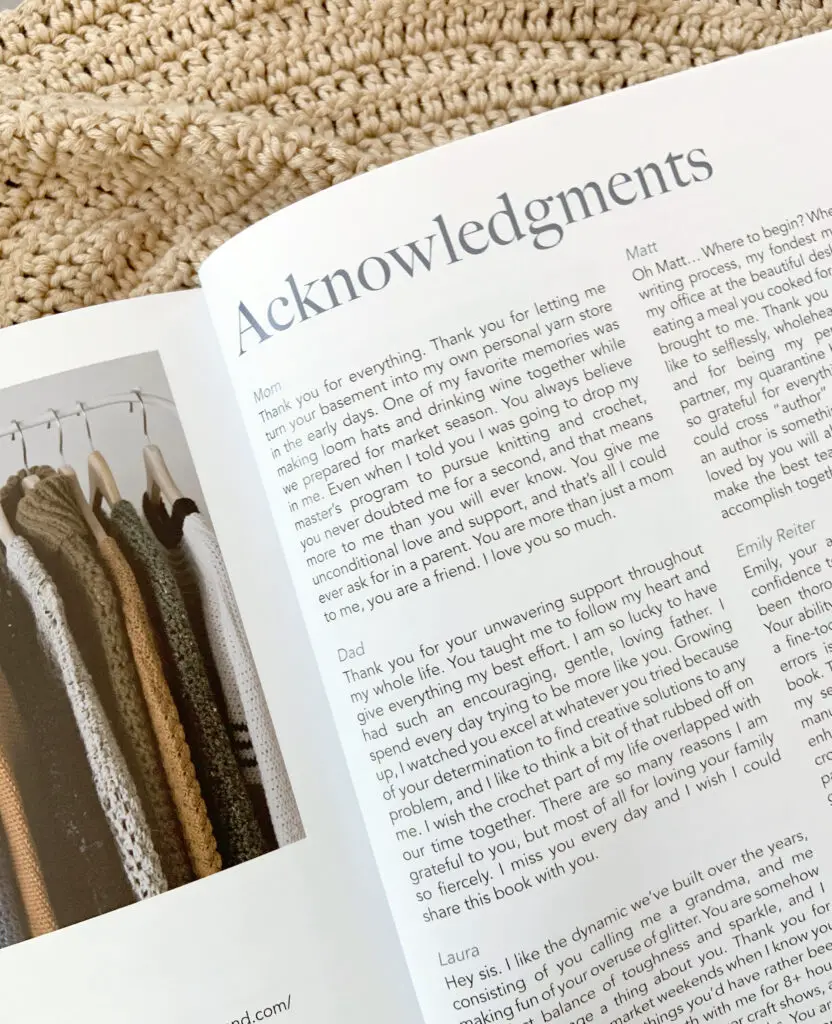 Website
And don't miss out on the website. On Janine's website she has a corresponding post for EACH pattern in the book.
There you will find more tips, customization ideas, yarn substitutions, photos, and more.
Wish that cardigan had pockets? Check out the website. She's written the instructions there. Don't have the yarn? You can find 30+ suggested substitutions for each pattern. Want to see that pattern on a body type similar to yours? She posted ALL the tester photos and the yarn they used for every garment.
How? How? How? Did she have time for all this? She doesn't sleep? She can stop time? She has a basement full of tiny yellow crocheting minions? If you find out email me the answer please. I need as many hours in the day as Janine.
In conclusion,
I think you are really going to enjoy this book. Janine did a wonderful job on all 20 trendy crochet sweater patterns. 20 patterns people! That's a lot! This book is well worth the $22.99 USD price tag.
Bravo Janine Myska, Page Street publishing, and the rest of the team on a beautiful useful quality book.
If you liked this, check out these patterns next!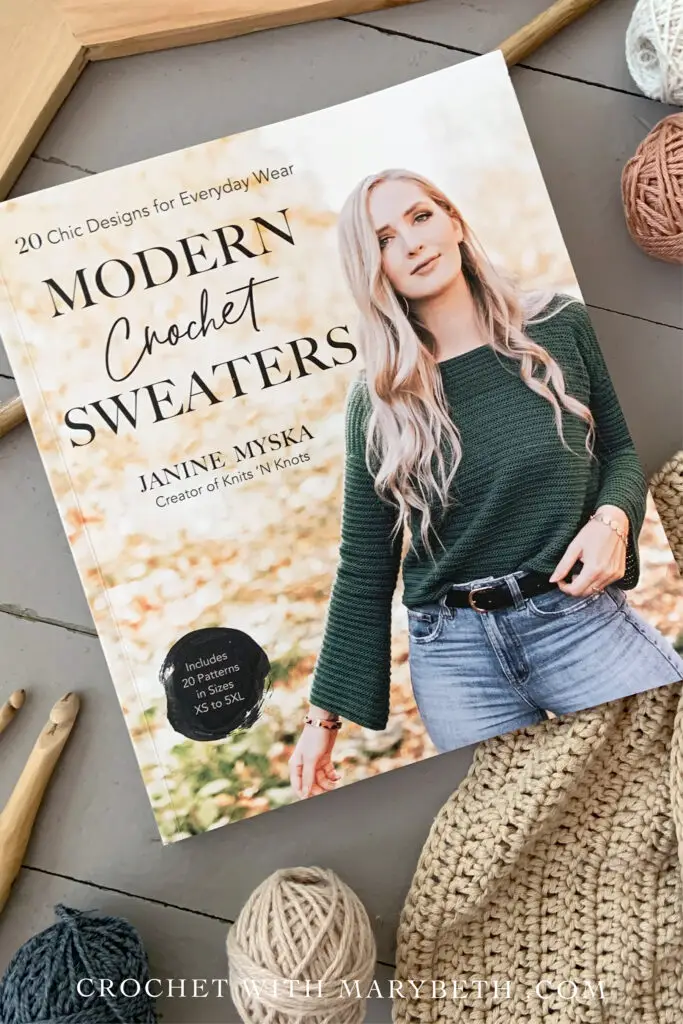 Mary Beth Cryan has been designing crochet patterns for over 4 years. Prior, Mary Beth worked as a professional illustrator and product designer with a specialty in paper crafts for 18 years. She has authored and illustrated 17 paper craft books, countless pop-up greeting cards, and many paper craft kits. She received 3 LOUIE Awards from the National Greeting Card Association. Some of her clients included MoMA (Museum of Modern Art NYC), American Girl, Dover Publications, Peter Pauper Press, Ranger Rick Magazine, Highlights magazine and many others.  She earned a Bachelor of Fine Arts from Syracuse University in 2000.