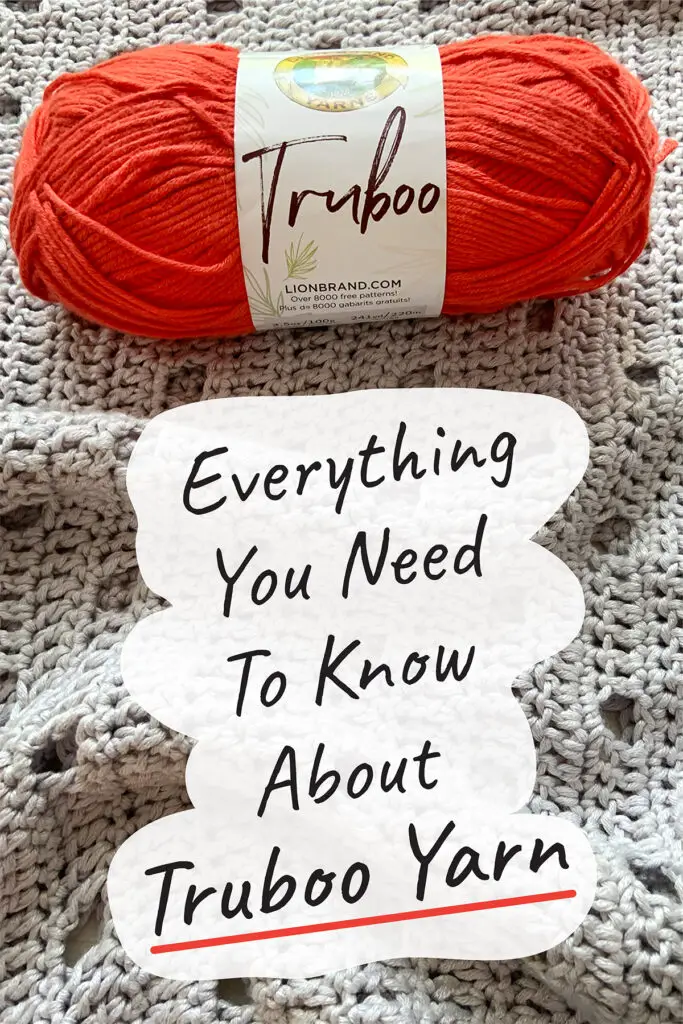 If you want to make a beautiful garment with tons of drape then you want to use Lion Brand Truboo yarn!
This yarn was made for garments. It comes in a large range of colors, is a weight 3 DK yarn, and drapes beautifully. Read on to find out why you are going to love this yarn and why it's perfect for your next garment project.
I know you've probably heard that this yarn splits easily. But it really only happens in certain situations and it can be avoided. I explain below.
Colors
The first time I saw Truboo yarn I was struck by the colors. They are rich and beautiful. This is to be expected from a bamboo yarn because this fiber absorbs color easily.
Also, because the yarn content is 100% rayon from bamboo it's best used for warm weather garments. Consequently it comes in bright summery colors, 27 in all. The colors span every color of the rainbow. If you love bright colors you will love this yarn.
There are some really beautiful neutrals too. The silver is stunning. I was inspired to design my Be Spotted Tee with the silver. It has a slight shine to it which makes it look a tiny bit metallic without being to much. Check out the Khaki and Sand too. I think you are really going to love them.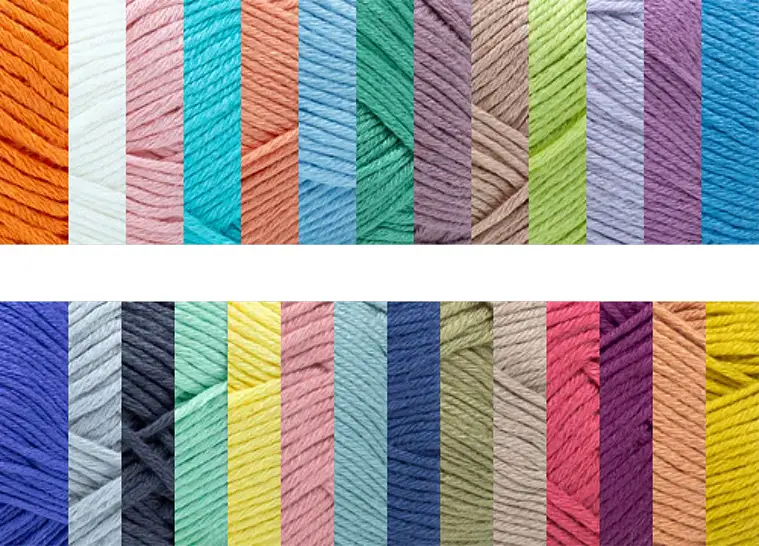 Weight
I love that this yarn is a 3 light DK. I find weight 3 yarns perfect for garments because they work up quickly but don't produce a bulky fabric like worsted weight yarn.
Garments are the perfect project for this yarn because of its incredible drape. And I'm guessing that this is why Lion Brand decided to manufacture this yarn in DK weight.
Specs
Here are the specs for the yarn:

Yarn Weight:  3 Light
Crochet Gauge (4in x 4in):  18 sc x 20 r on G-6 (4mm)
Knit Gauge (4in x 4in):  23 sts x 16 r on # 6 (4mm)
Length:  241 yds/ 220 m
Weight: 3.5 oz/ 100 g
Fiber 100% Rayon from Bamboo
Care:  Lay Flat to Dry, Machine Wash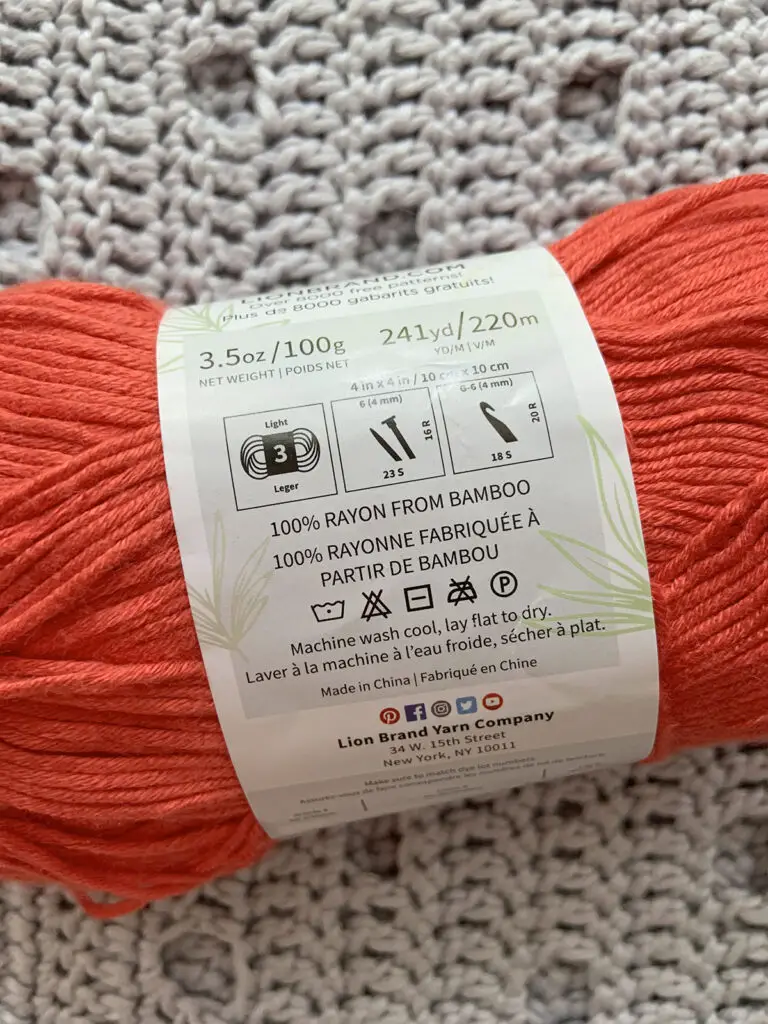 Drape
As I've mentioned quite a few times already the major reason to buy this yarn over another is drape. It falls over the body beautifully. You won't get a stiff of boxy look from this yarn.
In fact, the final garment is almost slinky. Not in a clingy way but in a beautiful I-can't-beleive-that's-handmade kind of way.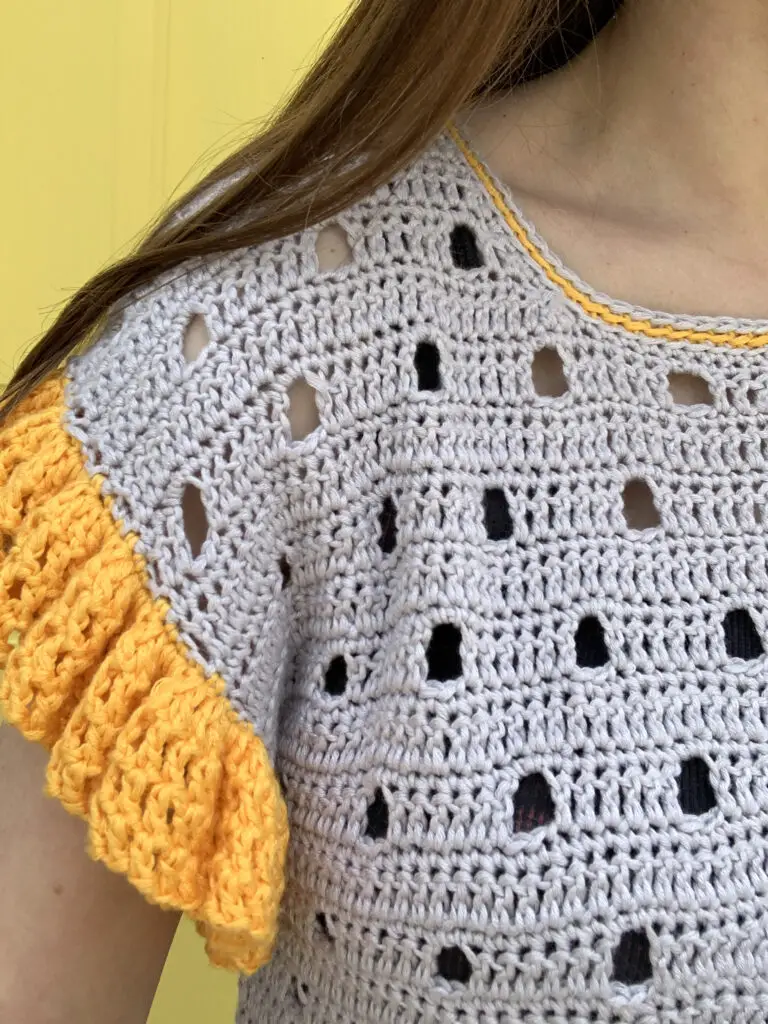 Blocking
The truth is, I have never blocked any garment I've made out of Truboo. I don't find that it needs it.
In fact, one of the things I LOVE about Truboo is that it doesn't wrinkle. I often don't take handmade garments with me on vacation because they get wrinkled in my suitcase. But you could ball up a garment made of this yarn, shove it in the corner of your suitcase, fly around the world, pull it out and wear it with no problem.
I was surprised by this because clothes made out of rayon wrinkle easily. But the yarn doesn't. Cool right?
And of course do NOT hang this fiber. It will stretch. More on that below.
Washing
The instructions on the label says "Lay flat to dry, Machine wash." I'm afraid to throw my Truboo top in the washing machine so I have to admit I haven't tried it.
Because bamboo is slick I'm afraid my washing machine will pull the stitches every which way and distort my fabric. But I haven't tried it. This is just my fear.
One of my email subscribers, Michelle S., said she has great luck washing her garments in a garment bag because it prevents the stitches from loosing their shape. I think this is a great solution! I am going to try this right away.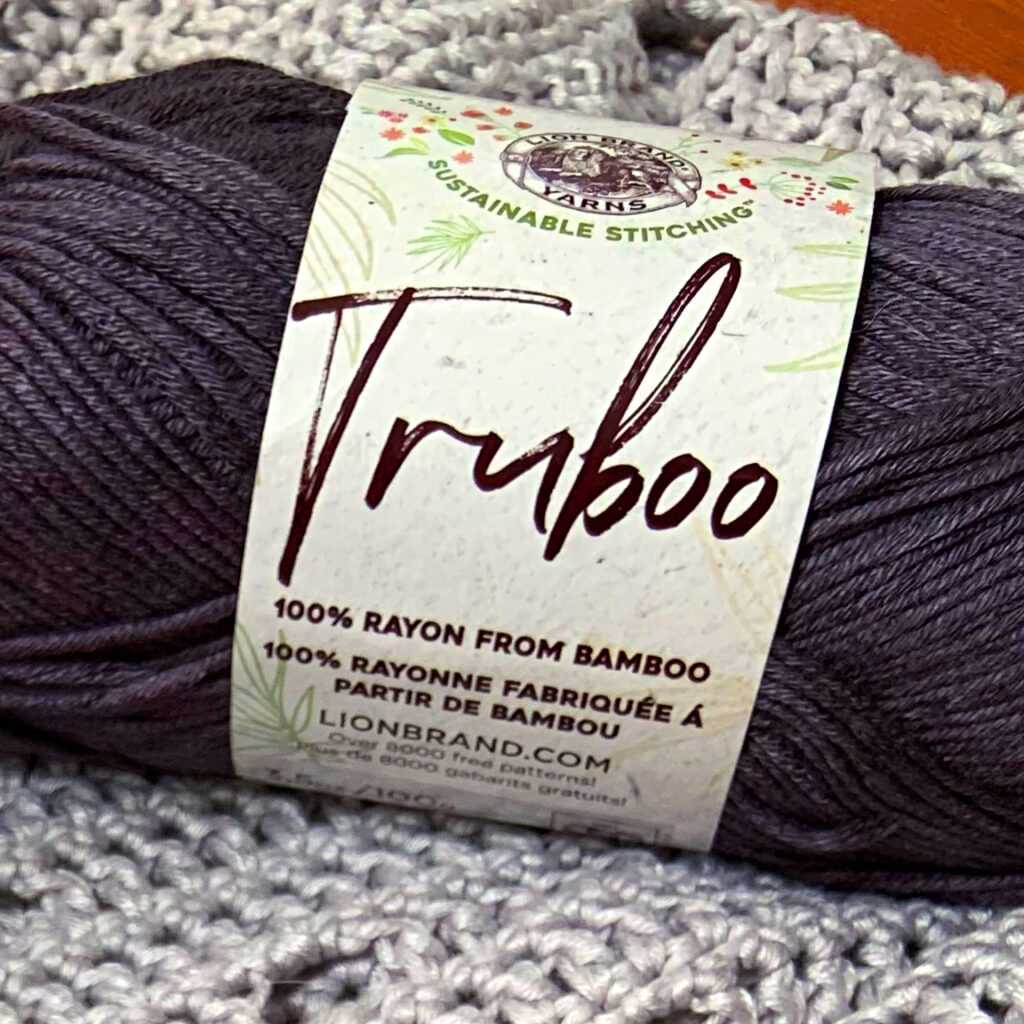 Where to buy Lion Brand Truboo Yarn
You can buy Truboo yarn in store at Jo-Ann Stores and Michaels or online at the Lion Brand website, Lovecrafts and Dick Blick.
I was today years old when I learned that Dick Blick sells yarn. It's listed on their website. I do not know if they have it in stores.
Price
Truboo is a modestly priced yarn at $6.49 a skein. Lion Brand often has sales for up to 35% off their yarn. I recommend checking their site often for sales on this yarn.
Cons
I absolutely can not say enough great things about this yarn. Although I will admit, it has a few cons. I think they can all be overcome but here are the cons so you can decide for yourself.
Splitty
You may have heard that Truboo is splitty and unfortunately it is. But I found that I quickly got used to how to hold the yarn so it wouldn't split. If find the yarn needs to be held a little bit taut and this will alleviate the split.
Because of the split factor I would not use this on a pattern that has a very tight stitch where you are trying to noodle your hook into a tiny space over and over again. This is where you will have trouble with this yarn.
However, if you are using a regular to loose stitch you should not have a problem. The Be Spotted Tee I designed is made out of a loose double crochet stitch. This stitch made the yarn easy to work with.
Another way to combat the splitting factor is to switch hooks. Michelle S. told me that she finds a resin hook is the best hook to use with Truboo. She was having a terrible time with splitting but as soon as she switched she didn't have the problem any more.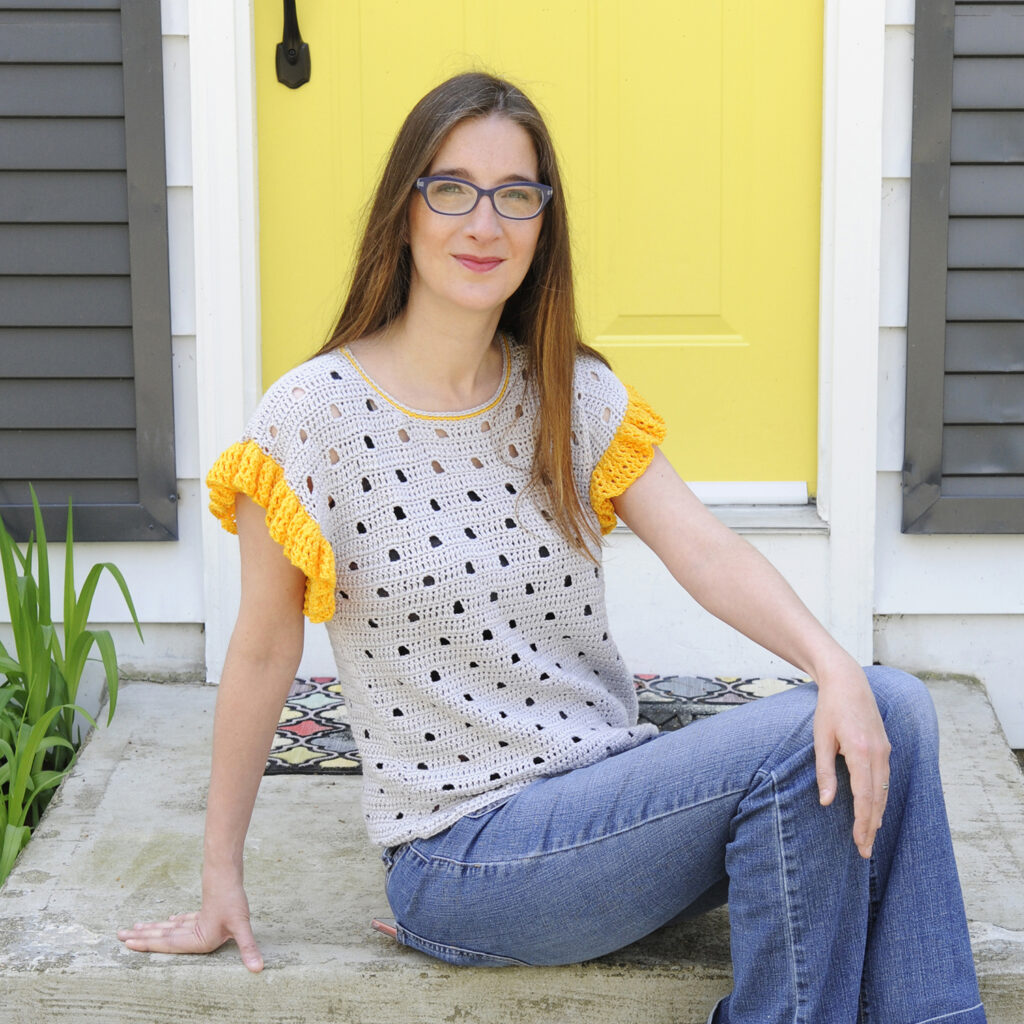 Slippery
Rayon is slippery. And because this yarn is 100% rayon without any cotton added to it, it is very slippery.
I didn't find this to be a big issue but if you do, try using a hook made out of a different material. If you are using a slippery hook, like metal, then you will have a lot of slip. Wood hooks are not slippery so they are perfect for rayon yarns such as Truboo.
Also, because of the slippery nature of this yarn it doesn't grab onto the other fibers of the yarn like wool does. So you will experience a little lengthening of your garments. Honestly, I was expecting it to be really bad and it isn't. But you may want to make your garments slightly shorter than usual to compensate.
In addition, I wouldn't recommend this yarn for lace or other stitches with really big holes and long stitches as it doesn't hold those shapes well.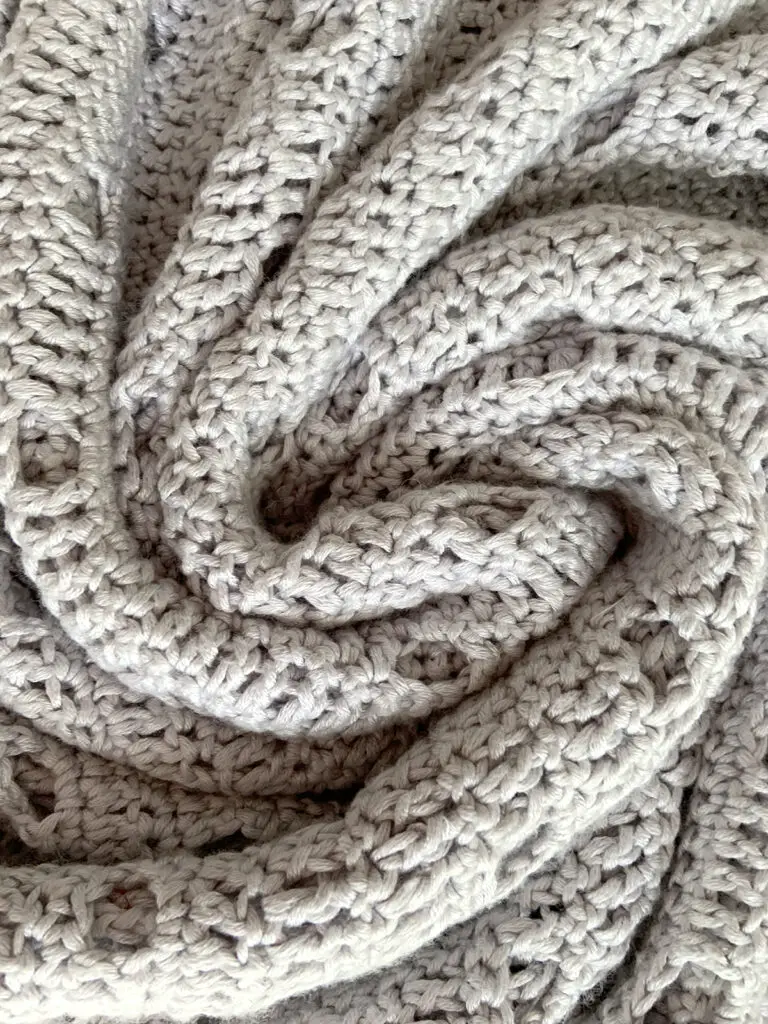 When NOT to use Truboo
I would not recommend Truboo for blankets. Your final blanket will be very slinky and not very warm. It would be like making a quilt out of rayon. It's not the right material for the job.
I also would not recommend it for amigurumi. It will be very difficult to make the recommended tight stitches because you will have trouble with the yarn splitting.
I don't make shawls so I can't speak from experience. But my guess is that this would not be a good yarn because it doesn't hold lace stitches.
Truboo Yarn Crochet Project
Are you looking for a project to make with Truboo yarn? I designed the Be Spotted Tee specifically for Truboo.
It uses a nice loose stitch so you won't have a problem with splitting. And there aren't any very long or lacy stitches so you won't have a problem with your stitches slipping out of place.
In addition, I maximized the drapey factory by adding some wavy ruffly sleeves. Aren't the sleeves pretty?
You can find more details about this pattern here: Be Spotted Tee.
Conclusion
To sum it up I LOVE Truboo. For me, the gorgeous colors and incredible drape far out weight the slippery and splitty factors.
I highly recommend this yarn for your next garment. You are going to be really happy with how this yarn lays on your body.
If you enjoyed this post check out these articles next!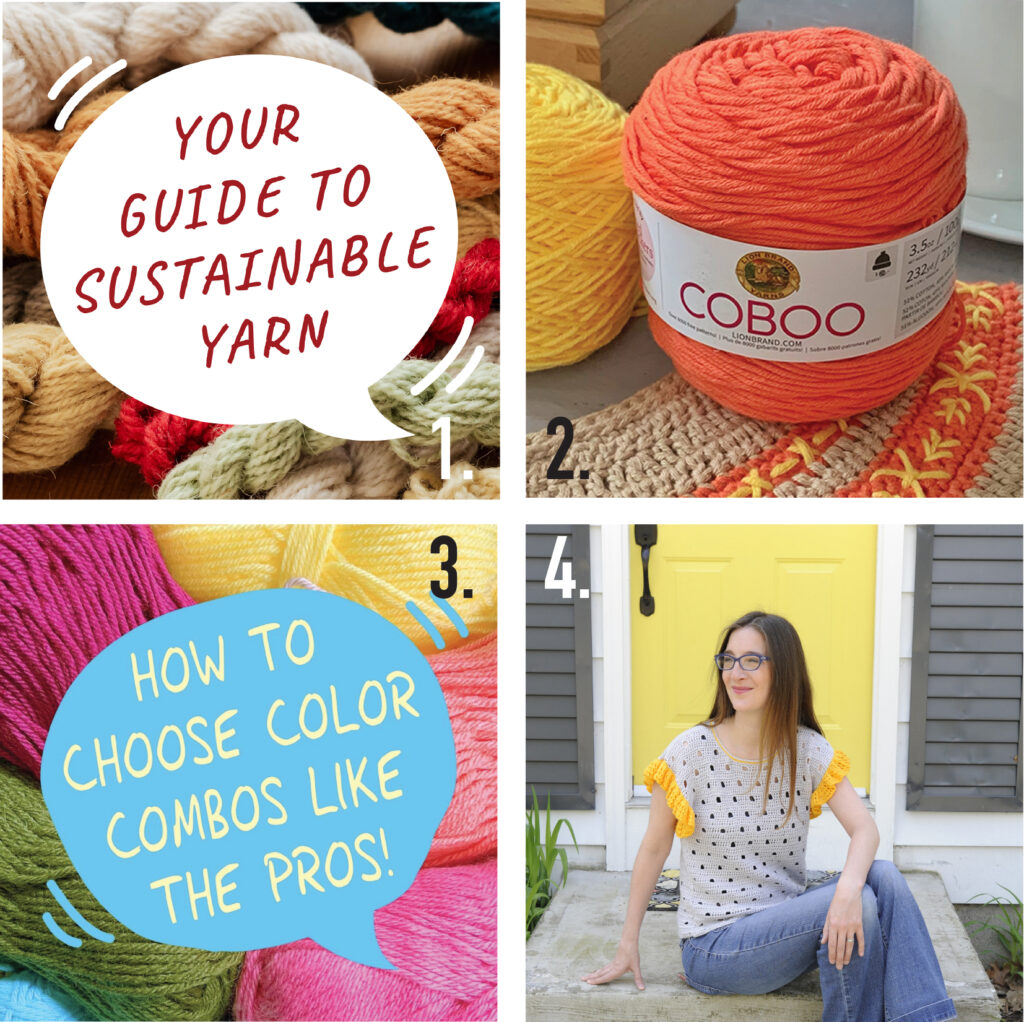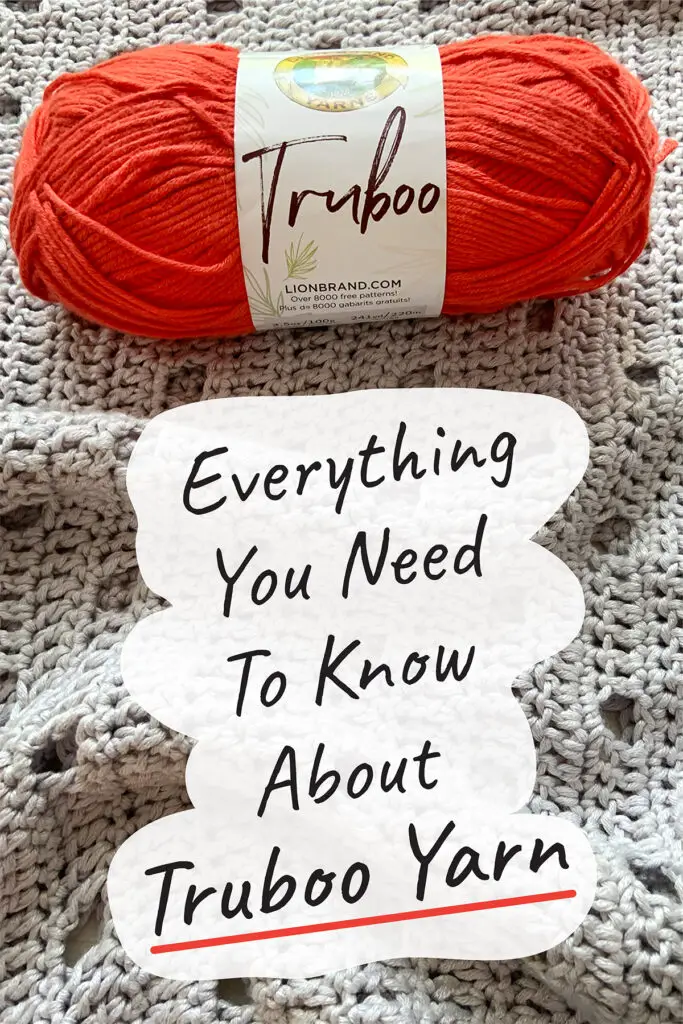 Mary Beth Cryan has been designing crochet patterns for over 4 years. Prior, Mary Beth worked as a professional illustrator and product designer with a specialty in paper crafts for 18 years. She has authored and illustrated 17 paper craft books, countless pop-up greeting cards, and many paper craft kits. She received 3 LOUIE Awards from the National Greeting Card Association. Some of her clients included MoMA (Museum of Modern Art NYC), American Girl, Dover Publications, Peter Pauper Press, Ranger Rick Magazine, Highlights magazine and many others.  She earned a Bachelor of Fine Arts from Syracuse University in 2000.