Get those gifts done quickly!
It's getting down to the big deadline, Christmas! Do you still have crochet gifts that need to be made? I do, so I assume you do too. It is stressful.
I always have good intentions of starting my gift making early but November seems to roll around faster than I expect it to.
That's why I designed this 9 jewelry pattern ebook over the past year. So it would be ready for you when you need it most. Right now!
These crochet jewelry patterns are super quick so your gift making and gift stressing will be over in no time.
Each of these patterns takes only 30 minutes to 1 hour to make.
And you can start them as soon as you download the Ebook. 8 of the patterns use worsted weight scrap yarn and one uses DK. I bet you have enough yarn in your stash to make jewelry for the whole neighborhood! Or that might just be me. Ha-ha.
Buy the 9 crochet pattern collection on Etsy or Ravelry now for $13.50 (these patterns bought individually would total $21). Or keep reading to find out more about the collection and pattern details.
A unique crochet gift.
Over the years my family has received many hats and scarfs from me as gifts. I bet your loved ones have too. And I'm sure they really appreciate them.
But wouldn't it be fun to surprise them with something totally new and different this year?! These 9 crochet jewelry patterns were designed to surprise and delight your gift receivers.
Just imagine how excited they will be when they open your gift and see your handmade jewelry! They may not even know crochet jewelry is a thing!! They will marvel at your creativity.
And you will feel proud giving these fun and unique gifts.
The 9 Crochet Patterns in the Ebook
Inside the crochet pattern ebook you will find 9 jewelry patterns. Three of the patterns are necklaces and six are bracelets.
Here are the patterns!!
1. The Once & Floral Necklace Pattern
The Once and Floral Necklace requires just 30 yards of worsted weight yarn. Mix and match the colors to express your gift recipients personal style. They will feel loved knowing their gift was made with them in mind.
You can read more about this pattern HERE.
2.The Star Studded Bracelet Pattern
To make the Star Studded Bracelet you need even less yarn than the Loopy Worsted Necklace requires. Only 23 yards of worsted weight yarn are needed for this crochet gift pattern.
This crochet bracelet makes a great gift for your loved one and will give you the gift of learning. It comes with a beginner friendly tutorial that guides you step by step through embroidering on crochet.
You can preview this pattern for free HERE.
Mod Crocheted Beads Necklace Pattern
Honestly, this is my favorite pattern in the crochet pattern bundle. If you are a bead lover you'll enjoy it too.
First you crochet each of the beads individually, then you crochet the "chain" and string the beads on.
You can make the chain as long as you'd like and string on the beads in any order. There are so many customizing options. This pattern will get your creative juices flowing.
This is the one pattern that requires DK weight yarn. The others all use worsted.
You can preview this pattern for free HERE.
The Loopy Worsted Necklace Pattern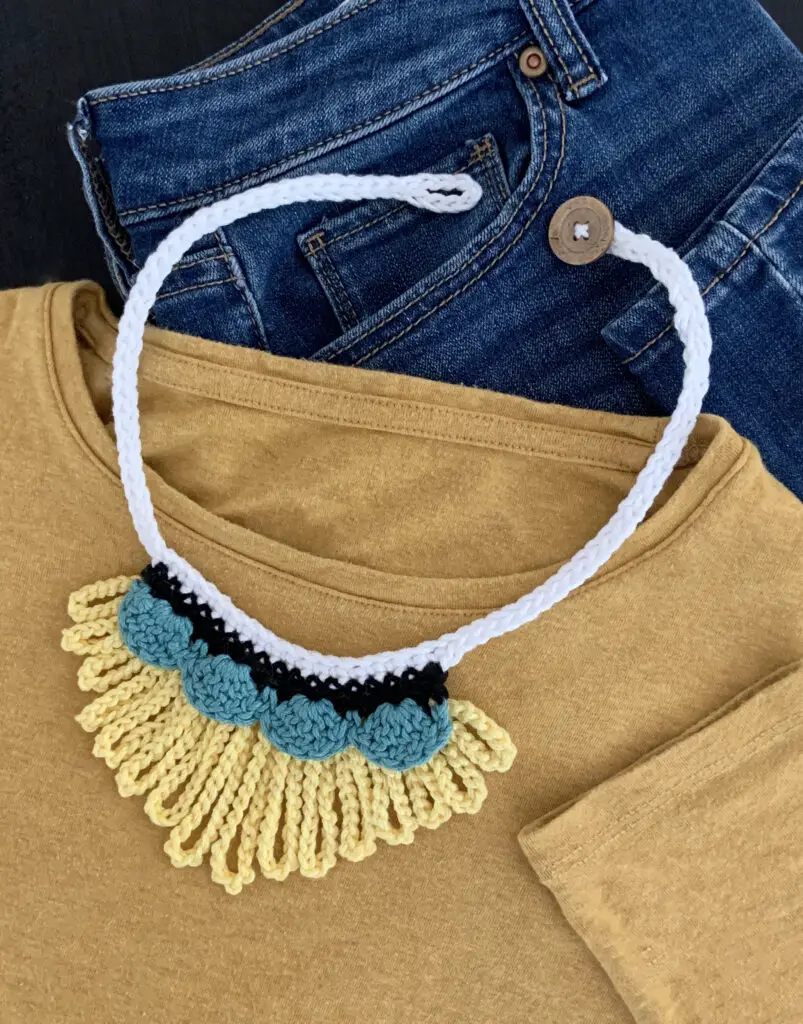 Of all the patterns I've ever designed this is the most popular. Crocheters love how quickly it works up and how different it is.
This is another pattern that will allow you to flex your creative muscles. Picking out the colors is my favorite part.
Do you have someone in your life who is always on a ZOOM call? This is a great piece to throw on over a plain shirt to look great on camera.
You can read more details about this pattern HERE.
The Aztec 4 Piece Bracelet Set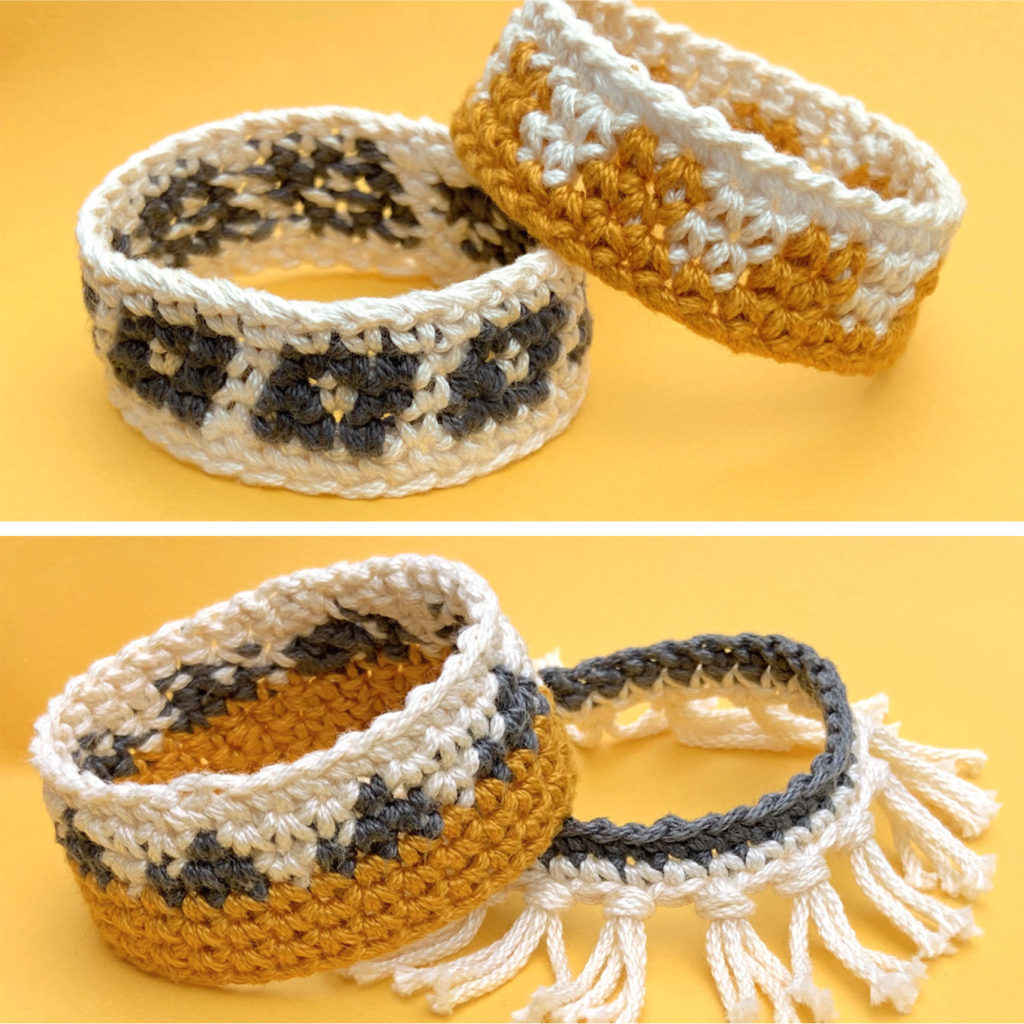 My most famous pattern is the Aztec 4 Piece Bracelet Set. This pattern first appeared in Happily Hooked Magazine.
These four bracelets work up quickly using tapestry crochet.
They look amazing stacked with gold chained bracelets. And how cute is the one with tassels?!
You can read more details about this pattern HERE.
The Circle Around Bracelet Pattern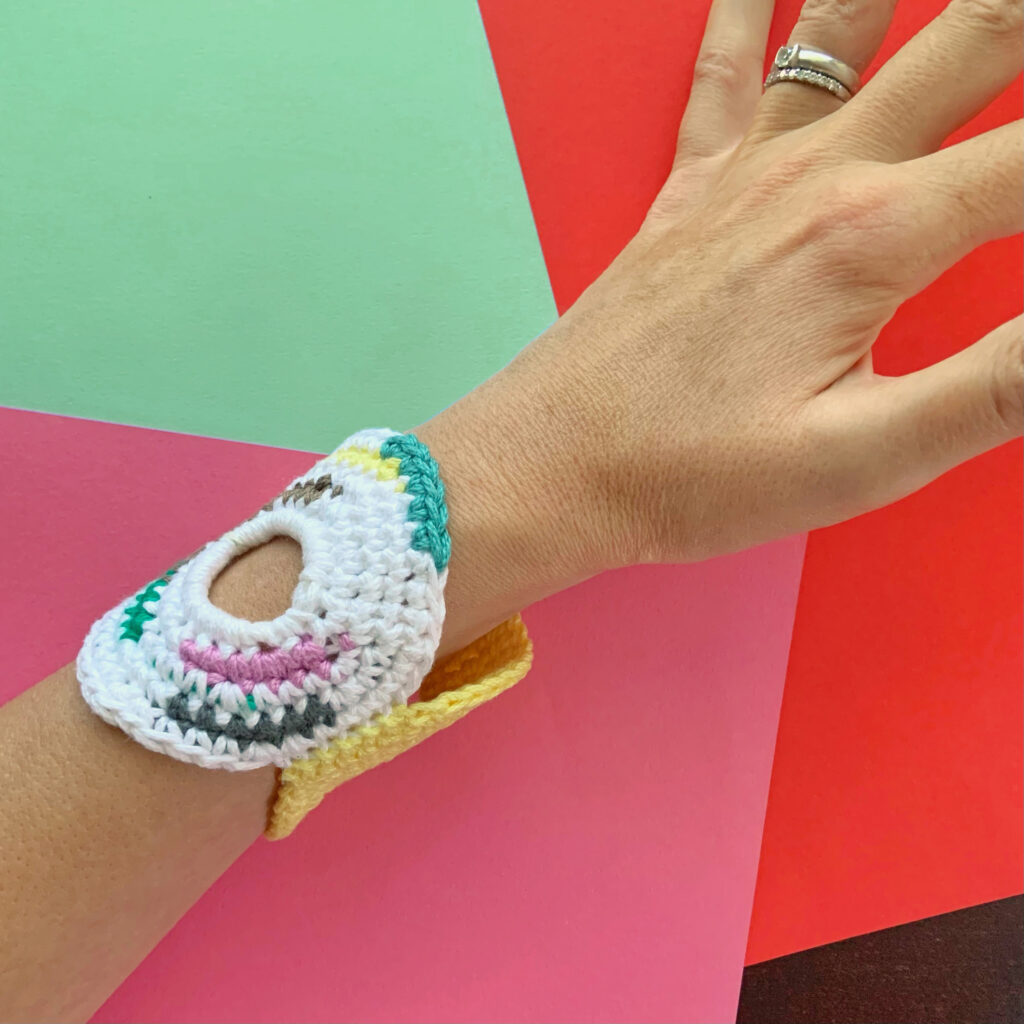 I'd be willing to bet you've never seen anything like the Circle Around Bracelet!
This cool bracelet is made entirely of worsted weight yarn. I've been asked if that circle in the middle requires any extra tools and the answer is no.
If you have a loved one that enjoys being unique she will love this bracelet.
You can read more details about this pattern HERE.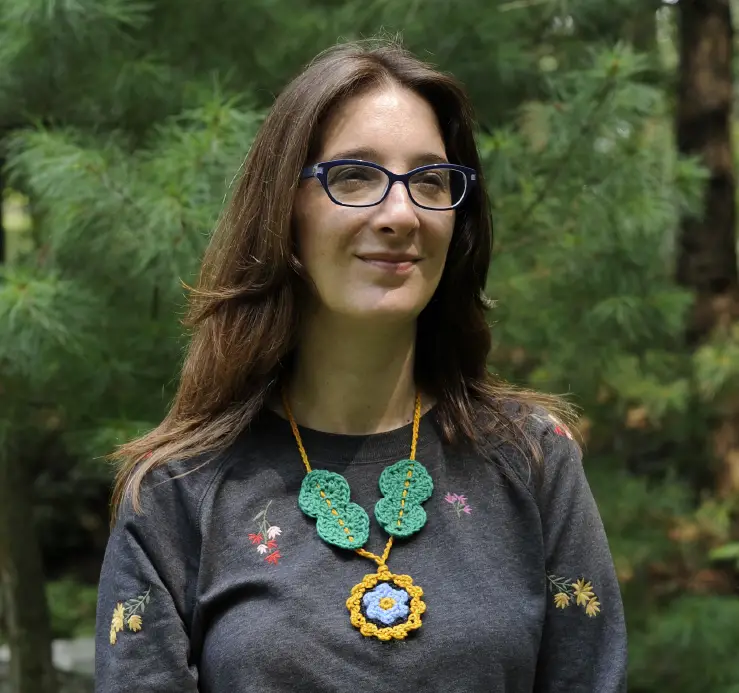 Crochet Pattern Ebook Digital Download PDF Details
You can make these jewelry patterns! The patterns in the crochet pattern collection are skill level Easy according to the Craft Yarn Councils Project Level Guide.
Your pattern collection purchase includes 6 easy to read digital download pdfs (5 if purchasing on Etsy). Inside the pdfs you will find the 3 necklace patterns and 6 bracelet patterns, 9 patterns in total.
You won't get stuck anywhere in this crochet ebook. The patterns are clear and easy to follow because, like all of my patterns, they have been tested and professionally tech edited.
Included in the patterns are photos, illustrations, an embroidery tutorial, and instructions to customize the lengths of the necklaces and circumferences of the bracelets.
The pattern is written in US terms.
If you have any questions at all about the patterns in this crochet pattern bundle you can email me anytime!
Crochet Pattern Ebook
This crochet pattern ebook contains everything you need to finish up the gifts for the women on your list. The 9 crochet patterns work up super quick with very little scrap yarn.
Won't it feel great to get those gifts done and know your loved ones will LOVE their handmade gifts?!
If you liked this, check out these crochet garments next!
Mary Beth Cryan has been designing crochet patterns for over 4 years. Prior, Mary Beth worked as a professional illustrator and product designer with a specialty in paper crafts for 18 years. She has authored and illustrated 17 paper craft books, countless pop-up greeting cards, and many paper craft kits. She received 3 LOUIE Awards from the National Greeting Card Association. Some of her clients included MoMA (Museum of Modern Art NYC), American Girl, Dover Publications, Peter Pauper Press, Ranger Rick Magazine, Highlights magazine and many others.  She earned a Bachelor of Fine Arts from Syracuse University in 2000.