A Beautiful Sweater Pattern!
Do you love making unique and beautiful crochet sweaters?
If yes, I designed this sweater pattern for you.
Purchase the pattern on Etsy or Ravelry now or keep reading to find out more about the pullover and pattern details.
A Fun Pattern
The Roses on Repeat Sweater is fun right from the start. Have a blast picking out the colors for the body and flowers.
If you'd like to see many inspiring color combos scroll to the end of this post where I included a bunch of gorgeous tester photos.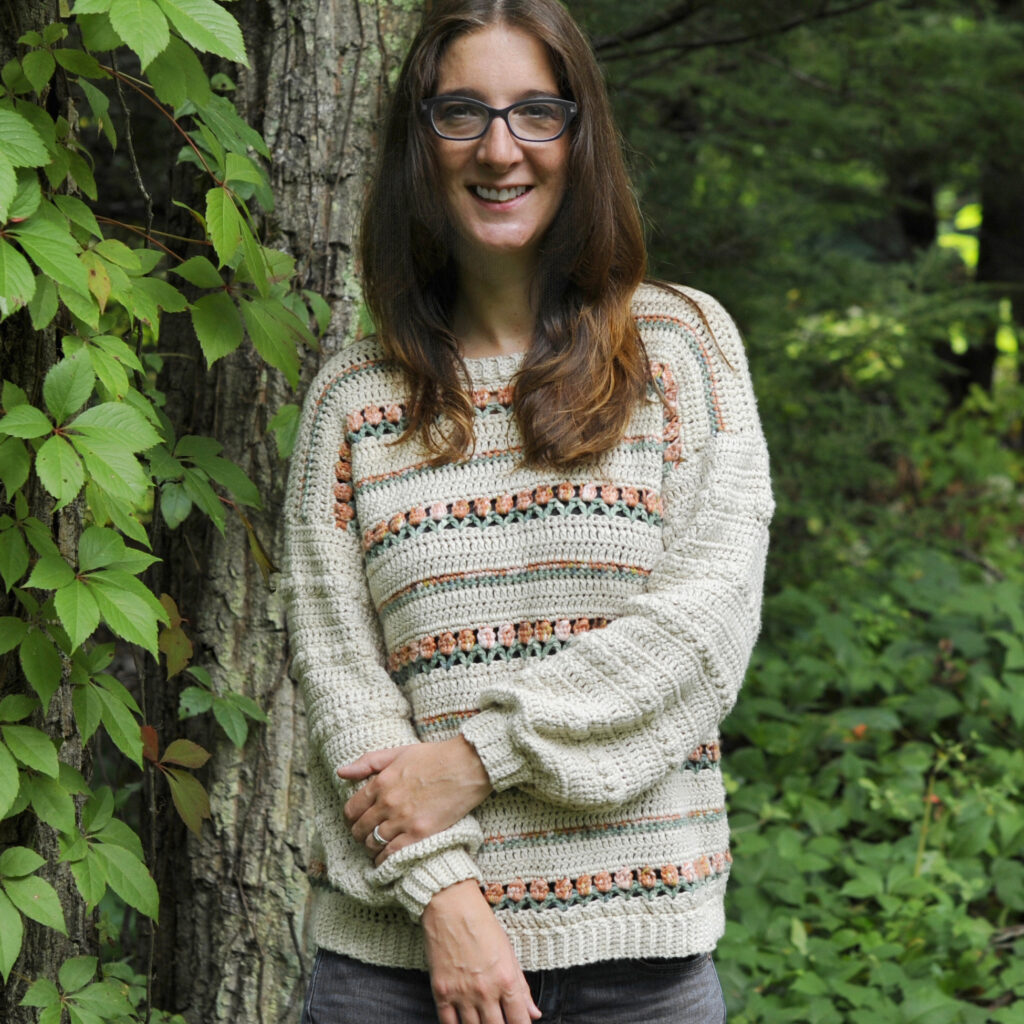 It was such a joy to make and the little roses make me smile every time I look at them!

Amanda – Tester
Crochet and Relax
Once you choose your yarn, you'll relax as you work the sweater from the bottom up. It's such a joy to see the little roses spring from your hook.
I think you will enjoy the stitch pattern on the sleeves as well. It's unique and rhythmic. The sleeves are easy to customize in both length and width because they are worked from the top down. And you know what that means, less seams!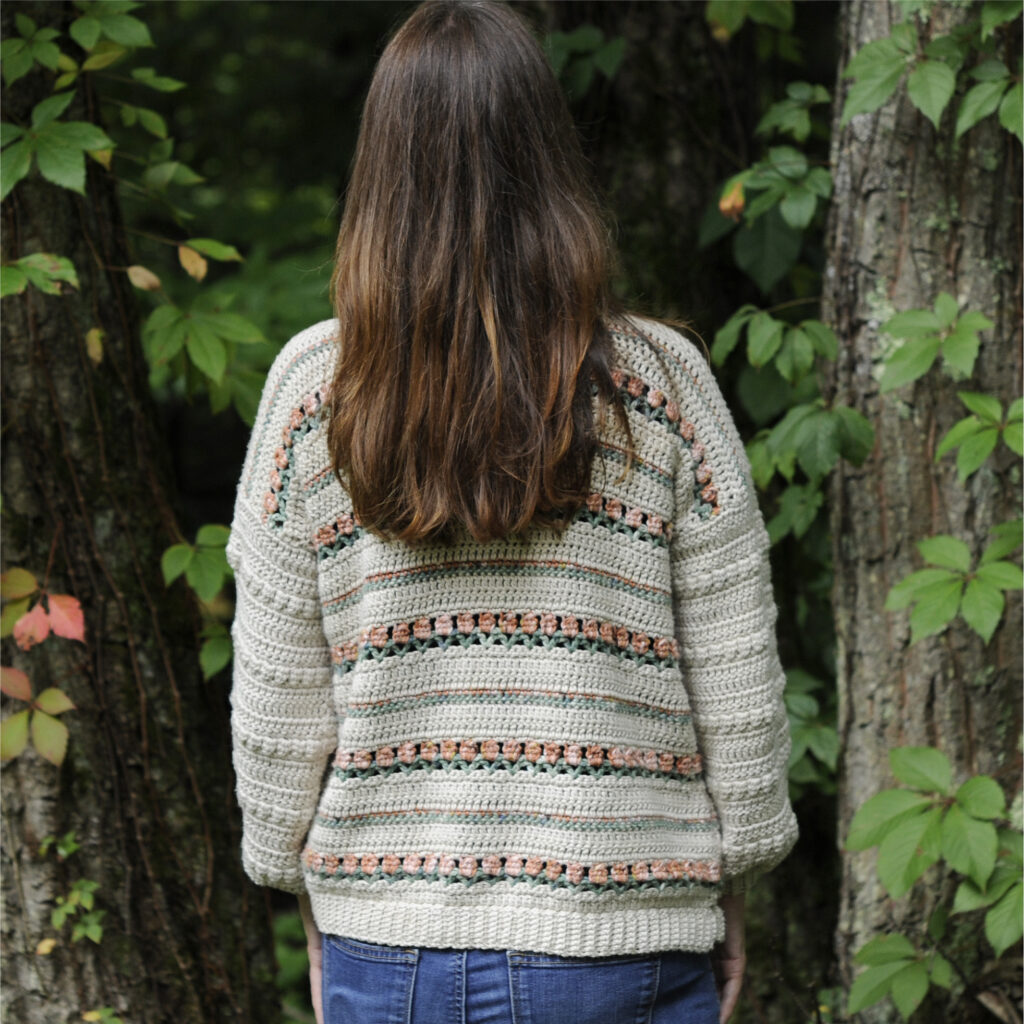 "The Roses" they look so pretty and overall sweater is so so cute and cozy.

Shivana – Tester
Quick Crochet Sweater Pattern
Your pile of worsted weight yarn will quickly transform into an amazing sweater that you can proudly wear around town and feel proud of.
Inspired by Surface Pattern Design
One thing that designers in all mediums ponder is "what is my style?"
A style is very important to an artist because it distinguishes one artist's work from another.
It's very valuable because this is what people come to a particular artist for.
As I was pondering this question for the 1 millionth time in my life I realized that my crochet sweater patterns are all heavily influenced by surface patterns or in other words, printed repeating patterns.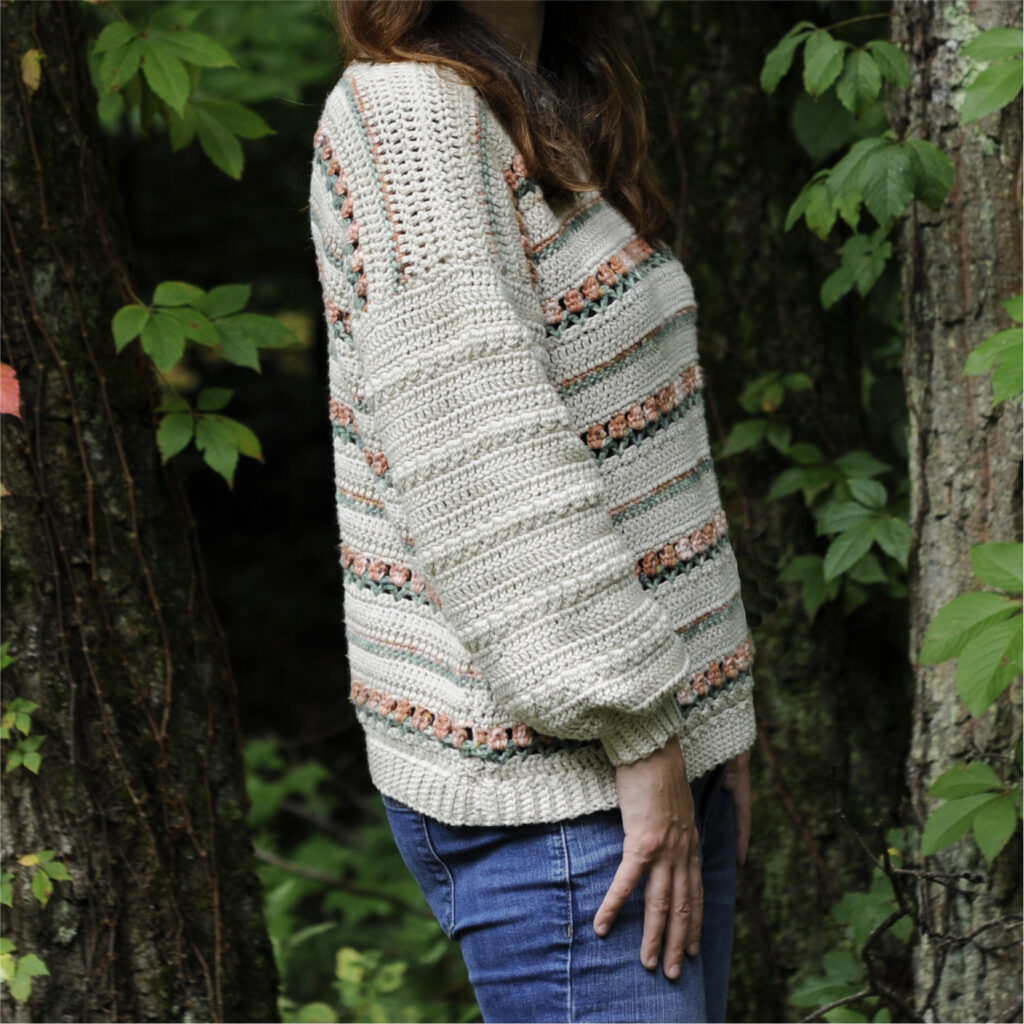 I was delighted to make this realization. Before I started crocheting I was, among other things, a surface pattern designer. I would illustrate motifs and put them in repeats for companies.
My illustrations have graced many different types of products from socks, to pajamas, to lamps, to wrapping paper and everything in between.
Until now this surface pattern element of my crochet designs has been completely subconscious. But now that I have realized it, I can lean into it and really make it my own.
So keep an eye out for more crochet sweater patterns from me with interesting pattern stitches that mimic illustrated repeating patterns!
I really like how it turned out! It'll be perfect for winter! …I like how the pattern isn't too busy or too obvious.

HollyAnn – Tester
Crochet Sweater Pattern PDF Details
You can make this pattern! The required skills include: Slip Stitch, Single Crochet, Double Crochet, Single Crochet in the Back Loop, Decreasing Single Crochet, and Bobble Stitch (described in pattern).
Your pattern purchase includes an easy to read 16 page pdf.
You won't get stuck anywhere in this pattern. It is clear and easy to follow because, like all of my patterns, it has been tested and professionally tech edited.
Included in the pattern is a size schematic, photos, illustrations, details to create sizes XS – 5X, stitch charts and instructions to customize the sleeve length and width.
The pattern is written in US terms.
The pattern is very clear and if you have a question I am here for you. I have a dedicated crochet sweater patterns support email listed at the end of the pattern. You can email me directly anytime!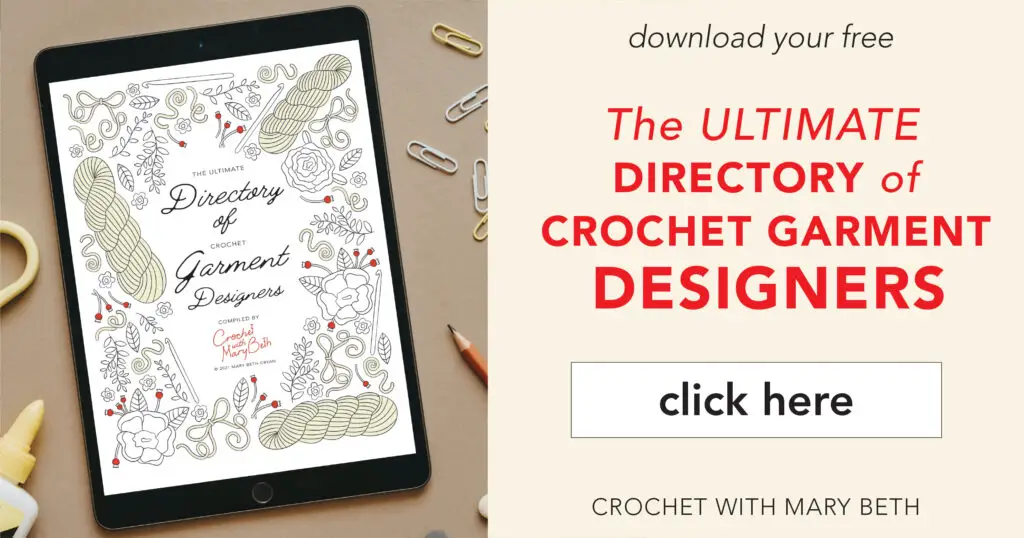 Here is what you will need
Crochet hook size US H/8 (5 mm)
Crochet hook size US G/6 (4 mm) or 1 mm smaller than hook used to obtain gauge
The design was beautiful and looking at the pictures you posted I could see that it combined a wide variety of techniques which I really enjoy in patterns!

Candace – Tester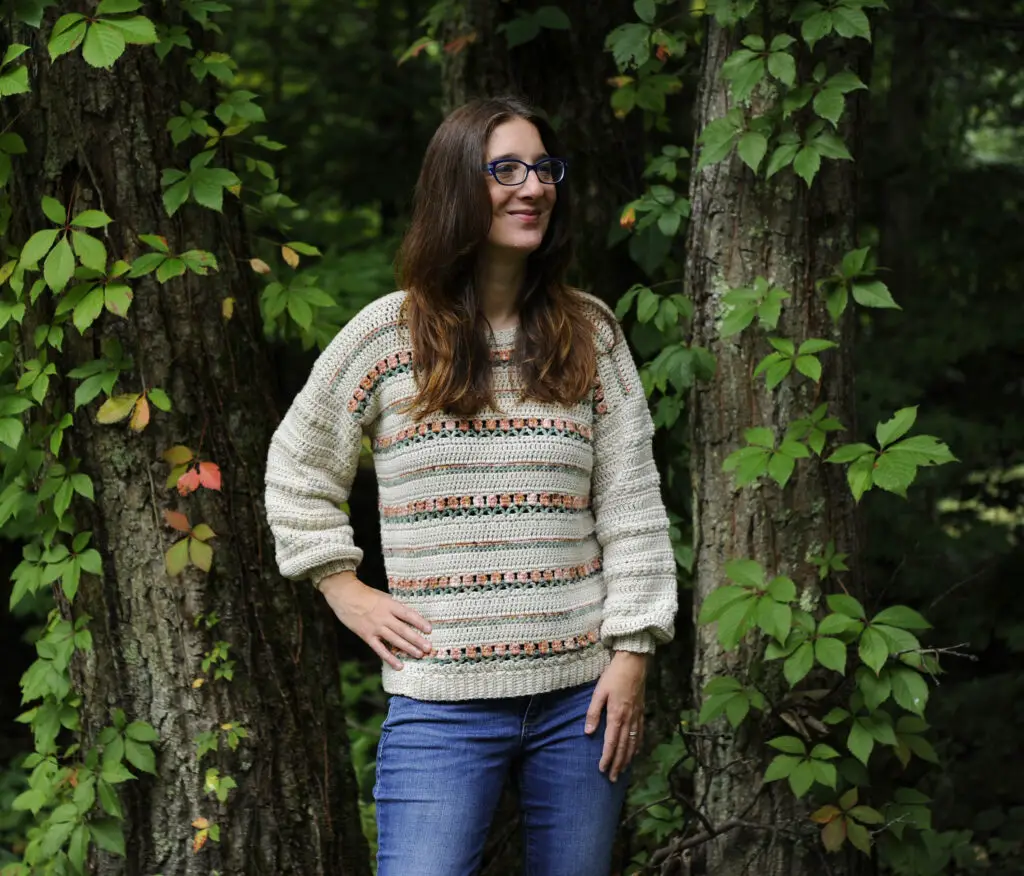 Don't have any Lion Brand Pima Cotton at your local store? You can substitute any 4-worsted weight yarn.
Here are two yarns my testers recommend:
MillaMia Naturally Soft Cotton
Speaking of Crochet Testers
Here are some inspiring Roses on Repeat Crochet Sweaters completed by a few of my talented testers.
Be sure to check them out on Instagram (by clicking on their names in the photo credits) if you'd like to see more of their beautiful work.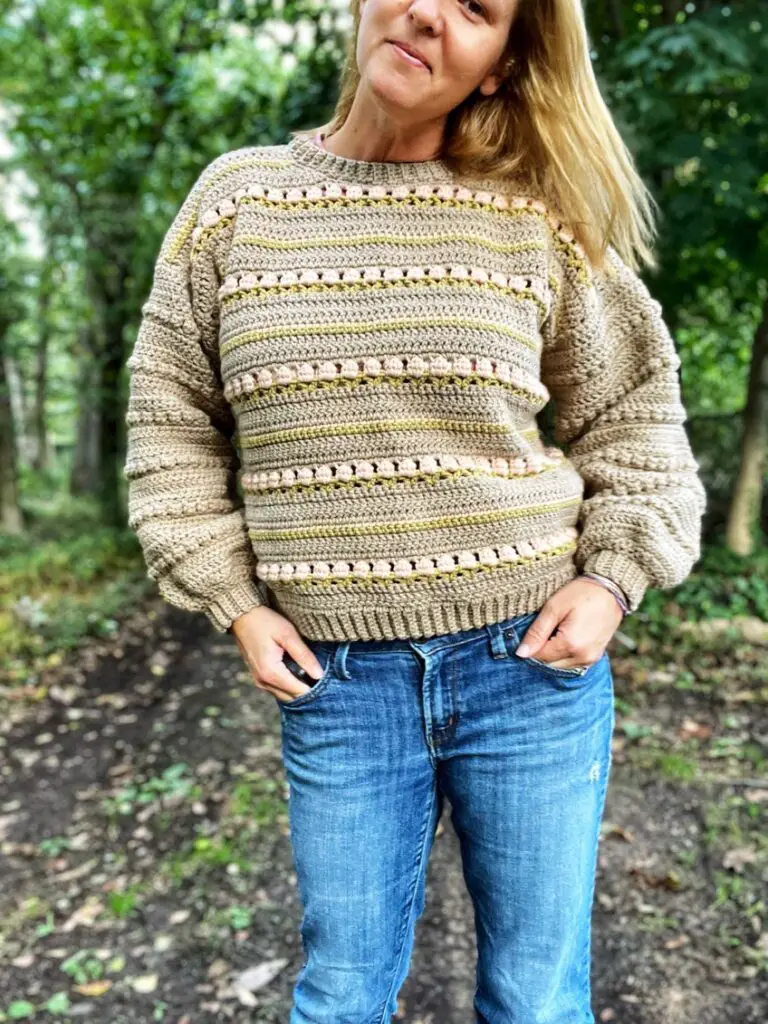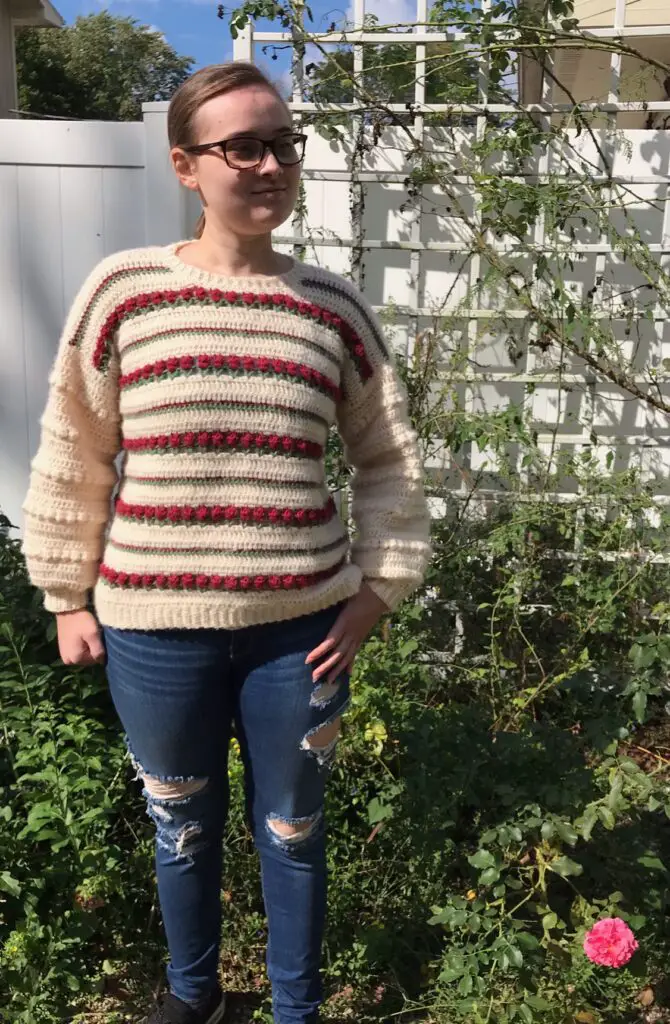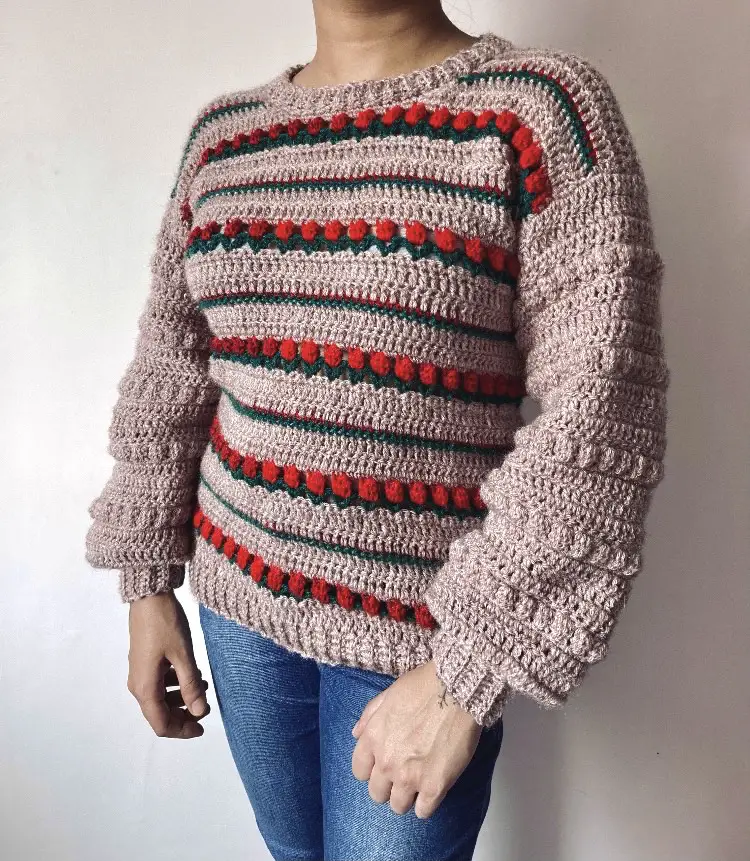 If you liked this, check out these crochet patterns next!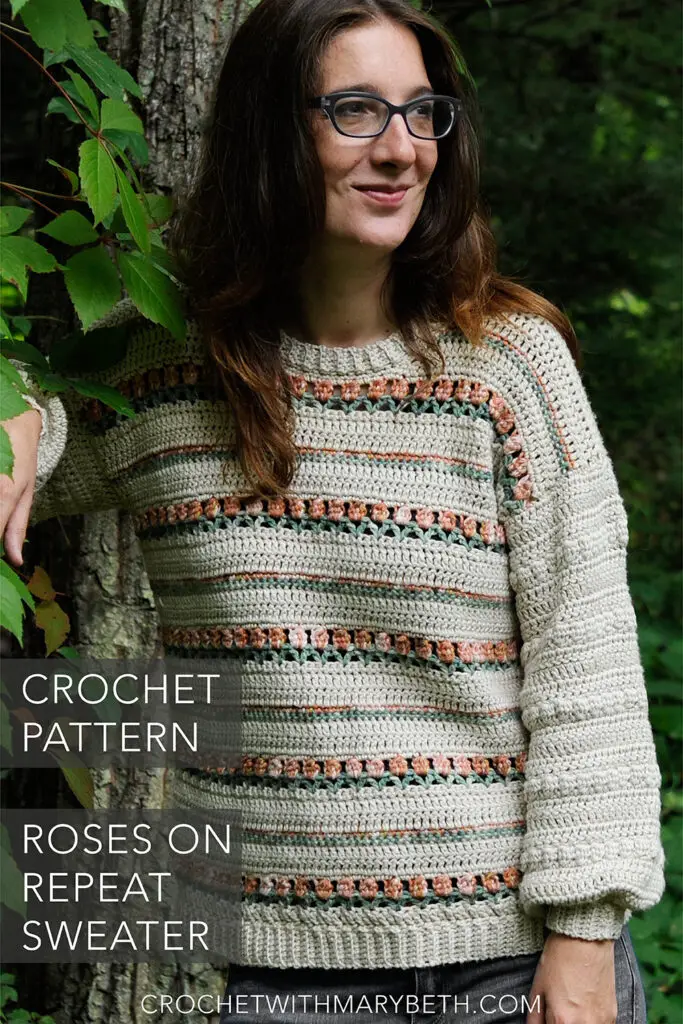 Mary Beth Cryan has been designing crochet patterns for over 4 years. Prior, Mary Beth worked as a professional illustrator and product designer with a specialty in paper crafts for 18 years. She has authored and illustrated 17 paper craft books, countless pop-up greeting cards, and many paper craft kits. She received 3 LOUIE Awards from the National Greeting Card Association. Some of her clients included MoMA (Museum of Modern Art NYC), American Girl, Dover Publications, Peter Pauper Press, Ranger Rick Magazine, Highlights magazine and many others.  She earned a Bachelor of Fine Arts from Syracuse University in 2000.