You are really going to enjoy crocheting the Fair and Square Crochet Sweater Pattern. It's a truly unique piece and the easy colorwork makes it so special. This crochet pullover will make a special addition to your handmade wardrobe.
Purchase the pattern on Etsy or Ravelry now or keep reading to find out more about the sweater and pattern details
Easy Tapestry Crochet
If you have made a garment before and are ready for a crochet sweater pattern with modern details, this pattern is perfect for you.
The tapestry crochet pattern is easy. Once you get going you don't even have to reference the instructions or charts anymore.
And don't worry if you do not know how to read charts. I wrote out every stitch and every color change for you in the instructions.
Some of my testers tried tapestry crochet for the first time when they made their sweater. And now that I think about it, not one of them asked me any questions about the tapestry crochet. They were able to pick the technique up easily from the pattern.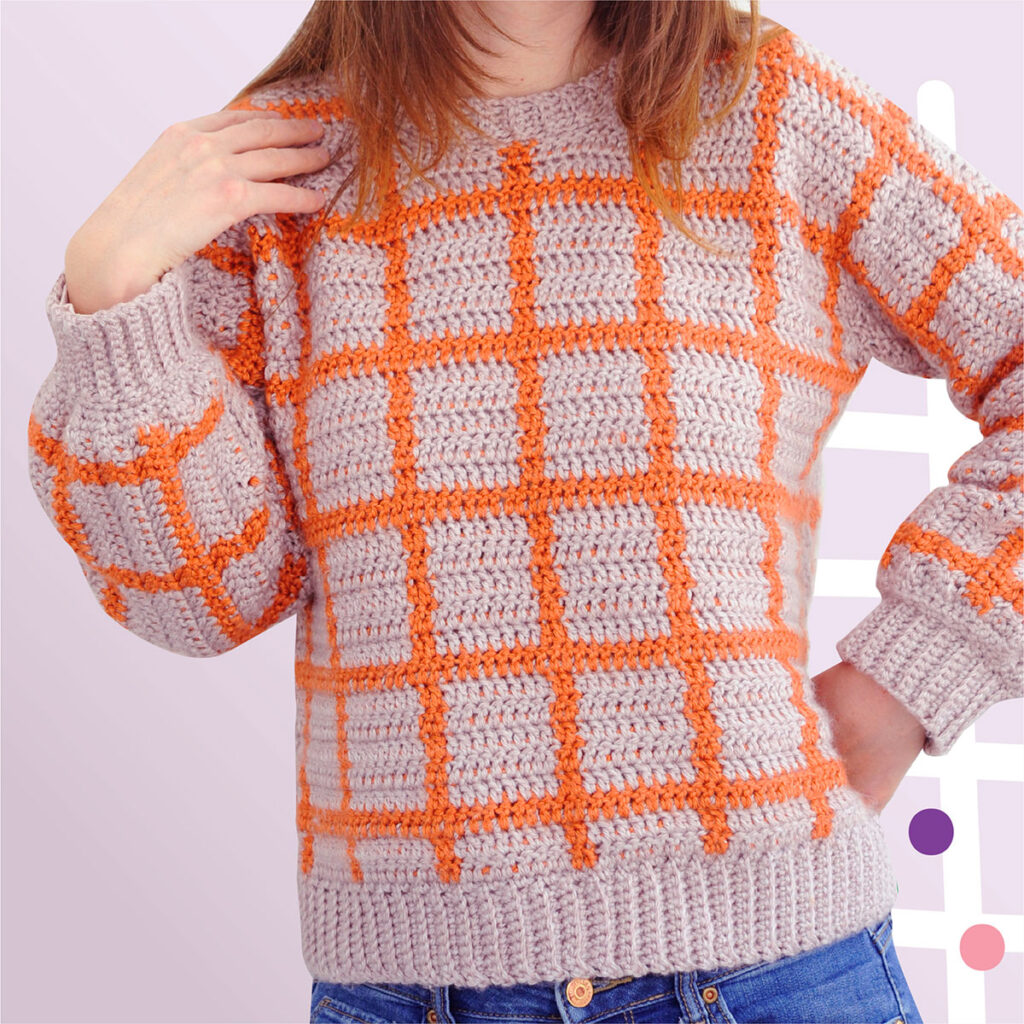 Unique Crochet Sweater Pattern
Speaking of testers, a lot of the testers commented that they were drawn to the pattern because they had never seen another pattern like it.
When I am designing crochet sweater patterns I strive to make different patterns with unusual patterns in textures and colors. I searched and searched to find out if there were any other crochet sweater patterns out there like this one. I was happy to find that there weren't.
And take a close look at the details, especially the area where the shoulder connects to the sleeve. I spent hours figuring out how to get the pattern to run smoothly throughout the whole garment. It appears as if it doesn't have any seams. Coor right! This is the kind of detail that makes your finished piece look luxurious and handmade instead of store bought.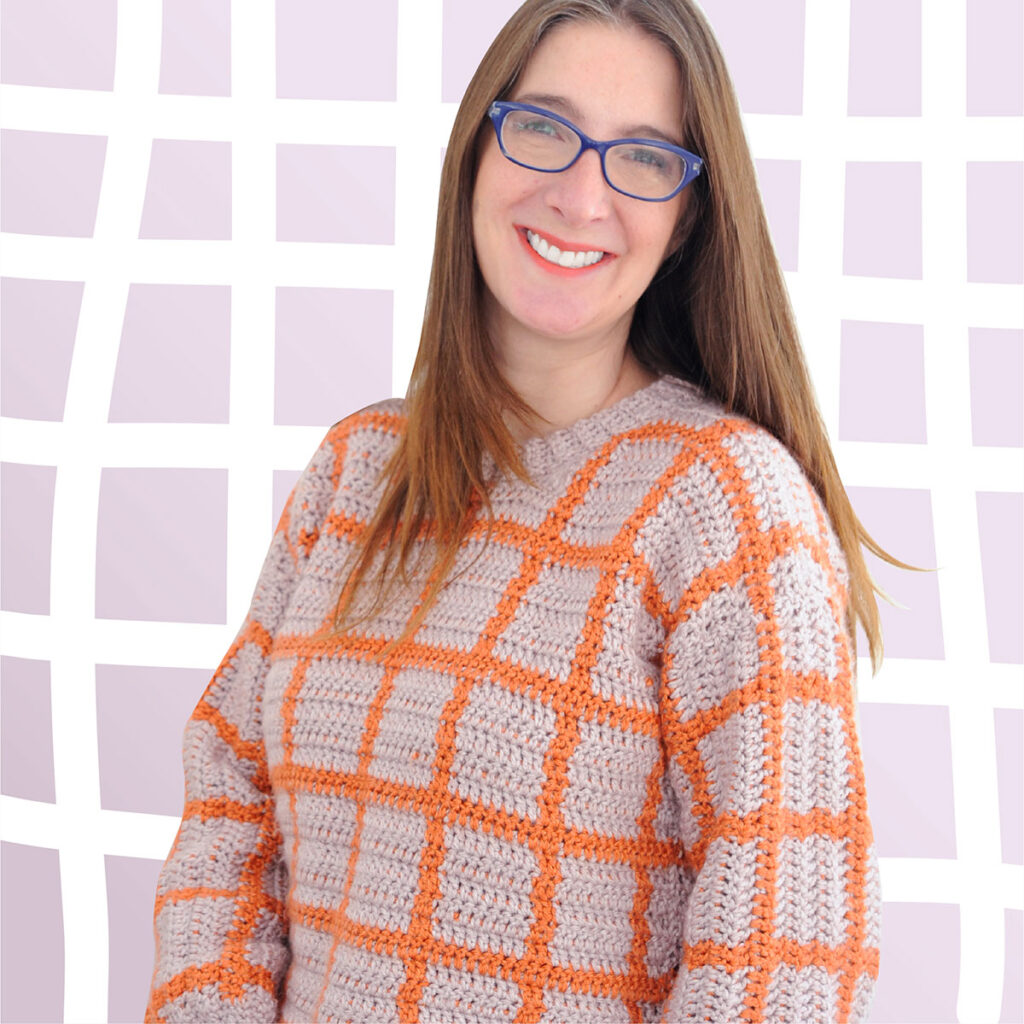 I love a unique article of clothing. This fits that description perfectly.

Jo H.
Express your creative side.
This crochet pullover pattern will inspire your creative side. It looks good in absolutely any color combo and variegated yarn too!
Have fun picking out the colors. Go for it and choose colors that truly express your unique creative side.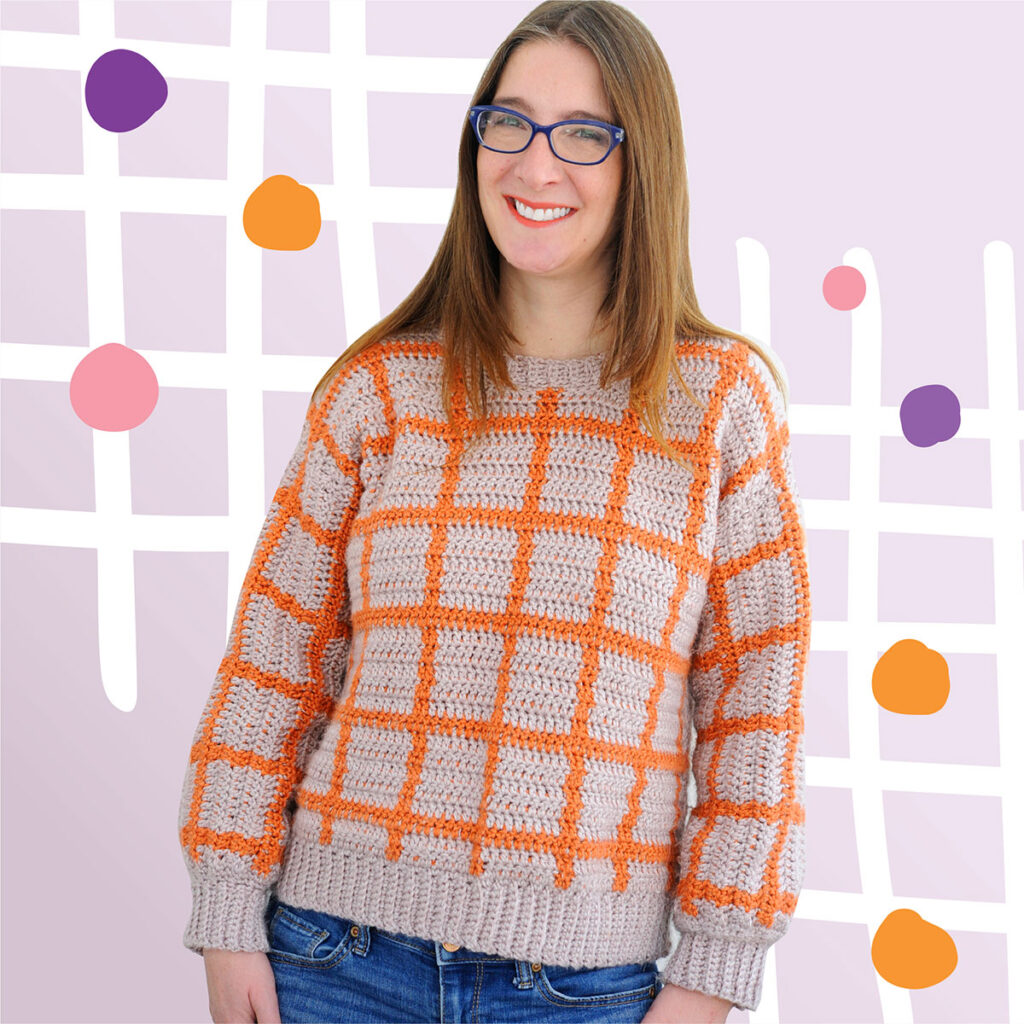 This was my first time reading a whole pattern (with no video) on a garment project and it was very clear and easy which kinda make me more confident in exploring more written patterns out there. So thank you, really.

@illu.wailluwa
Crochet Tee Pattern PDF Details
If you have made a garment before then you can make this pattern! The tapestry crochet is easy. You will get the hang of the tapestry pattern after the first row. The required skills to complete this pattern include: Slip Stitch, Single Crochet, Double Crochet, Single Crochet in the Back Loop, Color Change in the middle of a row, Increasing, and Decreasing
Your crochet pullover pattern purchase includes an easy to read 19 page pdf. The instructional photos and charts are all included at the end of the pattern so you can easily exclude them if you want to print the pattern and save ink.
You won't get stuck anywhere in this pattern. It is clear and easy to follow because, like all of my patterns, it has been tested and professionally tech edited.
Included in the pattern is a size schematic, photos, illustrations, details to create sizes XS – 5X, tapestry crochet charts, and instructions to customize the sleeve lengths.
The pattern is written in US terms.
The pattern is very clear and if you have a question I am here for you. I have a dedicated pattern support email listed at the end of the pattern. You can email me directly anytime!
I love that it's not something I've ever seen before, and the sleeves matching up perfectly after seaming is great!

Kelly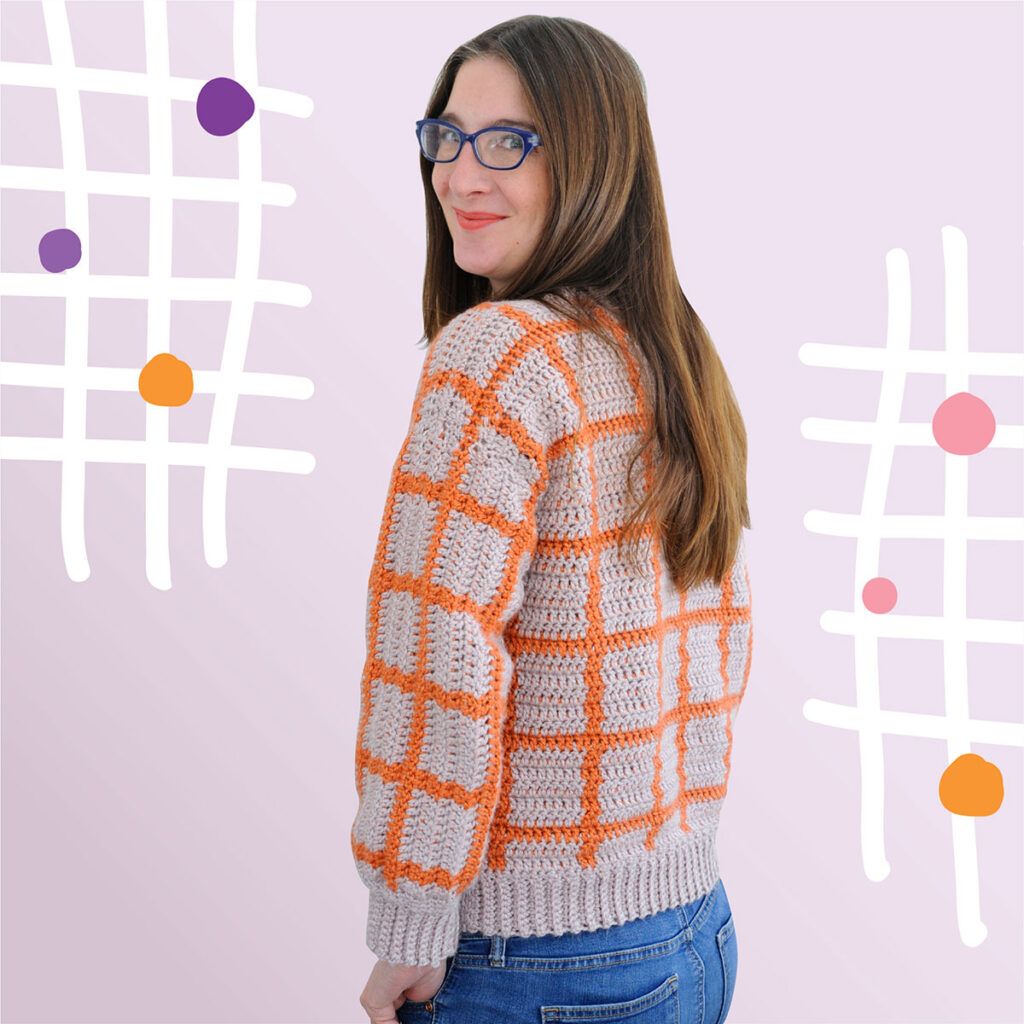 Here is what you will need
Crochet hook size US J/10 (6 mm) or size used to obtain gauge
Crochet hook size US I/9 (5.5 mm) or 0.5 mm smaller than hook used to obtain gauge
Don't have any Lion Brand Yarns Heartland at your local store?
You can substitute any worsted weight 4-medium yarn to make this crochet pullover pattern.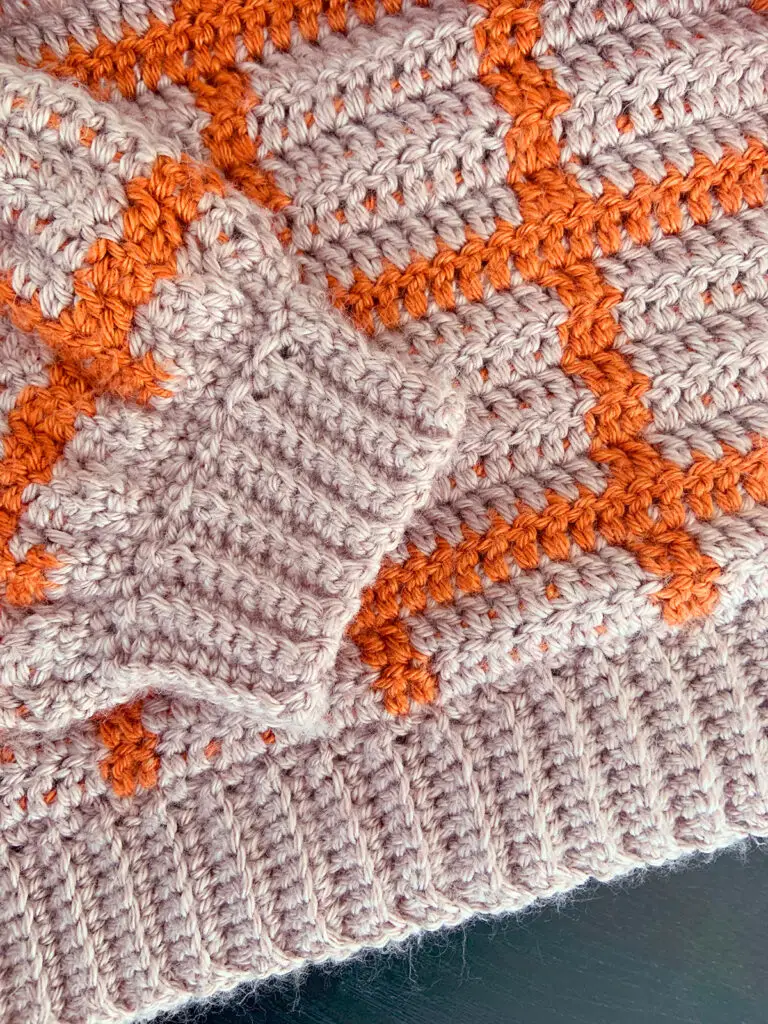 Speaking of Crochet Testers
I am in love with this sweater.

Shivani
Here are some inspiring Fair and Square Sweaters by a few of my talented testers.
Be sure to check them out on Instagram (by clicking on their names in the photo credits) if you'd like to see more of their beautiful work.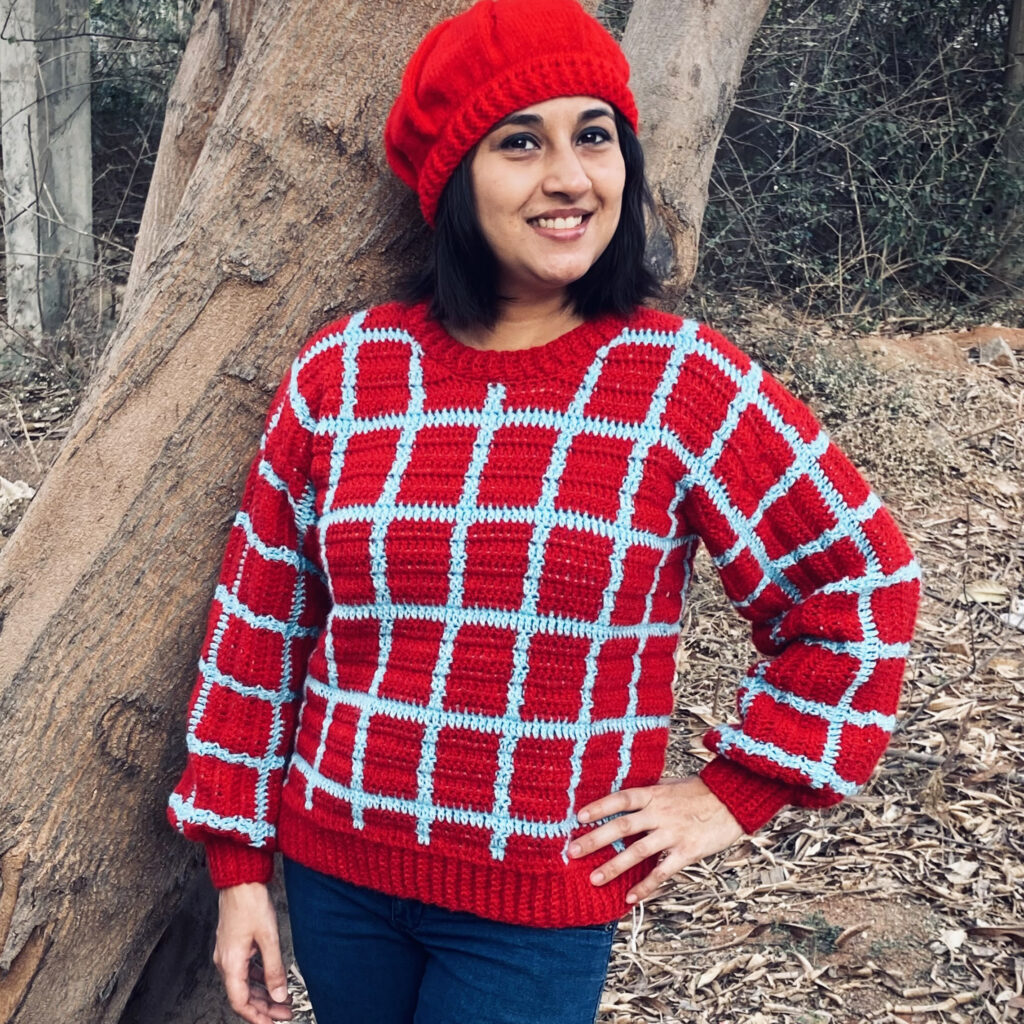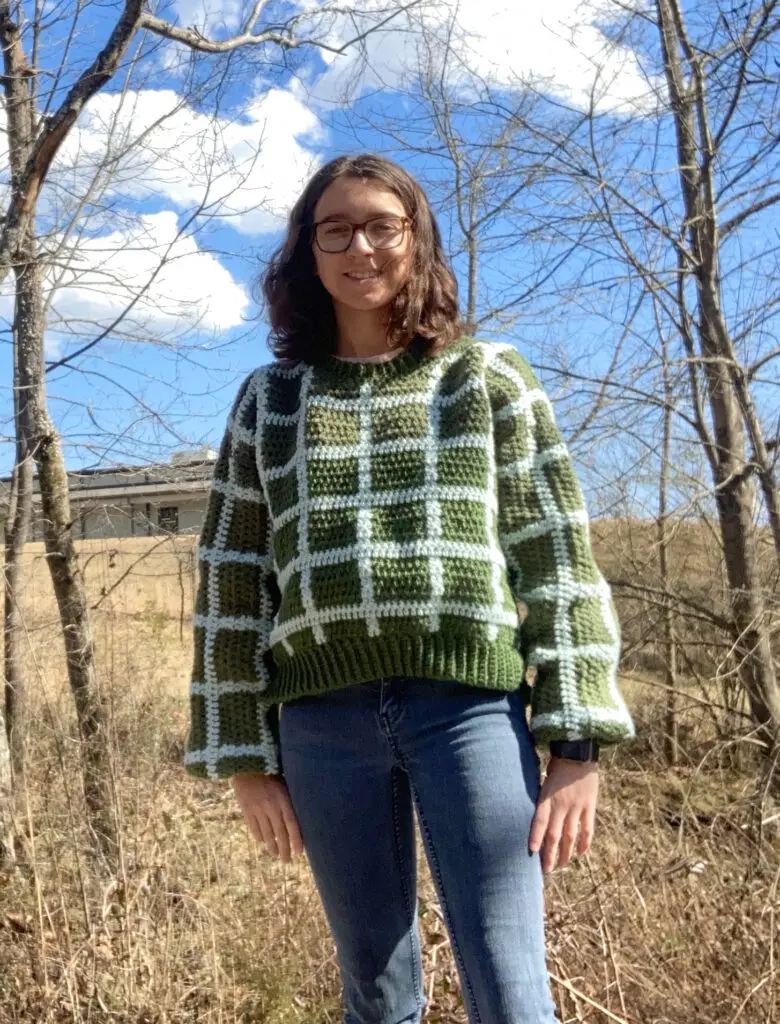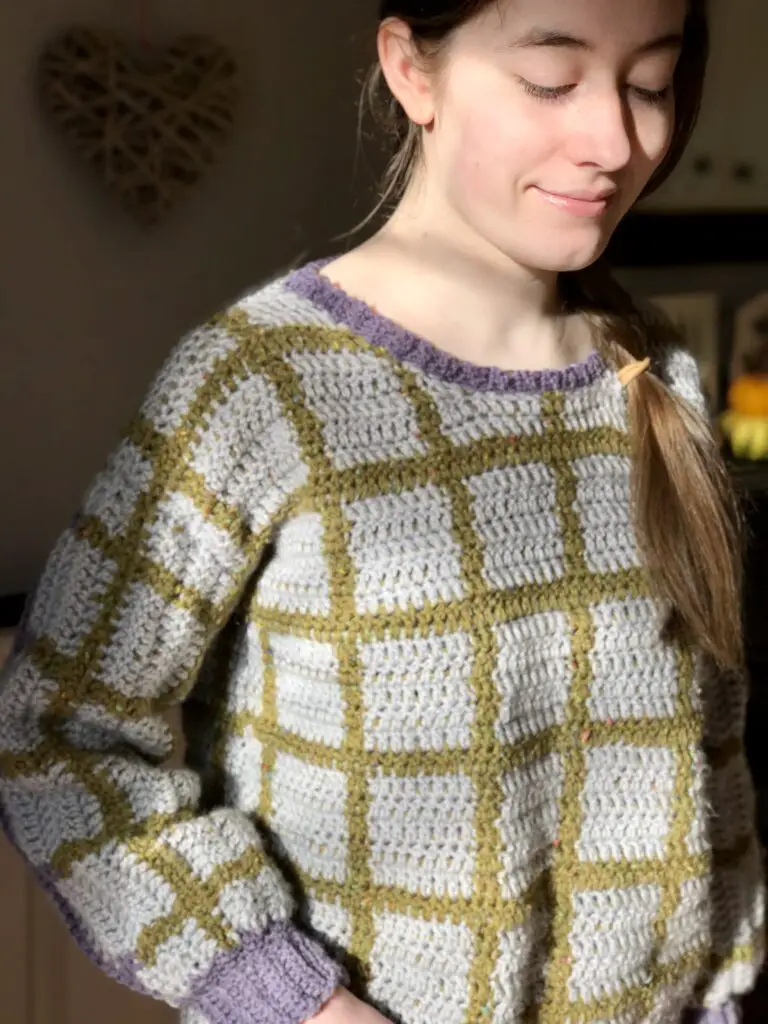 If you liked this, check out these crochet sweater patterns next!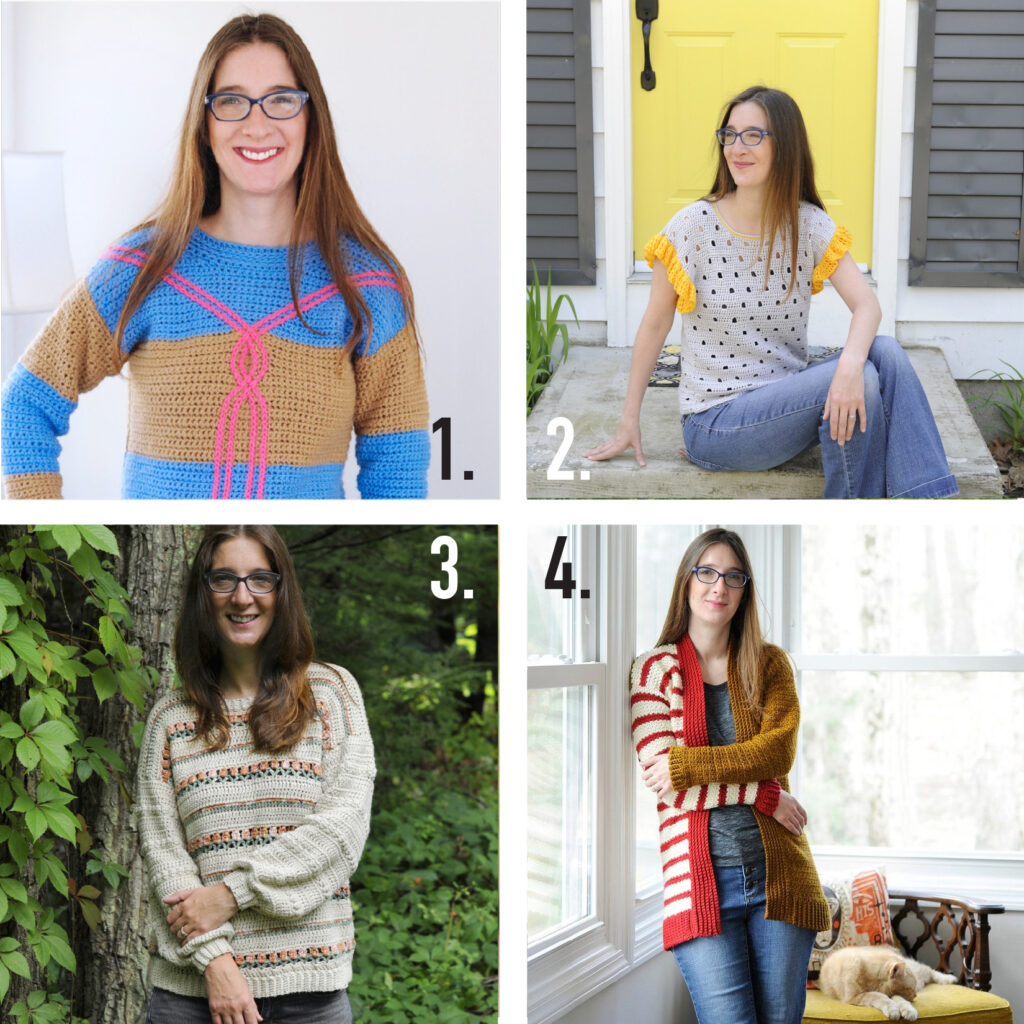 Mary Beth Cryan has been designing crochet patterns for over 4 years. Prior, Mary Beth worked as a professional illustrator and product designer with a specialty in paper crafts for 18 years. She has authored and illustrated 17 paper craft books, countless pop-up greeting cards, and many paper craft kits. She received 3 LOUIE Awards from the National Greeting Card Association. Some of her clients included MoMA (Museum of Modern Art NYC), American Girl, Dover Publications, Peter Pauper Press, Ranger Rick Magazine, Highlights magazine and many others.  She earned a Bachelor of Fine Arts from Syracuse University in 2000.