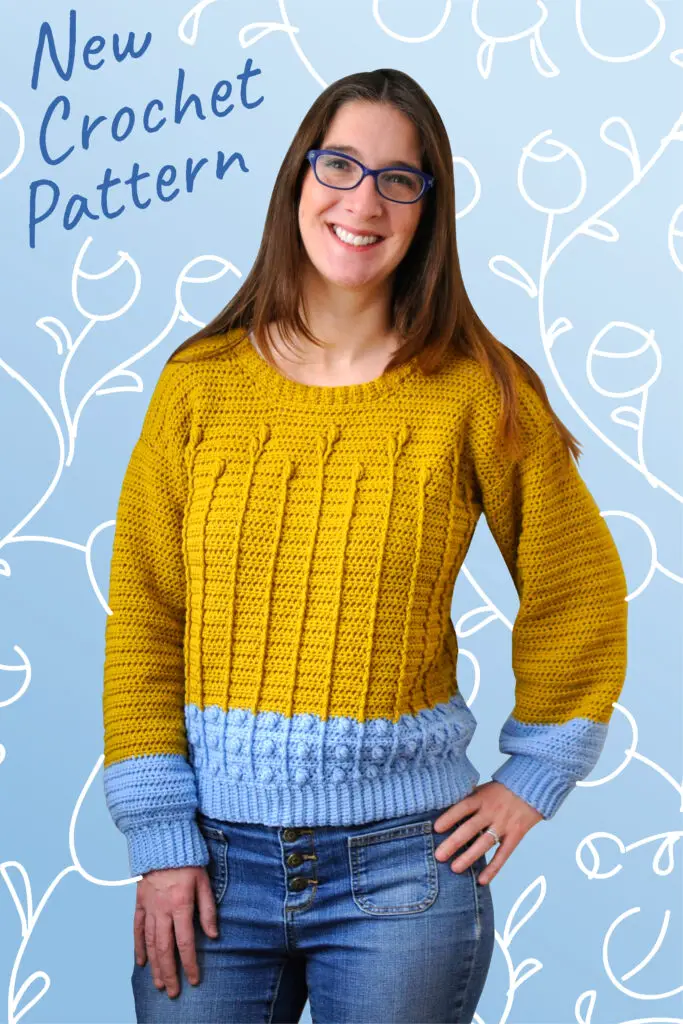 A Comfy and Pretty Crochet Sweater
If you are looking for a modern crochet sweater that is both comfortable and feminine then I think you are going to love the Best Buds Crochet Sweater Pattern. The fit of this sweater is oversized and comfy and the look is detailed and pretty.
Buy the pattern on Etsy or Ravelry now or keep reading to find out more about the cardigan and pattern details
Pretty Cables
When I set out designing this crochet sweater pattern my goal was to create a new unique floral texture.
As I researched and experimented with swatches I found that bobbles combined with front post stitches look like little buds on stems. I then took the bobbles and front post stitches and arranged them in a different way to create the cool modern texture on the bottom of the sweater.
Finally I realized that the bobble section could "grow" into the stems and that's when I knew I had a great new design on my hands. Cool right?!
Oh, I should let you know that there are front post stitches in this pattern but there aren't any back post stitches. Back post stitches give me terrible tendonitis in my wrists. I never use them in my designs.
And don't worry if you don't know how to make front post stitches. I included a detailed explanation in the pattern.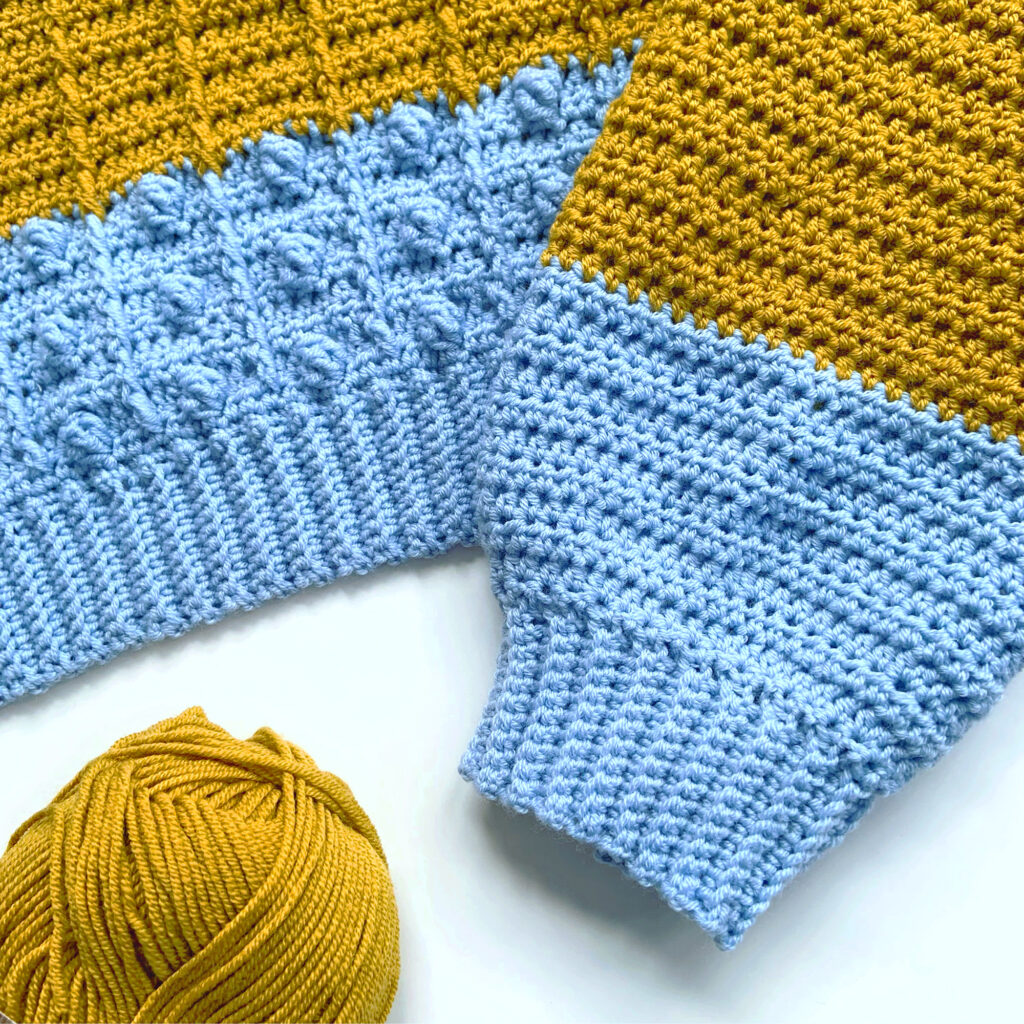 Comfortable Fit
Have I ever told you that I have a fancy sweatshirt collection? Yes, I said FANCY sweatshirt.
I'm not talking giant bulky hoodies with sports slogans on the front. I've been combing thrift shops and the Anthropologie sale rack for years in search of unusual and pretty sweatshirts.
To give you an idea of what I'm talking about, I have a floral printed peacoat made out of sweatshirt material. I have another sweatshirt that has a peplum. And I own a crazy polka doted sweater with ruffles to name a few.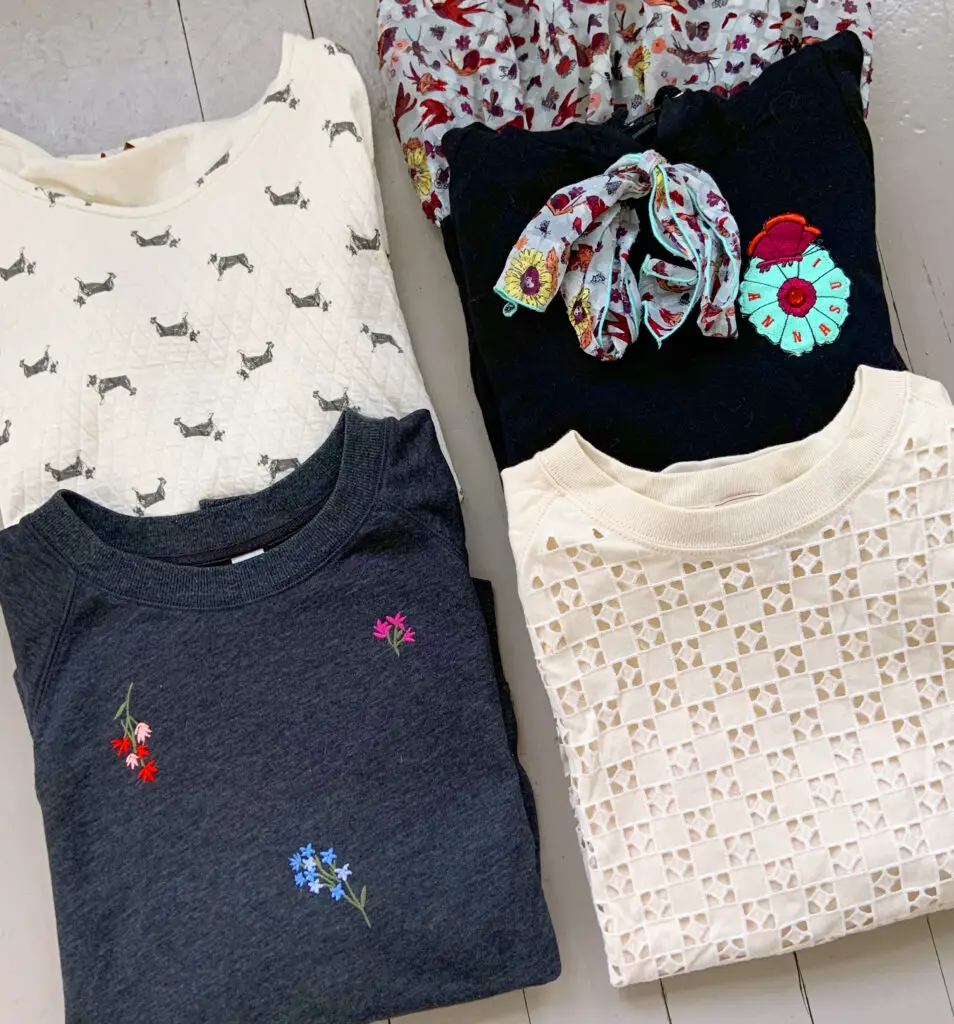 So I consider myself an expert on fancy-cozy or stealth cozy or outfits that feel like sweatshirts but look like nice clothes
And that is where I was coming from when I designed this crochet sweater pattern. It's an oversized sweater but it has pretty details and a feminine neckline so it looks a bit fancy. When you wear this sweater to work your coworkers will never know how comfy you actually are. Ha-ha.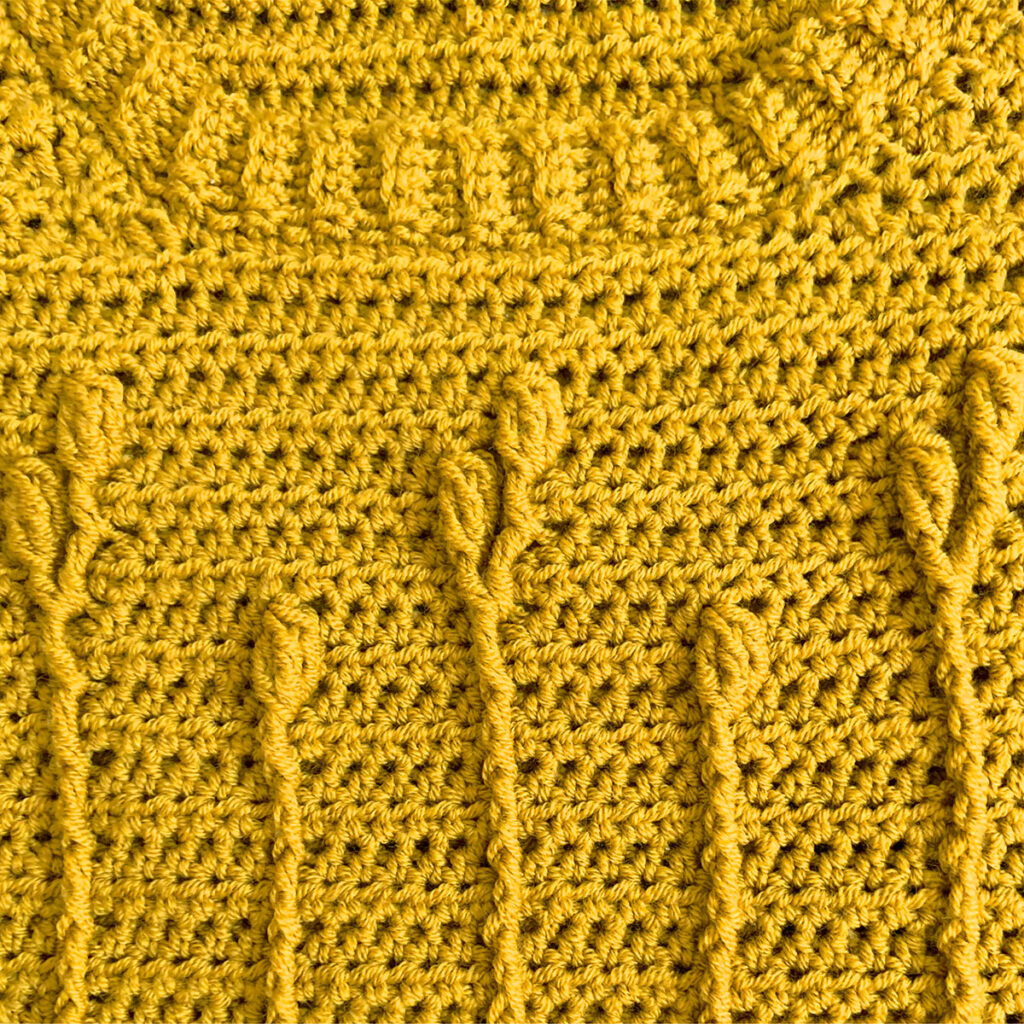 Customizable
This modern crochet sweater is easily customizable in the size and the design.
If you would like either the bobble section or floral section to be longer or shorter you can easily modify this area.
Want a cropped sweater? Instructions are included to easily adjust the length of the garment. In addition, you can swap any sleeve size with any body size.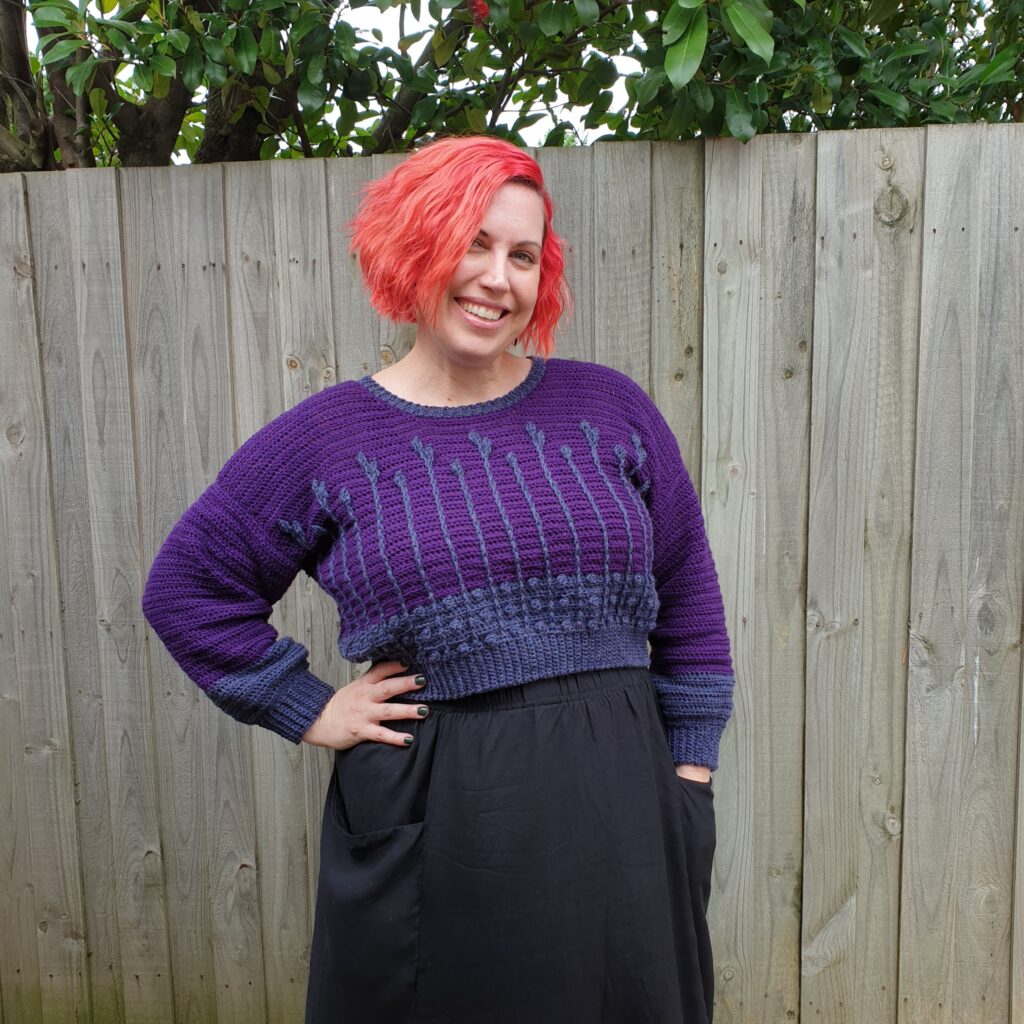 And feel free to go crazy with the color. You can really express your creativity and individuality with this crochet pattern. The Best Buds Sweater looks great in any color combination. Scroll down to see inspiring photos from the talented people who tested this sweater.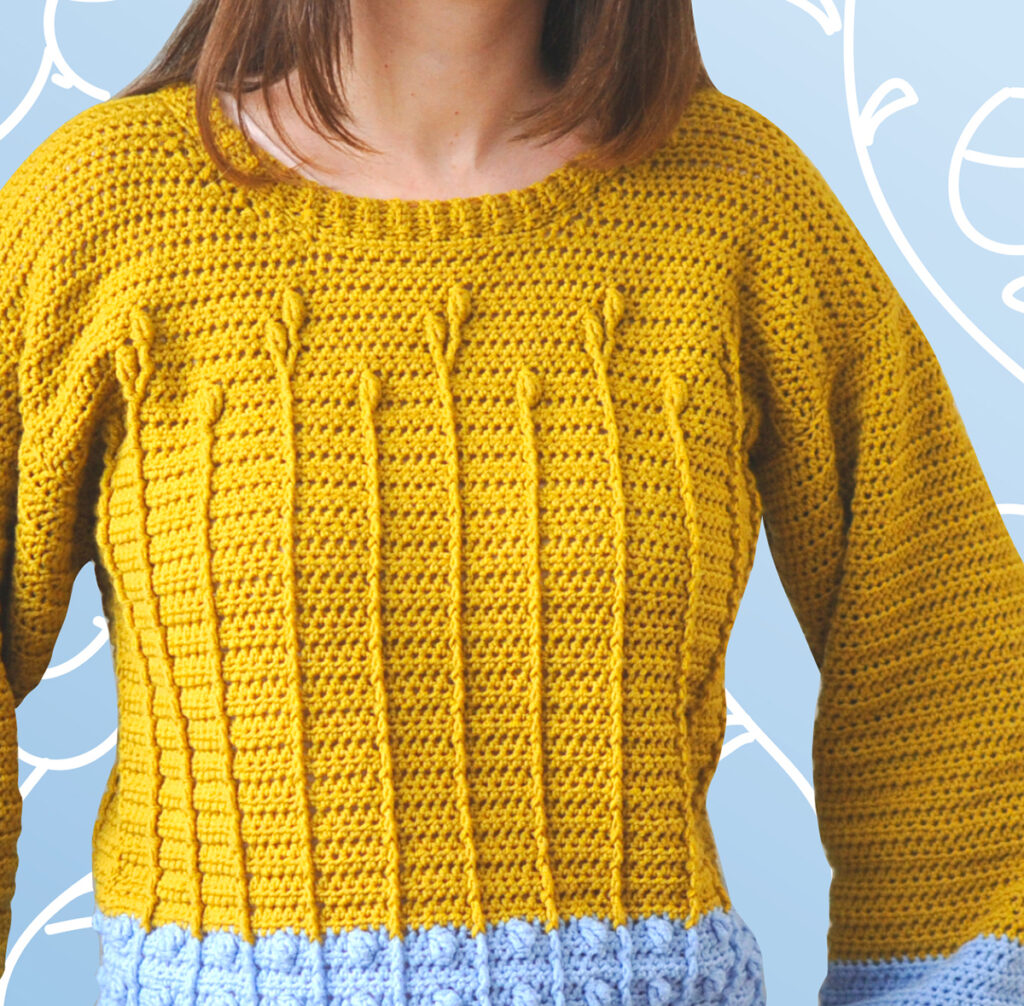 This Design Almost Didn't Happen
Here's an interesting story I thought you might enjoy. This modern crochet sweater design almost never happened.
At the very beginning of the design process I had a totally different idea. It was going to be a striped sweater with many different cable patterns. I even sketched and swatched out the whole design and requested the yarn.
But when the yarn came the colors did NOT look how I thought they would. I originally had this gold, this blue, and a not pictured Burgundy. But the colors were terrible together. The blue and gold looked amazing and fresh, as you can see. But the burgundy dated the color palette.
However, I was in a pickle. I had to work with the colors because the yarn was sponsored by Lion Brand. They gave me the yarn in the colors I requested and they were expecting a garment.
I had to go back to the drawing board to come up with a two color idea. And I am so glad I did because I think this design is super clever and adorable.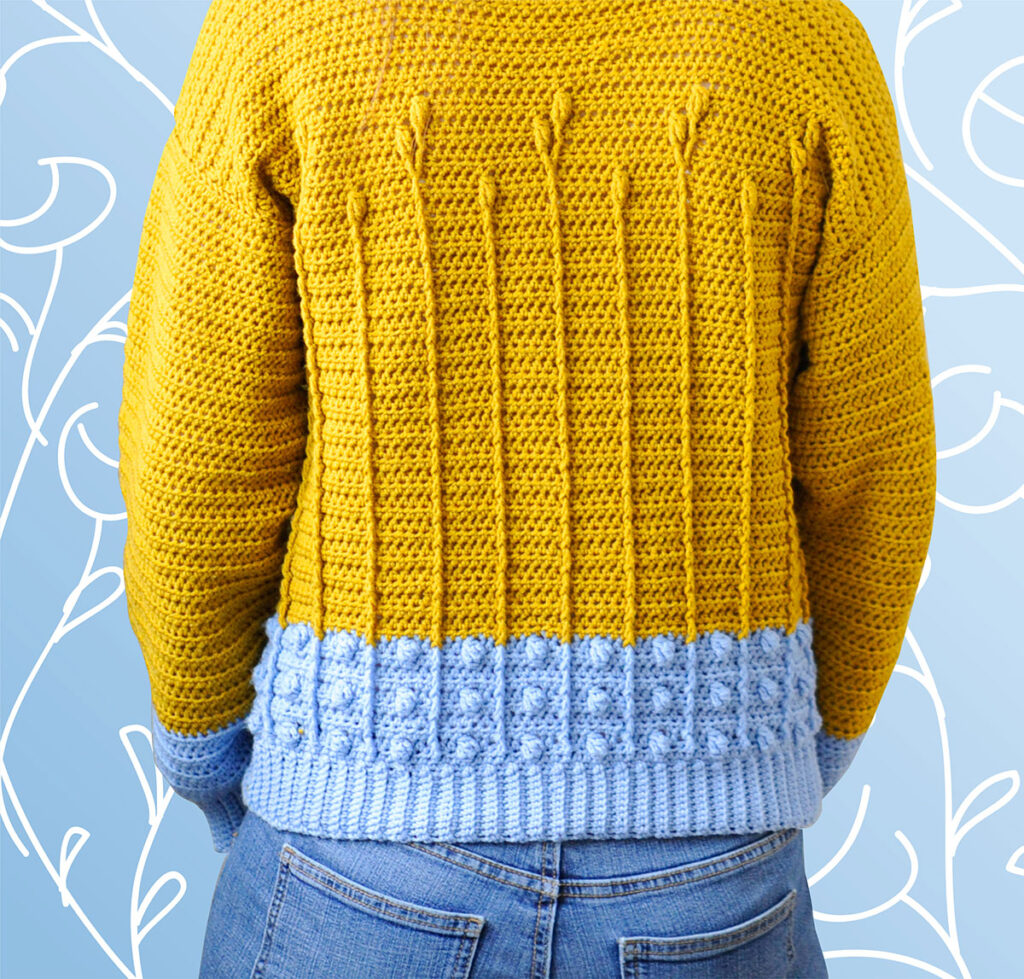 I love the floral section!

Cecilia
Crochet Sweater Pattern PDF Details
You can make this crochet sweater pattern! This pattern works up easily and quickly. Every other row is entirely half double crochet. And the cables build on each other so you will be able to watch tv or sit in a noisy room and crochet along without having to refer to your pattern.
Your pattern purchase includes an easy to read 17 page pdf.
You won't get stuck anywhere in this pattern. It is clear and easy to follow because, like all of my patterns, it has been tested and professionally tech edited.
Included in the pattern is a size schematic, photos, illustrations, details to create sizes XS – 5X, stitch charts, and instructions to customize the body length. Please note, you do NOT need to know how to read charts to make this pattern. The entire pattern is written out in the clear and easy to read instructions.
The pattern is written in English in US terms.
The pattern is very clear and if you have a question I am here for you. I have a dedicated pattern support email listed at the end of the pattern. You can email me directly anytime!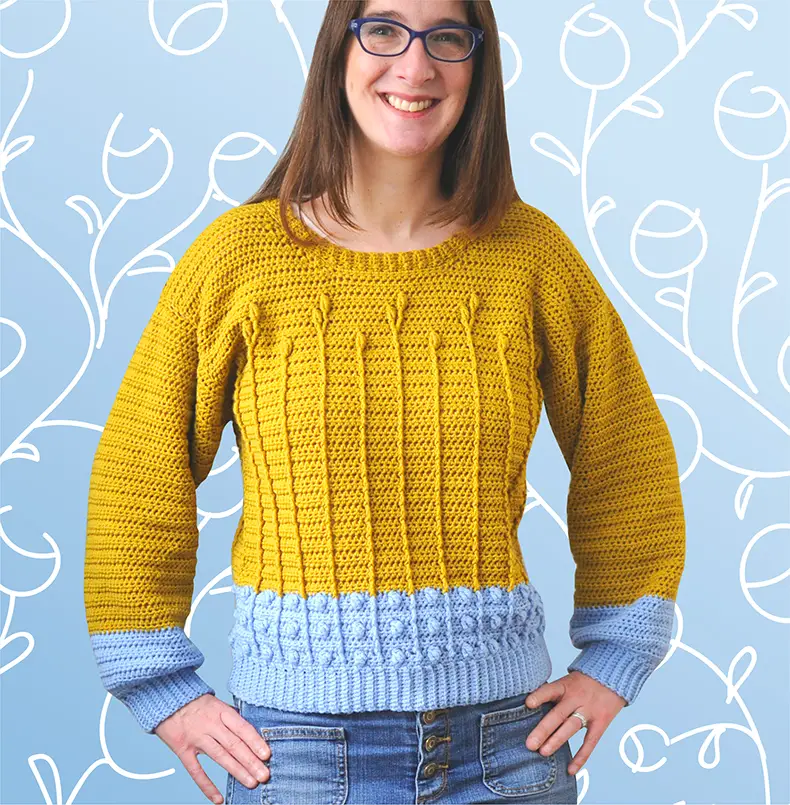 Here is what you will need
Crochet hook size US G/6 (4 mm) and US H/8 (5 mm)
I've been wanting to try more crochet clothing items, and I loved the spring "buds" feel of this design.

– Christine
Crochet Pattern Testers
Here are some inspiring Best Buds Sweaters by a few of my talented testers.
Be sure to check them out on Instagram (by clicking on their names in the photo credits) if you'd like to see more of their beautiful work.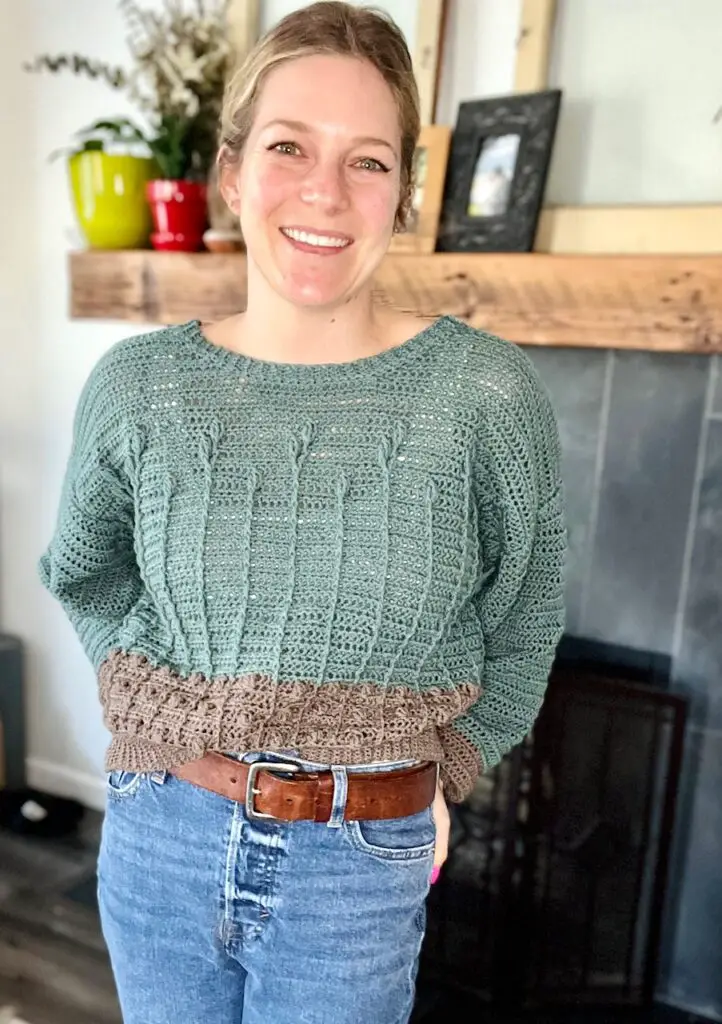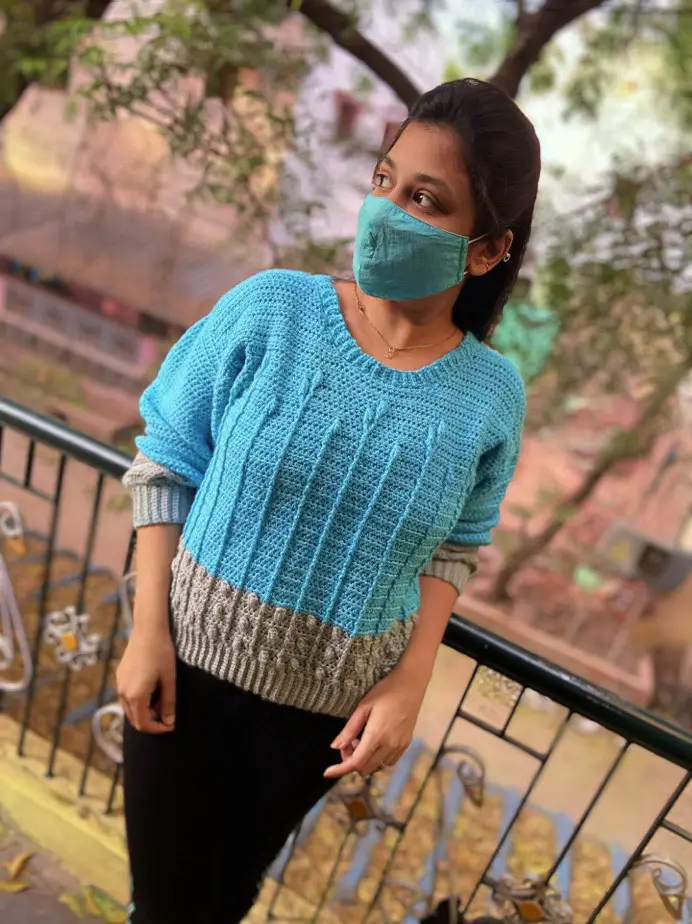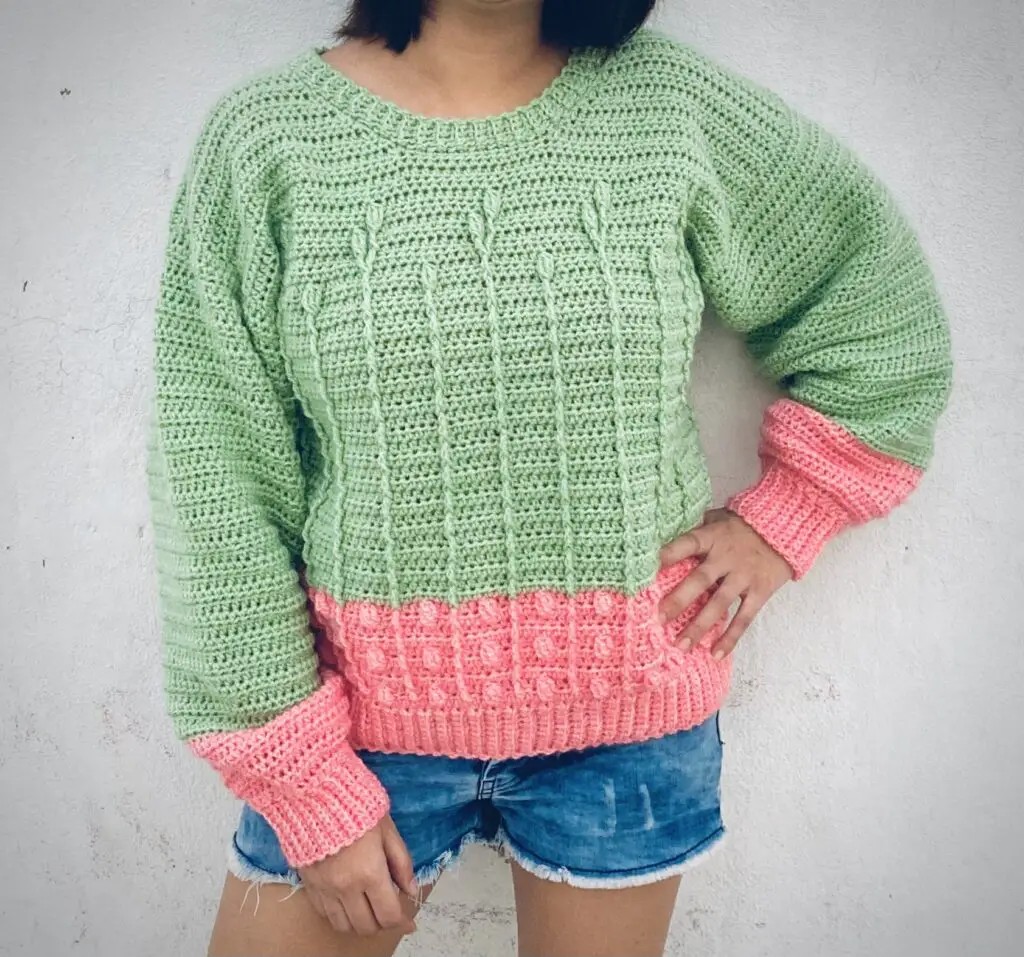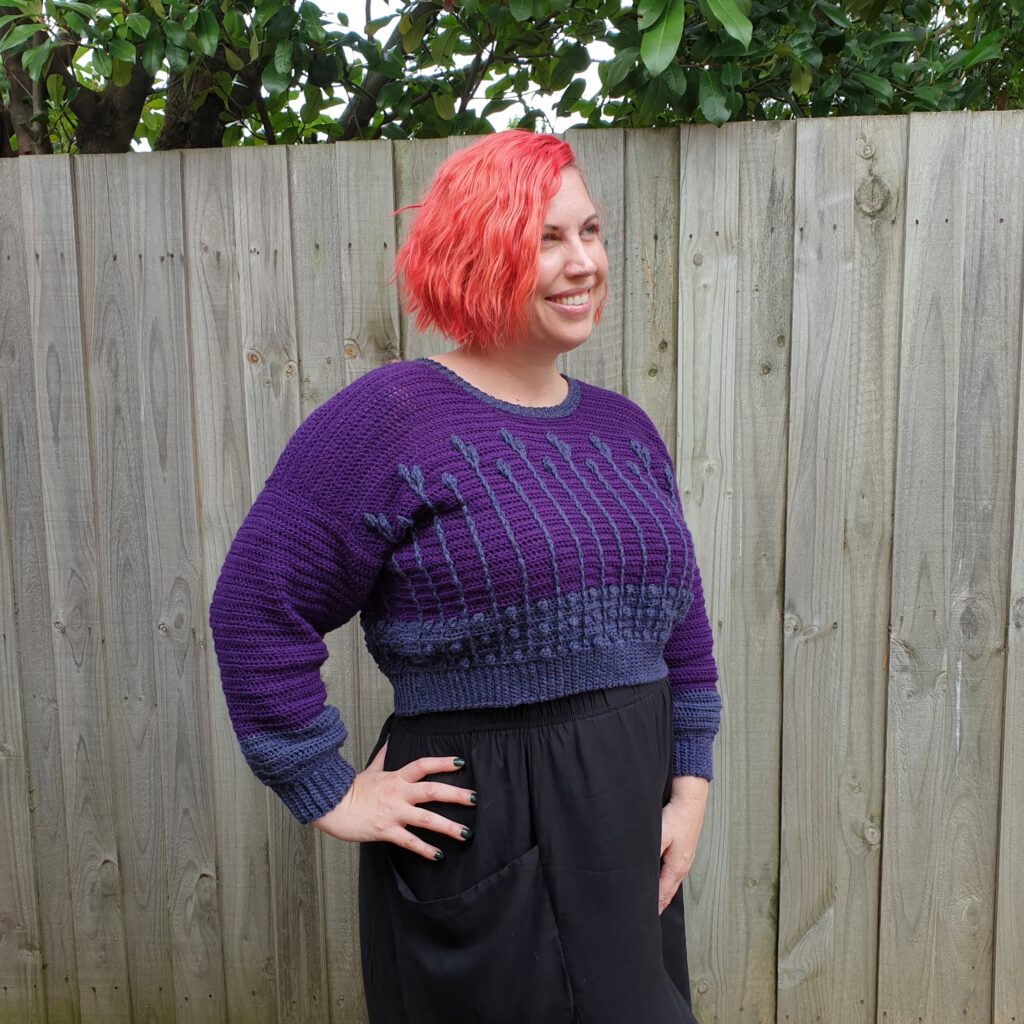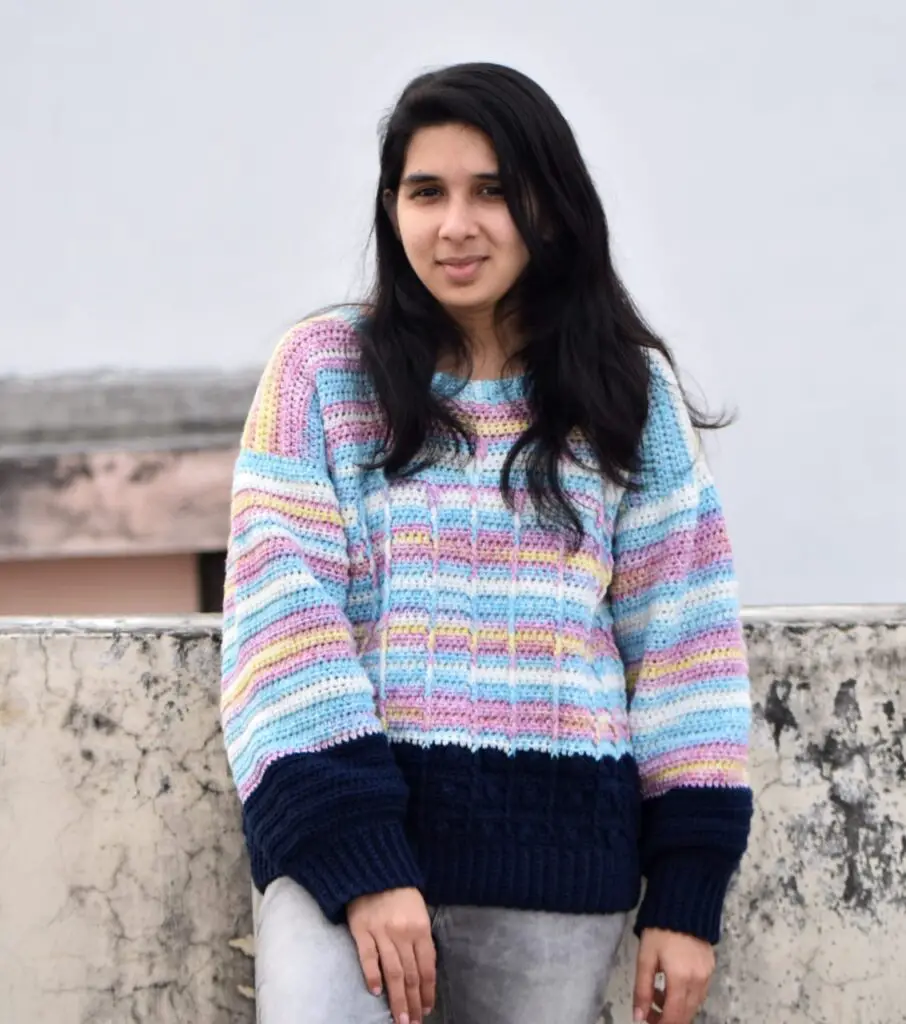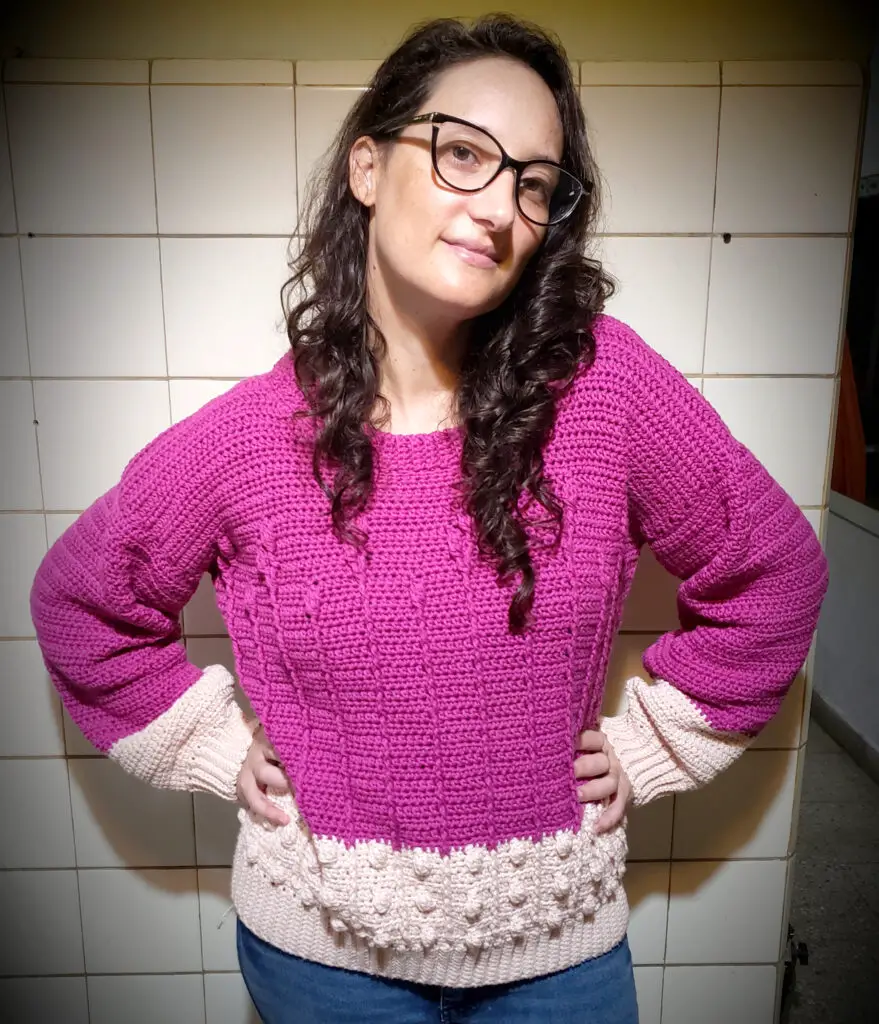 If you liked this, check out these modern crochet sweater patterns next!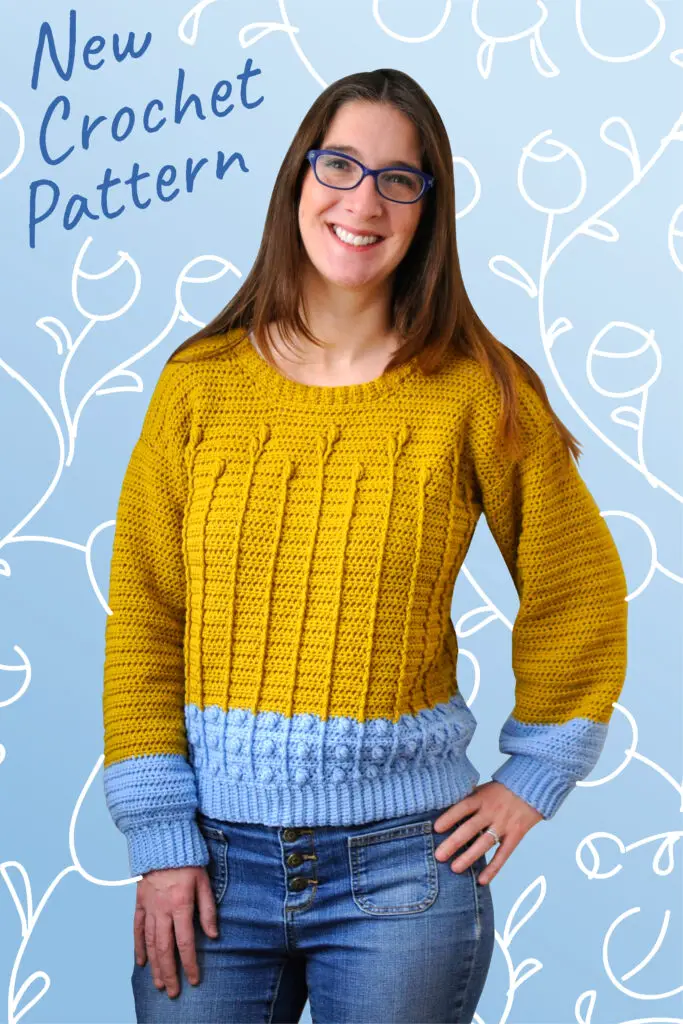 Mary Beth Cryan has been designing crochet patterns for over 4 years. Prior, Mary Beth worked as a professional illustrator and product designer with a specialty in paper crafts for 18 years. She has authored and illustrated 17 paper craft books, countless pop-up greeting cards, and many paper craft kits. She received 3 LOUIE Awards from the National Greeting Card Association. Some of her clients included MoMA (Museum of Modern Art NYC), American Girl, Dover Publications, Peter Pauper Press, Ranger Rick Magazine, Highlights magazine and many others.  She earned a Bachelor of Fine Arts from Syracuse University in 2000.