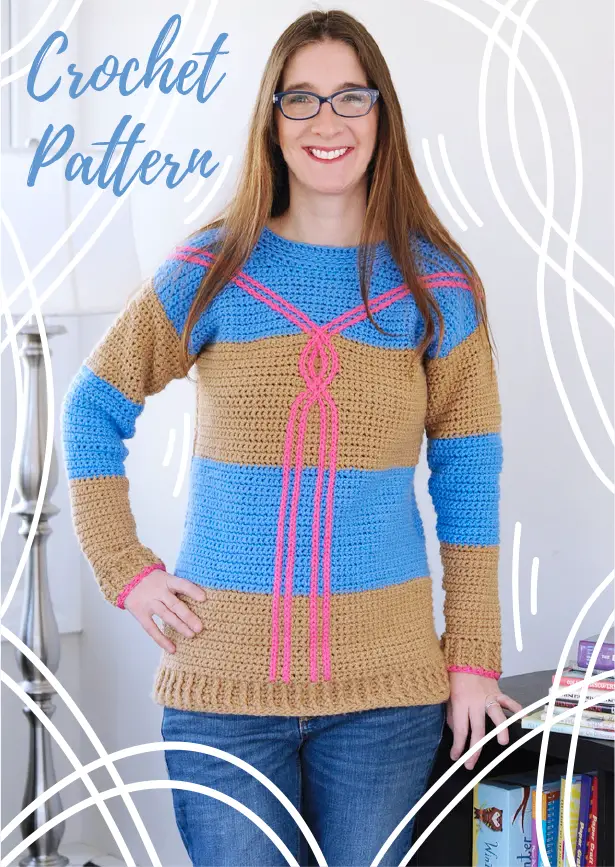 Expand your crochet skills
Have you tried slip stitch surface crochet yet? I had been admiring it from afar for a long time. I love how it adds a pop of color and that cool slip stitch texture to any plain crochet project.
Before designing this crochet sweater pattern, I tried surface crochet once before. But it was a disaster. I couldn't figure out where to put my hook and where my stitches were supposed go. It did NOT end up looking like the photo of the FO in the pattern.
So, when I was introduced to this NEW method of creating slip stitch surface crochet by Robyn Chachula I knew I had to design a sweater with the technique. It's soooooo easy and fun.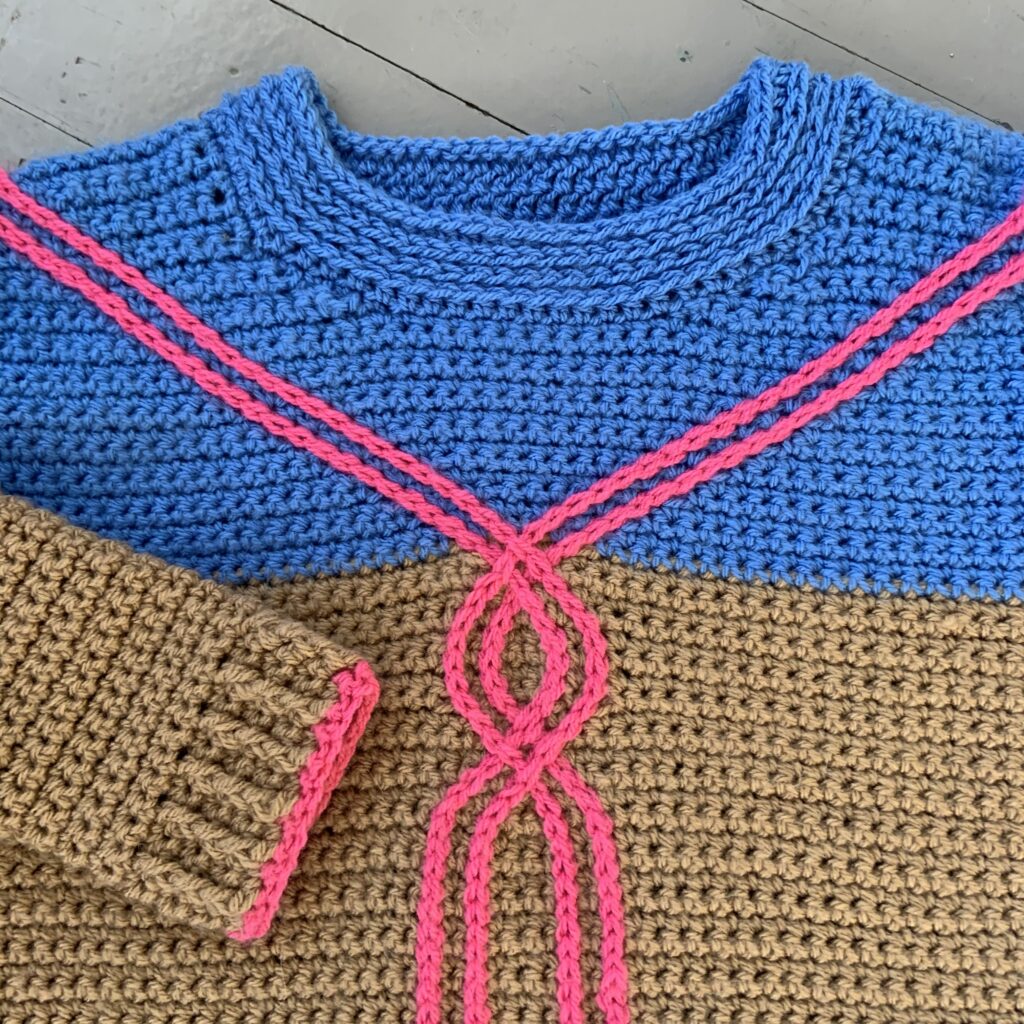 How the Slip Stitch Surface Crochet Works
In this pattern, you will lay down the "tracks" for the slip stitches first. Then you will work your surface crochet into the spaces you've already created.
Let me elaborate, the main stitch for the sweater is single crochet. As you stitch the garment the instructions will lead you through where to work a chain 1, skip 1 among your single crochet. Each skipped single crochet leaves a little space. As you work through the rows these spaces will line up like a track.
When you are finished crocheting the panel you simple slip stitch along the track in each chain-1 space. There is no guess work as to were your stitches will go. Just lay them down in the spaces easy peasy, mac and cheesy, as my 7 year old would say.
It's kind of hard to explain, so that's why the pattern includes both a step-by-step video tutorial, photo tutorial, and written tutorial. Whichever way you like to learn, I have you covered.
A Quick Make
This crochet sweater pattern yields a nice thick long sweater. It's very cold here in Rhode Island in the winter and this sweater keeps me warm.
I know that crochet sweater patterns for adults can be a big time commitment, but this sweater is made with worsted weight yarn. It will work up faster than you expect and won't end up in your WIP pile alongside that fingering weight sweater from 2 years ago. Or is that just me?! Ha! I'm a DK weight or thicker kinda gal.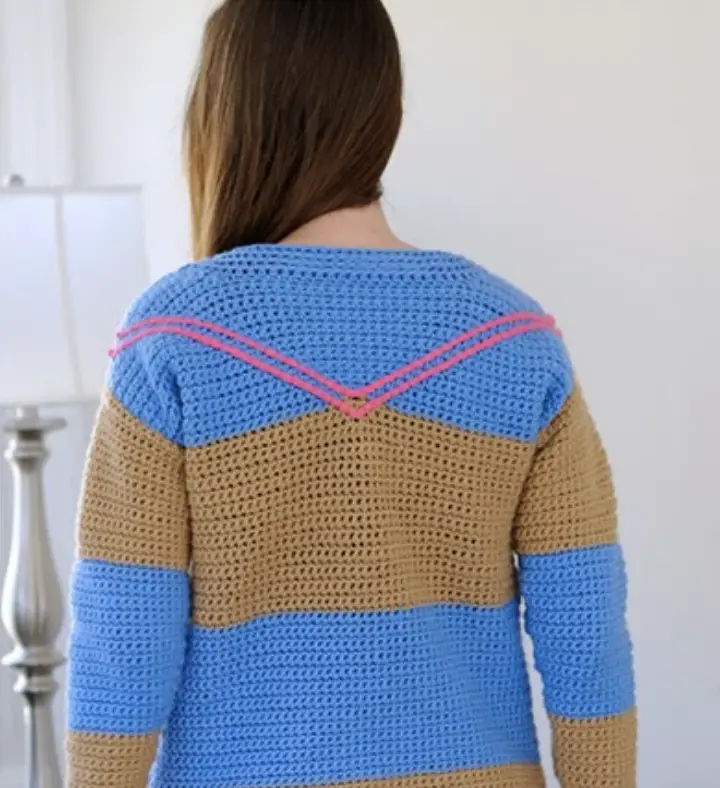 Express Your Creative Side
If you are at all familiar with my crochet sweater patterns then you know I love to mix and match color. Consequently, whenever I design a sweater it's more than one color.
And as you can see, this sweater is no exception. I hope you have fun picking out colors for this sweater! I've done it in 3 colors here but it would also be beautiful in 2 colors or more than 3 colors. This sweater was created by one of testers. I love it in four colors!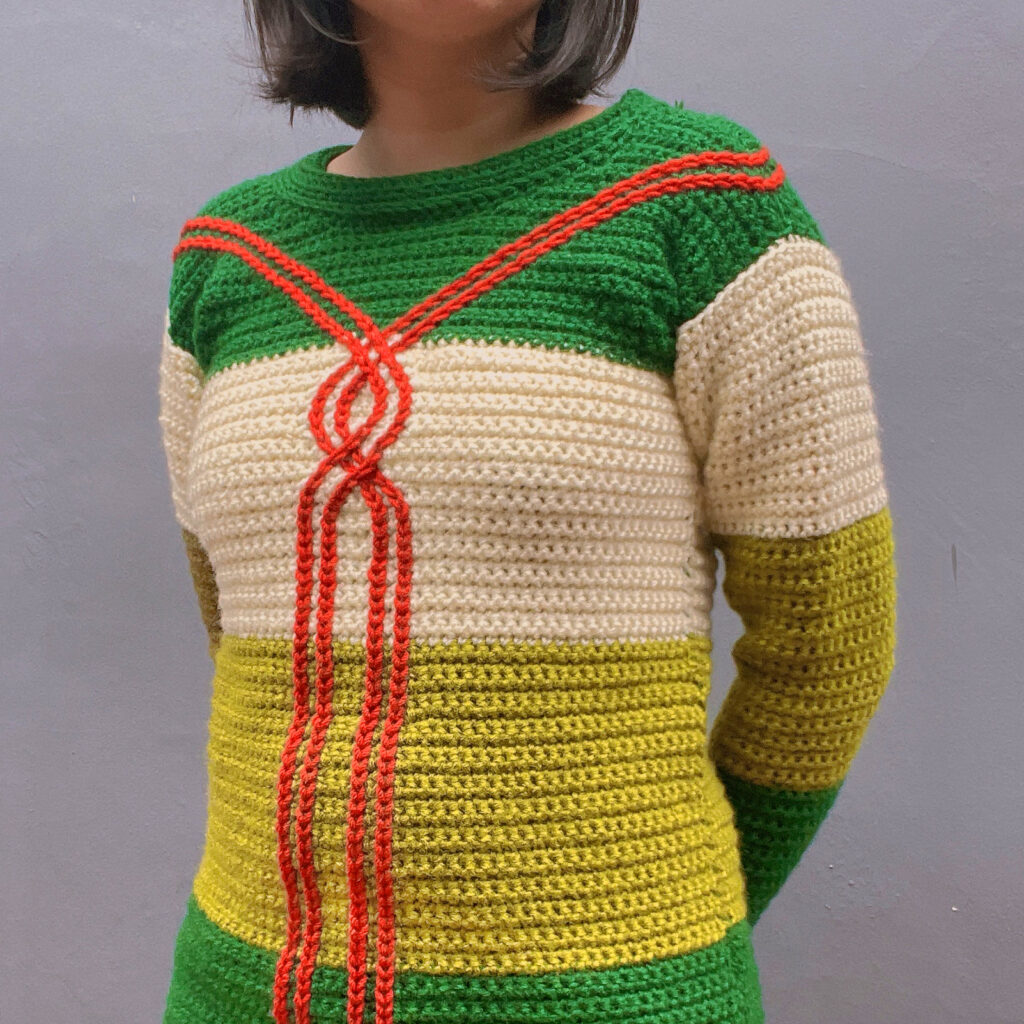 Your unique twist on a cable sweater is both beautiful and intriguing. I loved the little line of color on the sleeve ribbing as well. The details really shine in this design.

– Olivia
Crochet Sweater Pattern PDF Details
You can make this pattern! The slip stitch technique is explained in beginner terms and the crochet is rated intermediate. The required skills include: single crochet, chain, increase, decrease, slip stitch, front post crochet (instructions in pattern), and color change.
Your pattern purchase includes an easy to read 24 page pdf. Five of which are instructional photos. I've placed the photos at the end of the pattern so you don't have to print them if you don't want to.
You won't get stuck anywhere in this pattern. It is clear and easy to follow because, like all of my patterns, it has been tested and professionally tech edited.
Included in the pattern is a size schematic, photos, illustrations, details to create sizes XS – 5X, slip stitch tutorial, and stitch charts (it is not necessary to know how to read charts to complete the pattern, the instructions are also written out).
The pattern is written in US terms.
This crochet sweater pattern for women is very clear and if you have a question I am here for you. I have a dedicated pattern support email listed at the end of the pattern. You can email me directly anytime!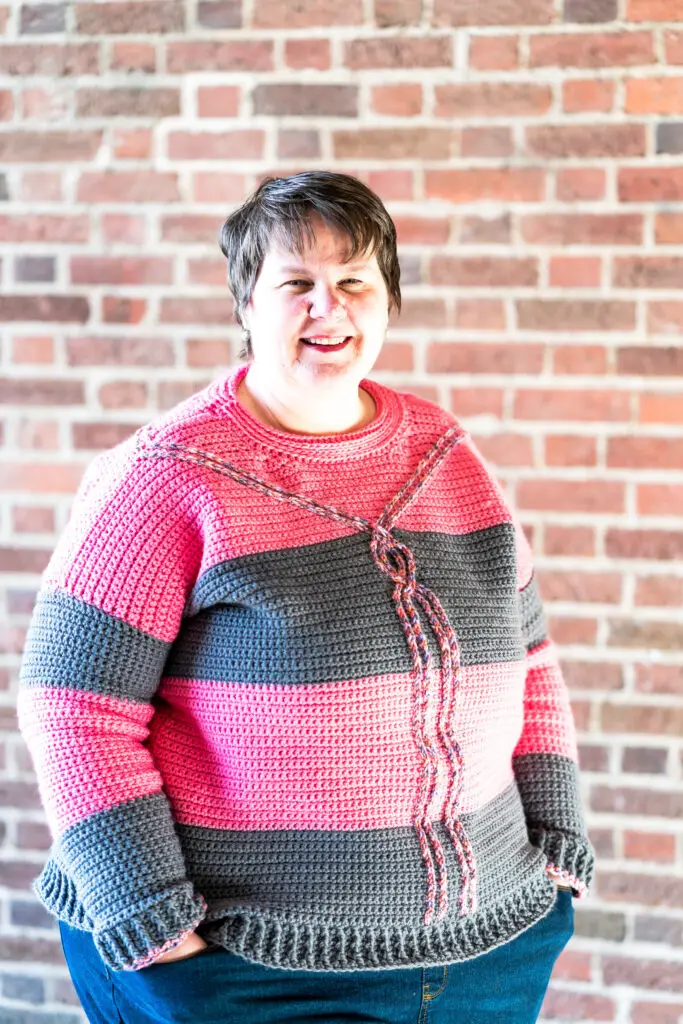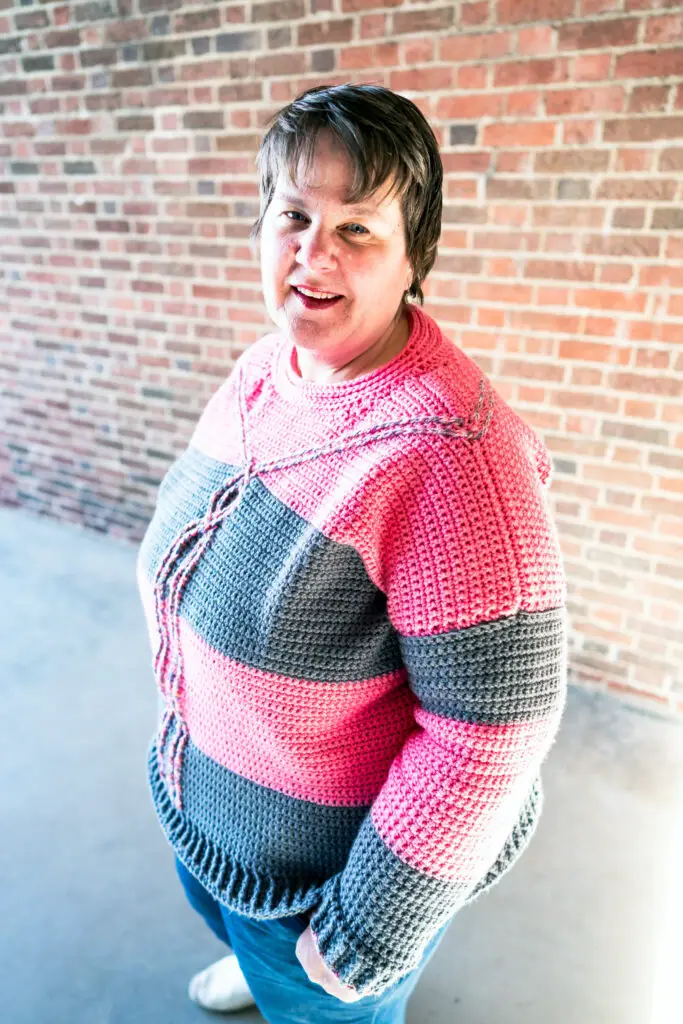 What you will need to make this crochet sweater pattern
Crochet hook size 7 mm, This hook size does not have a corresponding letter.
At least 6 Stitch Markers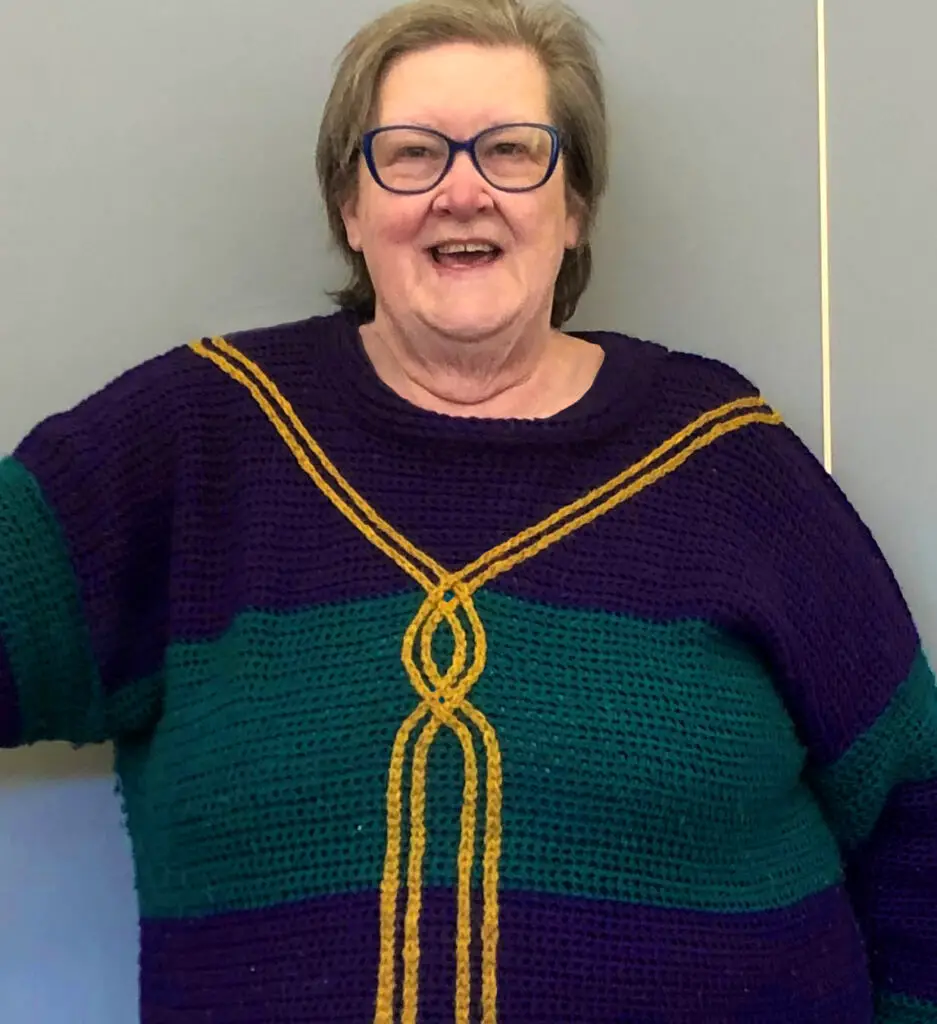 Don't have any Basic Stitch at your local store? You can substitute any 5-worsted weight yarn.
Here are three yarns my testers recommend:
Lion Brand Yarns Heartland Yarn
Caron Simply Soft Yarn
Red Heart Super Saver Yarn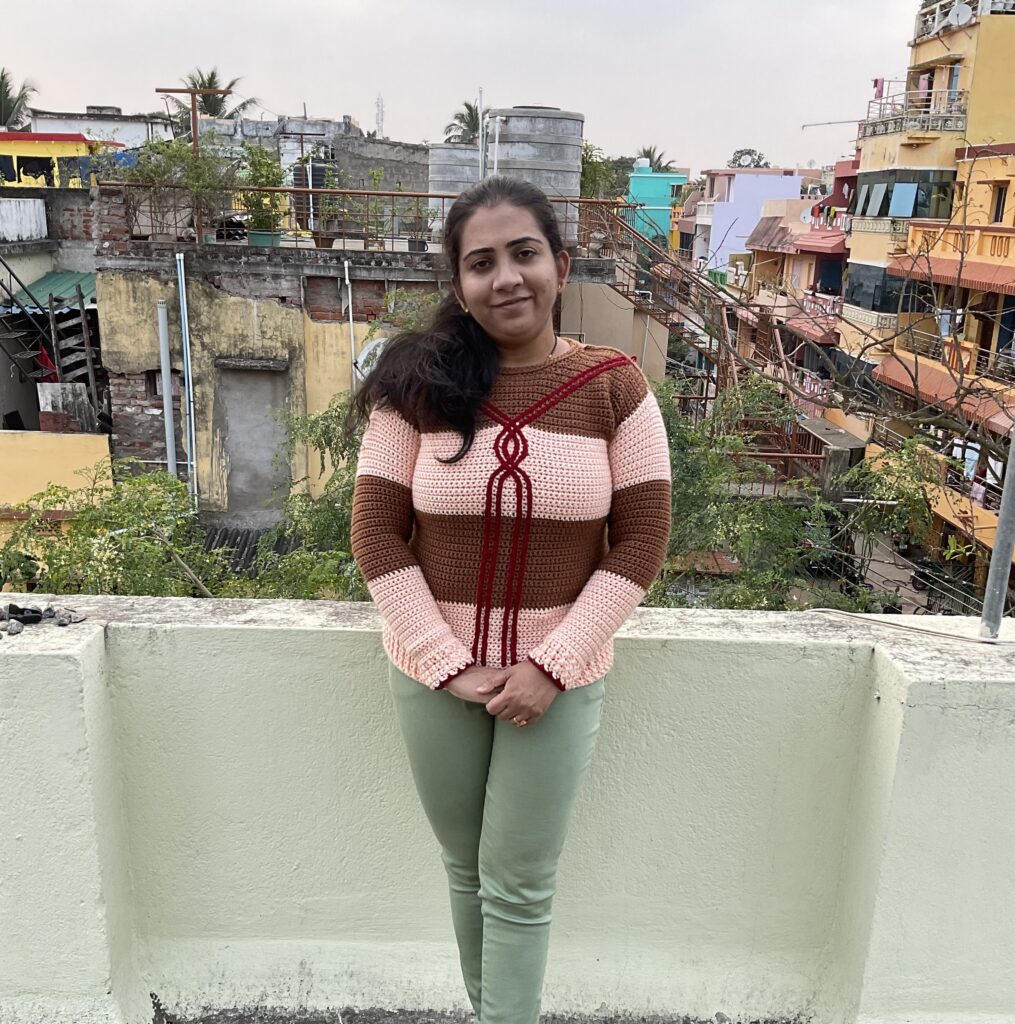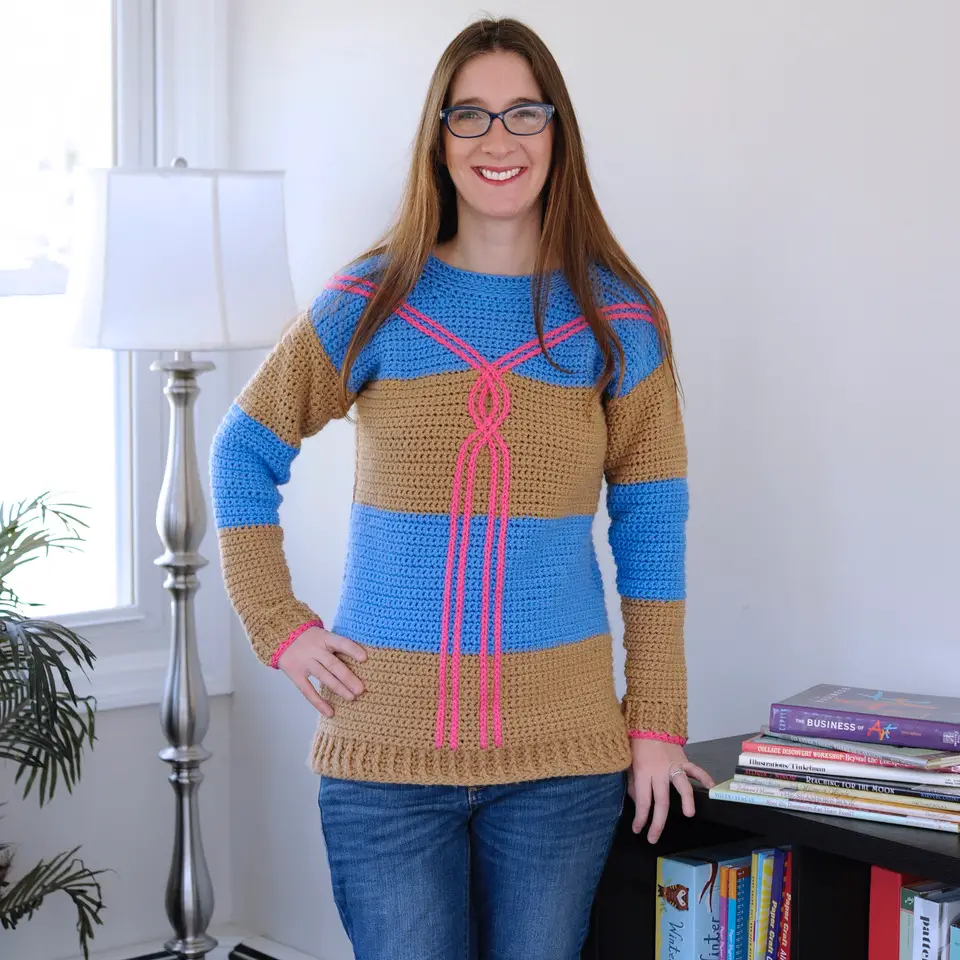 If you liked this, check out these crochet garments next!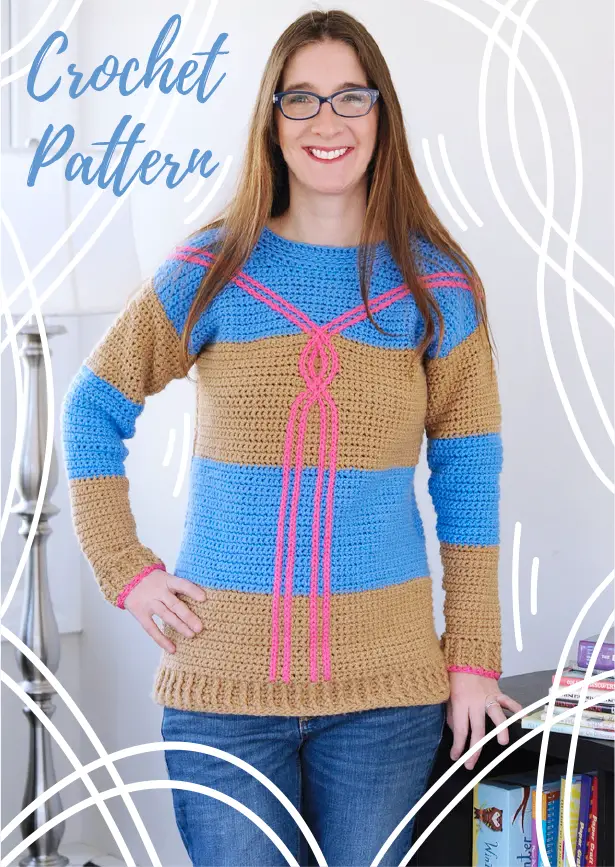 Mary Beth Cryan has been designing crochet patterns for over 4 years. Prior, Mary Beth worked as a professional illustrator and product designer with a specialty in paper crafts for 18 years. She has authored and illustrated 17 paper craft books, countless pop-up greeting cards, and many paper craft kits. She received 3 LOUIE Awards from the National Greeting Card Association. Some of her clients included MoMA (Museum of Modern Art NYC), American Girl, Dover Publications, Peter Pauper Press, Ranger Rick Magazine, Highlights magazine and many others.  She earned a Bachelor of Fine Arts from Syracuse University in 2000.