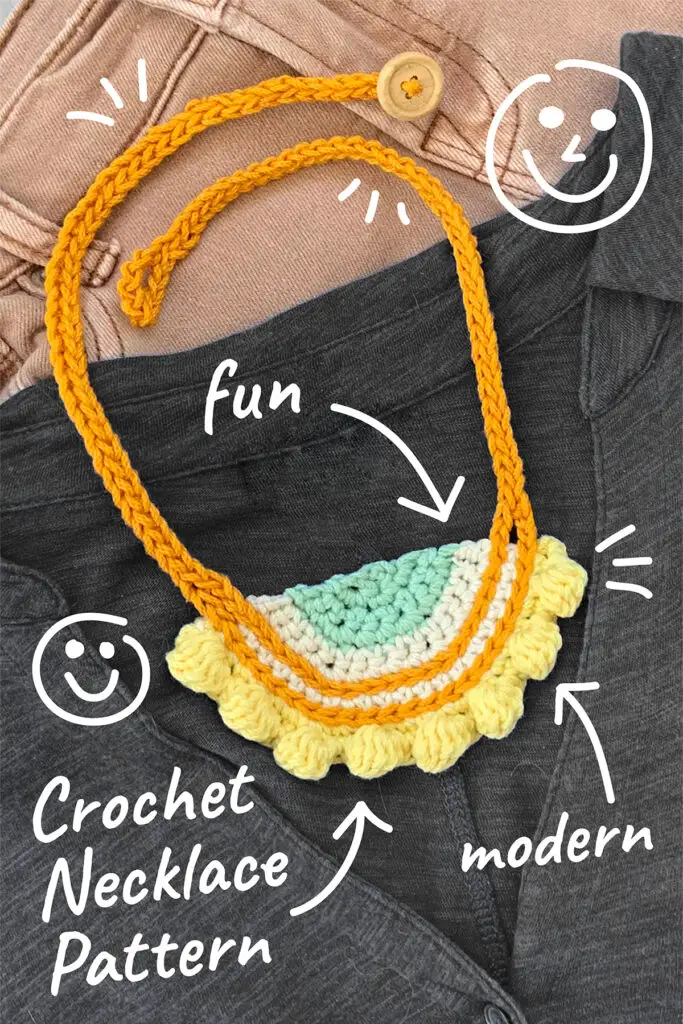 A quick to make, fun to wear crochet necklace pattern
Do you love making wearable crafts? I do too! It's so much fun to go out into the world and proudly wear something you've made with your own hands. That's why I designed this crochet necklace pattern.
Sweaters are great to crochet but sometimes you just want to make a fun quick crochet project in the few minutes of "you time" you have in a day. Know what I mean?
The Eight Bobble Crochet Necklace Pattern will take you less than an hour and only uses 60 yards of worsted weight yarn.
Buy the pattern on Etsy or Ravelry now or keep reading to find out more about the necklace and pattern details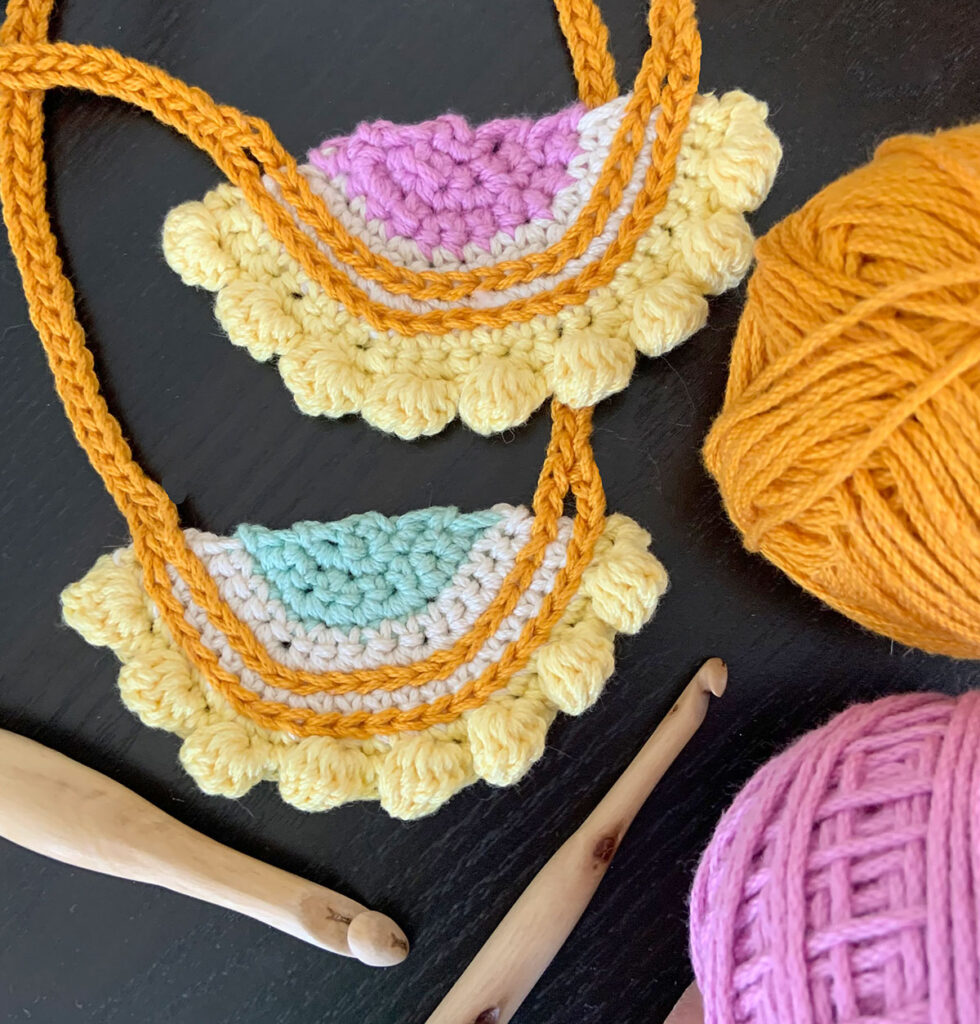 Flex your creative muscles
The Eight Bobble Crochet Necklace pattern will get your creative juices flowing.
Here you can see I've made the crochet jewelry pattern in four colors. But you can make it in as many or as few colors as you would like. It even looks fantastic in just one color.
Experiment with your stash and have fun! Each necklace only takes about a half an hour so flex your creative muscles and try out a super funky crazy color combo. If you don't like it, it only took you 30 minutes. You can always make another!
Some of my testers made 5 necklaces! Scroll to the bottom of this post to see their inspiring crochet necklaces.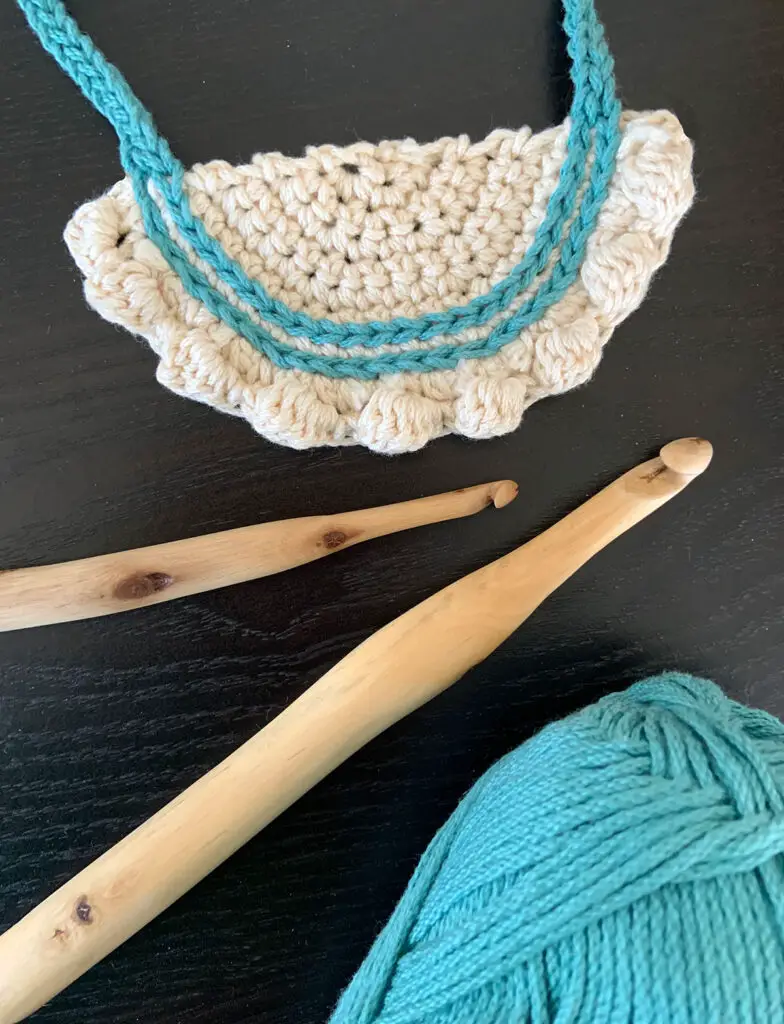 Modern Statement necklace.
Do you love making a fashion statement? Or do you know someone who does?
This crochet necklace pattern is super simple to crochet and makes a funky statement. Throw it on with any plain shirt and you'll be looking cool and artistic!
The half moon shape is super modern right now. And bobbles are very fresh. This crochet necklace will add a stylish touch to any outfit.
It's also a quick and easy crochet gift idea.
I started the Pendant Necklace last evening and finished it within 30 mins.

Shalini
Quick and Easy crochet gift idea
Do you enjoy making gifts? Are looking for something new and unique to dazzle your friends and family? Crochet jewelry makes a great quick and easy crochet gift idea.
If you've made your loved ones many hats, scarves and mittens they will be super surprised when they see this unique crochet gift. Imagine the surprise and delight on their faces when they open their necklace! They will feel very special.
And I'm sure you already have the yarn around the house. This crochet jewelry pattern only takes 60 yards of worsted weight yarn. I know I own enough yarn to make 1 million of these necklaces. Ha-ha.
This turned out so PRETTY!! Its such a fast make! It will look amazing in any color!! I made a total of 5!

Stacy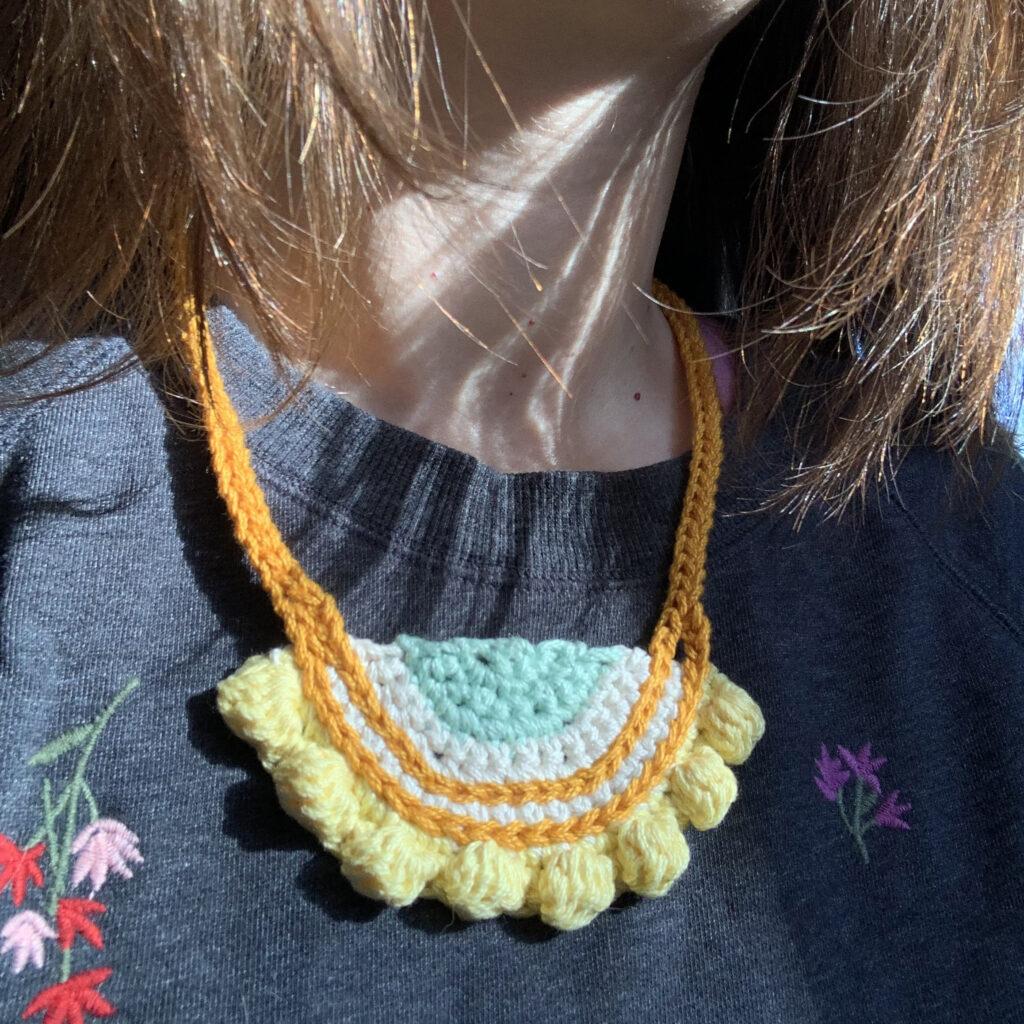 Crochet Jewelry Pattern PDF Details
You can make this easy crochet jewelry pattern! The necklace has a unique shape but it's made out of easy stitches that I'm sure you already know. The required skills include: single crochet, single crochet increase, slip stitch, bobble (explained in pattern) and surface crochet (explained in pattern).
Your pattern purchase includes an easy to read 7 page pdf.
You won't get stuck anywhere in this pattern. It is clear and easy to follow because, like all of my patterns, it has been tested and professionally tech edited.
Included in the pattern are instructional photos and instructions to customize the length of the chain. It is written in English in US terms.
The pattern is very clear and if you have a question I am here for you. I have a dedicated pattern support email listed at the end of the pattern. You can email me directly anytime!
I love making wearable items and I am always keen to make my own jewelry.

Lisa
Here is what you will need to make this crochet necklace pattern
Crochet hook size US G/6 (4 mm)
One 0.75"/2.5 cm, round, 4 hole button
Optional: Fabric Stiffening Spray
Don't have any 24/7 at your local store? You can substitute any 4-worsted weight yarn.
I'm sure you'll find what you need in your stash.
You only need:
Color A:  2 yds / 2 m
Color B:  3.5 yds / 13 m
Color C:  7 yds / 6.5 m
Color D:  44 yds / 41 m
Inspiring Crochet Tester Photos
Here are some inspiring Eight Bobble Necklaces by a few of my talented testers.
Be sure to check them out on Instagram (by clicking on their names in the photo credits) if you'd like to see more of their beautiful work.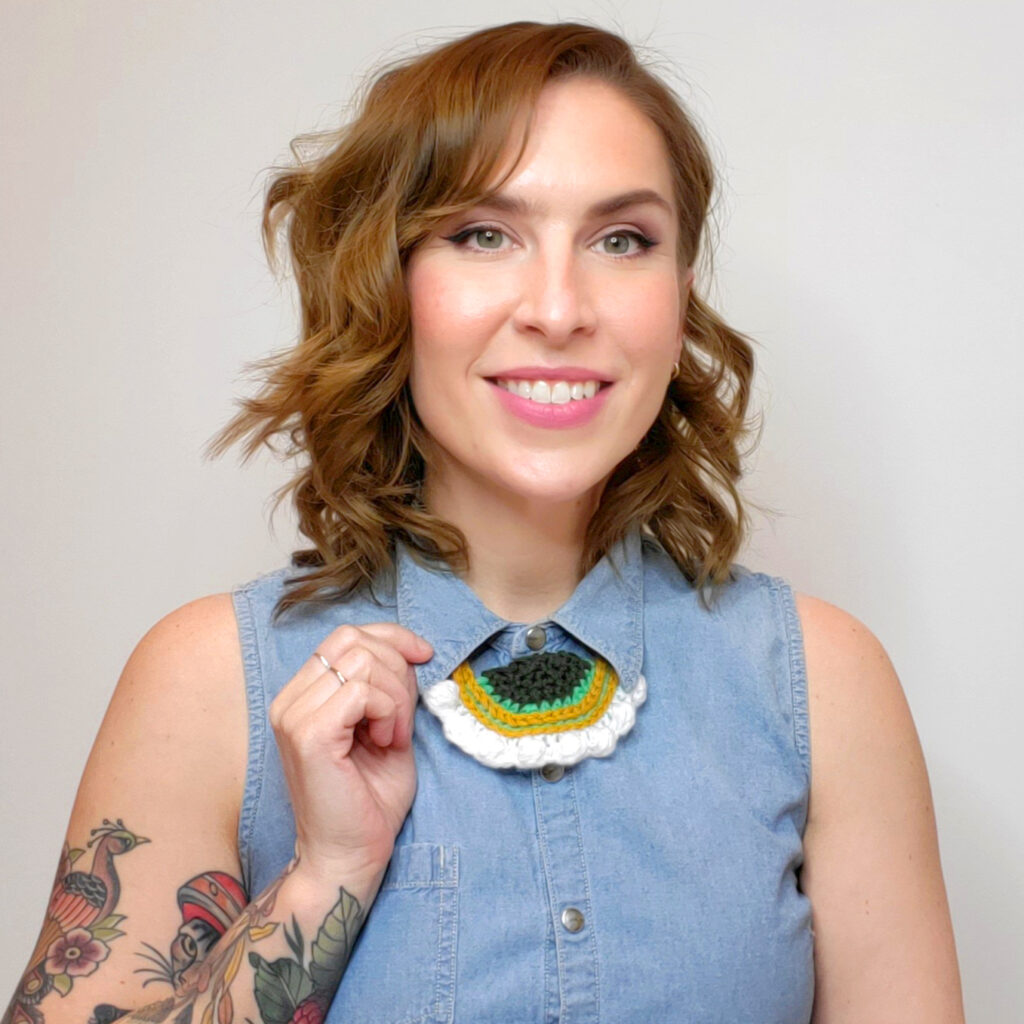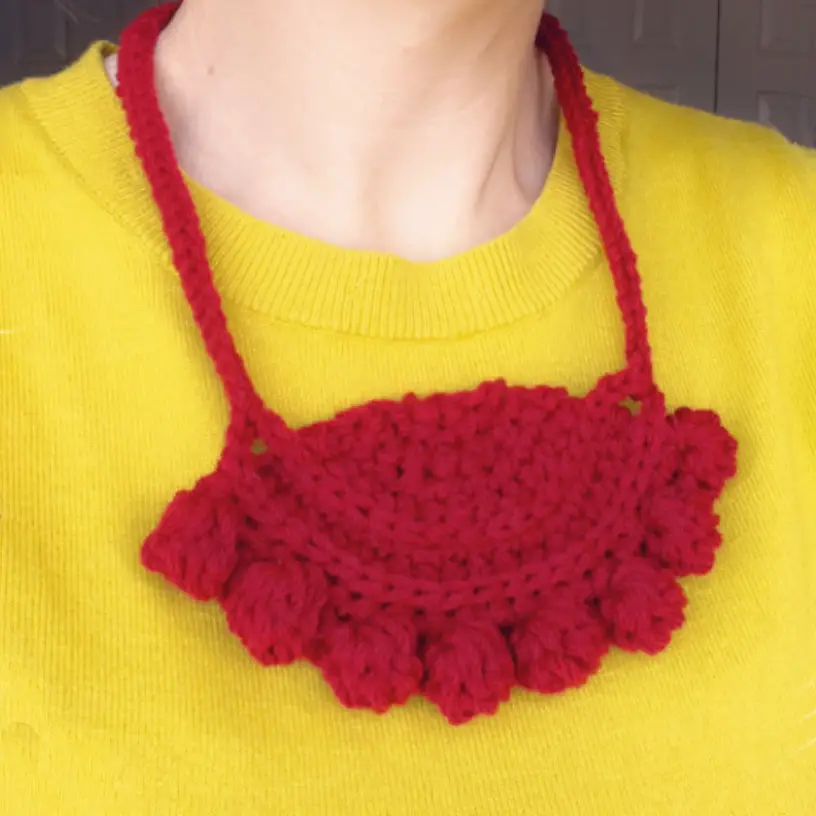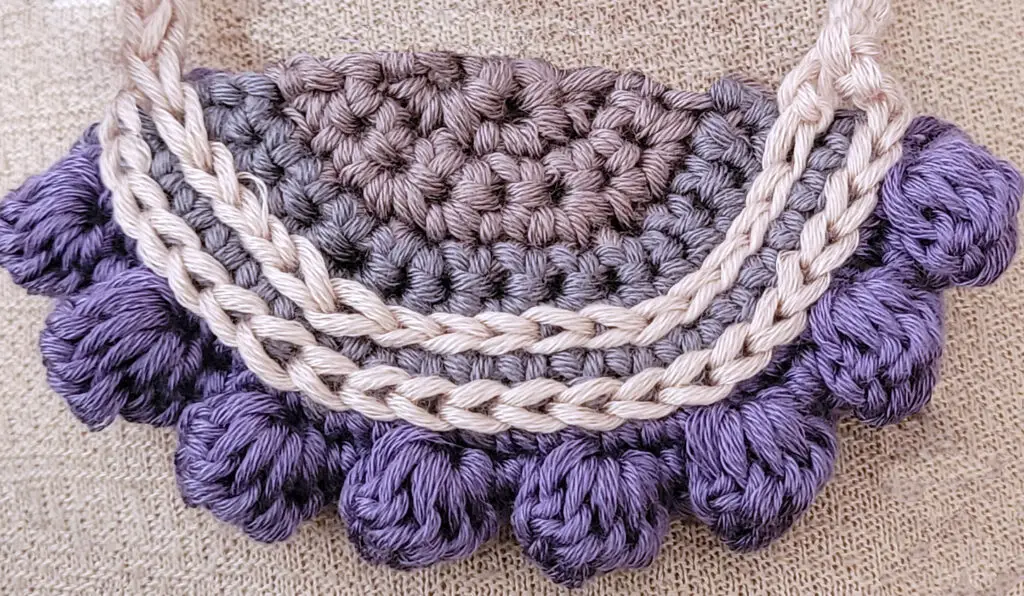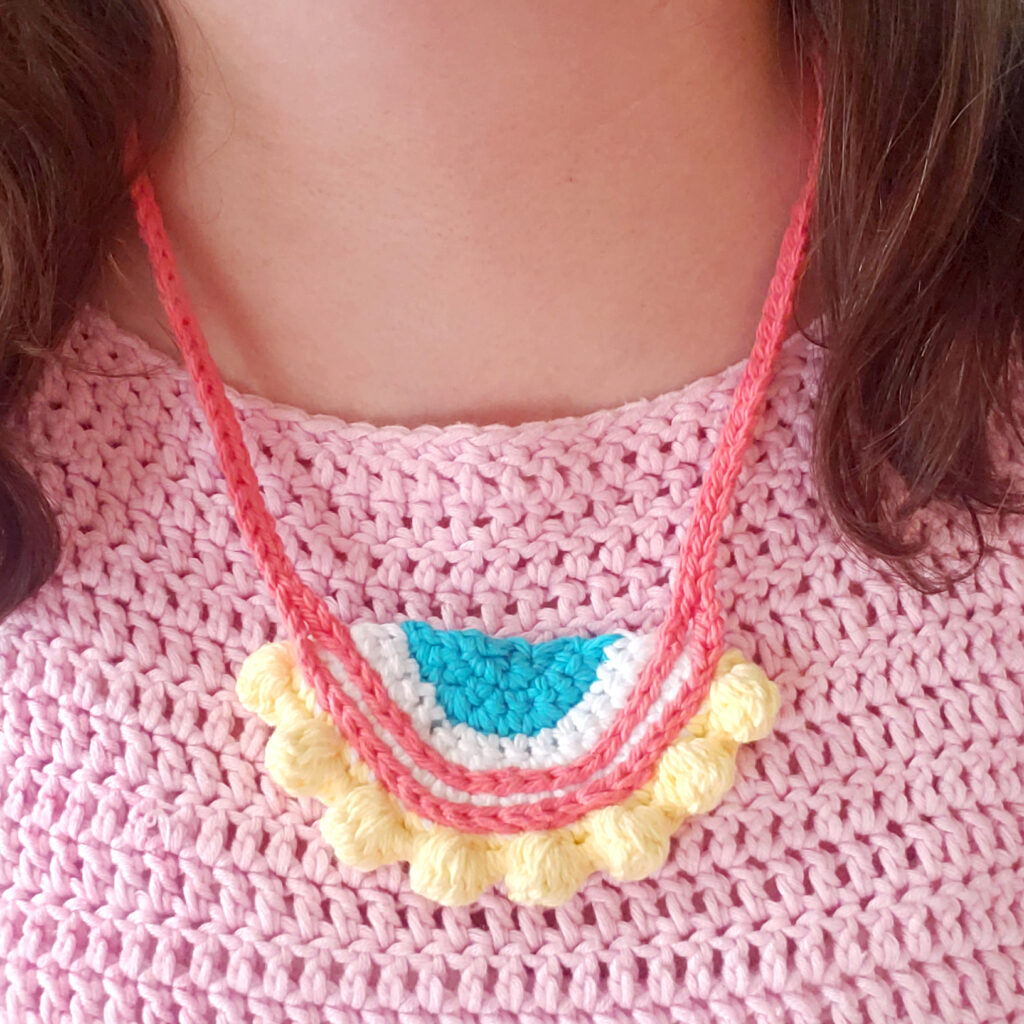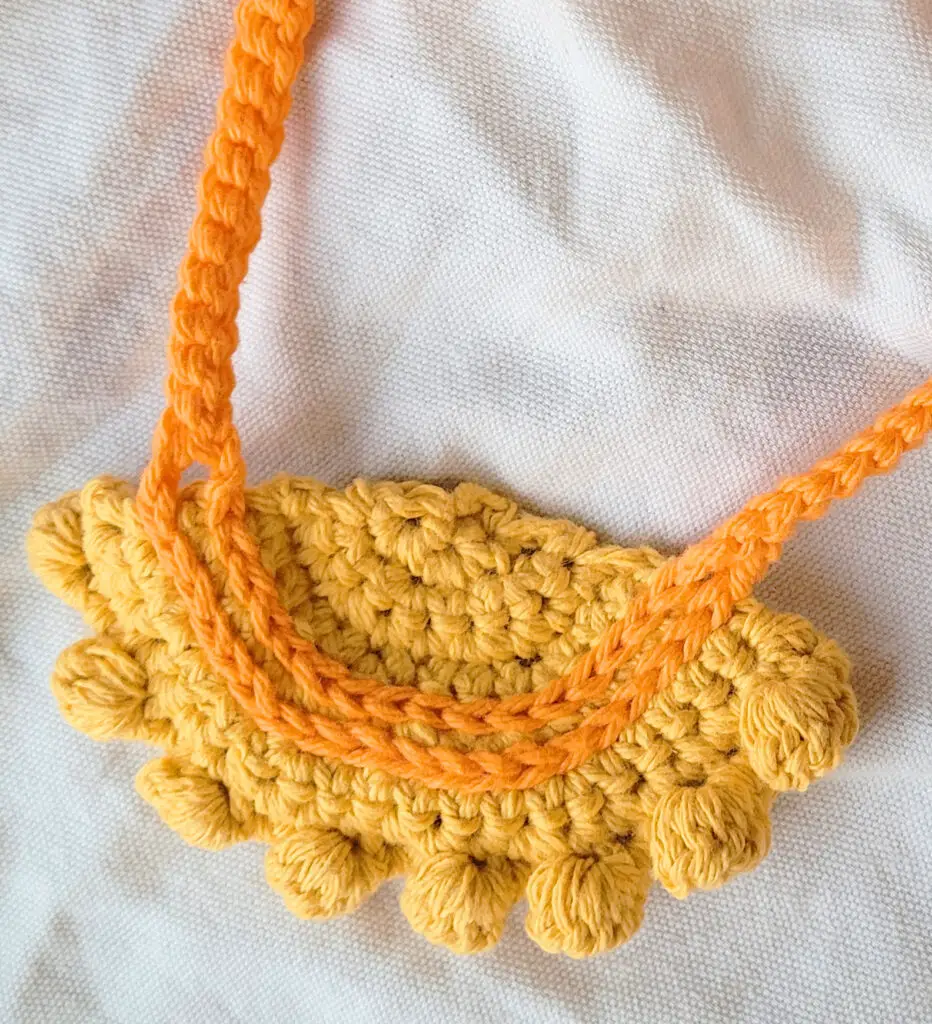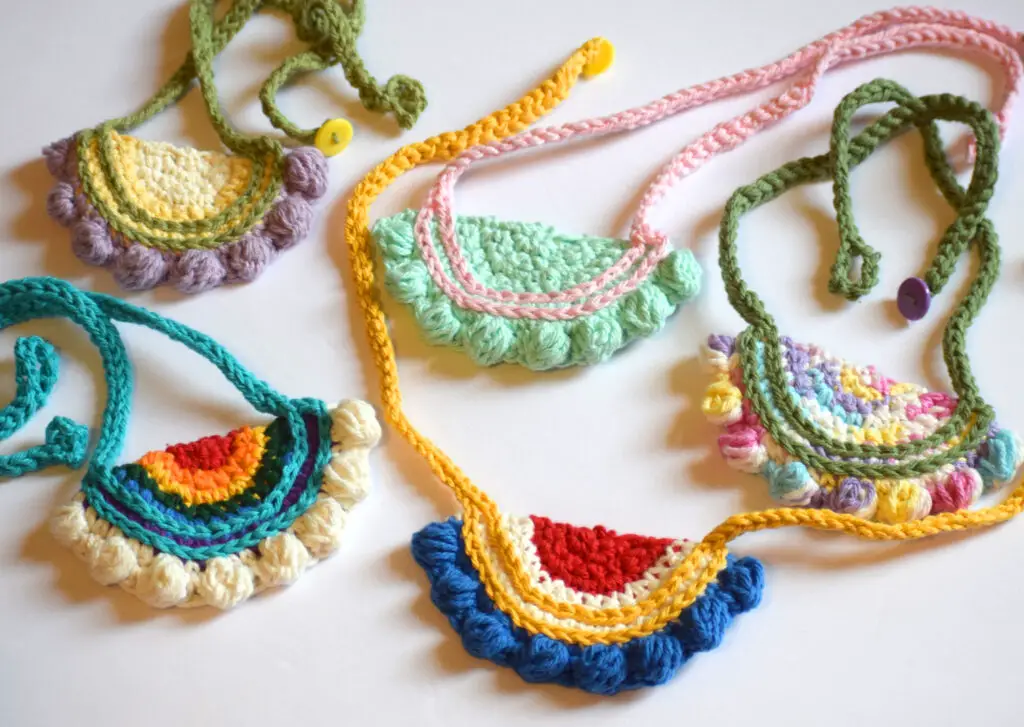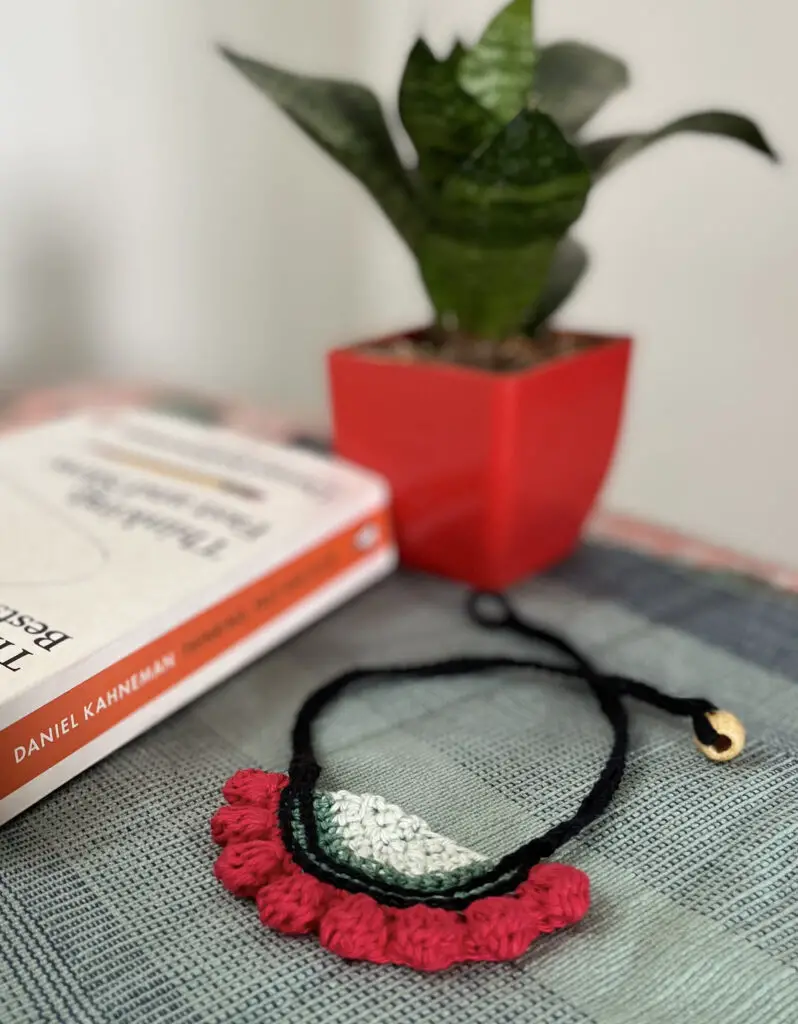 If you liked this, check out these other crochet jewelry patterns next!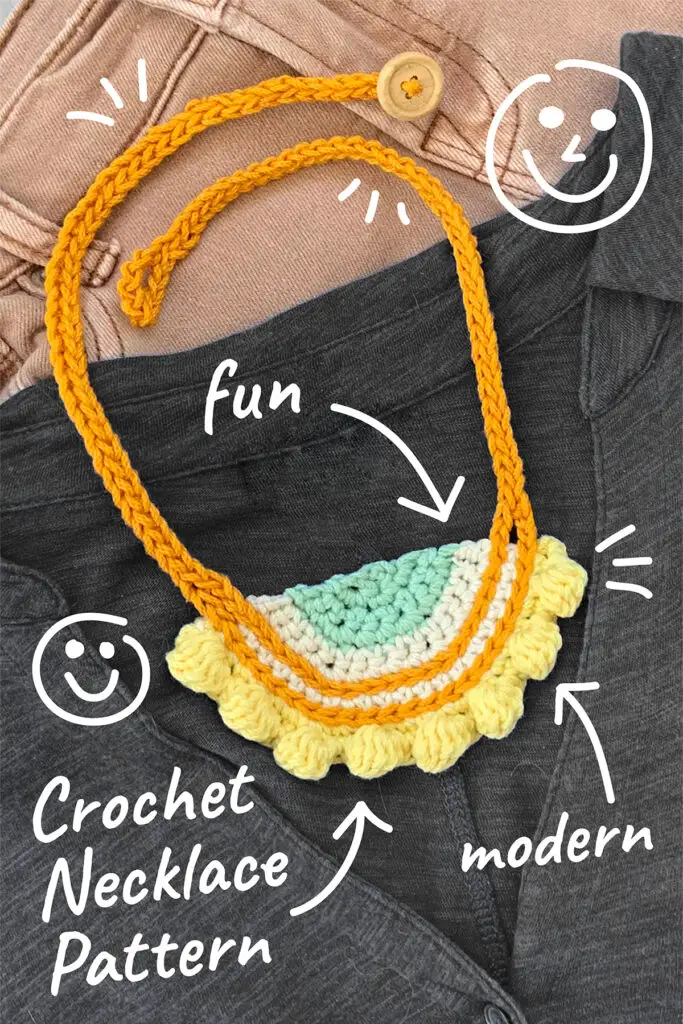 Mary Beth Cryan has been designing crochet patterns for over 4 years. Prior, Mary Beth worked as a professional illustrator and product designer with a specialty in paper crafts for 18 years. She has authored and illustrated 17 paper craft books, countless pop-up greeting cards, and many paper craft kits. She received 3 LOUIE Awards from the National Greeting Card Association. Some of her clients included MoMA (Museum of Modern Art NYC), American Girl, Dover Publications, Peter Pauper Press, Ranger Rick Magazine, Highlights magazine and many others.  She earned a Bachelor of Fine Arts from Syracuse University in 2000.