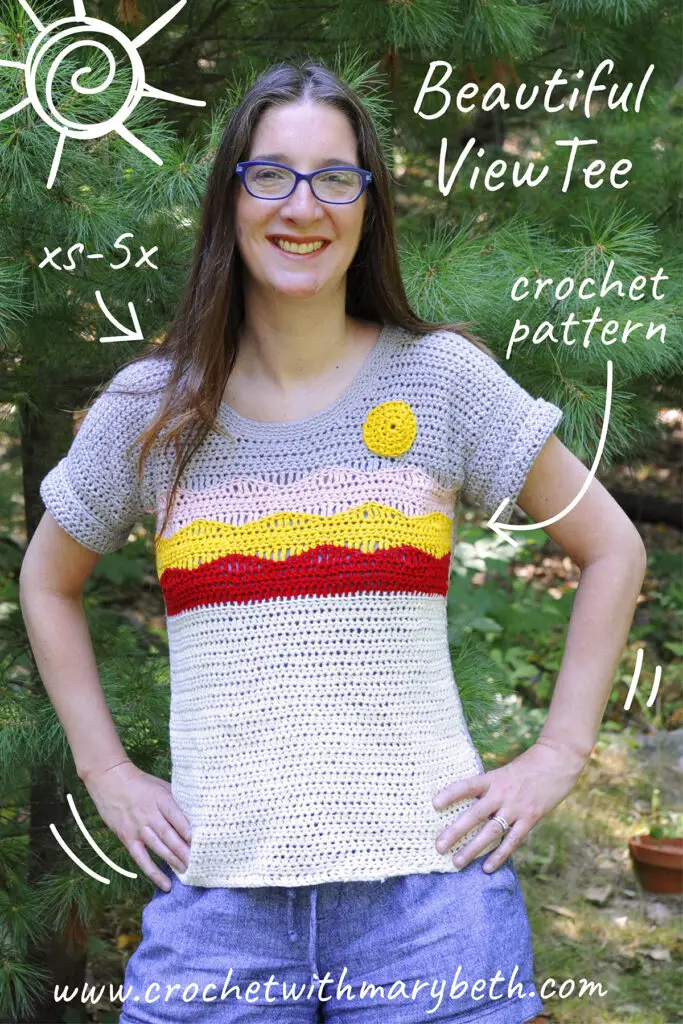 A Crochet T Shirt Pattern Adventure
Adventure awaits you! The Beautiful View Tee is a fun crochet t shirt pattern that will take you on a unique creative adventure that ends with, you guessed it, a beautiful view!
Buy the pattern on Etsy or Ravelry now or keep reading to find out more about the tee and pattern details.
Get your Creative Juices Flowing
If you are familiar with my designs then you know that my main goal as a crochet designer is to inspire your creativity.
This crochet top pattern has a lot of opportunities for you to get inspired and experiment with creative decisions that will result in a final pattern unique to you that expresses your artistic aesthetic.
The first creative decision you will make is the color. And color changes everything in this design.
I used funky desert colors for my design but you can really get creative and create an ocean view with blues, a forest scene with greens, a garden scene with pastels, even a night scene with dark colors and a moon rising in the background. Fun right?!
Scroll down to the bottom of this post to see the testers' inspiring color decisions.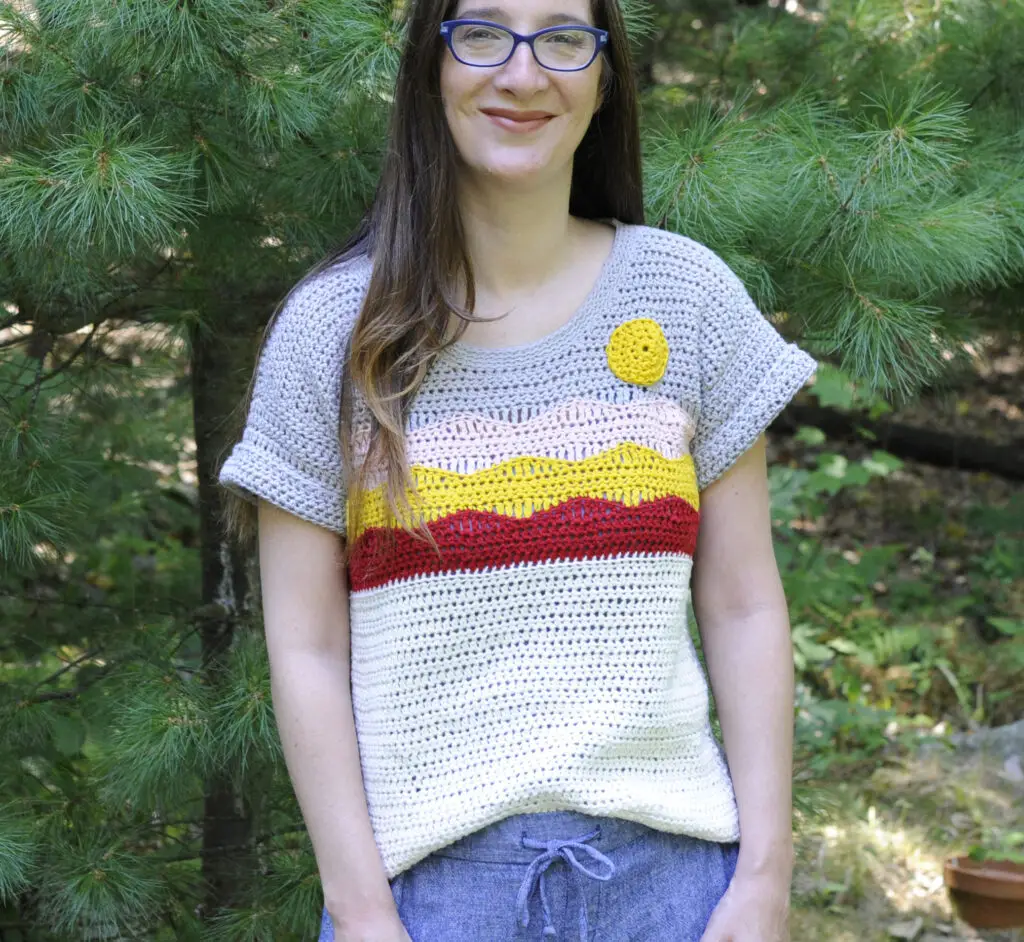 And to help you make your color decisions I drew up a coloring page for you. The page depicts the crochet t shirt in black and white. Simply print out the page and color in the scene with your color combo idea. This way you can see if your colors work before you buy your yarn.
I've also provided a creative opportunity for you with the sleeve. Included are instructions for two different sleeves. One is a cuffed sleeve that you see on the tee I made. The other is a sleeve with three stripes (a chance for more color mixing and matching).
I absolutely loved the colouring in page with the four options.

-Jo G.
A Unique Crochet Top Pattern
This crochet t shirt actually started off with a whole other concept in mind. I wanted to make a graphic tee of a landscape but using intarsia.
I even got so far as to order the yarn and start stitching up the tee. But when the tee started to emerge from my hook it just wasn't as unique as I was hoping for and I wasn't enjoying stitching the intarsia.
It's very important to me that my patterns look great AND are fun to make. I knew I had to change direction.
As I was staring at my sketch of mountains I realized they looked just like a wave stitch. When I started stitching up the idea I knew I had a winner because I've never seen a landscape/seascape depicted on a crochet tee in this way before. It also looked really cool and was enjoyable to crochet.
When you wear this tee around the city you'll definitely get compliments from other like minded creatives. And crocheters in the know will recognize how special and unique your handmade top is.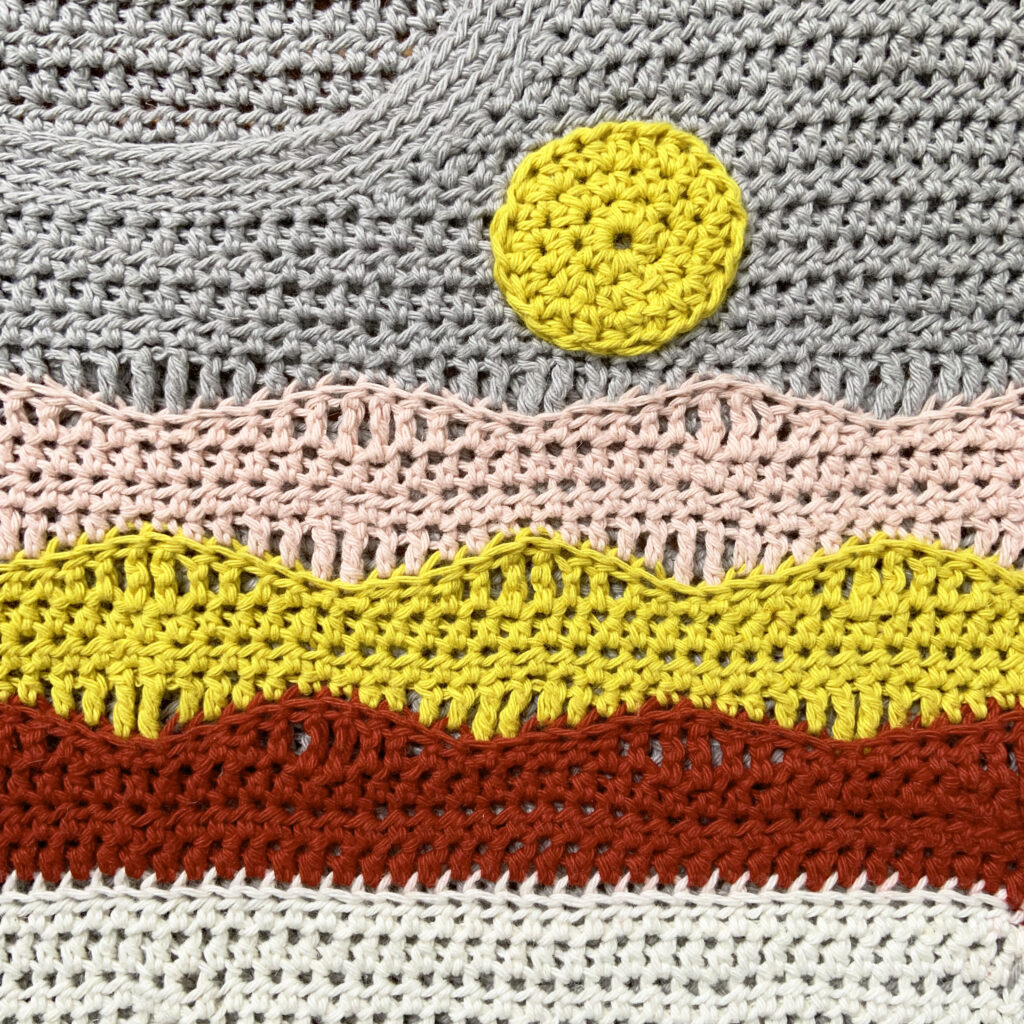 I really liked the design and the potential of the choosing different color schemes to make very different beautiful landscapes.

-Maureen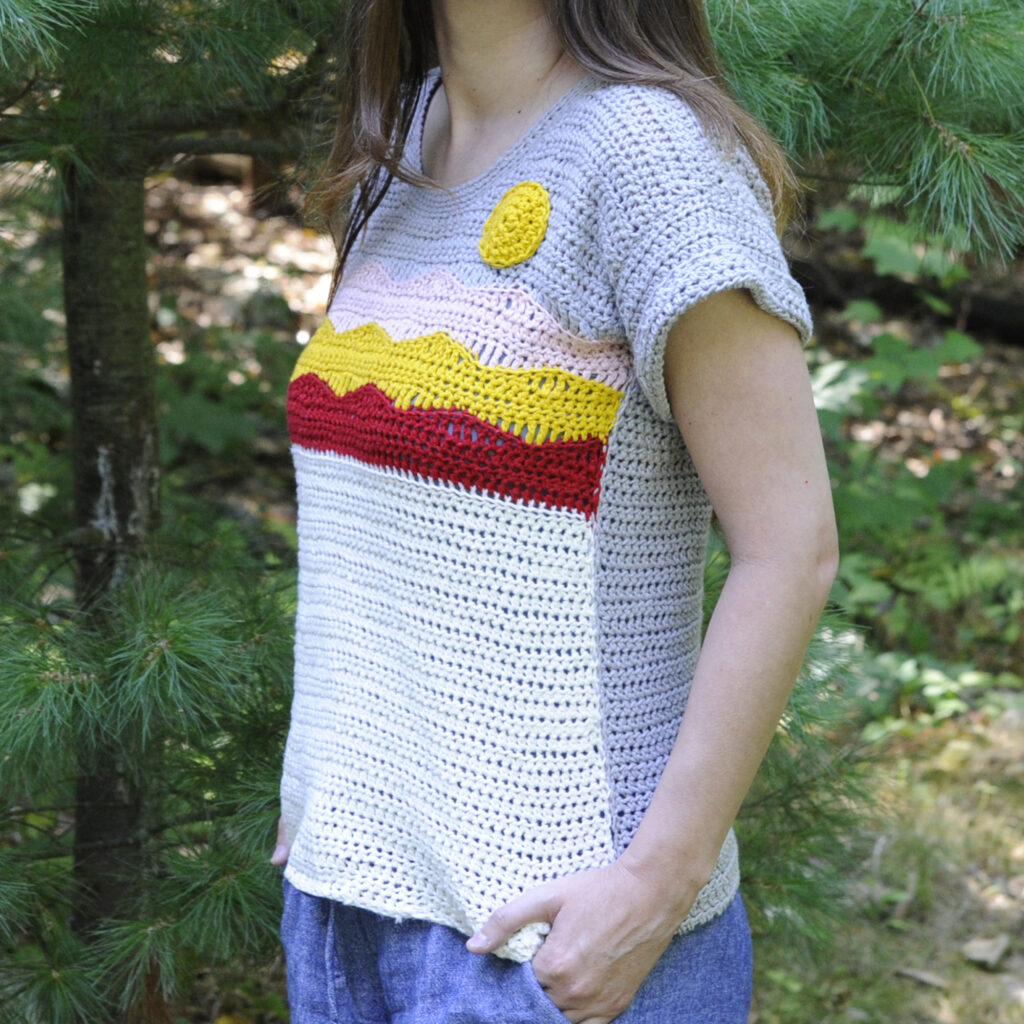 Works up quickly
Another perk to this crochet top pattern is it works up quickly. This project is NOT one of those big commitments that will take you all year. You'll find the hdc made with DK weight yarn flies off your hook. And because it has short sleeves you won't get stuck on sleeve island. Hooray!
This crochet t shirt project has a nice mix of areas that you can crochet while relaxing without having the pattern in front of you and the mountain section which is really fun to see come together while following the interesting mix of stitches stack up on top of each other. It will provide that fun little challenge you look for in projects.
Easy to follow and great lay out.

-Mercy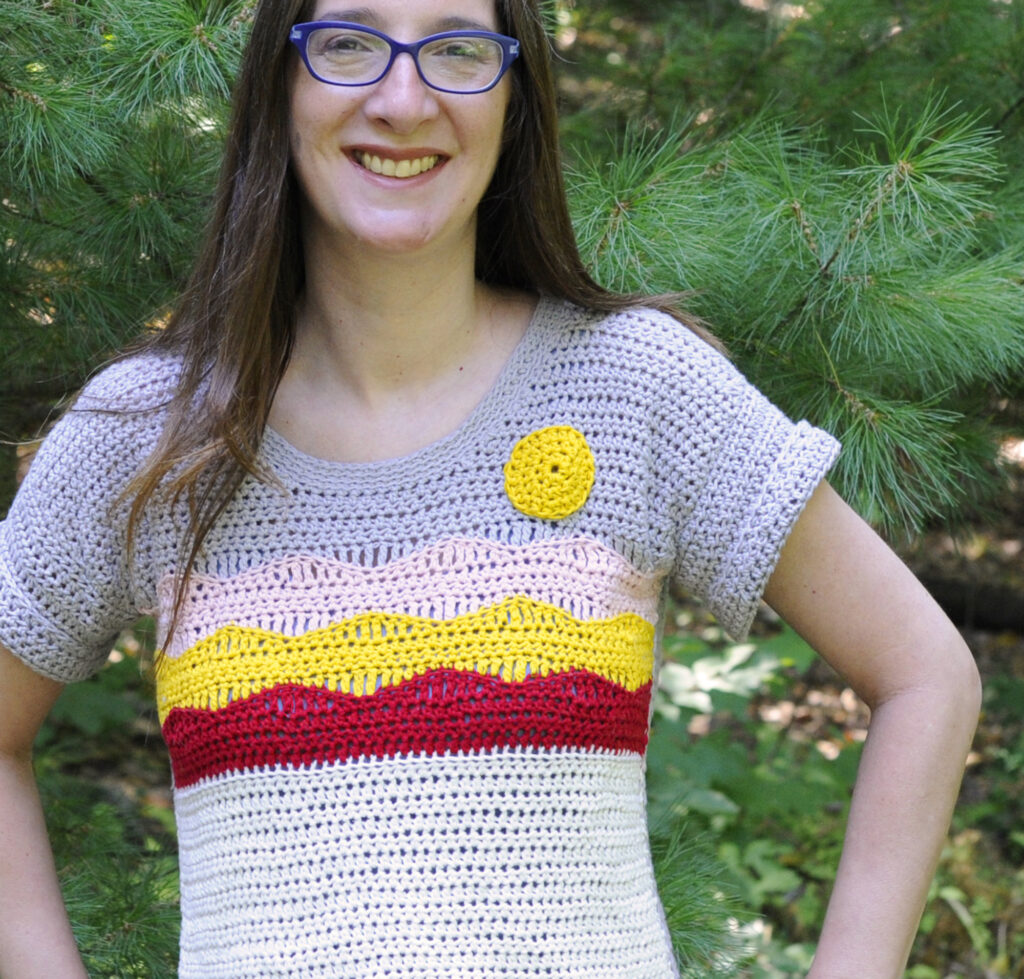 Crochet T Shirt Pattern PDF Details
You can make this pattern! I would say this is an advanced beginner project. This would be a great second garment.
The required skills include: Double Crochet, Single Crochet, Treble Crochet, Half Double Crochet, Single Crochet in the Back Loop, decreasing, and Seaming (video included).
Your pattern purchase includes an easy to read 21 page pdf. Included in the pattern is a size schematic, photos, details to create sizes XS – 5X, stitch charts, and instructions for two different sleeve designs. You do not need to know how to read a stitch chart to complete this pattern. The instructions are both charted and written out.
You won't get stuck anywhere in this pattern. It is clear and easy to follow because, like all of my patterns, it has been tested and professionally tech edited.
The pattern is written in US terms.
The pattern is very clear and if you have a question I am here for you. I have a dedicated pattern support email listed at the end of the pattern. You can email me directly anytime!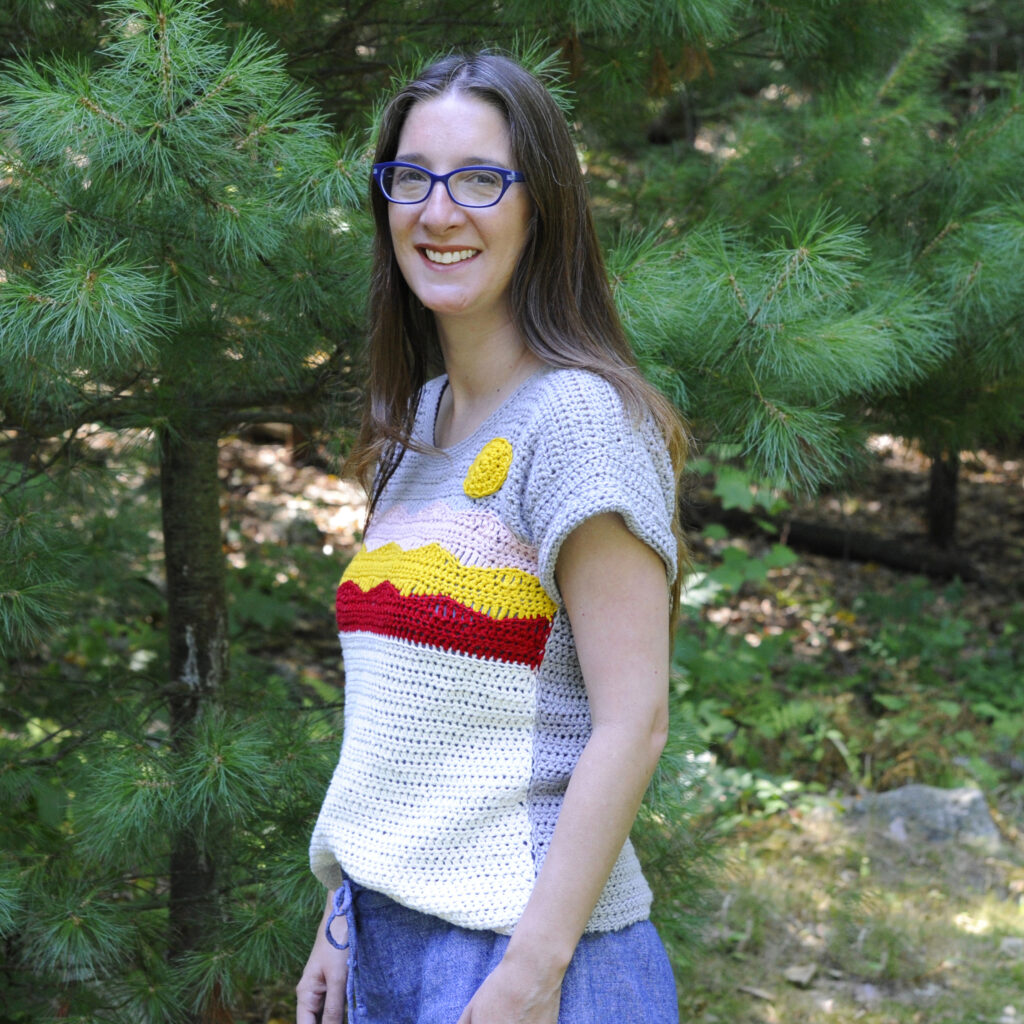 Here is what you will need
US H/8 (6 mm) or size used to obtain gauge
(I) enjoyed making the mountain section.

-@TheHeartfulArt
Do you know someone who would enjoy this pattern? Share it with them by clicking the button below.
Don't have any CotLin at your local store? You can substitute any 3-light weight yarn.
Here are two yarns my testers recommend:
Speaking of Crochet Testers
Here are some inspiring Beautiful View Tees by a few of my talented testers.
Be sure to check them out on Instagram (by clicking on their names in the photo credits) if you'd like to see more of their beautiful work.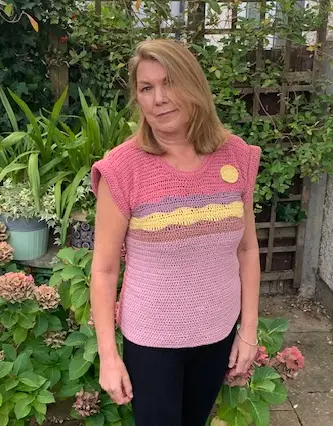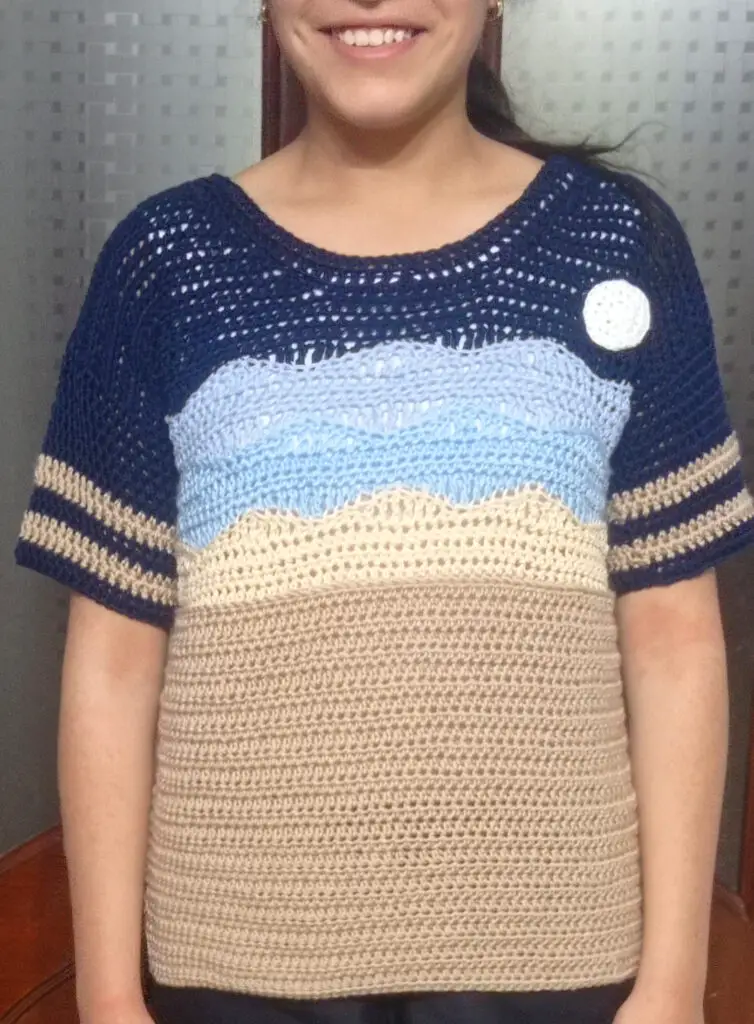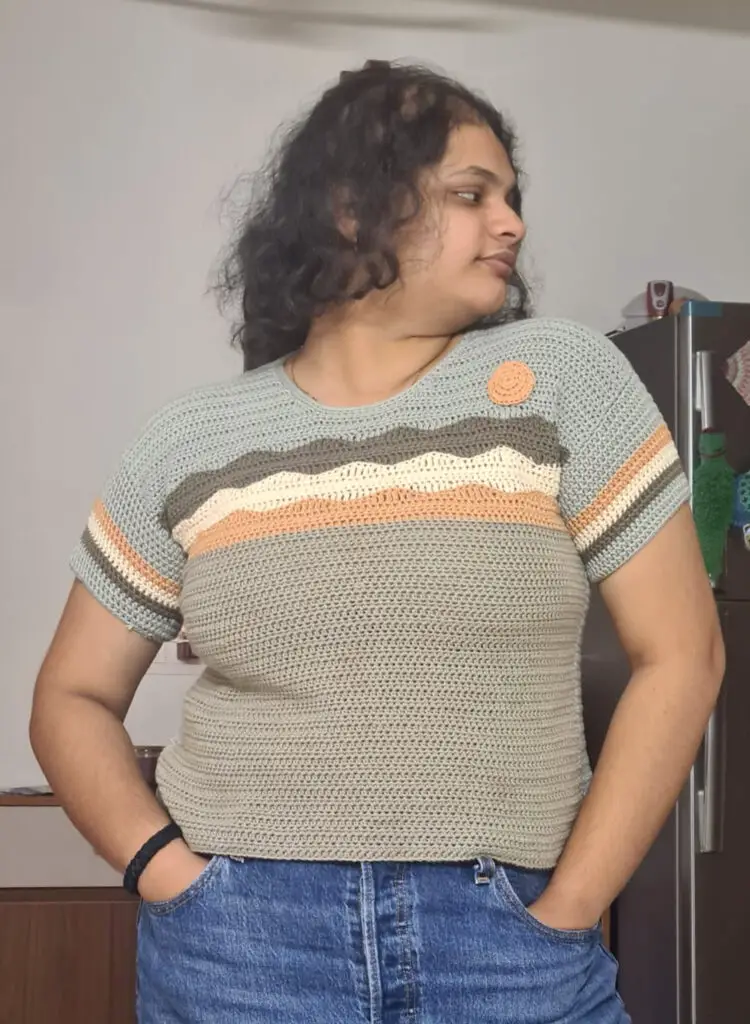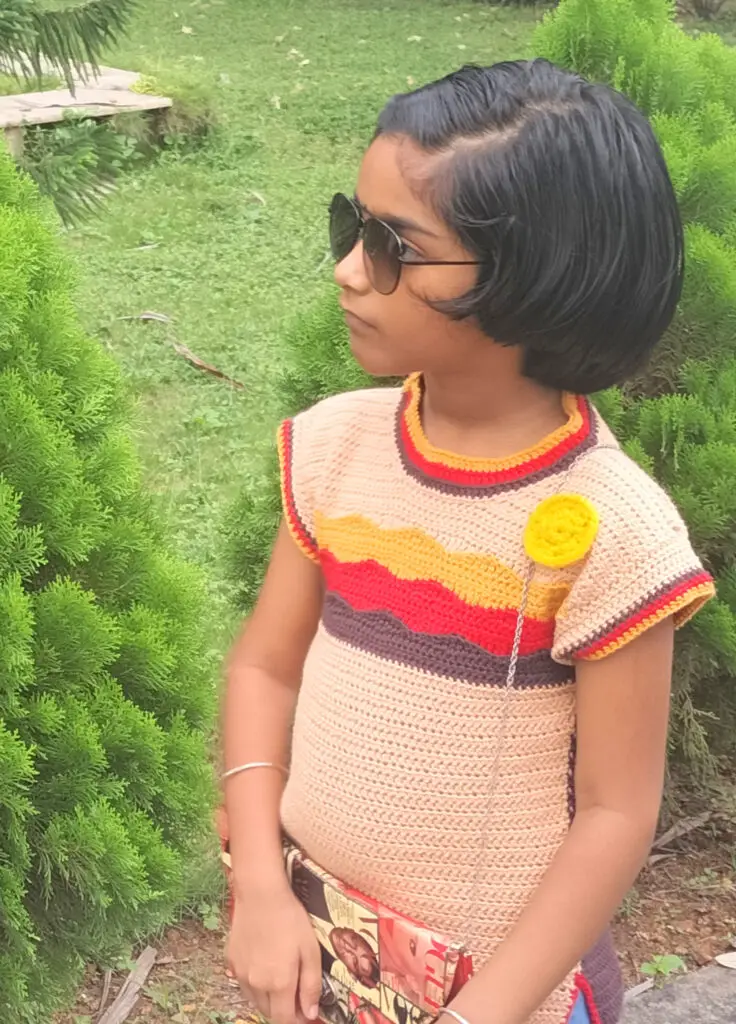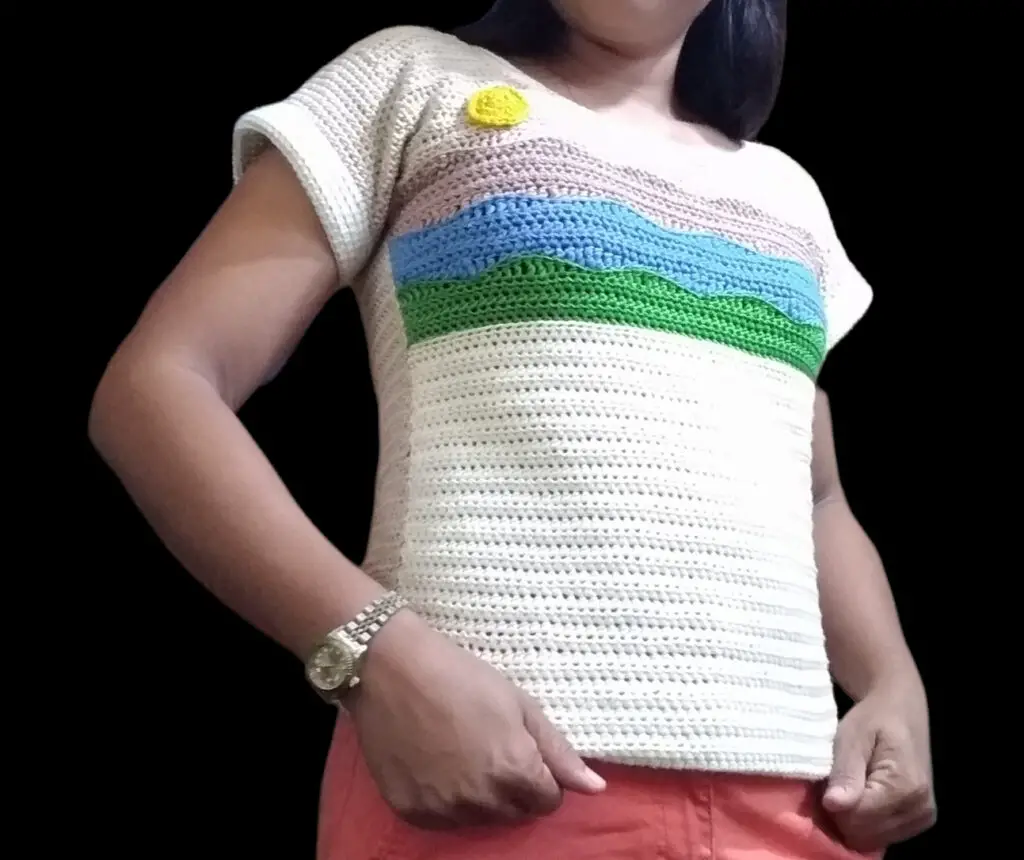 If you liked this, check out these crochet garments next!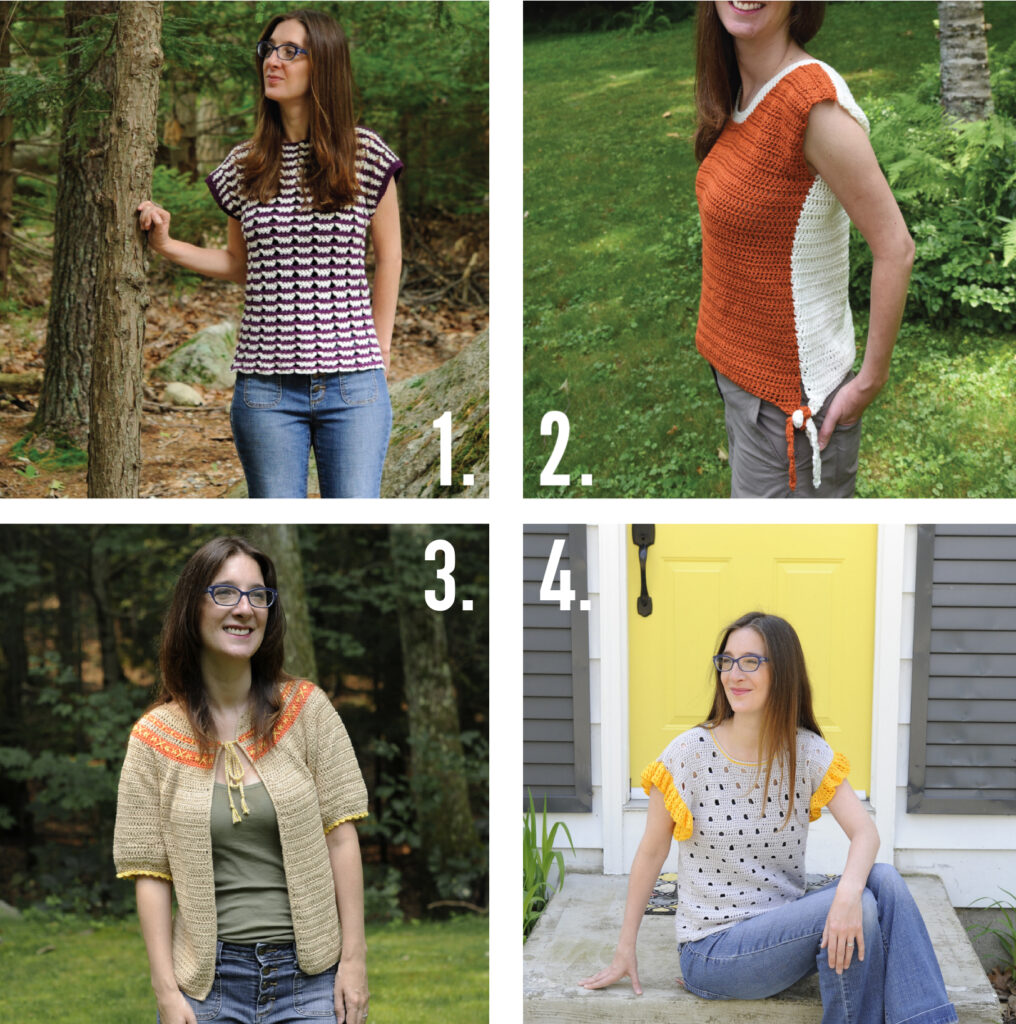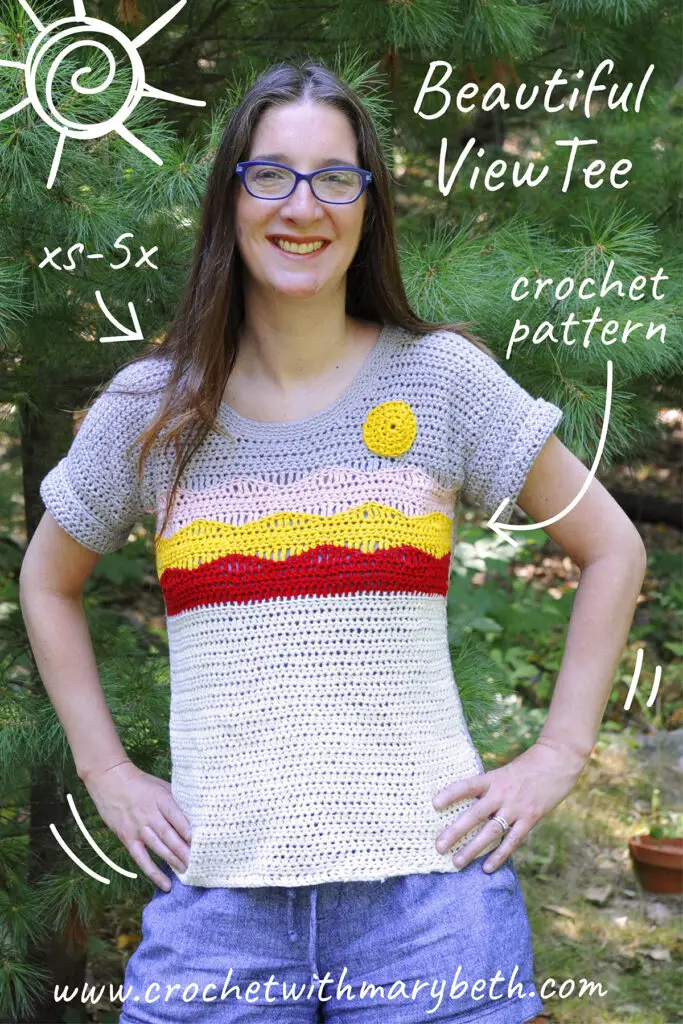 Mary Beth Cryan has been designing crochet patterns for over 4 years. Prior, Mary Beth worked as a professional illustrator and product designer with a specialty in paper crafts for 18 years. She has authored and illustrated 17 paper craft books, countless pop-up greeting cards, and many paper craft kits. She received 3 LOUIE Awards from the National Greeting Card Association. Some of her clients included MoMA (Museum of Modern Art NYC), American Girl, Dover Publications, Peter Pauper Press, Ranger Rick Magazine, Highlights magazine and many others.  She earned a Bachelor of Fine Arts from Syracuse University in 2000.