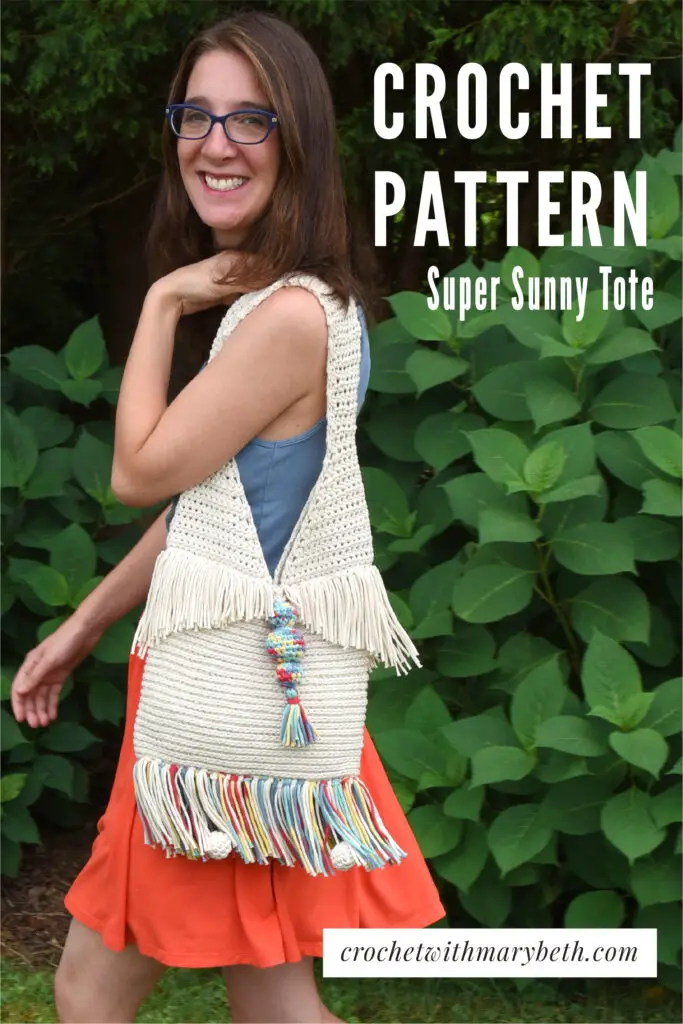 If you're happy and you know it crochet a fun tote! That's how the song SHOULD go!!
Spring Exclusives Bundle! $18 for 31 patterns
Exciting news! The Super Sunny Tote is available this month only, April 2021 in the Spring Exclusives crochet bundle.
It's so hard to find creative crochet projects for spring. The majority of patterns are for blankets or sweaters. Ugh, it's a problem! This bundle has 31 ideas to make during the warmer months, from earrings, to bags, to light cardigans, to home decor. It will keep you inspired all spring for sure! I bet it will keep you busy for much of summer too!
"What is the bundle?" you are probably asking? This bundle is a curated collection of 31 warm weather patterns by 31 talented crochet designers packaged as a downloadable ebook for $18. I'm so honored to be a part of it.
And I know these patterns are great because all the designers are all enrolled in the Crochet Business Academy with me. Have I ever told you about CBA? It's a learning platform/community for crochet pattern designers that are serious about selling their designs and products. I've been a member for 1.5 years. I know a lot of these women and men personally and they are GREAT!
If you hear a designer is part of CBA you know they have completed or are currently completing extensive training in pattern writing and other crochet business necessities. In other words, they can write a great pattern and are professional.
I also happen to know that all the patterns in this bundle have been professionally tech edited and tested. It was a requirement to be in the bundle. That means you won't find any mistakes or confusing spots in any of the patterns.
I'm a bundle person. I love bundles because I get a lot of patterns for a small price, gotta love a deal!
I also always discover new designers. When I find a new designer I'm crazy about I never know if I will like their pattern writing style. I usually look to see if I can get one of their patterns in a book or bundle. That way I can see if I like them before I start buying ALL their patterns off Ravelry!
Finding new types of patterns I might not have tried otherwise is a perk too. I can get tunnel vision searching for garment patterns on Pinterest. But I already see a pair of earrings and a wall hanging I would never have thought to search for otherwise!
A few of my favorite designs in this bundle are Rebekah Haas's Daffodil Shawl, SEK Handmade's First Bud Earrings, Jaded Craft & Creations' Stay Wild Moon Child wall hanging, Amber Bliss's Octavia Earrings, Green Fox Farms' Sweet Stripes Zipper, and Through the Loop Yarn Craft's Through the Loop Scarf.
And one last cool thing about the bundle is that every designer who contributed a pattern gets a small percentage of the bundle when you purchase it. You can support and say thank you for your contribution to the crochet community to 31 designers with one purchase! Doesn't that make you feel warm and happy inside?!
If you'd like to see photos of my favorite patterns, view the complete 31 pattern collection, and find out more about how to purchase the bundle please click on the button below.
If you prefer you can also purchase the individual Super Sunny Tote pattern on Etsy and Ravelry or continue reading for more info.
Psssst, the tote pattern will be available April 21 ONLY for 50% off. Come back then to find out why and how to purchase it for the discount price. Or get on my mailing list for a reminder, plus receive a free market bag tote pdf.
Need some fun in your life?
When I was dreaming up the design for this tote I was thinking fun. Everyone needs more fun in their life. How I can I make that happen? Can I make fun?
Well, here is my best attempt, the Super Sunny Tote. It's fun to make and fun to wear. I think I did it! Hooray!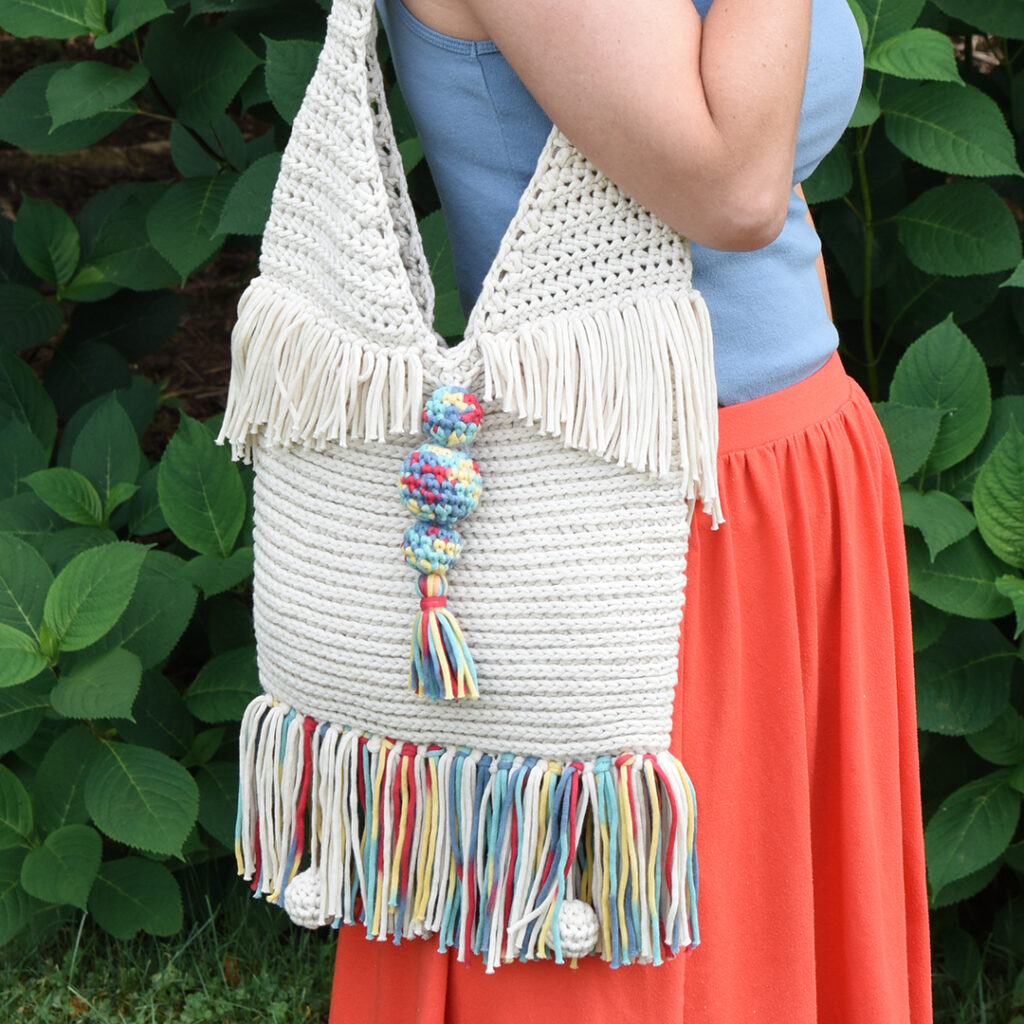 Inspiration:
It did help that I was on vacation having fun while I was designing this crochet tote.
Every year (except 2020) my parents rent a beach house on the Rhode Island shore. My brothers and I bring our families and freeload for a week. It's a good time.
"Wait, don't you live in Rhode Island?" you may ask. Yes! Yes I do. I moved here in 2001 because I wanted to live where people go on vacation.
When I was kid we always vacationed in, you guessed it, Rhode Island. I'm from Connecticut so it's not a far stretch, only 2.5 hours.
Ironically I live as far from the ocean as you can get in Rhode Island. But we are still only talking a 50 minute drive from the sand, salt waves, fresh fried clams, and locally grown steamers. Yum!
Okay, I'm sorry I made you hungry. I'll get back to the tote now.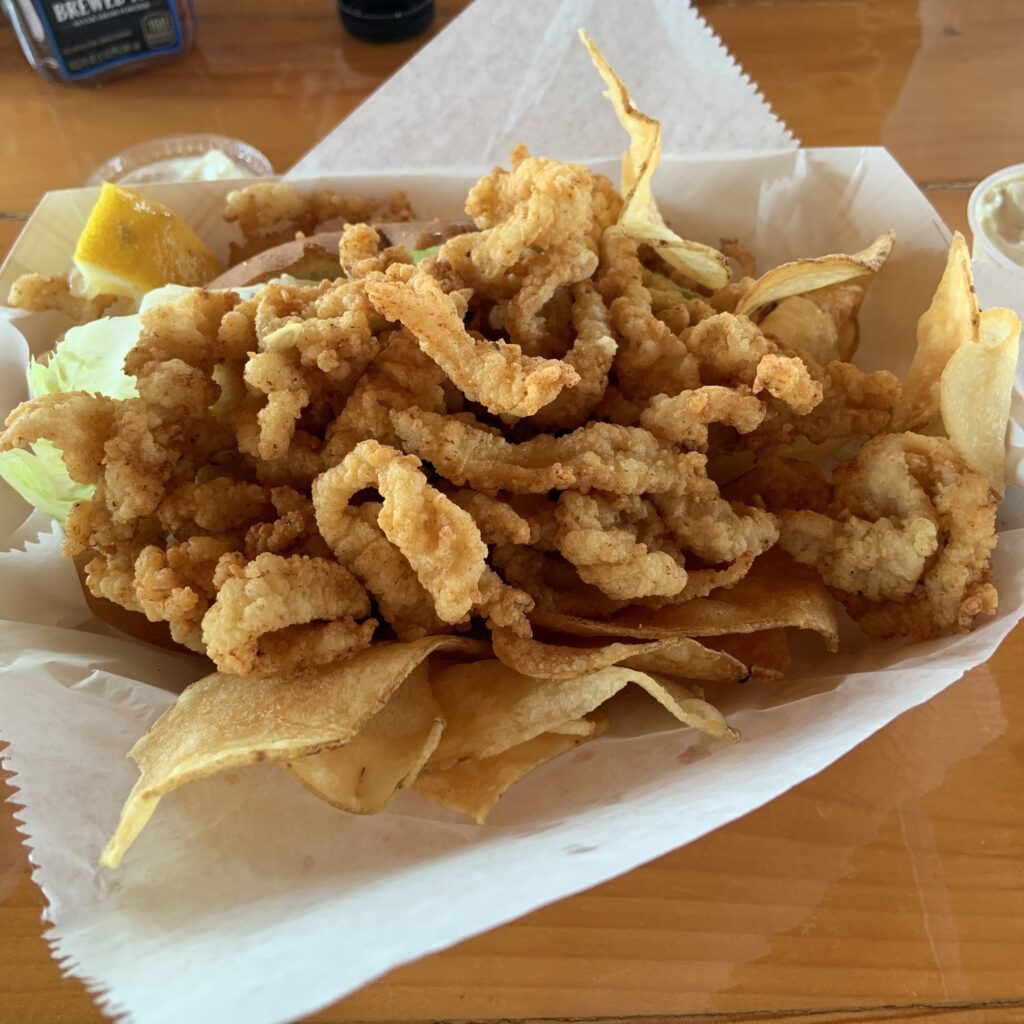 Yarn:
Besides being inspired from my vacation, I was also inspired by my yarn.
When I saw Bernat's Maker Home Dec Yarn in the color Fiesta Varg I knew it was the yarn for the job. It's so colorful and happy.
And what's more fun than a yarn fiesta? Hmmmmm, nothing. I'm going with nothing on that one.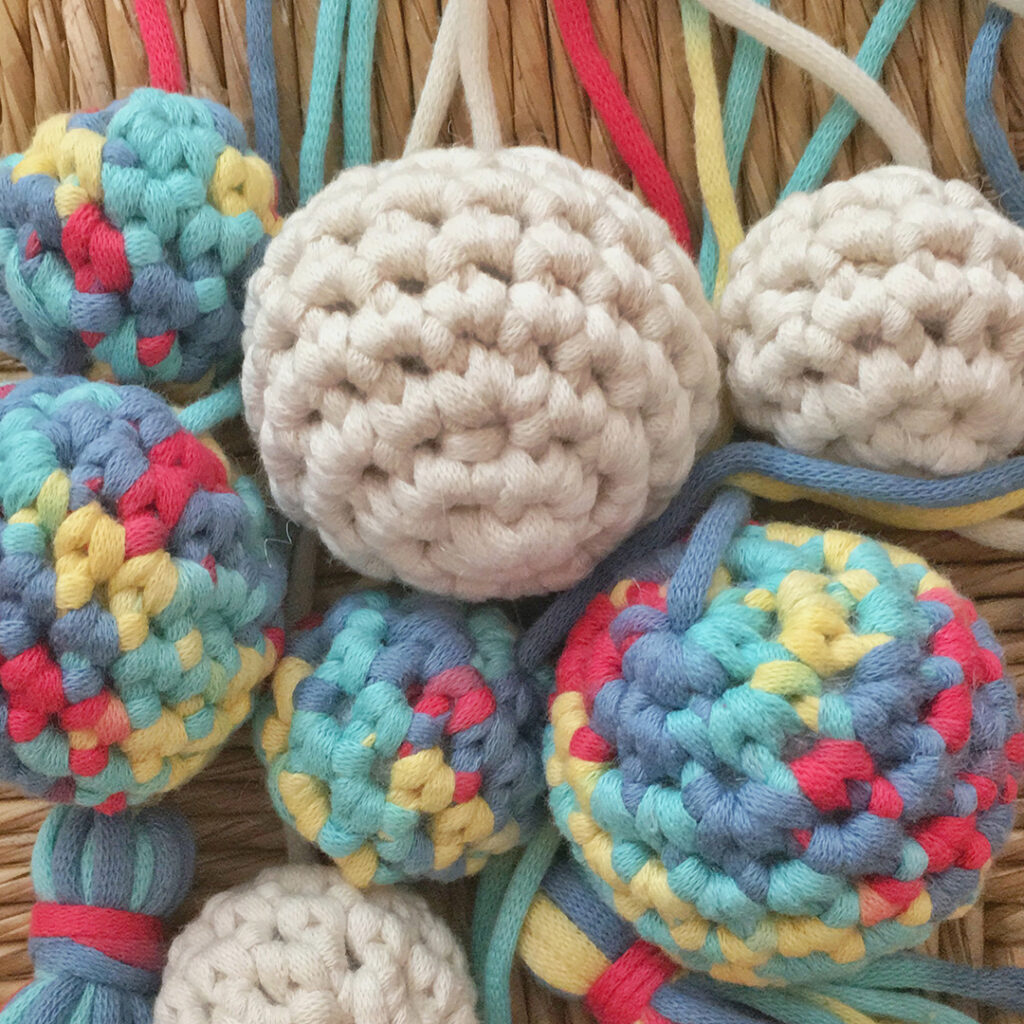 Yarn
Fiesta Varg pairs beautifully with the cream which I'm obsessed with. It's so chic.
Have you seen this yarn in person? It's kinda like t-shirt yarn but tubular. Totally tubular dude! You know I couldn't resist. I love the 80's.
But seriously, it's a tube of fabric filled with a bit of stuffing.
Because it's fabric I highly recommend using fabric scissors to cut it, especially when making fringe. My regular yarn scissors just gnawed on it and made a frazzled mess. But my fabric scissors glided through it like a hot knife through lactose free butter, leaving a beautiful edge.
It was a fun pattern.

Terry T – Tester
Stitch
Oh I should mention the stitch. That stitch you see on the body is NOT slip stitch. Slip Stitch crochet is not fun and I would not do that to you.
It's my favorite stitch, half double crochet in the third loop. It's just as easy as half double crochet. If you are not familiar with the stitch you can check out my tutorial on the stitch in YouTube HERE.
Unique
If you know me and my designs, you know I always strive for unique. When I asked my testers why they chose to help me with this crochet tote they mostly said because they had never seen anything like it before.
Your friends at your crochet group are going to be impressed you found a cool new pattern like nothing they've seen before!
It was different to everything else I had seen.

Michelle C. – Tester
Relax
Like I said earlier I love hdc in the third loop. It's a fun and relaxing stitch.
This bag is worked in continuous rounds so you can sit back and relax while you work this pattern.
I always try to design patterns that require as little looking-at-the-pattern as necessary. When working on one of my patterns you can expect to only have to glance at the pattern here or there. Once you get in the grove of the stitches you don't have to think. Let the stitch markers do the counting for you.
Modern
Tassels and fringe are in, in, in!
White is big right now. And yellow will basically be taking over the world for the next year.
This pattern is clean and modern with just the right touch of pizazz.
And I had to add the balls for fun. Because beach balls!
Easy
This pattern is Easy.
The bag is worked from the bottom up in continuous rounds. Then you split for the handles and seam them at the top with a slip stitch. No sewing!
The bottom of the bag is worked around the foundation chain. I've included a stitch chart to guide you through it. If you aren't familiar with stitch charts, no worries, I've included detailed instructions.
The pdf also includes instructional photos and illustrations to make sure you don't get stuck anywhere. And at the end of the pattern you'll find my pattern support email. Email me anytime with any questions. I try to keep a close eye on that email account so no one gets left hanging in my patterns.
All of my patterns have been tested and tech edited to void any confusion. But don't hesitate to email if you don't understand something. I'm here for you!
Choosing colors
My advice for choosing colors? Go for it!
Hit the stash or the yarn stash and just choose whatever calls your name. Think fun!
Use as many or as few colors as you'd like. Add stripes! Add color blocking! Do it all in one color. Make it a stash buster project. Whatever would be most fun for you. You can't do it wrong. Take the liberties, as I have in the grammar of this paragraph. Ha!
Purchase the Crochet Tote Pattern
Crochet Tote Details
The tote comes in one size.
Finished Measurements:
Width:
11" / 28 cm
Length without Fringe:
20.25" / 51.5 cm
Length with Fringe:
24" / 61 cm
Materials
You will need:
Bernat Maker Home Dec Yarn, worsted 5-Bulky (72% cotton/28% nylon, 317 yds/290 m, 8.8 oz/250 g), color A-Cream 2 skeins, color B-Fiesta Varg 1 skein
Crochet hook size US I/9 (5.5 mm)
Tapestry needle
2 stitch markers
Stuffing
Scissors
Piece of cardboard 3"/8 cm x 3"/8 cm
Piece of cardboard at least 8"/20.5 cm x 5"/13 cm can be the front of a thick magazine or cereal box
Tape
Substituting Yarn:
Testers recommend:
Caron Big Cakes Yarn
Premier Anti-Pilling Everyday Worsted Solids
Lion Brand's Color Made Easy Yarn
Approximate Yardage:
460 yds/420.5 m
20 yds/18 m
Project Level: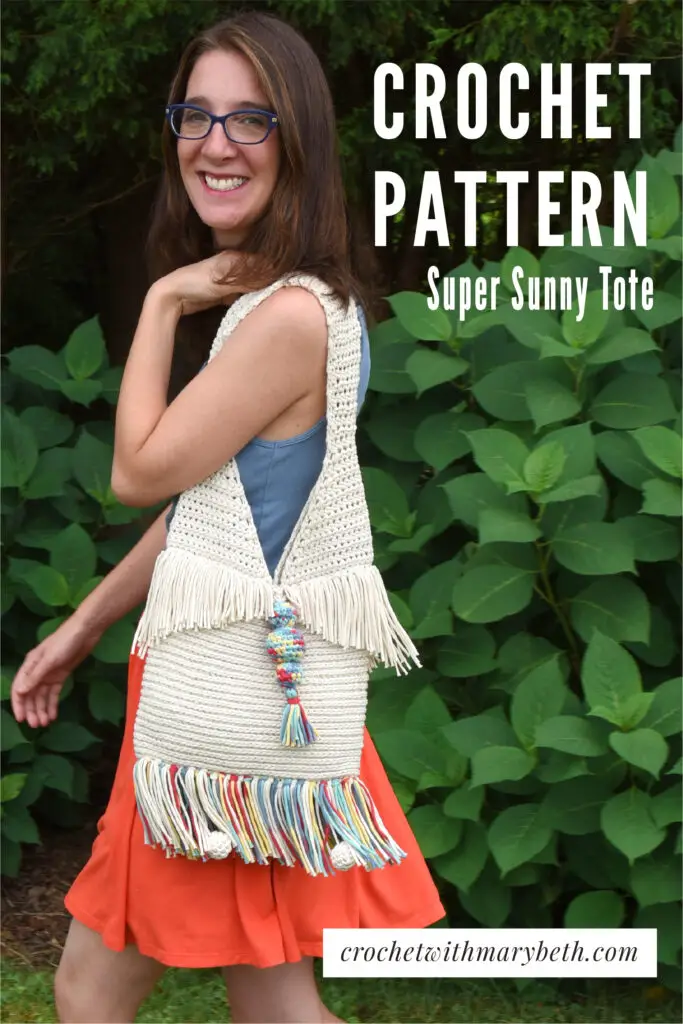 Check these patterns out next!