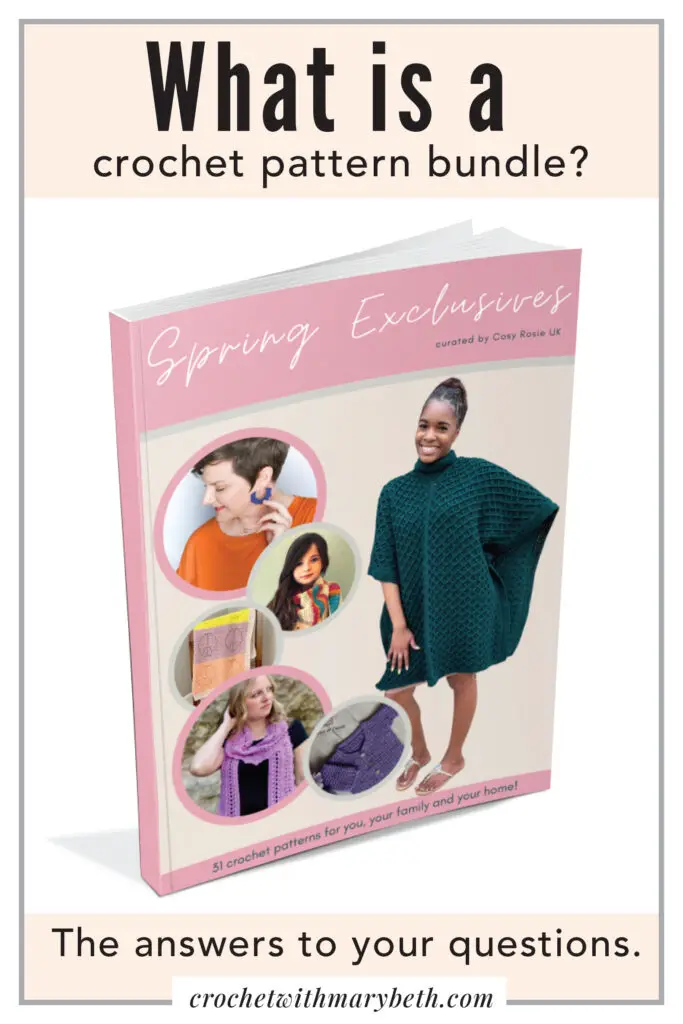 Are you confused by pattern bundles? Is this making you hesitant to purchase one?
If yes, you are in the right place. I am going to explain all the ins and outs of bundles and give you some behind the scenes inside scoop too!
Overview
The very short answer to "What is a crochet pattern bundle?" is: they are a group of patterns that are compiled and offered at a discounted price, usually very discounted.
Think about them like a crochet pattern book that you would purchase in a bookstore. You'll probably get 10 – 15 patterns for around $20 in a book.
Bundles too are a collection of patterns, with a theme, organized by a curator/publisher/designer. Except bundles are usually digital downloads not physical products.
Bundles can go by different names. I've also heard them called suites, collections, and ebooks.
They can vary greatly. Read on to learn how.
Number of Contributors
The first thing to consider when purchasing a crochet pattern bundle is the number of pattern designers that have contributed to the bundle. This will give you an idea of how varied the patterns included will be.
If you want a huge variety of patterns and a chance to discover new favorite designers you will love bundles that include patterns from many different designers. These can vary from a few designers contributing multiple patterns to a large group of people each contributing one pattern.
Bundles that include a number of patterns all by different designers are very exciting. There is always the chance of discovering a new favorite. The Spring Exclusive Bundle features 31 different patterns each by a different designer.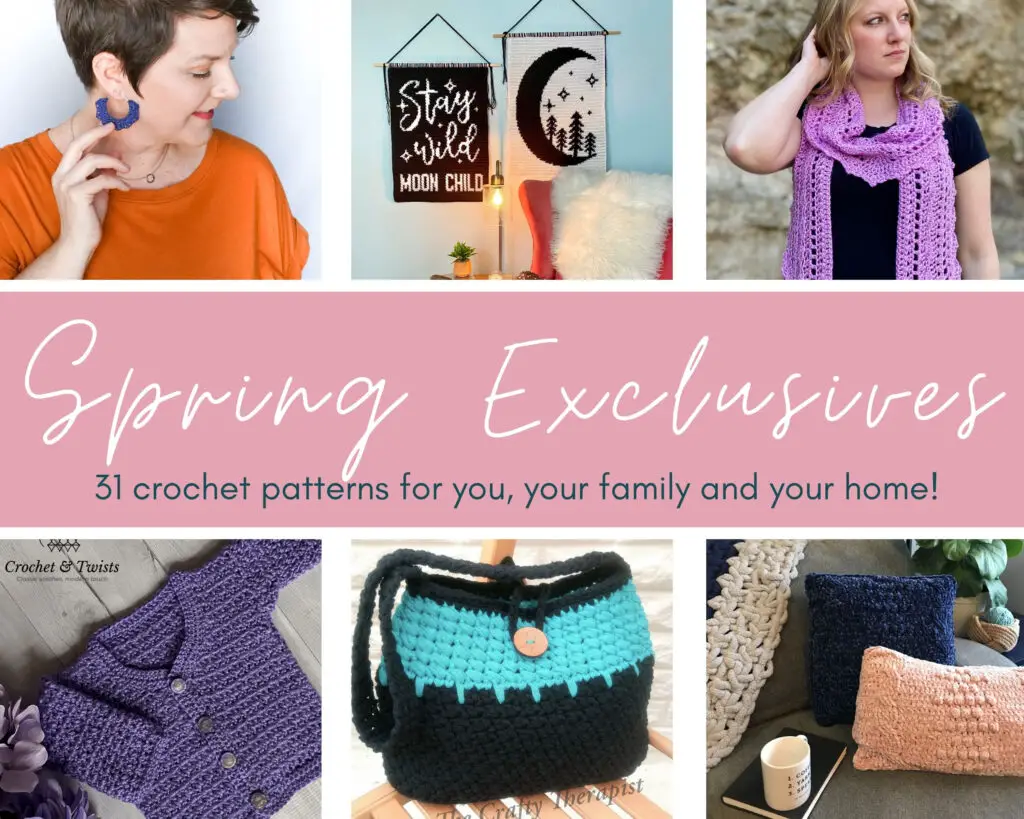 It's also a way of previewing different pattern writing styles from designers you've seen around but haven't purchased from yet.
A bundle can also be curated by one designer and include just their own patterns. This is a great option if you have a favorite designer and have your eye on a few of their patterns. You'll be able to purchase the patterns on your wish list at a discounted price PLUS several extra!
The Curator
In every bundle there is a person that is in charge of selecting the patterns to be included in the bundle.
For a "single designer bundle" the curator is obviously the designer. In a multi person bundle there is one person that puts together the bundle, hosts the sales webpage, and takes care of the back end tasks of distributing funds. The curator might be a person or a company.
When purchasing a bundle it's good to consider the curator's taste. Do you like what they like?
Pool of designers
The curators find designers by calling for submissions in online groups.
The taste and skill of the bundle will depend on the taste and skill of the group. Unfortunately there is usually no way of knowing what pool the designers have been pulled from. Although, I usually include this information on bundle materials that I am in.
The Spring Exclusives bundle, going on right now, includes only designers that are members of CBA. The curator placed a call for submissions in the groups forum.

CBA
Have you heard of CBA (the Crochet Business Academy)? It's a learning platform/community for crochet pattern designers that are serious about selling their designs and products. I've been a member for 1.5 years. I know a lot of the women and men in the group personally and they are GREAT designers!
If you hear a designer is part of CBA you know they have completed or are currently completing extensive training in pattern writing and other crochet business necessities. In other words, they can write a great pattern and are professional.
CBA requires month dues. So the designers in the group are serious about designing for a living.
Crochet and Knit Blogger Social
There is also a free Facebook group called Crochet and Knit Blogger Social. There are 270 members. You must be a crochet or knit blogger and submit your website address to be approved.
It is a space for designers and publishers to submit calls for designs. And a place for designers to find places to submit. I've seen bundle calls for submissions in the group.
You may also see bundles by companies. In this case the designers included have been chosen by an art or design director. These are highly curated as designers must work with the company to be included.
Requirements
Another important but tricky to find out aspect of a bundle is the requirements to submit.
I was in a bundle where the requirements were, "no quick patterns" "not offered for free anywhere."
I have been in another where the patterns had to be tech edited, tested, never released before, and not offered for free anywhere.
This information should be included on the sales page of the bundle. If you can't find it, a quick email to the curator might find you this info.
Theme
This is a very important and fun aspect of the bundle to consider.
Most bundles have themes. And themes vary widely from very broad to very narrow.
The theme might be the season. I was just in the Spring Exclusives bundle which included all spring related patterns. In this case the bundle included all patterns that would be appropriate to make during the changing of the season from cold to warm. Some patterns included were tees, cardigans, bags, amigurumi, home decor, scarfs, jewelry, and more. It was a wonderfully varied collection.
I was also in another bundle with a more narrow theme. It was Spring Wearables, anything you would wear in the spring.
Some other themes I've seen are Amigurumi, Home Decor, Warm Weather Cardigans, Tees, Vests, and lots more.
Refunds
Some important small print you should read is the refund policy.
Most patterns have refunds. But read this section carefully. Some refunds are only available if you accidentally buy the bundle twice or have trouble downloading the pattern and aren't able to receive the product.
The curator is stuck between a rock and a hard place on this topic. He or she wants to offer the best customer experience but it's tricky with a digital product.
What is stopping a buyer from downloading the patterns, asking for refund, and then going ahead and using the patterns? Nothing really. This is why you will see very specific refund policies on digital products. It's a fine line that's hard to walk.
Price Per Pattern
You will often see this as the selling point of the bundle. Get 31 patterns for $18. That's $.58 cents a pattern! Well, that is true. And that is an incredible offer.
But what I like to figure out is the price per patterns that I'll actually make. So if there are 6 or 7 patterns in the bundle I know I want to make. I divide that by the price of that bundle.
That will give you a better idea of the cost.
Length of Offer
If a bundle catches your eye, check the availability date!
These bundle offers usually don't last long. Especially the very discounted ones. Some last a week, some a month.
Designers can't afford to offer their patterns for a reduced price for a long period of time. So why do they participate in crochet pattern bundles?
They might want to support the curator, get their name out there, make some timely money, or a lot of other different reasons.
Digital vs. Physical Crochet Bundle
Make sure you know what you are getting! Are you getting a pdf download? Are the patterns printed in a book?
Lately I've only seen digital pattern downloads because the cost of printing and shipping would make the bundle too expensive.
Be aware, if you are buying a bundle, it is most likely you are buying a digital product NOT a physical book.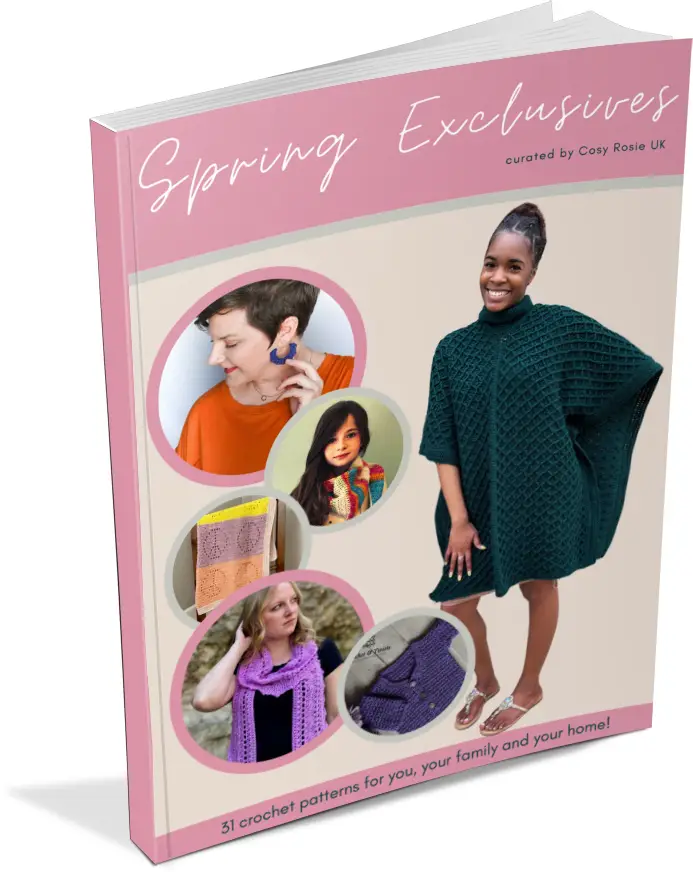 How long do you have to download?
After you purchase your download you will be able to download it within a given amount of time. Make sure to pay attention to this and download your bundle in a timely matter. I've seen some bundles were buyers only get 24 hrs!
I also recommend downloading the ENTIRE bundle and keeping it stored on your own device at home even if the fine print says it will be available forever.
With the rapid changes in technology, forever can't really be promised. If a curator hosts the pattern bundle on a platform and the platform goes out of business or the curator gets out of the pattern business and stops paying for the platform, the bundle access will most likely be canceled.
With a platform that has been around for a bit longer, like Etsy, the chances of forever being a few years longer is a lot better. But still, who knows? No company is forever. Download the bundle and don't take a chance.
Release Date
I mentioned earlier that the requirement for one of the bundles I participated in was the pattern must have been brand new, never released before. The release date of the pattern may or may not be important to you.
If it's new to me then I don't really care about the release date.
Although, if you are trying to impress your yarn group with patterns they've never seen before you might want to take this into consideration.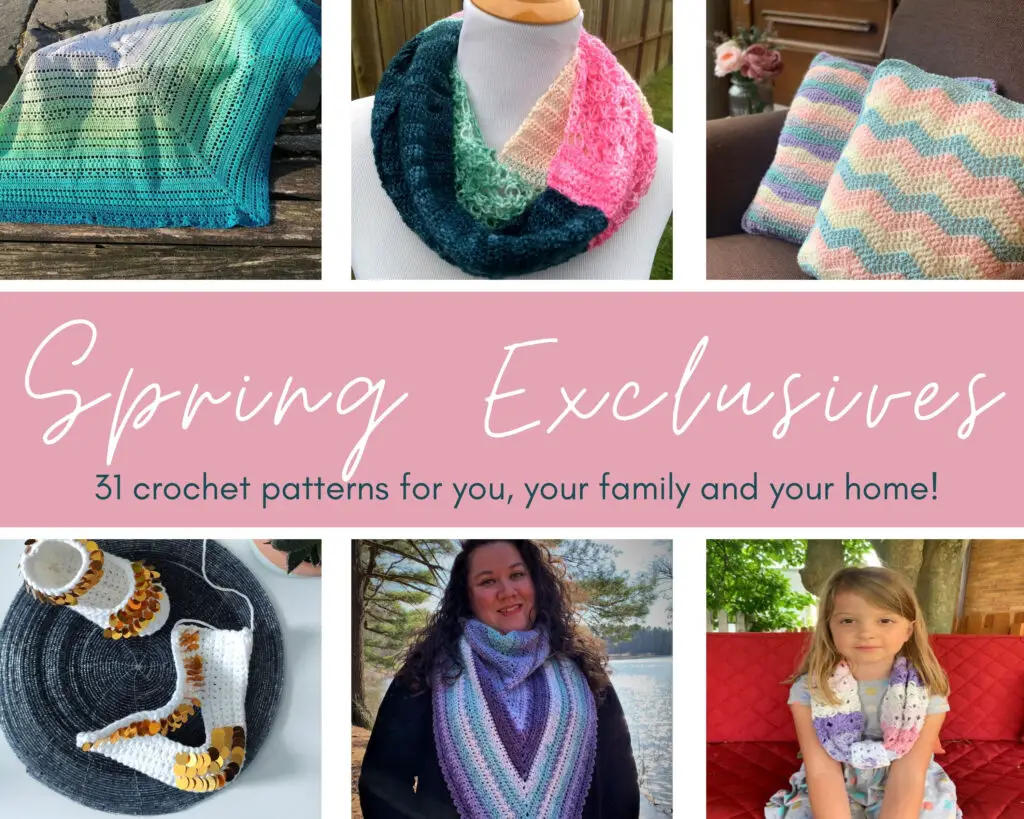 Designer Compensation
Which brings me to my next point, how are the designers compensated? This can vary greatly too.
If a company is selling a bundle from patterns they have previously purchased, the designers probably aren't getting any extra compensation. If the designers created the patterns on a royalty bases then the company might be paying them a percentage. That one is hard to figure out.
One Designer
In the case of a bundle curated by a designer of patterns created by themselves, he or she are most likely receiving all the revenue from the pattern minus any fees from the selling platform or additional costs.
Many Designers
A crochet pattern bundle that includes many different designers can vary. I've seen two ways that designers are compensated, 1. The designers receive a percentage based on the sales that were made ONLY through their own affiliate links or 2. the designers receive a percentage based on the sales that were made through their own affiliate link plus a small percentage of each sale. In both case the remaining percentage goes to the curator and any expenses are taken out of the curator's compensation.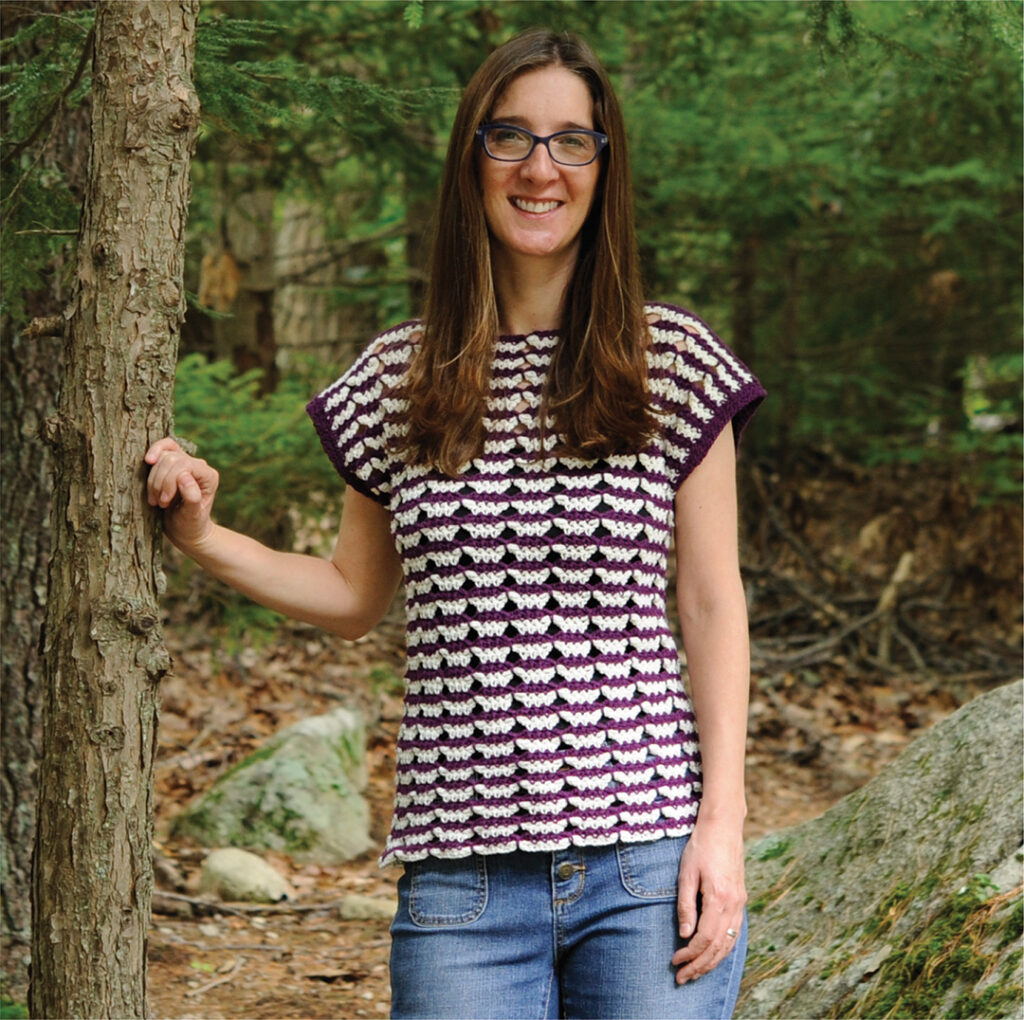 Usually, the amount of money that the designer receives from an affiliate link will be greater than if they sold the pattern on their own, maybe 70% of the total bundle price. However, the amount received from other sales usually varies from 0 to 30 cents per bundle sold. There really isn't much difference between the two ways of getting paid. Although, the small % for everyone is a nice gesture from the curator.
However, this means you should purchase the bundle from the designer in the bundle who you want to be support. It's a nice way to say thanks to your favorite designer or support a new up and coming designer.
And know that every designer is doing a major happy dance if you buy a bundle from his or her link.
Conclusion
So I hope this deep dive into crochet pattern bundles was helpful.
I think it's a great way for crocheters to get a deal on patterns and discover new exciting designers.
It's a great way for designers to be discovered and make money.
So in the end, bundles? I say they are a win-win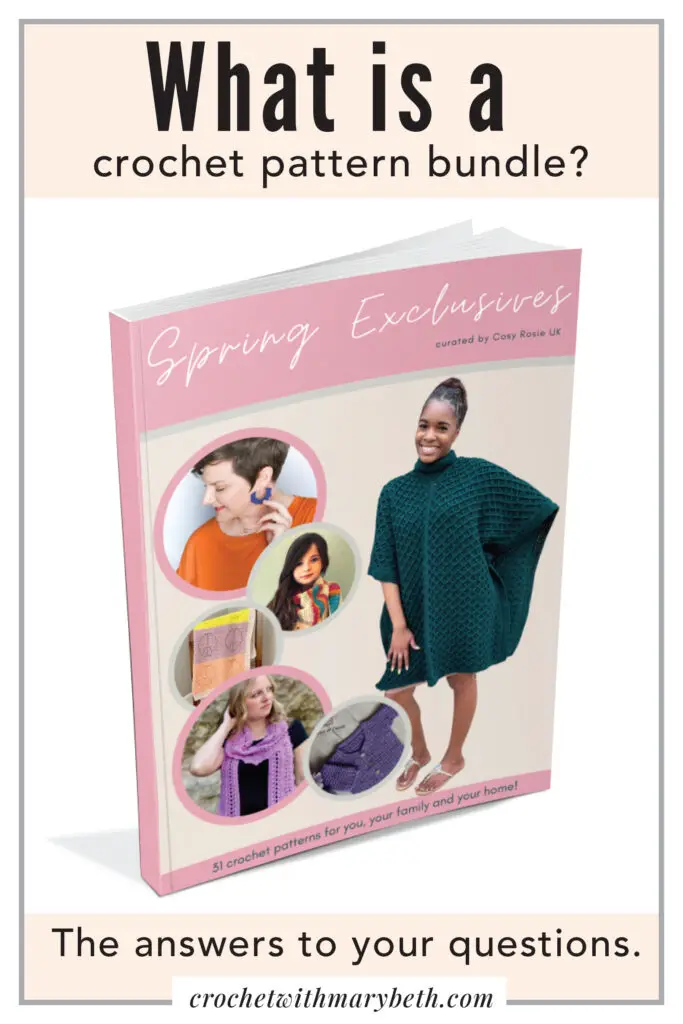 Mary Beth Cryan has been designing crochet patterns for over 4 years. Prior, Mary Beth worked as a professional illustrator and product designer with a specialty in paper crafts for 18 years. She has authored and illustrated 17 paper craft books, countless pop-up greeting cards, and many paper craft kits. She received 3 LOUIE Awards from the National Greeting Card Association. Some of her clients included MoMA (Museum of Modern Art NYC), American Girl, Dover Publications, Peter Pauper Press, Ranger Rick Magazine, Highlights magazine and many others.  She earned a Bachelor of Fine Arts from Syracuse University in 2000.