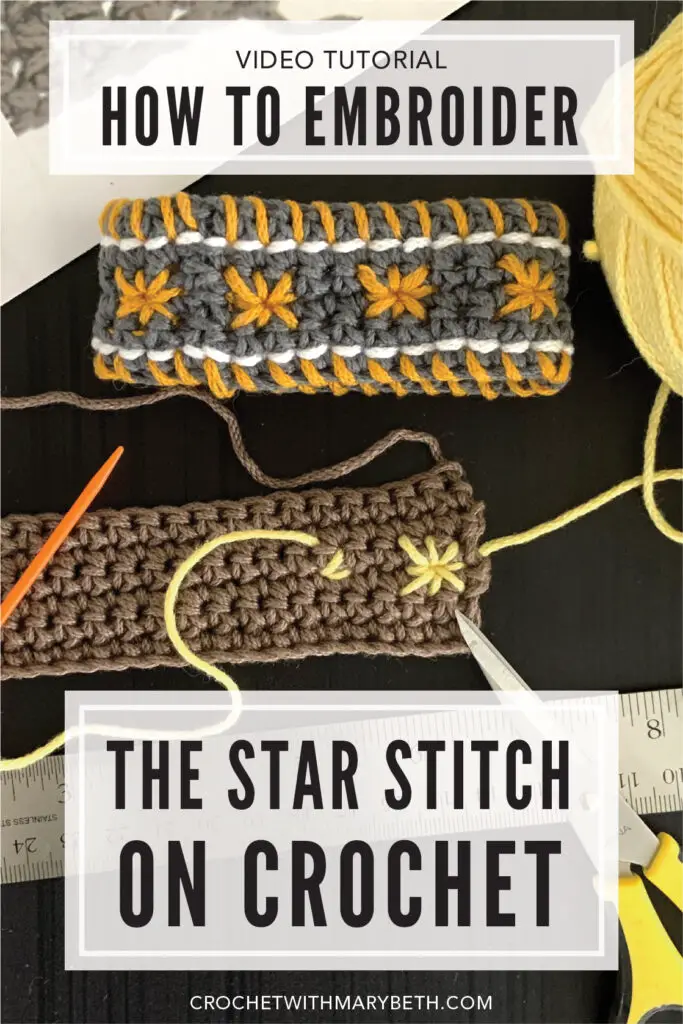 Embroidering on crochet is totally a thing! And now that I've tried it I can confidently say it's a super fun, super easy and super relaxing thing! In this tutorial you will learn one of my favorite stitches, the Star Stitch on crochet.
This post contains both a written and a video tutorial.
Keep reading for the written tutorial or scroll to the end for the video tutorial.
Project
Here is the star stitch in action on my free Star Studded Bracelet pattern.
Notice that city in the background? That's Providence, RI. I live about 20 minutes away and it's a great little city to live by.
I recommend a visit. There are a ton of small, privately own shops, art galleries, antique dealers, food trucks, and restaurants. They say it's because commercial space here is inexpensive enough to start a new business and the people who live here have enough money to support small businesses. Pretty cool right?
If you come you MUST check out the vegan bakery Wildflour (I'm lactose intolerant so I hang with the vegan people).
And you must visit all the stores on Thayer St., Wickendon St., Hope St. and Westminster St. That should keep you busy for awhile!
Anywho, back to the bracelets.
Single Crochet
Single crochet in turned rounds is the easiest crochet stitch to embroider on. It naturally creates a grid of spaces that is exactly like a cross stitch canvas. Who new right? I nearly flipped the first time I saw a YouTube video on the technique.
Immediately I dashed over to my local library (I'm spoiled because it's only 5 minutes from my house) and grabbed every good looking embroidery book in the stacks.
Hand sewing is a love of mine. Notice I didn't say seaming. I'm not a fan of seaming. But I find hand sewing very relaxing.
Before I got into crochet I was into hand sewing felt.
I even pitched a few books to Michael's Craft Store through my publisher. Long story short, they liked them but didn't pull the trigger. A bummer for sure!
Anywho, back to the tutorial.
The Grid
Think of your crochet as a piece of cross stitch canvas. 
The grid of your stitches is equivalent to the grid of the canvas.  The spaces between the stitches are the spaces in your canvas. 
In this example I have 27 stitches and 6 rows of single crochet. Consequently, I have 27 spaces across and 5 spaces up and down.

There is not a difference between the right and wrong sides.  Both sides have the same number of spaces.
Written Star Stitch Tutorial
Since I started embroidering on crochet I've tried a lot of stitches. I learned that not all embroidery stitches work on crochet. The Star Stitch is one stitch that works beautifully every time.
It's a simple stitch that involves going down and coming up through the spaces in your single crochet canvas in an easy and rhythmic way.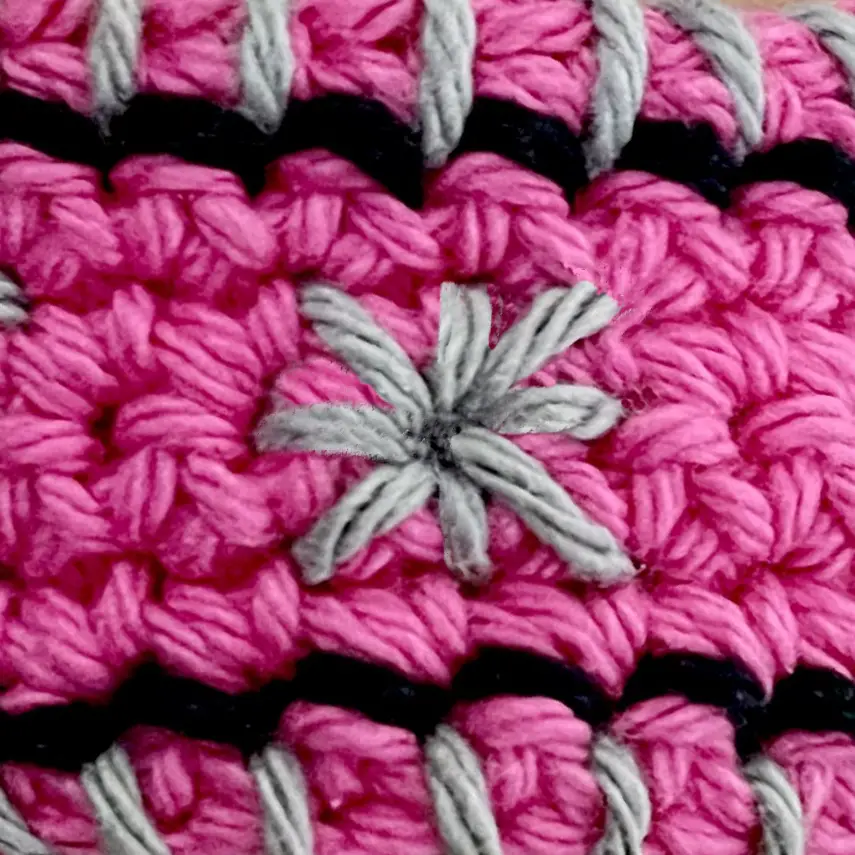 For the star stitch on crochet you're going to be working over a 9 point grid, coming up at any outside point and always going down in the center. It's best to work around the square as you do this, starting with A and ending with I. 
Your grid can be placed anywhere on your canvas. 
Start with your needle behind your work.  Come up at A.  Down at B, up at C.  Down at B, up at D.  Continue with spaces E – I ending by inserting the needle down through B.
Be sure not to pull your stitches too tight or they will disappear. You want your embroidery to sit on top of your single crochet.
Repeat for any additional stars.  Start the second star by coming up at any point. This is your new space A. 

Supplies
This embroidery stitch can be worked on a single crochet canvas made with any weight yarn or hook. I recommend using the same yarn for both your crochet and embroidery.
For the tutorial I used these supplies:
Lion Brand 24/7 Cotton Yarn, worsted weight #4 yarn (100% mercerized cotton; 186 yds/170 m per 3.5 oz/100 g skein)
Crochet hook size US G/6 (4 mm)
Tapestry needle
Scissors
Watch the Video Here
If you are having trouble viewing the above video you can watch it directly on YouTube here.
More Tutorials
Want more crochet tutorials? You can find more videos like this one on my Youtube Channel.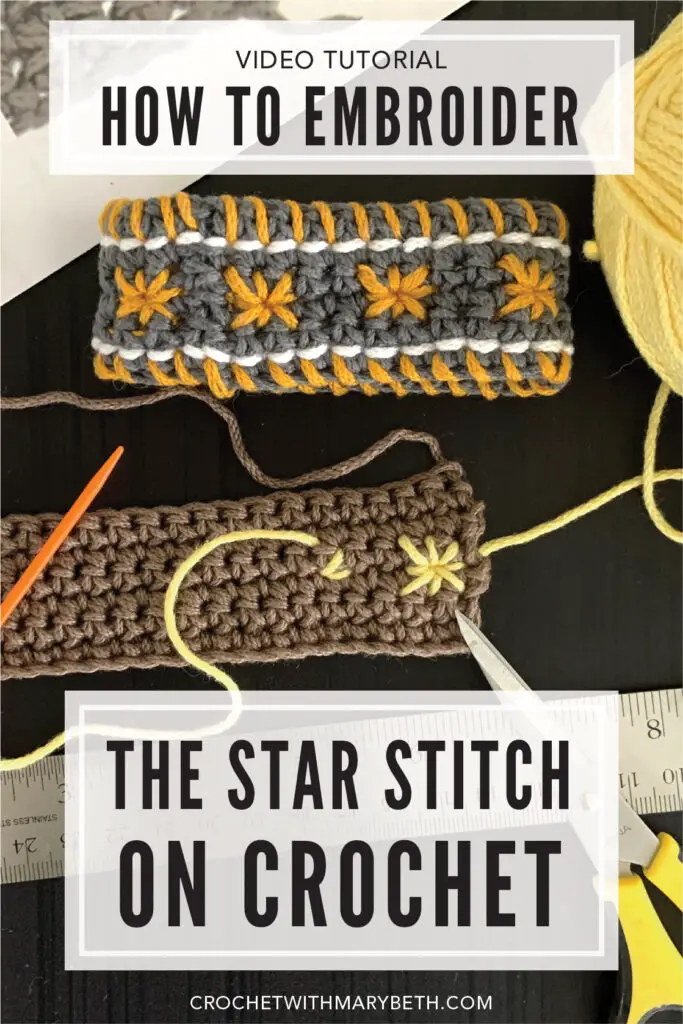 Mary Beth Cryan has been designing crochet patterns for over 4 years. Prior, Mary Beth worked as a professional illustrator and product designer with a specialty in paper crafts for 18 years. She has authored and illustrated 17 paper craft books, countless pop-up greeting cards, and many paper craft kits. She received 3 LOUIE Awards from the National Greeting Card Association. Some of her clients included MoMA (Museum of Modern Art NYC), American Girl, Dover Publications, Peter Pauper Press, Ranger Rick Magazine, Highlights magazine and many others.  She earned a Bachelor of Fine Arts from Syracuse University in 2000.