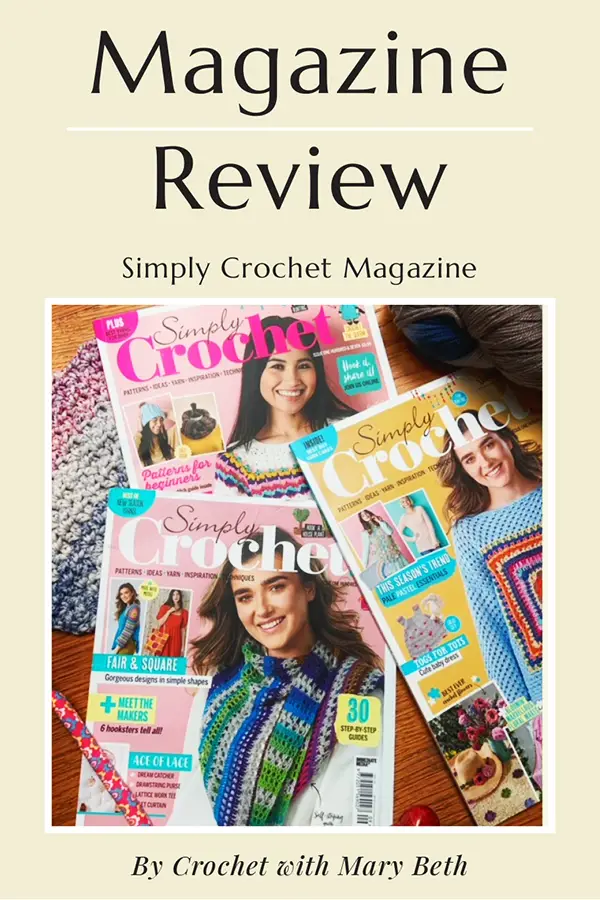 A REVIEW OF SIMPLY CROCHET MAGAZINE
Are you thinking about subscribing to Simply Crochet Magazine?
After researching and writing an extensive article about the 10 crochet magazines available in the US and how to choose the best one for you I decided to subscribe to Simply Crochet Magazine.
Here you will learn why I chose the magazine and what I LOVE and don't like so much about it. Hopefully it will help you decide if Simply Crochet Magazine is the right crochet magazine subscription for you.
Aesthetic
The number one reason that I love Simply Crochet Magazine is the aesthetic. The design of the magazine is fresh and fun and the patterns are the same.
When I was looking for a magazine subscription to purchase, my main motivation was inspiration. I wanted a constant source of gorgeous, on trend patterns to ogle and get my creative juices flowing.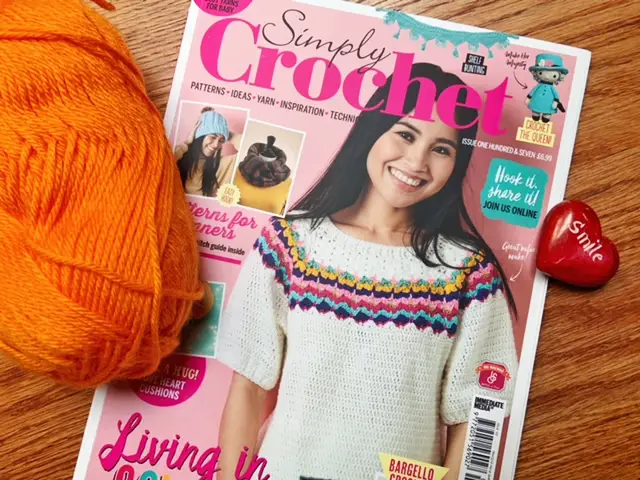 This magazine delivers! I find the magazine is right on trend. This last issue had a really cool transparent fuzzy top. I just watched a trend presentation with Trisha Malcolm over at Vogue Knitting and this was one of the biggest trends in yarn right now.
There are also some really cool granny square ideas. Granny squares are basically taking over the internet right now proving that the magazine is right on mark again.
Last month there was a pretty raglan sweater with puff sleeves. During the before mentioned trend presentation I asked Trisha Malcolm what her top sleeve trends were for Fall 2021 and she said puff sleeves and drop shoulders. Another bullseye.
I am very happy with the magazine's fresh interpretation of current crochet and fashion trends.
Price
I'm in the US and this magazine comes from the UK. I tend to love the UK magazines because they are more edgy than US magazines but the prices are usually prohibitive.
When I found out I could get a hard copy (not digital) of Simply Crochet Magazine for only $5 a month through buysubscriptions.com I was thrilled. I really, really want a subscription to Inside Crochet Magazine but I just can't justify the $10 an issue.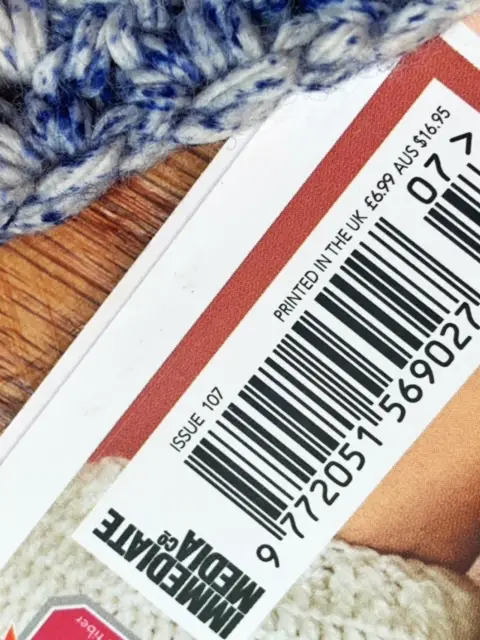 And yes, Inside Crochet has a digital subscription that is MUCH less expensive per month but I love a real magazine. I'm just not a digital magazine kinda gal. I love the glossy pages and hoarding them in my studio.
You are probably wondering, does the $5 cover shipping and the gift? Yes! Can you believe it? All of my issues have come with the gift and there is no extra shipping charge.
The magazine is shipped from UK to a distributor in PA, USA. Then it's sent out from there. Awesome right?
Digital
Some magazines like Pom Pom Quarterly include both a physical and digital version of the magazine for the price of the subscription.
Simply Crochet Magazine does not. There is only the physical version. As far as I know there is not a digital version.
Types of Articles
Another thing I love about this magazine that prompted me to choose it as my first crochet magazine subscription is that it has a lot of articles in addition to the patterns.
I'm looking at the magazine right now and there are yarn reviews, book recommendations, designer interviews, CAL info, yarn shop reviews, event listings, maker interviews, indie dyer interviews, and tutorials. I'm telling you, this is a well rounded magazine. It's a one stop shop for keeping up with all things happening in crochet NOT just a bunch of patterns.
Pattern Terms
There are only two things I don't like about the magazine. The first is that all the patterns are written in UK terms. UK terms make my brain hurt.
Because I am a crochet designer my intention was more looking for inspiration than actually making the patterns. So the fact that the terms are UK are neither here nor there.
But if you plan on making the patterns it's definitely something to consider. The difference between US terms and UK are only a couple of stitch names so my guess is the translation is easy. But I can't speak from experience.
Schematics
My only other gripe with the magazine is that their garment schematics are very vague.
Their sweater schematics usually only include bust width, length, and sleeve length. This drives me crazy because as a designer I want to know exactly how wide the neckline is and how deep the armhole is. I want to be able to visualize the project perfectly and find out what sizes are trending.
It gives enough information to decide on a size. But if you are looking to learn about what dimensions current designers are using or like to modify your garments for fit I just don't think they give enough info. And I don't understand why.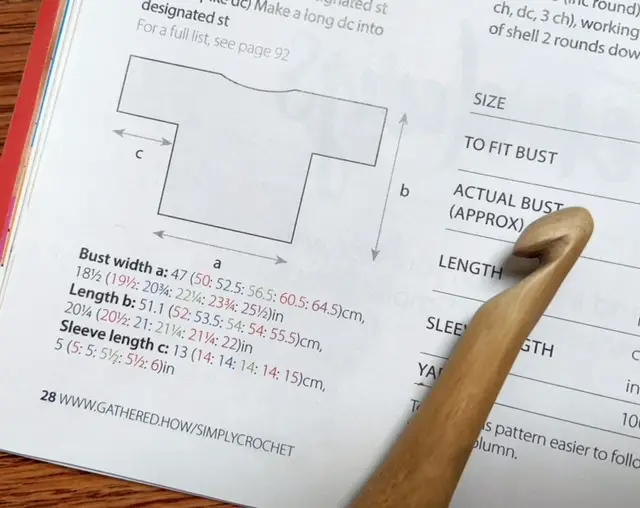 Subscribing
Concerns
Before I subscribed there was one thing that concerned me. I have never subscribed to a magazine outside the US before so I didn't know if the price, $55 for 13 issues (73% off the newsstand price), would renew at the same price after the first year or if it would go up to the newsstand price. In the US it is customary for the price to stay the same.
I searched their FAQs and Terms & Conditions with no luck. I didn't find the answer to my question but I thought it was interesting that the T & C stated, "(if you) change (your) mind… you may cancel a subscription at any time and receive a full refund on any outstanding issues by contacting us. " See section 9.4. That's cool!
Phone Call
Since I couldn't find the answer and I didn't want to be surprised in a year I decided to call customer service.
I got through to a person in seconds. My impression was that she was located in the US. The woman was very helpful and she had a better price. Her price was $49.85 so I signed up over the phone. Although, I'm not clear if that was for 12 or 13 issues.
UK: 03330 162 139
US/Canada: 855 827 8639 (toll free)
Rest of World: +44(0)1604 973748
She said that subscription prices "generally do not go up from year to year." When I asked if subscriptions renew automatically when purchased through the website she did not know. But she did know that if I subscribed over the phone she could set my subscription to not auto renew. This is what I did.
It was the end of January 2021 at the time. She cautioned me that the UK was in lockdown so it would take 6-8 weeks to get my first issue and would be the February issue.
First issue
Packaging
In exactly the time the time she promised, I got my first issue. I was a little nervous at first because the paper envelope it came in was shredded. I'm shocked it made it to my home.
But luckily the magazine and gift were inside a plastic sealed envelope. The magazine was pristine but the wooden crochet hook was broken. No biggie, I was just happy the magazine had gotten to me because clearly it had been to hell and back.
Articles
The magazine was of the exact same stellar design and pattern quality as the magazine I had purchased from a newsstand. Every issue since has also been of the upmost quality.
Clearly this publication takes pride and ample time putting together each issue. I've been nothing but impressed with the contents.
Second Issue
My second issue (March) came about three weeks later. I think it was the beginning of April.
This experience was different than the first. The paper envelope was intact. Hooray! The "goodie," a mini magazine was in one piece. The weird thing is this issue was not in a plastic envelope. I'm not sure why that was. It didn't seem to make a difference.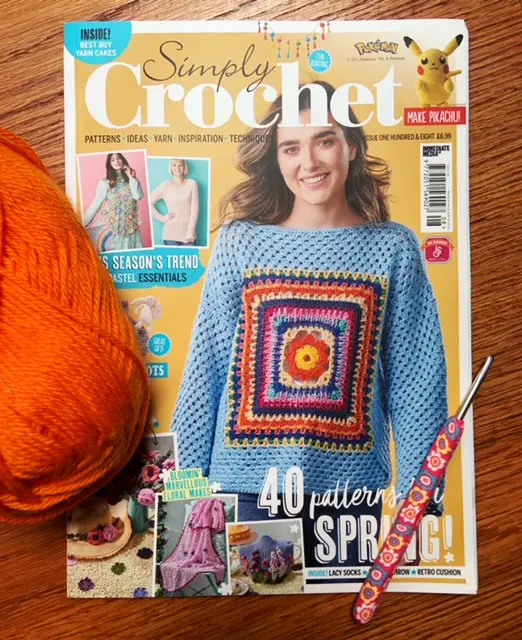 I also discovered that in the back of the magazine there is a preview of next month. The next issue always looks amazing and it's nice knowing what the gift is ahead of time so I can make sure it arrives in the package.
Third Issue
But then I waited and waited and never received the April issue. At the beginning of June I called the magazine distributor buysubscriptions.com . They picked up the phone quickly and were really nice just like the first time I called.
The representative was apologetic and very forthcoming with information. She explained that UK printing and mail is still not fully up and running.
Her advice was to give it to the middle of the month and call back if I didn't receive the issue. She was also able to look up that the issues had been shipped to Pennsylvania mid-April.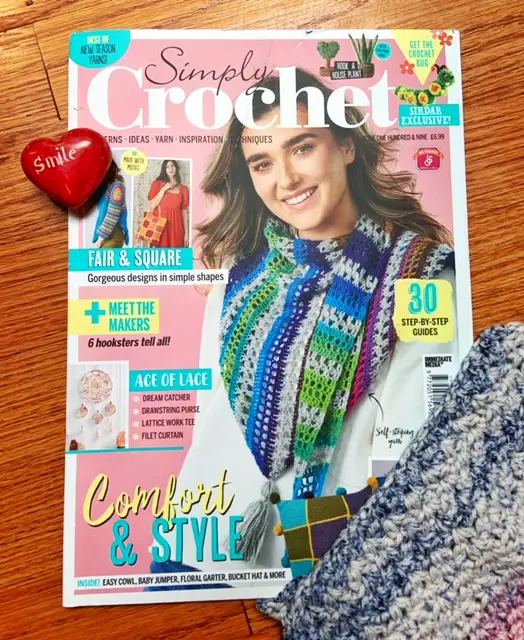 In the middle of the month I called again. This agent was equally as nice and full of info. She apologized, agreed that something must have happened to my April issue, and put in a resend request. She also let me know it would be awhile for my next issue (June) to arrive because the issues were just shipped from the UK.
The April Issue arrived just 2 days later. I was impressed. It came in a plastic mailer as opposed to a paper envelope like my first two issues. So I'm wondering if the change in mailer is because a lot of issues went missing. Hmmm.
Fourth Issue
It is currently July 18th and I have not received May or June yet.
It will be interesting to see what happens with the magazine once Covid is not a problem anymore (fingers crossed). The agent said the magazine usually runs regularly and has only been experiencing delays in the past year.
So even though my issues have not been arriving regularly, the magazine distributor has been more than accommodating with info, apologies, and solutions. And I continue to be delighted with the magazine's contents.
Conclusion
In conclusion, I'm very happy with my decision to subscribe to Simply Crochet Magazine. I am thrilled when it arrives and I read every single page. I would highly recommend this magazine if you enjoy trendy design and keeping up on all the new happenings in the world of crochet.
Read this next!
Are you still on the fence about whether Simply Crochet Magazine is the right subscription for you?
In my post 10 Crochet Magazine Subscriptions & How to Choose the best one for you I explain all the details of all 10 magazines that are available in the USA.
It contains a lot of information so I walk you through how to narrow down your choices until you find the perfect subscription for you.
You can read it HERE.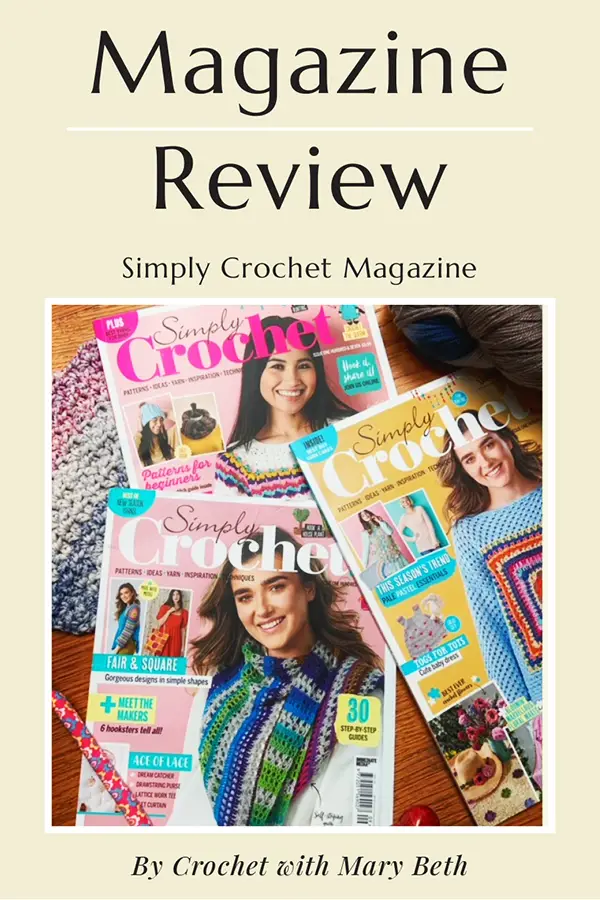 Mary Beth Cryan has been designing crochet patterns for over 4 years. Prior, Mary Beth worked as a professional illustrator and product designer with a specialty in paper crafts for 18 years. She has authored and illustrated 17 paper craft books, countless pop-up greeting cards, and many paper craft kits. She received 3 LOUIE Awards from the National Greeting Card Association. Some of her clients included MoMA (Museum of Modern Art NYC), American Girl, Dover Publications, Peter Pauper Press, Ranger Rick Magazine, Highlights magazine and many others.  She earned a Bachelor of Fine Arts from Syracuse University in 2000.