Yarn, yarn, yarn, it's beautiful!  But it only comes in so many colors.  A lot of colors I admit, but for someone like me who has worked as an illustrator, studied illustration in college, and is used to being able to mix every single color in the universe out of paint or out of pixels (if I'm working digitally) the yarn store selection seems really limited.
Last week I became frustrated because my month long search of every store within 20 miles of my house (and that's a lot of stores because I live in very condensed Rhode Island) for the perfect terracotta color yarn in the content and weight I need has been completely unfruitful.  I went home from the last store deflated.
As I pondered my frustration I tried to come up with a solution.  Dying my own yarn?  I looked into that.  No way!  Too many supplies and I stay far away from any art that involves chemicals toxic enough to require wearing a mask.  I've had a pulmonary issue in the past and don't need that coming back to haunt me.  Hmmm, hmmm. There has to be an easier way.
My brain must have been chugging away at the problem overnight, thank you brain.  Because in the morning I had a great idea!!  How do you mix paint?  You take one or more paints and combine them together.  The pigments don't change they just mix and your eyes see a new color.  Would it work with yarn?  I took two colors of yarn and started to crochet.  Wowza!  A brand new beautiful combo.  Was it all smooth like paint?  No.  Was it a brand new color combo that I could control and change with infinite possibilities?  Yes!  Woohoo!
I've been experimenting with a few different combos so far and I LOOOOOOVE all of them.  I've written down a HUGE list of ideas of yarn colors, weights, materials, mixed media. and even beads I want to try "mixing" into new yarn combos.
I thought you might be interested in trying to mix your own yarn too.  It's so easy!  So I will be sharing my favorites on my instagram page with the "recipes" so you can reproduce your own combos.  I think I'm going to call this new adventure "Perfect Combos".
Here is Perfect Combos #1: which I'm naming "So Excited I'm Blushing"
Recipe:
Lion Brand Vanna's Choice worsted 4-Medium (100% acrylic, 171 yds/156 m, 3.5 oz/ 100g), Color (A) Pink, 1 skein, and Red Heart Soft Yarn (100% acrylic, 256 yds/234 m, 5 oz/140g), Color (B) Cinnabar, 1 skein
The sample is crocheted in single crochet rows with an US L/11 (8 mm).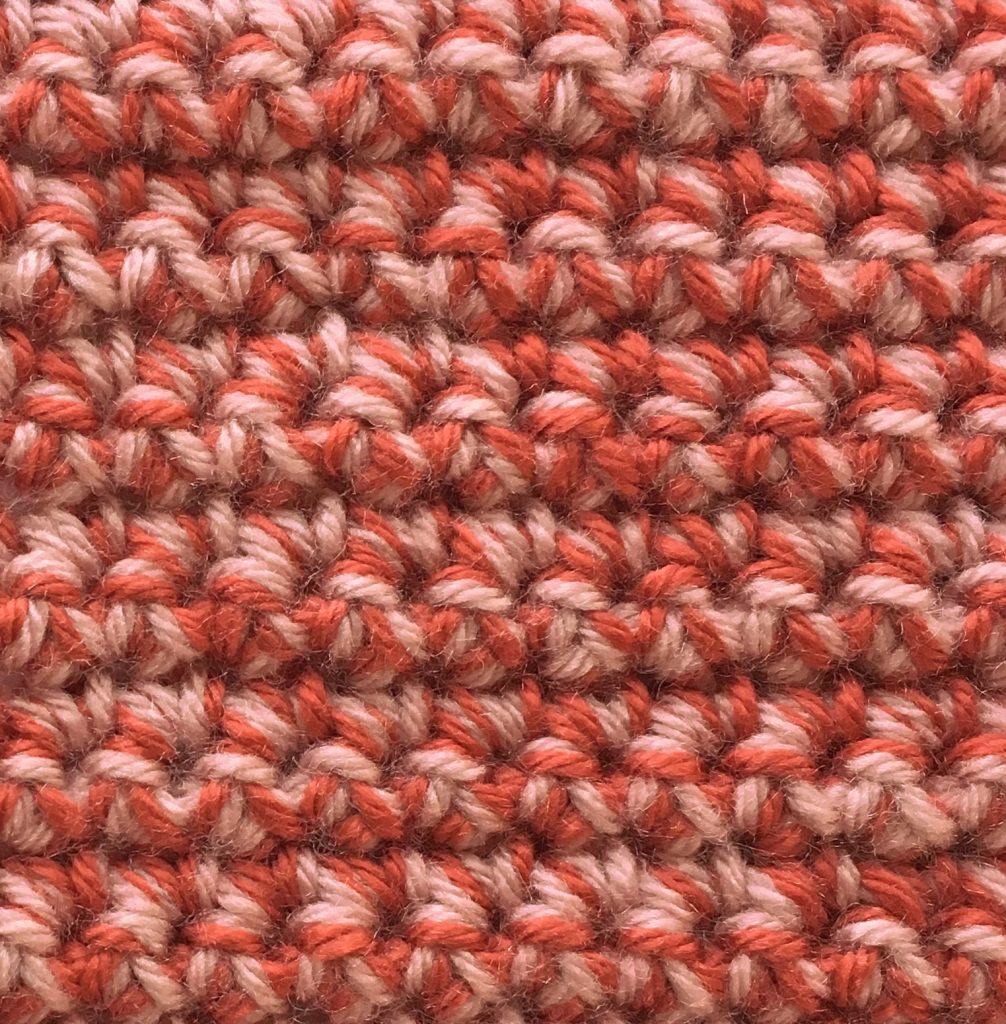 Isn't it gorgeous?!  I'm in love.  I just crocheted my first original project out of this combo,
the Circle Clutch!
If you try out a "Perfect Combos" yarn recipe please, please tag it with #perfectcombos so I can see it.  I'd love to see how you use the combos!!
Mary Beth Cryan has been designing crochet patterns for over 4 years. Prior, Mary Beth worked as a professional illustrator and product designer with a specialty in paper crafts for 18 years. She has authored and illustrated 17 paper craft books, countless pop-up greeting cards, and many paper craft kits. She received 3 LOUIE Awards from the National Greeting Card Association. Some of her clients included MoMA (Museum of Modern Art NYC), American Girl, Dover Publications, Peter Pauper Press, Ranger Rick Magazine, Highlights magazine and many others.  She earned a Bachelor of Fine Arts from Syracuse University in 2000.