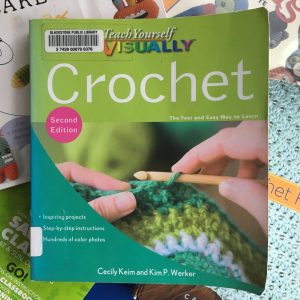 Teach Yourself VISUALLY Crochet
by Cecily Keim & Kim P. Werker is an inaccurate title for this book.  It should be called "Everything you would possibly need to know about crochet briefly described."
This was the first book I picked up on the topic of crochet after taking a class at Joann Stores and taking Edie Eckman's Creativebug beginner crochet classes.  I am lucky this is the book I found because it was exactly what I needed.  I was ready and excited to know everything there is to learn about crochet.  Well, let me clarify.  I didn't want to learn, at that moment, everything.  I just wanted to know what I needed to plan to learn in the future, an overview of the breath and depth of what crochet has to offer.  And this is exactly what this book covers.
Why I'm hooked on Teach Yourself VISUALLY Crochet
:
1.  # of topics covered:  The shear amount of topics covered in this book is staggering.  It covers everything from yarn care to reading a yarn label to beginner crochet stitches to 15 different stitch variations to following a pattern to understanding gauge to estimating amounts of yarn needed for a project to 15 stitch patterns to Tunisian crochet to free form crochet to crocheting with beads to crocheting with different materials to adding button holes to sewing in zippers to pompoms to fringe to blocking to flowers to corkscrews to 2D shapes to 3D shapes to Granny squares to edging to felting and even includes 19 patterns in the back.  All in 325 pages.  That's insane!!  I literally read this book from cover to cover without stopping it is so exciting!
2.  Advanced stitch descriptions:  The descriptions of the more advanced stitches are very clear and easy to follow.  This book taught me the bobble stitch, and cluster stitch among others.  As opposed to the beginner stitches (see #1 in what I would unravel below).  As I read other patterns in other books that include advanced stitches I don't know or don't remember, I keep this book next to me for descriptions and photos.
3.  Great overview of crochet:  This book really clued me into all the things there are to learn about crochet.  Can I pick up tapestry crochet from the one page description?  Probably not.  But did I know it existed before, no.  Do I owe this book for introducing me? Yes!  It introduced me to quite a lot of other topics I had no idea existed like crocheting with beads (I need to try that), free form crochet (another topic I'm definitely going to pick up a book on), and what on earth a granny square is.
4.  Good for all levels:  As I'm looking at this book again now,  I'm going to have to go back and read it again.  Now that my skills have advanced a bit I see that I can learn an entirely new level of info from a reread.  If you think you know everything about crochet I encourage you to thumb through this book.  I think you'll learn something new.
5.  Great reference book:  As you can see I still have the library's copy of this book.  I've taken it out twice and renewed it 6 times.  But this is a must have reference book.  I think I'll be buying a copy when it's time for this one to go back to the library.
6.  Detailed index:  The index is detailed, organized, and complete making looking up every stitch, term, or whatever else you are looking for easy and quick to find.
What I would unravel about this book:
1.  Beginner stitches too vague: Unfortunately, I'm not convinced you could teach yourself visually crochet starting from 0 with this book.  But it's hard to say since I already knew the basics when I read this book.  My concern is that the pictures in the beginner section are a bit vague.  But this is a FANTASTIC book for crocheters who know just a little bit of the basics.
2.  Starting to work in the round too vague: When I picked up this book I did NOT know how to start the first stitches to work in the round and I couldn't figure it out from this book.  Again, vague.  But once I learned how to make a magic loop from Twinkie Chan's Creativebug class.  I went back to this book and was able to proceed with the book's instructions to make a cute little round flat shape which were very clear.  Very exciting!  It was just the getting started that I couldn't figure out.
3.  Crocheting into the turning chain too vague:  I went on a lengthy quest to figure out how to crochet into the turning chain properly.  There is little to no good instructions on this.  Hmmm, I should probably do a video on this.  This book has a close up photo of a hook going into the turning chain but it's a bad angle and I can't make heads or tails of it.  Waaaaaaah!
Conclusion:
As a brief description of everything you could possibly need to know on the topic of crochet and a reference for a beginner that knows the basic stitches, intermediate, and advanced crocheters.  I'm giving Teach Yourself VISUALLY Crochet
10 out of 10 stitches.  As a book for beginners starting from zero to learn the basic stitches of crochet I think it might be a fail.  Ugh, I feel bad about that but I think it's true.  If you know nothing about crochet please take a look at this book and let me know if you can decipher the basic stitches.  I'd love to know in the comments below.  I hope that someone proves me wrong.
Mary Beth Cryan has been designing crochet patterns for over 4 years. Prior, Mary Beth worked as a professional illustrator and product designer with a specialty in paper crafts for 18 years. She has authored and illustrated 17 paper craft books, countless pop-up greeting cards, and many paper craft kits. She received 3 LOUIE Awards from the National Greeting Card Association. Some of her clients included MoMA (Museum of Modern Art NYC), American Girl, Dover Publications, Peter Pauper Press, Ranger Rick Magazine, Highlights magazine and many others.  She earned a Bachelor of Fine Arts from Syracuse University in 2000.