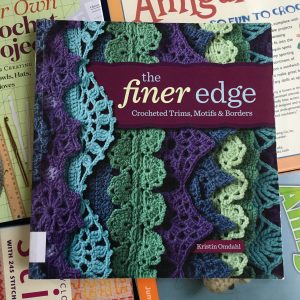 "The Finer Edge, Crochet trims, Motifs, & Borders"  By Kristin Omdahl surprised me in two ways, by being an essential guide for edges and for a reason I would have never guessed.
I love "encyclopedia" books (loaded with techniques on a particular subject).  I like to fill my bookshelf with these because I know I'll refer back to them over and over.  This book is a beautiful compilation of 54 different trims and 10 patterns.  That's one reason to love this book.
The second reason is I LOVE the way Kristin Omdahl has written the patterns.  Of all the patterns I've tried so far, these instructions are the easiest to follow because they are very clearly written.  But notice I did not say the patterns are easy, I said the instructions are easy to follow.  The borders range from easy to advanced.  I tried some borders that looked so complicated I thought I would definitely get lost, confused, and have to quit.  But I never even came close.  It was really exciting to complete borders that I thought were way out of my league! And when I start writing my own patterns this book will be my go-to-guide for how to write patterns.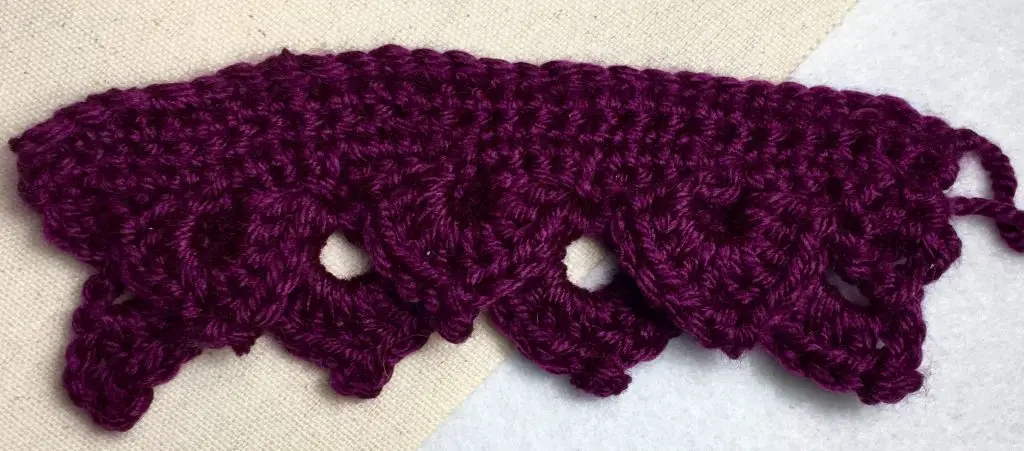 Why I'm hooked on The Finer Edge, Crochet Trims, Motifs, & Borders:

1.  Clear patterns:  This one I already explained above.
2.  Variety of borders:  Omdahl is clearly the border queen.  I bet she has a crochet border hanging off her license plate.  The 54 borders or edgings (as the contents refers to them as) are divided into 4 sections 1. Top Down Edgings, 2. Bottom-Up Edgings, 3. Side-to-Side Edgings, and 4. Misc. Edgings.  You will definitely be able to find an edge for your project no matter how it is constructed.
3.  Very organized:  Each page of the book is organized and easy to follow.  Every page includes a pretty photo of each edging on the top, followed by the name, followed by the number of stitches needed to form the border, followed by the written pattern, and finished off by a color coded diagram (I love me, a color coded diagram!).  And along the edge of the page, a reminder of which section you are in, as I mentioned in #2.
4. Variety of projects:  The back of the book includes 10 project patterns that show how the edges can be combined, in what I found, surprising ways.  I like that Omdahl included quick projects (a hat, a belt, etc. for people like me with little attention span), medium length projects (a bag that I'm going to to attempt when I have a lot of free time (once my toddler goes to college)), and longer projects (a sweater, car coat, blanket, etc.)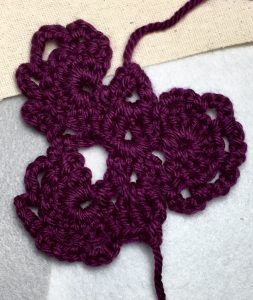 5.  Beautiful book design:  The colors and photos in this book are really yummy.  I love that all the pages have canvas backgrounds.  It makes the book very cozy, modern, and easy on the eyes.  This book came out in 2012 but it looks like it was published this year.  Bravo to the design team Liz Quan, Lora Lamm, Julia Boyles, Karen Manthey, Joe Hancock, and Joe Coca.
What I would unravel about this book:
Hmmmm, uuuuuh, let's see.  I really love this book what can I come up?  Ummmm, okay I've got two.
1.  No amigurumi:  As you can see I'm reaching here.  But one of my favorites to crochet is amigurumi and I definitely would have completed one of the patterns in the back if she had included one.  Oooooo, a cute teddy with edging on the outfit would have been fun.
2.  Beautiful but not kooky:  This criticism is my personal preference too.  I like my crochet kooky,  I want stars, hearts, and cherries hanging off the edges of my crochet.  "The Finer Edge" has beautiful, refined edgings inspired by traditional crochet.  It's a lot more sophisticated than I am.  Ha-ha!
In conclusion:
I give The Finer Edge: Crocheted Trims, Motifs  Borders this book 10 out of 10 stitches.  This is a yummy book for the eyes, packed with edgings for every type of pattern and an example of impeccable pattern writing.  The author is clearly a gifted crochet designer and the publisher is clearly gifted in creating books.  Bravo!
Mary Beth Cryan has been designing crochet patterns for over 4 years. Prior, Mary Beth worked as a professional illustrator and product designer with a specialty in paper crafts for 18 years. She has authored and illustrated 17 paper craft books, countless pop-up greeting cards, and many paper craft kits. She received 3 LOUIE Awards from the National Greeting Card Association. Some of her clients included MoMA (Museum of Modern Art NYC), American Girl, Dover Publications, Peter Pauper Press, Ranger Rick Magazine, Highlights magazine and many others.  She earned a Bachelor of Fine Arts from Syracuse University in 2000.