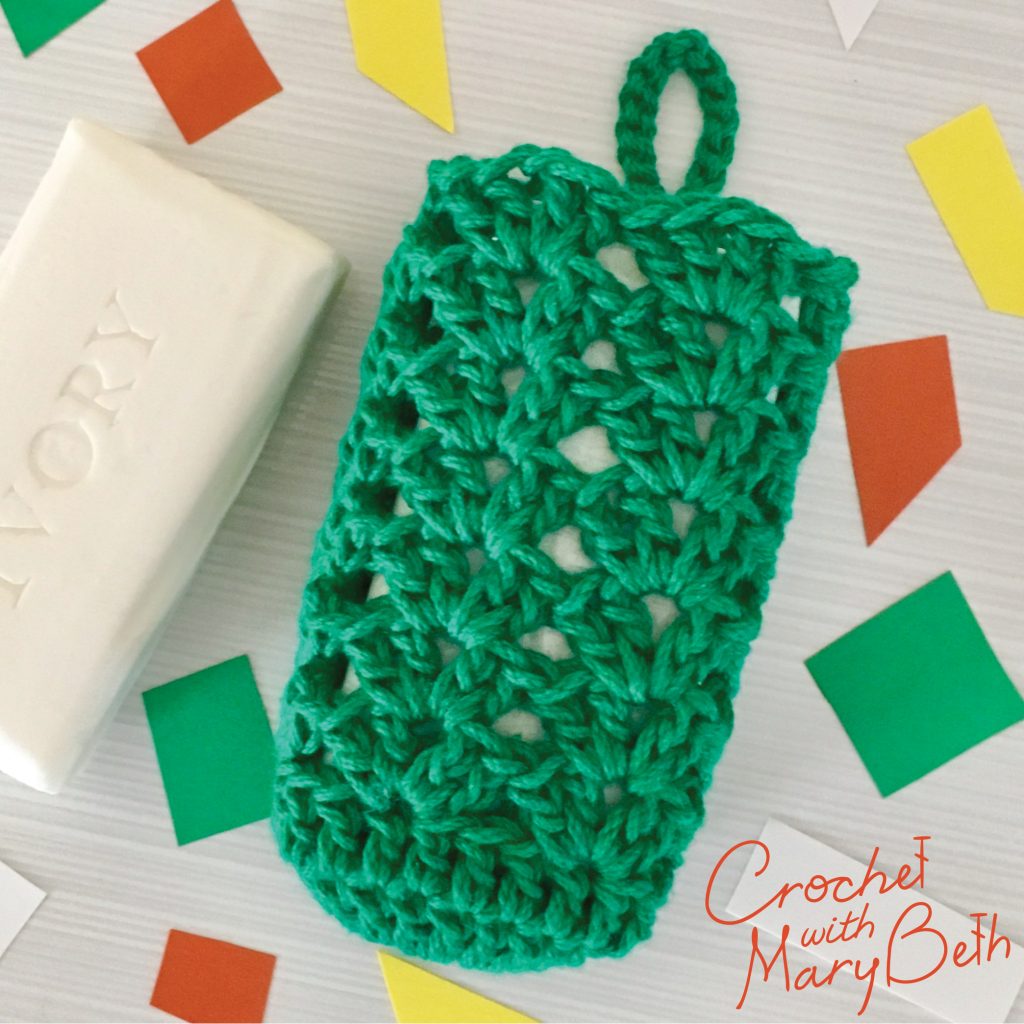 I have two words for you: SOAP SACK!  I'm obsessed.
It all started when I read Lion Brand's blog post about Stacy Weiner starting a Soap SACK movement.  Now I can practice my stitches, get instant gratification (they work up super quick), and feel like a do-gooder.  Win, win, win!
SACK stands for Serving A Community through Kindness. The charity encourages crocheters and knitters to make the cozies, fill with packaged soap, and donate to your local food pantry.   Weiner explains that basic toiletries promote good personal hygiene and raises self esteem.  Soap is not often donated to pantries and is a much needed and requested commodity. To learn more about how to donate visit Lion Brand's blog post (here).
And if you need a nice quick teacher gift (Hey mom, teacher appreciation day is tomorrow.  I need something nice for Miss. Stephanie) grab one of the soap cozies from your pile of SACKs and throw some fancy soap in it!  Who doesn't love a handmade, useful gift, that smells nice?!
Purchase the pdf:
The ad-free, printable PDF pattern is available on Etsy.
Save for later:
Iris Stitch Soap Cozy
Materials:
Cascade Yarns, Avalon, worsted 4-Medium (50% cotton/50% acrylic blend, 175 yds/160 m, 3.5 oz/100 g), Golf Green #14, 1 skein
Crochet hooks size US I/9 (5.5 mm)
Tapestry needle
Scissors
Bar of soap 2"/51 mm wide, 3.75"/95 mm tall, and 1"/26 mm deep
Gauge:
3 shells and 6 rows = 3.5"/9 cm in the Iris Stitch
Finished Measurements:
3.5"/9 cm wide and 4.5"/11.5 cm tall without the loop
Project Level:

Abbreviations:
ch – chain(s)
dc – double crochet
st(s) – stitch(es)
sl st – slip stitch
sp – space
Special Stitches:
First shell (Beg shell):  (ch 3, dc, ch 1, 2 dc) All in the same st or sp.
Shell:  (2 dc, ch 1, 2 dc) All in the same st or sp.

Notes:
Ch 3 counts as a dc throughout the pattern.
The SACK is worked in joined rounds from the bottom up.
The pattern is written in US terms.
Instructions
Make an adjustable loop or ch 3 and sl st in first ch to form a loop.
Round 1:  Ch 3, work 11 dc in ring, join with a slip st to top of ch-3– (12 dc).
Round 2:  Ch 3, work 1 dc in same dc, work 2 dc in next dc and in each dc around, join with a sl st to top of ch-3– (24 dc).
Round 3:  Ch 3, work 1 dc in next dc and in each dc around, join with a sl st to top of ch-3.
Round 4:  Work Beg shell in same stitch as join, *skip next 3 dc, shell in next dc; repeat from * 4 times, skip 3 dc, join with sl st to top of ch-3– (6 shells).  
Rounds 5-10:  Sl st in next dc and into ch-1 sp, Beg shell in same ch-1 sp, *shell in next ch-1 sp; repeat from * around, join with sl st to beg ch-3.
Round 11:  Ch 13, slip st in beg ch-3 from round 10 – (13 ch).
Fasten off.  Weave in ends using tapestry needle.
Mary Beth Cryan has been designing crochet patterns for over 4 years. Prior, Mary Beth worked as a professional illustrator and product designer with a specialty in paper crafts for 18 years. She has authored and illustrated 17 paper craft books, countless pop-up greeting cards, and many paper craft kits. She received 3 LOUIE Awards from the National Greeting Card Association. Some of her clients included MoMA (Museum of Modern Art NYC), American Girl, Dover Publications, Peter Pauper Press, Ranger Rick Magazine, Highlights magazine and many others.  She earned a Bachelor of Fine Arts from Syracuse University in 2000.