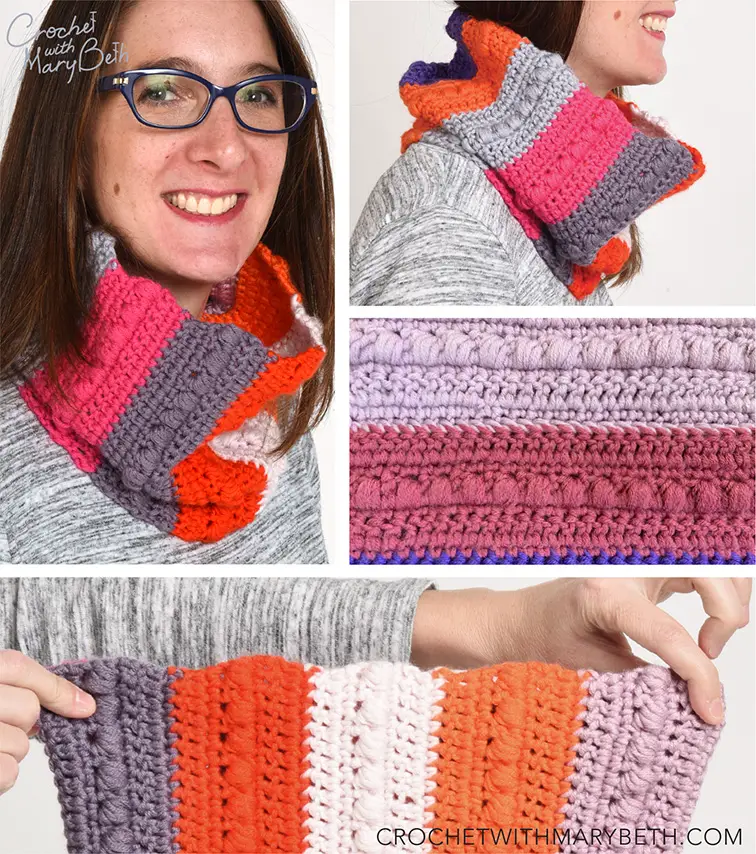 Sooooo, who has two skeins of Caron x Pantone skeins lying around?  Or perhaps some Color Made Easy?
Let's face it.  Both of these are impossible to resist buying. The yarn so soft and squishy, and pretty and we were going to get banned from the yarn store if we kept rubbing it against our faces in the middle of the aisle.  So we HAD to buy some. Right? Just me?
Well, whatever led you to buy your yarn, let's make something with it!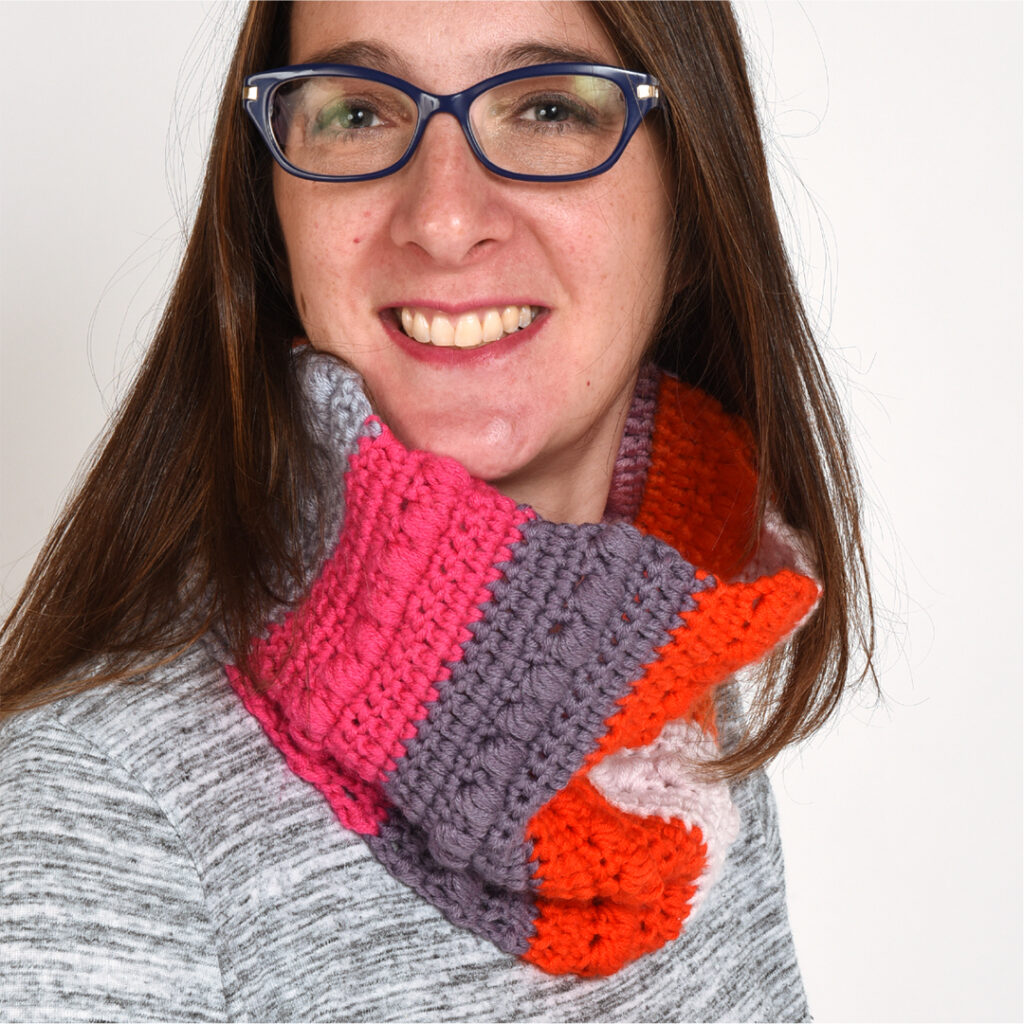 Inspiration & Design:
This yarn is so soft it would have been wasted on a bag design.  I really wanted to make something wearable… against my face… because of the aforementioned rubbing.  So a cowl was the obvious choice.

The stitch pattern is an easy fun repeat of puffs, dc, and sc that will make this cowl fly off your hook.

I chose the brightest colors in the collection, and if you know me, you're not surprised.  But feel free to choose ANY two coordinating skeins, two of the same color, or go stash diving!

Purchase the pdf:
The ad-free, printable PDF pattern is available on Etsy.
Save for later:
Add this pattern for your Ravelry queue.
PIN this pattern to your Pinterest Boards for later.
All Around Happy Cowl Crochet Pattern
Materials:
Caron x Pantone, 5-Bulky (60% acrylic/20% nylon/20% merino wool, 127 yds/116 m, 3.5 oz/100 g), 1 skein each of Color Ultraviolet Minerals and Color Spicy Blooms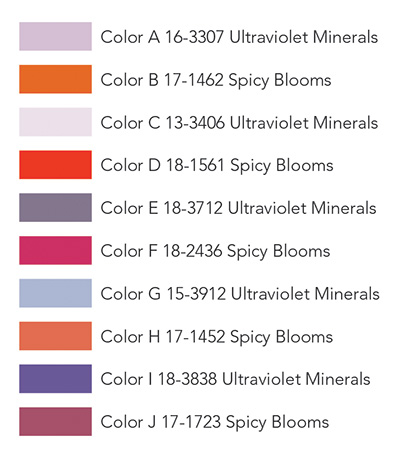 If using other yarn, approximately 26 yards of 10 colors needed.
Crochet hook size US J/10 (6 mm)
Tapestry needle
1 Stitch marker (optional)
Scissors
Gauge:
13 sc and first 12 rows of pattern = 4"/10 cm
Finished Measurements:
23"/58.5 cm circumference and 10"/25.5 cm cm tall
Project Level:

Abbreviations:
ch – chain
sc – single crochet
st(s) – stitch(es)
dc – double crochet
yo – yarn over
RS – Right Side
Special Stitches:
Four Loop Puff Stitch (Puff):  (Yo, insert hook into next sc, yo and pull up a loop) 4 times ending with 9 loops on hook, yo pull through all 9 loops.  The stitch is now complete. Sometimes 1 more chain is worked to close the puff but NOT in this pattern.
Notes:

The pattern is written in US terms.
This pattern has been tested and professionally tech edited for accuracy and clarity.
Ch 1 does not count as a sc throughout the pattern.
Ch 3 does count as a dc throughout the pattern.
The cowl is made in one long panel, and then short ends are whip stitched together.
If you are using the recommended 2 skeins of Caron x Pantone, you will need to frog your gauge swatch and use the yarn for the finished cowl to have enough yardage to complete the pattern.  This is because all 5 colors of the 2 skeins are used in the completed cowl. If you are using stash yarn or have extra Caron x Pantone to swatch with, this will not be necessary.
If using stash yarn, approximately 26 yards of each color is needed.
The top of the ch-3 in Row 4 can be easy to miss when stitching across Row 5.  I recommend placing a marker in the top of the ch-3 in Row 4 to make sure it is not overlooked.  However, this is optional if you feel you don't need it.
To increase the circumference of the cowl repeat the last 6 rows of the pattern, switching to a new color each time.  Each 6 row repeat will add 2.5"/5 cm to the total circumference.
Instructions:
Cowl
With color A, ch 34.

Row 1:  (RS) Work 1 sc in 2nd ch from hook, work 1 sc in each chain across, turn- (33 sc).
Row 2:  Ch 3, work 1 dc in next sc and in each sc across, turn- (33 dc).
Row 3:  Ch 1, work 1 sc in first dc and in each dc across, work 1 sc in top of ch-3, turn- (33 sc).
Row 4:  Ch 3, place a stitch marker in the top ch of the ch-3 (optional, see notes), (work 1 puff into next sc, work 1 dc into next sc) across row, turn- (16 puffs, 17 dc).
Row 5:  Ch 1, work 1 sc in each dc and in each puff across row, work 1 sc in top of marked ch-3, remove stitch marker, turn- (33 sc).  
Row 6:  Ch 3, work 1 dc in next sc and in each sc across, turn- (33 dc).
Fasten off A.  Weave in ends using tapestry needle.

With color B.
Row 7: Join to first st, ch 1, work 1 sc in same dc and in each dc across, turn- (33 sc).
Rows 8 – 12: Repeat rows 2 through 6.
Fasten off B.  Weave in ends using tapestry needle.

For the remainder of the pattern, continue to repeat rows 7-12, fastening off and joining in the next color after each row 12 until you have used the remaining 8 colors (C,D,E,F,G,H,I, and J).
Fasten off J, and leave tail long enough to sew ends together.
Finishing:
Whip stitch short ends together to form a loop.  Weave in ends. Turn RS out. You are done!
I'd LOOOOOOVE to see your Slouch Jean Tote. Please tag me @crochetwithmarybeth on social media so I can see your beautiful creations!
Stitch Diagram: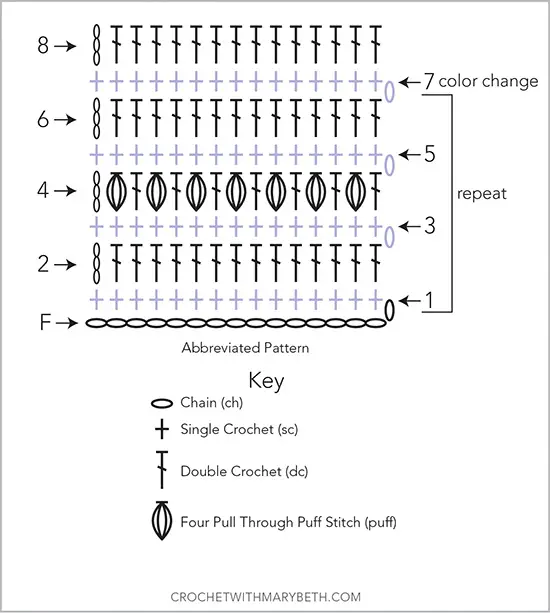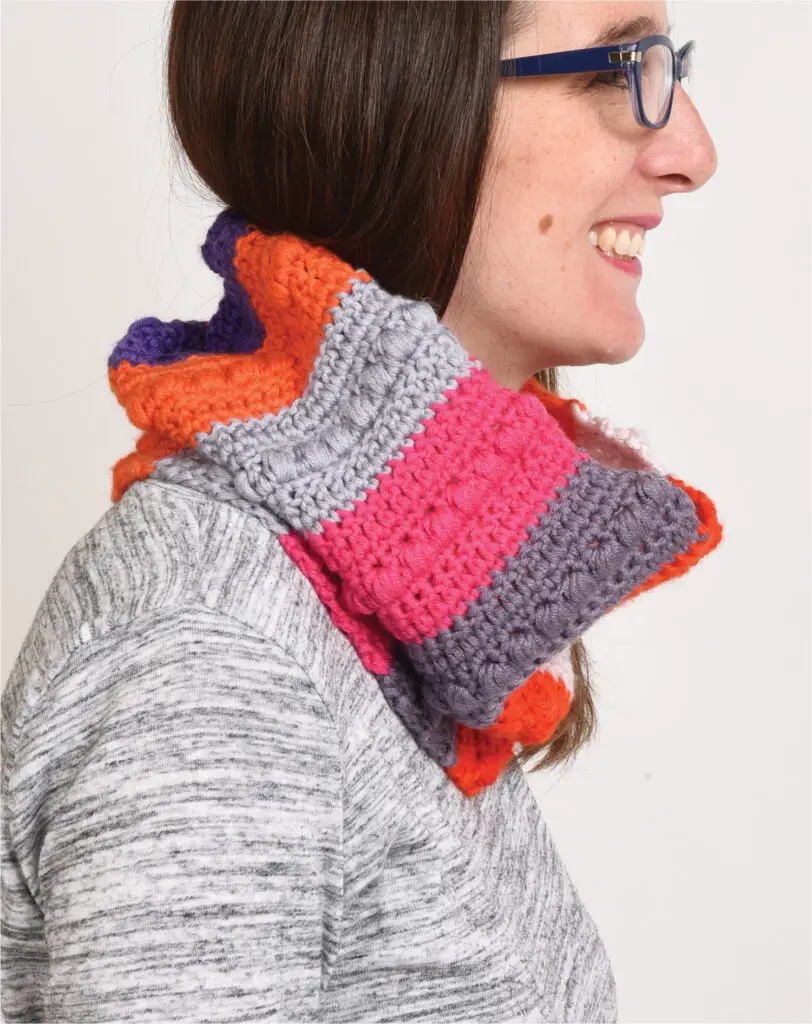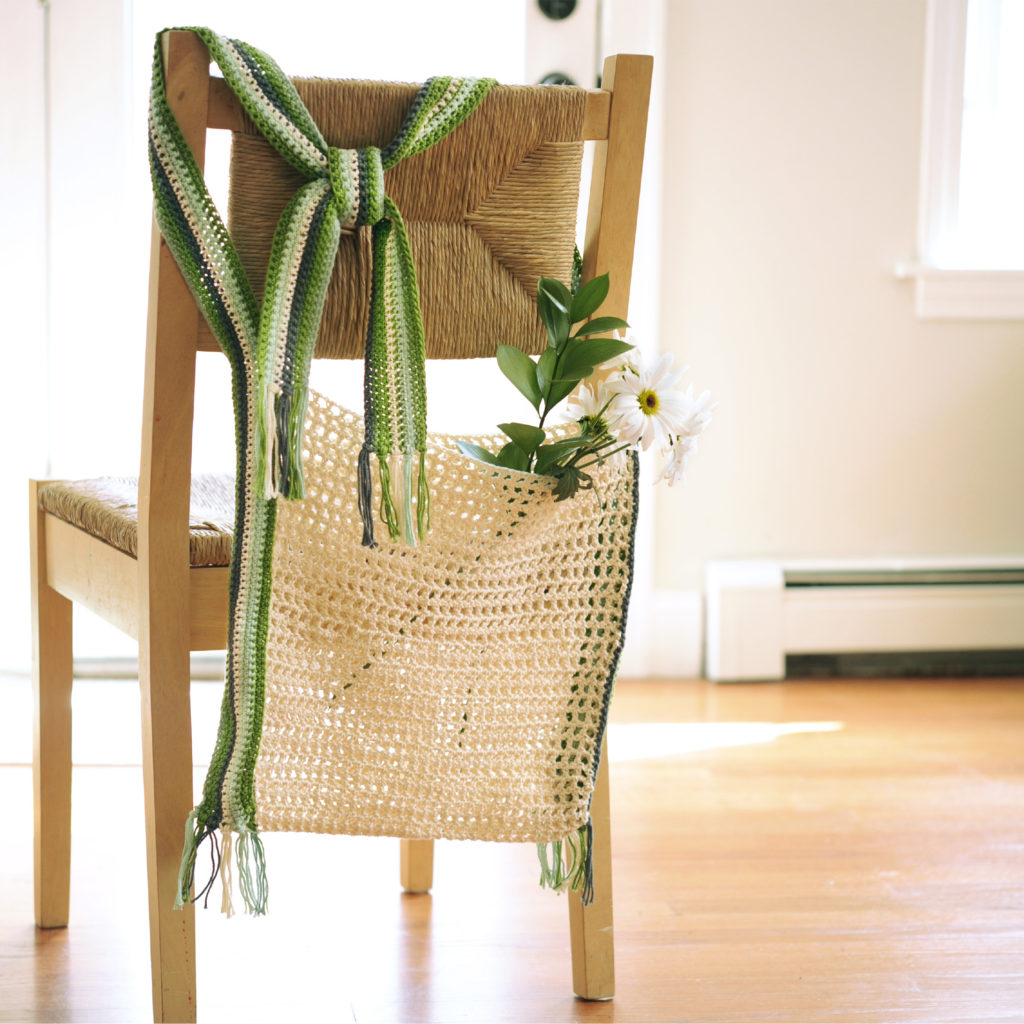 Mary Beth Cryan has been designing crochet patterns for over 4 years. Prior, Mary Beth worked as a professional illustrator and product designer with a specialty in paper crafts for 18 years. She has authored and illustrated 17 paper craft books, countless pop-up greeting cards, and many paper craft kits. She received 3 LOUIE Awards from the National Greeting Card Association. Some of her clients included MoMA (Museum of Modern Art NYC), American Girl, Dover Publications, Peter Pauper Press, Ranger Rick Magazine, Highlights magazine and many others.  She earned a Bachelor of Fine Arts from Syracuse University in 2000.