I have something brand new for you! It's a printable crochet adult coloring page.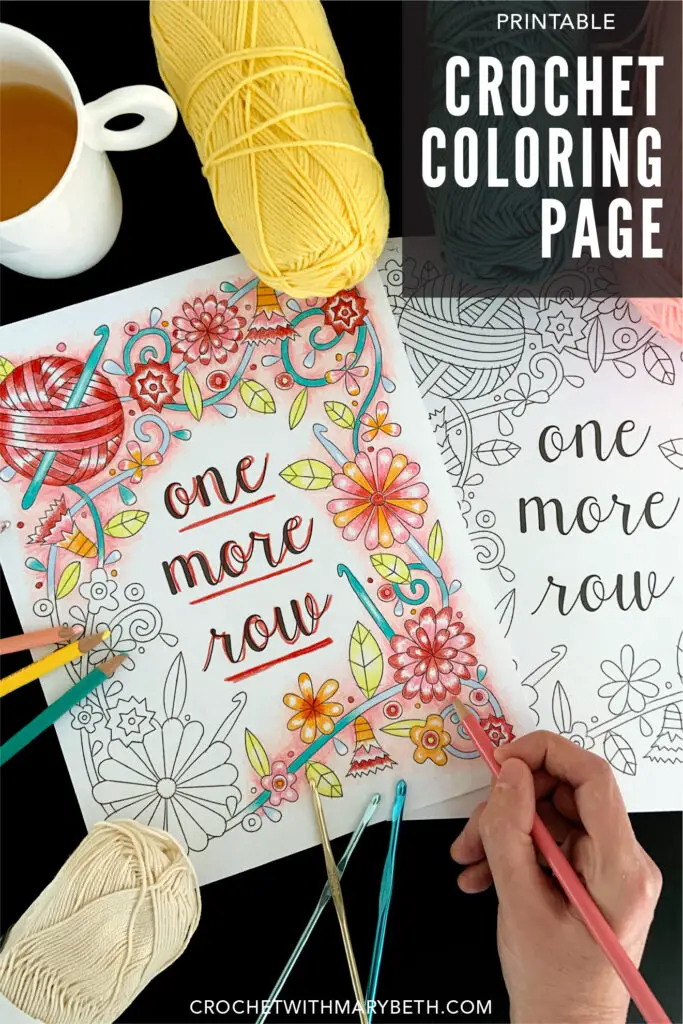 Did I ever tell you that before I designed crochet patterns I was a professional Illustrator?
Yup, I can pretty much draw anything. And in the last 21 years I pretty much have!
Did you know horses are the hardest thing to draw? Oy vey, those skinny weird legs. Ask any illustrator, we avoid them any way we can.
How did you get into that?
I went to college for Illustration. I have a BFA from Syracuse University with a major in Illustration and a concentration in Graphic Design (or Communication Design as they call it there).
But can you really get a full-time job as an illustrator?
I have had a million really fun illustration jobs in my life.
My first job out of college was in the Empire State Building (the fourth floor) designing girls room accessories.
After that job I worked full time as a toy designer! Yes, just like the movie Big.
I got to think up new toys and draw them all day. I even got to airbrush the prototypes. It was a blast.
How are toys designed?
A new idea is formulated by the design team.
Then an illustrator draws the product perfectly so it looks like it exists even though it doesn't yet. The drawing is sent off to the factory. The factory makes a prototype based on the drawing.
It's then sent back to the design team to approve and tweak. Once it's perfect the design team gives the go ahead to start production.
Pretty cool right! I even got to go to China once to visit the factory!
What did you do next?
After 5 years of working for someone else I went off on my own as a freelancer. I changed my specialty to paper engineering. So basically that means I designed and illustrated pop up cards and paper craft books for greeting card companies and publishers.
I illustrated and wrote 17 published papercraft books! Some of them are still in print and available on Amazon.
Wait, weren't we talking about a crochet adult coloring page to start with?
Anywho, back to the crochet adult coloring page. I decided to give it a go and combine the illustration with the crochet design. This is what I came up with.
A fun page full of crochet icons and my favorite thing to draw (flowers).
And I thought One More Row would be the perfect sentiment for this first crochet adult coloring page. You can hang it up while you are crocheting to keep away the interruptions! You know who I mean. Ha-ha.
Why don't we just relax and color?
After I illustrated the page I HAD to color it. I just love coloring. I find it just as relaxing as crochet. Do feel the same way? It's nice to have more than one hobby to relax with.
How does a crochet coloring page download work?
Purchasing a crochet coloring page works the same way as purchasing a crochet pattern. You will pay for and download the pattern through Etsy.
Then you can print it out and color it. It's easy peasy mac and cheesy, my 6 year old would say.
You will receive an 8.5″ x 11″ download and an A4 size download. You can print the one that is appropriate for your printer.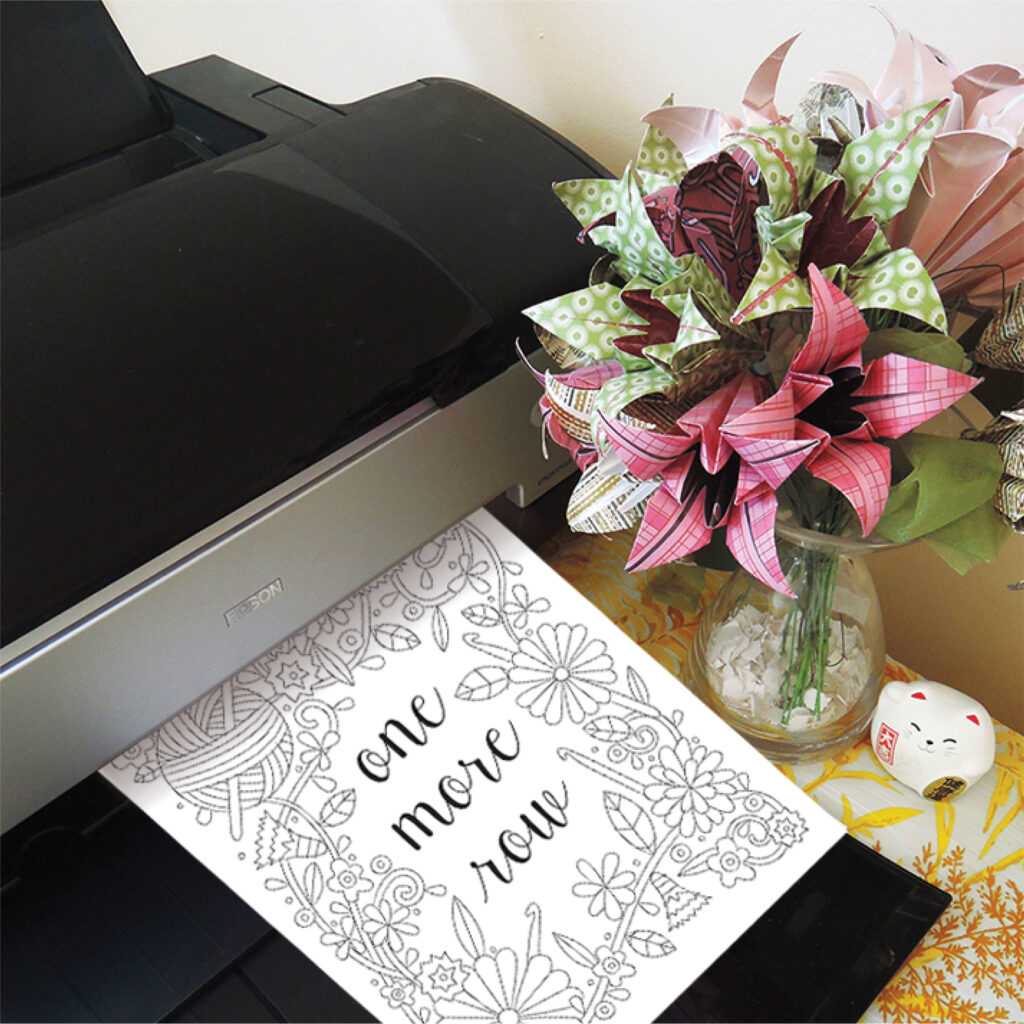 And if you ever have any questions you can always contact me!
So if you too are a colorer, get out those colored pencils, crayons, markers, or pens. Download this coloring page and enjoy the relaxation!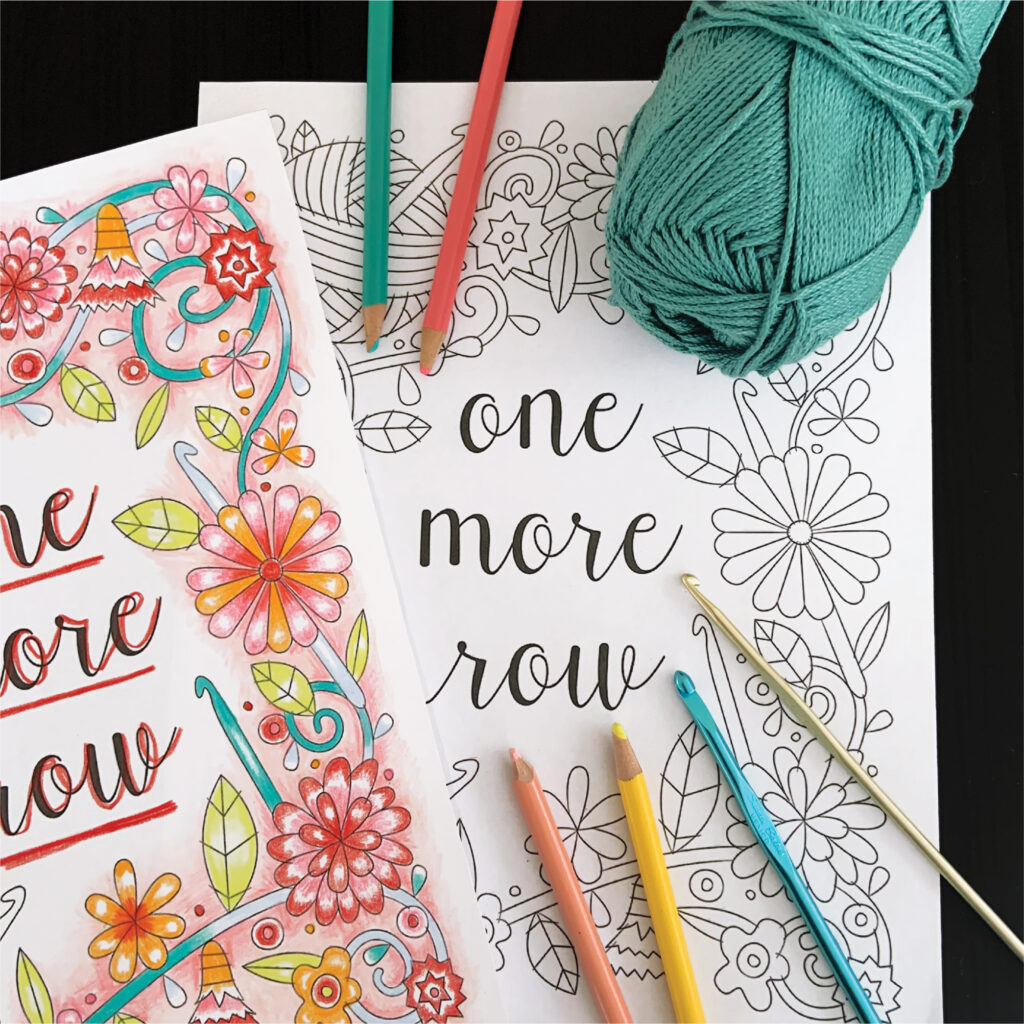 If you'd never colored before, I highly recommend it. It's very soothing and meditative just like crochet. Why don't you give it a try?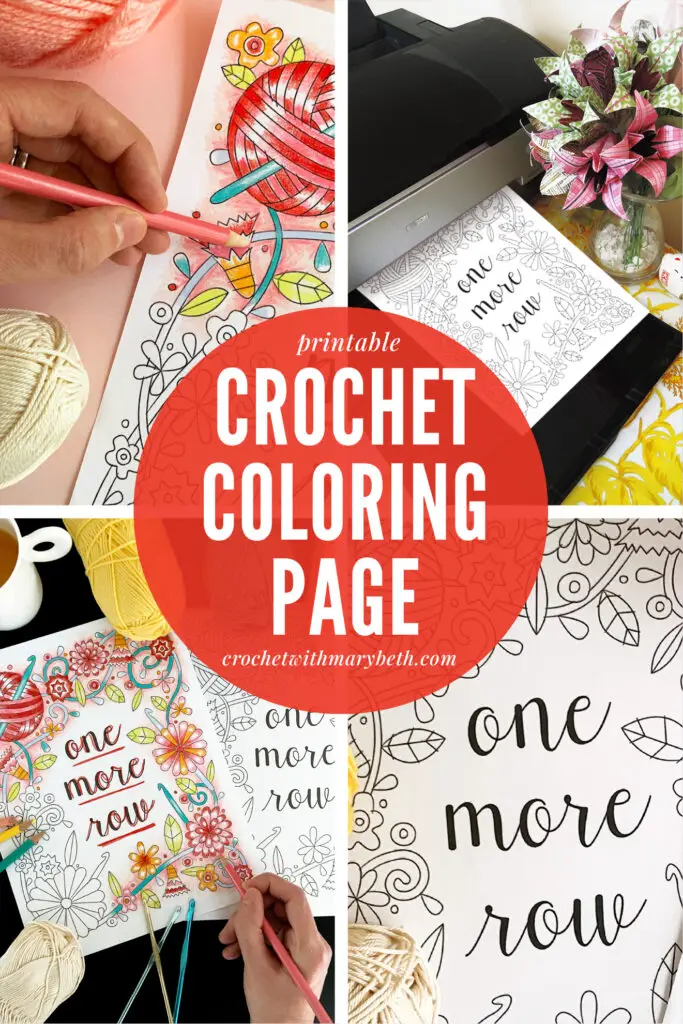 Mary Beth Cryan has been designing crochet patterns for over 4 years. Prior, Mary Beth worked as a professional illustrator and product designer with a specialty in paper crafts for 18 years. She has authored and illustrated 17 paper craft books, countless pop-up greeting cards, and many paper craft kits. She received 3 LOUIE Awards from the National Greeting Card Association. Some of her clients included MoMA (Museum of Modern Art NYC), American Girl, Dover Publications, Peter Pauper Press, Ranger Rick Magazine, Highlights magazine and many others.  She earned a Bachelor of Fine Arts from Syracuse University in 2000.